This post may contain affiliate links which won't change your price but will share a commission.
Cracked Wheat Bread is a hearty, nutty bread and loaded with oatmeal, whole wheat, cracked wheat, and honey. Perfect for toasting with a small pat of butter and jam!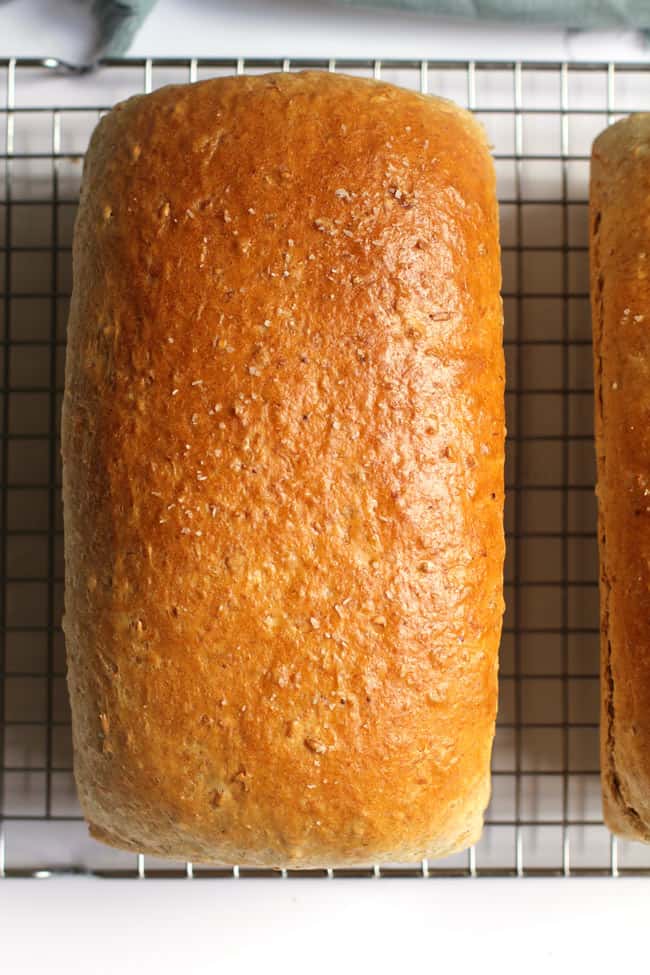 ** This is a recipe update. I've updated the pictures, but the text is (mostly) the same.
This recipe has special meaning to me. It is THE recipe I think of when I remember Mom in her kitchen. Cracked Wheat Bread is what I lived on in high school and was, often times, my dinner after activities. Mom always had a partial loaf in her bread drawer and a few more in her freezer. When the family gathered for Sunday breakfast, Mom's cracked wheat bread was always on the menu.
If you asked any of my siblings, we'd all tell you EXACTLY how to eat this special bread. We'd say, "Toast a thick slice of bread (as thick as the toaster allows) and top with a pat of butter and plenty of jam". We were lucky because Mom made homemade jam too. My favorite was her strawberry rhubarb. SO good. And even better on her homemade bread.
There was nothing better than to walk in Mom's kitchen on one of her baking days. The smells. The sound of her Bosch mixer. The visions of bread rising and stacks of pans.
Ahhhhh. I love these memories.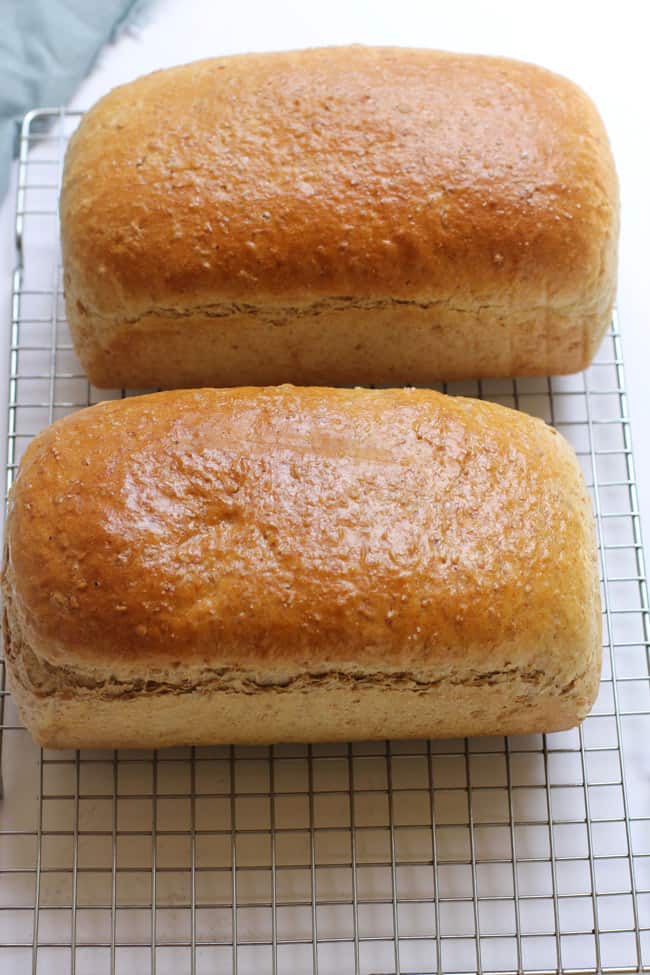 When Mike and I lived in Chicago, I started learning how to make bread using my Kitchen Aid mixer. With Mom's help and frequent phone conversations, I eventually figured it out. Now I use my Bosch Universal Mixer
to make bread. It's a BOSS in the kitchen, and I use it to make bread, cookies, cakes, and smoothies – using the blender attachment.
Love it. So much.
Ingredients Needed for Cracked Wheat Bread:
There is a good chance that you have some of these baking staples. If you are at all afraid of using yeast, DON'T BE! You can do it. Just follow my steps and don't be afraid to experiment a little.
Yeast – I use Red Star Active Dry Yeast. (This is a very large amount. I keep a bunch in the freezer, and it lasts a long time.) We have perfect bread-making weather here in Texas, and my bread always rises pretty quickly. You may need a Quick Rise Yeast, depending on where you live.
Sugar – Just a little bit of sugar is needed to help activate the yeast.
Water – You will need warm water for the first step to activate the yeast. Then you will add some cold water in a later step.
Honey – This gives this bread an amazing semi-sweet flavor, to balance the hearty oats and cracked wheat.
Canola Oil – The perfect fat for this bread.
Salt – I like kosher salt, but you can use regular salt as well.
Oatmeal – You can use either quick oats or old fashioned oatmeal.
Cracked Wheat – This is the key ingredient, and gives the bread a nutty flavor. So good! If you can't find cracked wheat, you can order it here.
Flours – For best results, use 1.5 cups of whole wheat flour, and then 6-7 cups of all-purpose.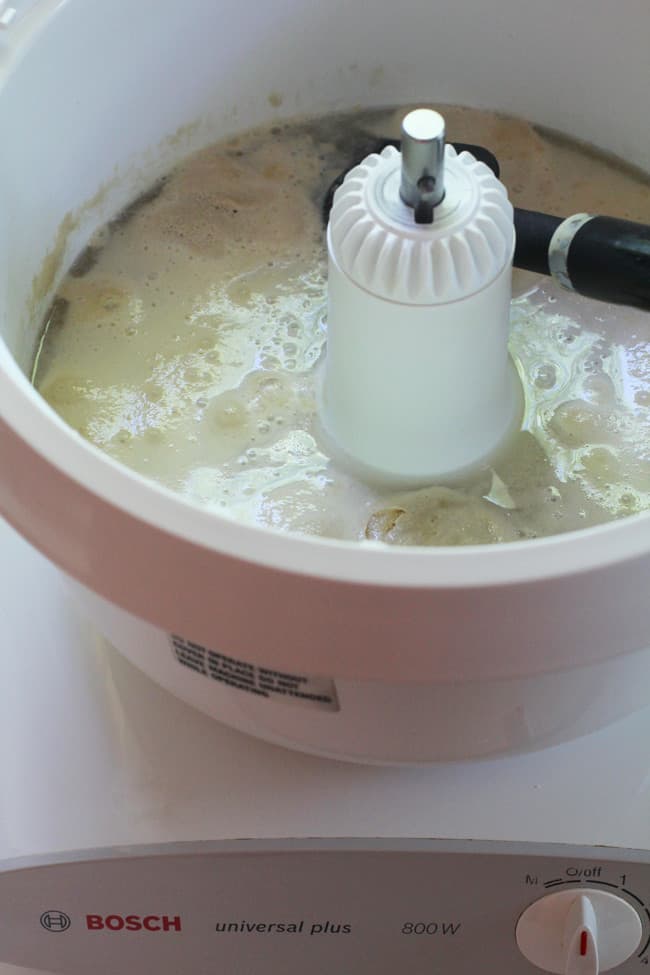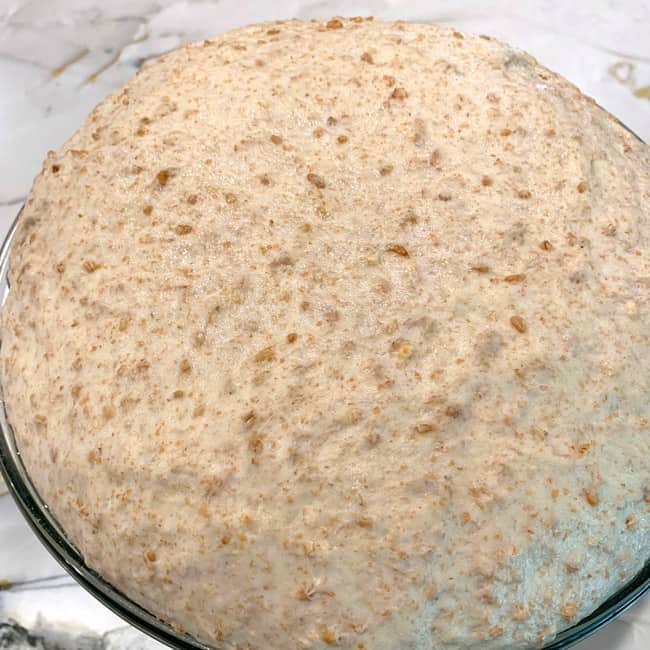 How to make Cracked Wheat Bread:
Activate the yeast. Using a large standing mixer, combine the yeast, sugar, salt, and warm water. Take a spatula, and stir it around a couple of times. Then let it sit for about 15 minutes so that the yeast activates. You should see a bubbly mixture when it's ready. See above.
Add other liquid ingredients, and salt. Add honey, oil, cold water, and salt. Stir again to mix well.
Place dough hook on mixer, and add everything but the all-purpose flour. Add the oats, cracked wheat, and whole wheat flour. Using dough hook, turn on mixer, and mix well.
Add all-purpose flour to desired consistency. Start by adding about four cups of flour to the mixer. Let the mixer run, and occasionally scrape down the sides of the bowl with a spatula. Gradually add more flour until you get a nice dough consistency. It should be slightly sticky, but easy to handle.
Let the dough rise. Grease a large bowl with canola or olive oil. Remove the dough from the mixer, and form it into a ball. Then place it in the bowl, and cover it with a clean dish towel. Place the bowl in a quiet corner of your kitchen and let rise until approximately doubled in size. The rise may be different each time, and will vary depending on where you live.
Punch the dough down. When the dough doubles, rub a little oil on your hands, and punch bread, starting in the middle, and gently punch sides into the middle of the bowl. This should only take a couple of minutes. No need to over-handle the dough. Lift dough up with your hands, and pour a little more oil into the bowl and spread up the sides. Place the dough back in the bowl, cover with towel, and let rise again.
Form loaves of bread (or buns). Once the bread rises twice, it's time to form the dough into desired shapes. Prepare bread pans or jelly roll pans with baking spray. (See below for my favorite pans.) Add a little oil to a pastry mat or a large flat surface (a cutting board works too), and form sections of dough into oblong shapes for bread, or into smaller shapes for buns or smaller loaves. Another option is baking a round piece of dough in a cast iron skillet.
Let rise again. Cover dough with clean dish towels, and let it rise again, until almost doubled in size.
Bake. Bake bread in a preheated 350 degree oven, until done, approximately 35 minutes for bread and less time for smaller loaves or buns. The bottoms should be slightly browned, and the tops a nice golden brown. Remove bread to a cooling rack.
Make it shiny. Using a pastry brush, brush softened butter on top of the loafs/buns to get a nice shine.
Storing Tip: This bread is best fresh the first day! It can be stored in airtight bags on counter for 2-3 days.
Freezing Tip: You can freeze this bread in freezer bags for up to three months.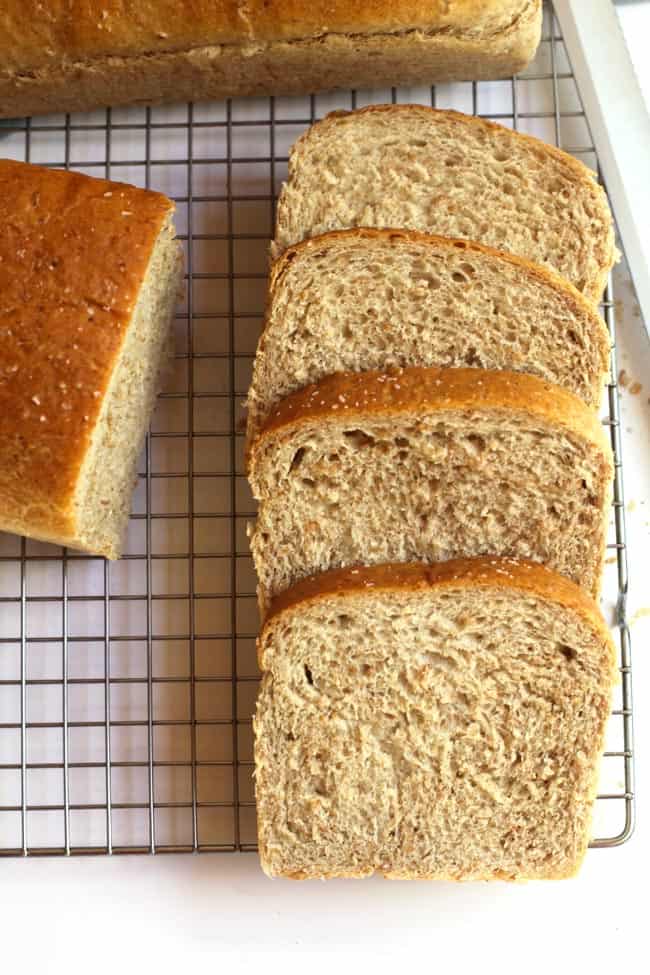 Tips for making the BEST homemade bread:
Let the yeast, sugar, and warm water mixture sit for at least 15 minutes. This will allow time for the yeast to start working. You can see the little bubbles in the photo above. That means the yeast is activated.
Add flour gradually to get just the right amount. You know it's ready when the dough pulls away from the sides of the mixer and the dough is not overly sticky. Don't just add the amount of flour in the recipe. Add the amount that is right for your batch on THAT particular day. Some days you will need more, and some days you will need less.
Most breads will need two rises. Each one will take anywhere from 30 minutes to an hour. Make sure you grease the bowl, lay the bread in with smooth side up, cover with a towel, and place in a warm corner of your kitchen.
When you punch down your bread, use your fists to punch in the center of the dough. Then take the outsides of the dough and push in towards the center, forming a nice smooth outer surface. Be sure there is oil on the bowl to prevent the dough from sticking to the sides.
Always brush butter on the top of the bread after removing from the oven. This will give it that pretty golden color.
Don't slice the bread until at least 30 minutes after baking. If sliced too soon, the bread will be too doughy.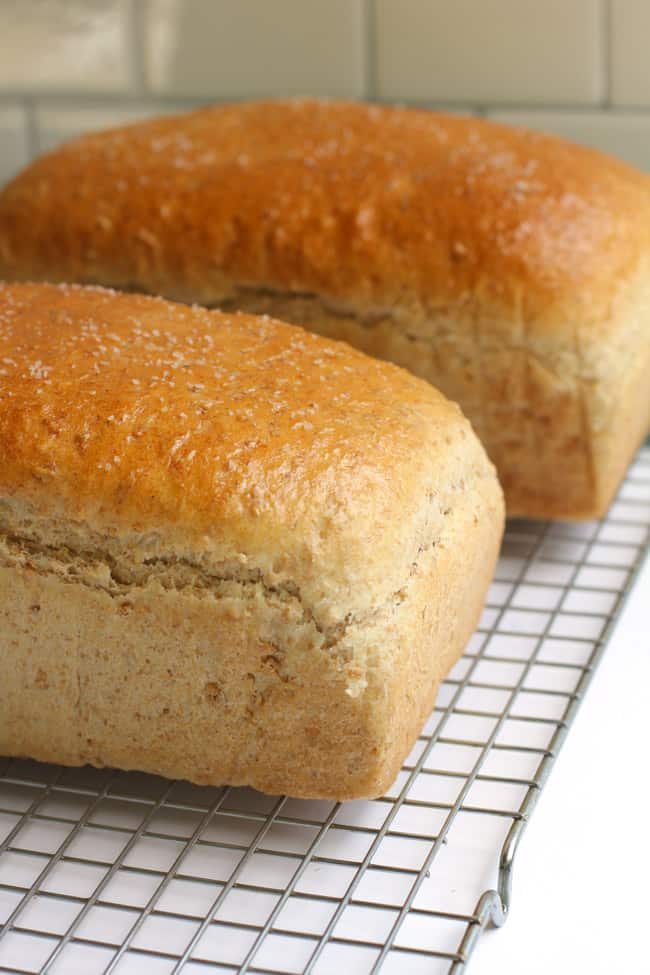 Kitchen Tools used for this recipe:

(Affiliate Links)

Make this homemade bread next: Chewy French Bread

Please let know if you try this recipe. Be sure to comment and leave a review on the blog so I can see what you think. You can also like my Facebook Page, follow me on Pinterest, and catch me on Instagram.

xoxo ~Sue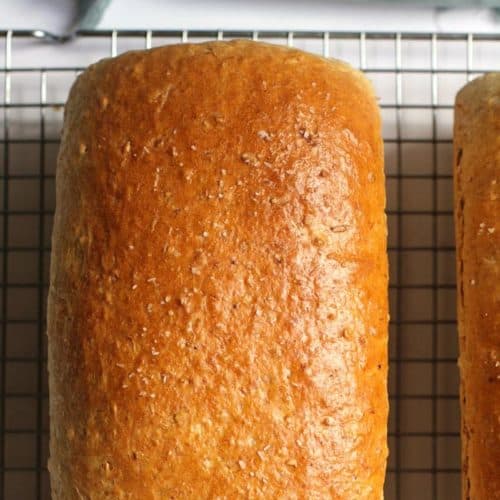 Cracked Wheat Bread
Cracked Wheat Bread is a hearty, nutty bread and loaded with oatmeal, whole wheat, cracked wheat, and honey. Perfect for toasting with a small pat of butter and jam! 
Print
Pin
Rate
Servings:
30
slices (or 3 large loaves)
Ingredients
2

Tablespoons

yeast

1

teaspoon

sugar

2

cups

warm water

– not hot, hot cold

1/3

cup

honey

1/3

cup

canola oil

1

Tablespoon

salt

1

cup

cold water

1/2

cup

Quick Quaker Oats

1.5

cups

cracked wheat

1.5

cups

whole wheat flour

6 – 7

cups

all-purpose flour

– to right of consistency

few pats of butter

– to brush on top after baking
Instructions
Prepare the yeast mixture. Combine the yeast, sugar, and the warm water in a large mixer. Be careful to use WARM water, not hot. If the water is too hot, the yeast will disappear and you can't make bread without yeast. Mix and let sit for about 15 minutes to get the yeast working.

Add the honey, oil, salt and cold water. Stir with a spatula. Attach dough hook to mixer and add quick oats, whole wheat flour, and cracked wheat. Mix together.

Then add approximately 6-7 cups of all-purpose flour to desired consistency. You want the bread dough to be slightly sticky but not too much. When you touch the dough, it should bounce back slightly. Be sure to leave the mixer on for several minutes after you get the right consistency.

Grease a large bowl with canola oil. Add dough to the bowl, making sure you smooth it into a ball. Cover the dough with a clean dish towel and set it in a warm corner of your kitchen. Let the dough rise until doubled in size.

Punch down the dough and shape it back into a ball. Re-grease bowl with oil and place dough in bowl until doubled in size again

Form into three oblong shapes and place into greased bread pans. Cover with a towel and let rise again until doubled in size.

Bake loaves on 350 degrees for about 35 – 40 minutes, or until bottom is browned nicely. Remove from pans to wire racks and brush tops with butter.

Cool completely before storing in storage/freezer bags. This bread freezes well.
Nutrition
Calories:
279
kcal
|
Carbohydrates:
54
g
|
Protein:
7
g
|
Fat:
4
g
|
Saturated Fat:
1
g
|
Sodium:
234
mg
|
Potassium:
114
mg
|
Fiber:
3
g
|
Sugar:
3
g
|
Calcium:
11
mg
|
Iron:
3
mg