Cracked Wheat Bread is a hearty, nutty bread. Perfect for toasting with a small pat of butter and jam!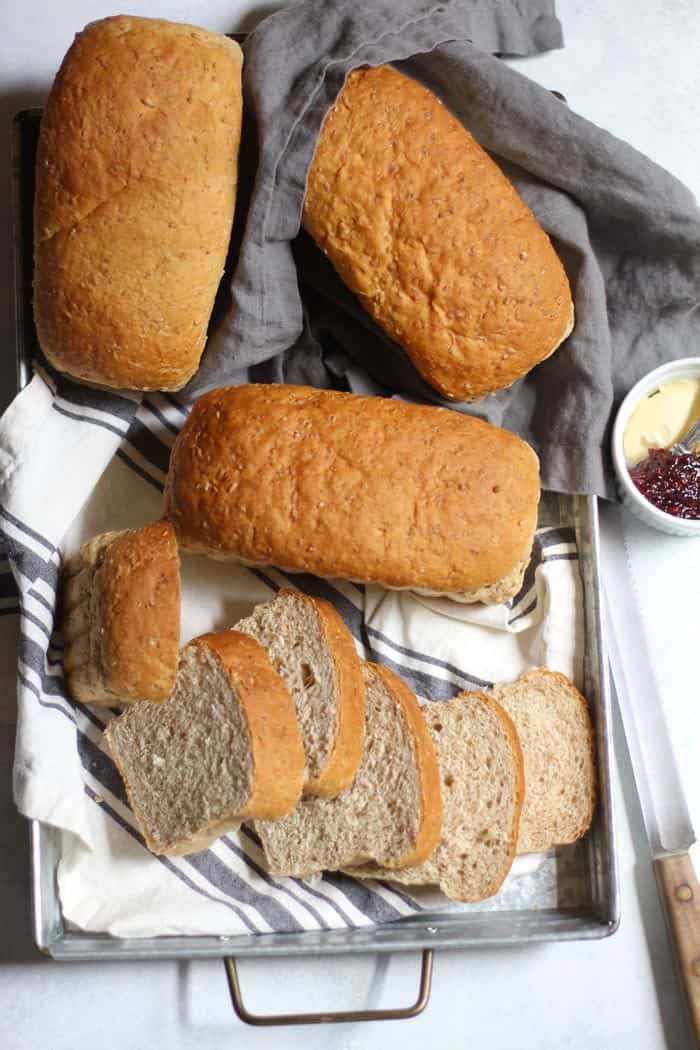 ** This is a recipe update. I've updated the pictures, but the text is (mostly) the same.
This recipe has special meaning to me. It is THE recipe I think of when I remember Mom in her kitchen. Cracked Wheat Bread is what I lived on in high school and was, often times, my dinner after activities. Mom always had a partial loaf in her bread drawer and a few more in her freezer. When the family gathered for Sunday breakfast, Mom's cracked wheat bread was always on the menu.
If you asked any of my siblings, we'd all tell you EXACTLY how to eat this special bread. We'd say, "Toast a thick slice of bread (as thick as the toaster allows) and top with a pat of butter and plenty of jam". We were lucky because Mom made homemade jam too. My favorite was her strawberry rhubarb. SO good. And even better on her homemade bread.
There was nothing better than to walk in Mom's kitchen on one of her baking days. The smells. The sound of her Bosch mixer. The visions of bread rising and stacks of pans.
Ahhhhh. I love these memories.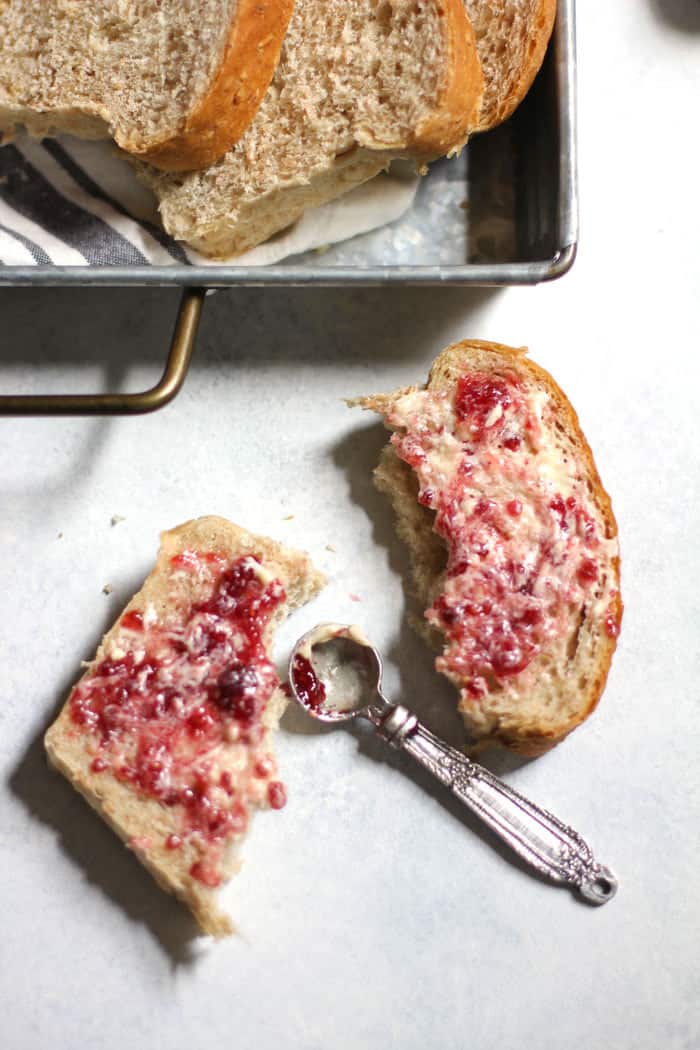 When Mike and I lived in Chicago, I started learning how to make bread using my Kitchen Aid mixer. With Mom's help and frequent phone conversations, I eventually figured it out. Now I use my Bosch Universal Mixer
to make bread. It's a BOSS in the kitchen, and I use it to make bread, cookies, cakes, and smoothies – using the blender attachment.
Love it. So much.
Tips for making the BEST homemade bread:
Let the yeast, sugar, and warm water mixture sit for at least 15 minutes. This will allow time for the yeast to start working. You can see the little bubbles in the first photo below. That means the yeast is activated.
Add flour gradually to get just the right amount. You know it's ready when the dough pulls away from the sides of the mixer and the dough is not overly sticky. Don't just add the amount of flour in the recipe. Add the amount that is right for your batch on THAT particular day. Some days you will need more, and some days you will need less.
Most breads will need two rises. Each one will take anywhere from 30 minutes to an hour. Make sure you grease the bowl, lay the bread in with smooth side up, cover with a towel, and place in a warm corner of your kitchen.
When you punch down your bread, use your fists to punch in the center of the dough. Then take the outsides of the dough and push in towards the center, forming a nice smooth outer surface. Be sure there is oil on the bowl to prevent the dough from sticking to the sides.
Always brush butter on the top of the bread after removing from the oven. This will give it that pretty golden color.
Don't slice the bread until at least 30 minutes after baking. If sliced too soon, the bread will be too doughy.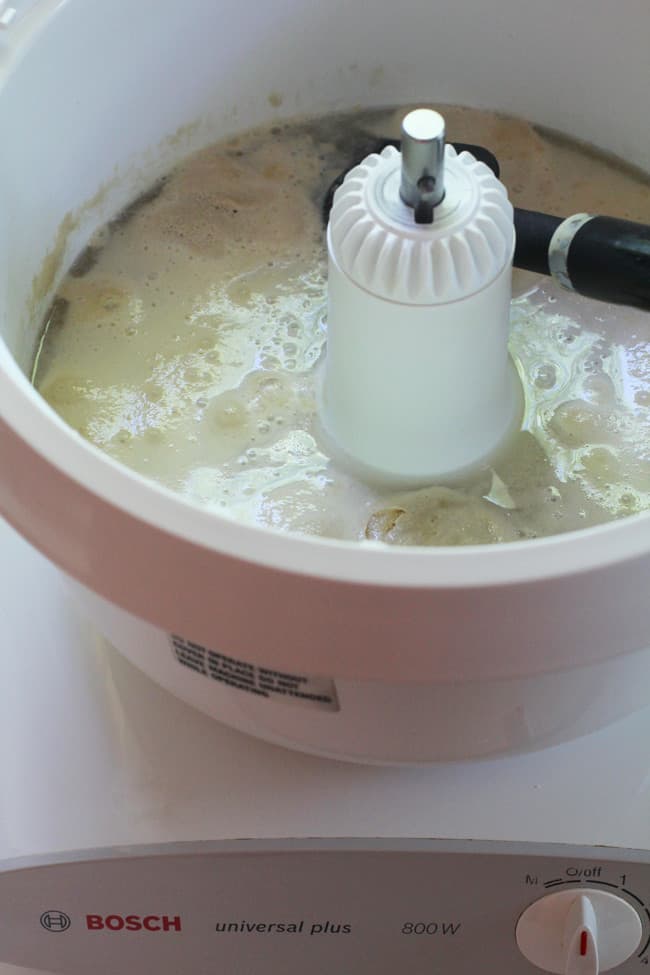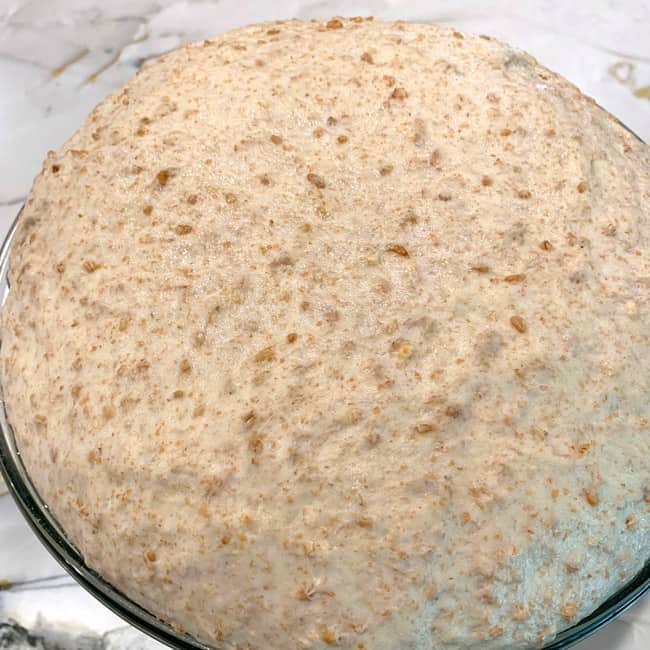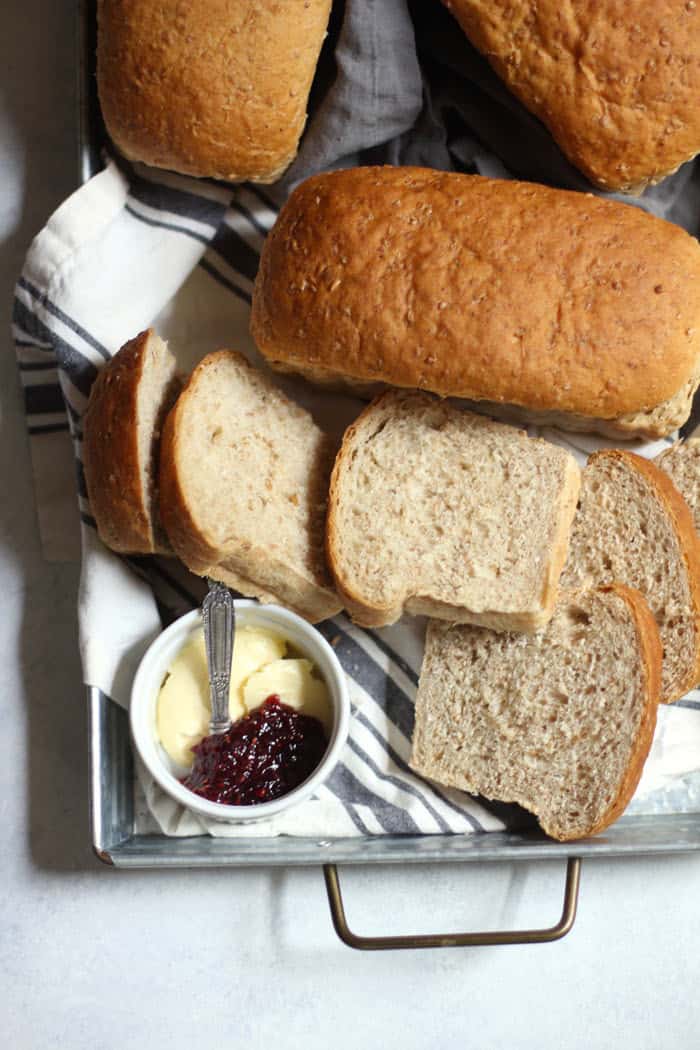 Trouble finding cracked wheat? You can buy it on Amazon here
.
Make this bread recipe next: Mom's Dinner Rolls
You can stay up-to-date with SueBee Homemaker by:
signing up for post updates (top right-hand corner of my blog)
liking my Facebook Page
and following me on Pinterest
I'm also sharing tidbits of my life on Instagram.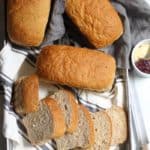 Cracked Wheat Bread
A hearty, nutty bread - perfect for toasting and eating with a couple pats of butter!
Course:
Breakfast, Side Dish
Keyword:
cracked wheat bread, homemade bread
Ingredients
2

Tablespoons

yeast

1

teaspoon

sugar

2

cups

warm water

- not hot, hot cold

1/3

cup

honey

1/3

cup

canola oil

1

Tablespoon

salt

1

cup

cold water

1/2

cup

Quick Quaker Oats

1.5

cups

cracked wheat

1.5

cups

whole wheat flour

6 - 7

cups

all-purpose flour

- to right of consistency

few pats of butter

- to brush on top after baking
Instructions
Prepare the yeast mixture. Combine the yeast, sugar, and the warm water in a large mixer. Be careful to use WARM water, not hot. If the water is too hot, the yeast will disappear and you can't make bread without yeast. Mix and let sit for about 15 minutes to get the yeast working.

Add the honey, oil, salt and cold water. Stir with a spatula. Attach dough hook to mixer and add quick oats, whole wheat flour, and cracked wheat. Mix together.

Then add approximately 7 - 8 cups of all-purpose flour to desired consistency. You want the bread dough to be slightly sticky but not too much. When you touch the dough, it should bounce back slightly. Be sure to leave the mixer on for several minutes after you get the right consistency.

Grease a large bowl with canola oil. Add dough to the bowl, making sure you smooth it into a ball. Cover the dough with a clean dish towel and set it in a warm corner of your kitchen. Let the dough rise until doubled in size.

Punch down the dough and shape it back into a ball. Re-grease bowl with oil and place dough in bowl until doubled in size again

Form into four oblong shapes and place into greased bread pans. Cover with a towel and let rise again until doubled in size.

Bake loafs on 350 degrees for about 35 - 40 minutes, or until bottom is browned nicely. Remove from pans to wire racks and brush tops with butter.

Cool completely before storing in storage/freezer bags. This bread freezes well.
Nutrition Facts
Cracked Wheat Bread
Amount Per Serving
Calories 161
Calories from Fat 27
% Daily Value*
Total Fat 3g 5%
Sodium 219mg 9%
Potassium 77mg 2%
Total Carbohydrates 30g 10%
Protein 4g 8%
* Percent Daily Values are based on a 2000 calorie diet.
Did you make this recipe?
Tag @suebeehomemaker on Instagram and hashtag it #suebeehomemaker