Broadway Shows and Biking Fun in NYC
This post may contain affiliate links which won't change your price but will share a commission.
Mike and I took a quick trip to NYC over Easter of 2022 for Broadway, biking, and all the pizza we could eat! Here's a little recap of our fun.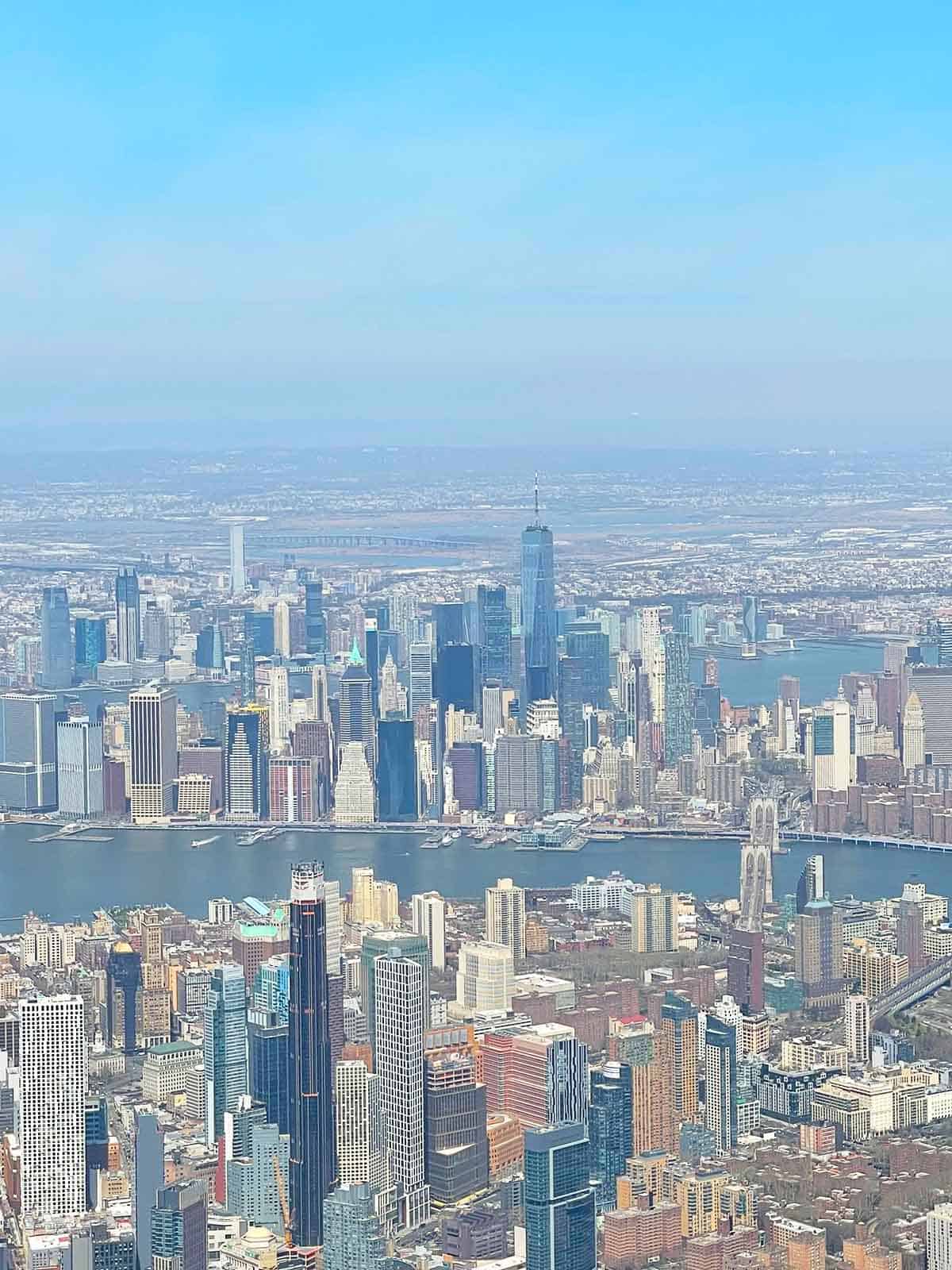 Mike surprised me at Christmas 2021 with a trip to NYC. He booked the flights, reserved our hotel, and purchased two of the three Broadway shows we attended. What a gift!
Our Hotel
Since we were centering our trip around Broadway shows, we wanted to stay in Mid-Town so we could easily get to the shows. We'd already stayed at the Knickerbocker with the kids, so Mike chose the same hotel. Clean, quiet, and a perfect location for our stay. The hotel is located directly across from Times Square and we weren't ever bothered by the noise and constant activity!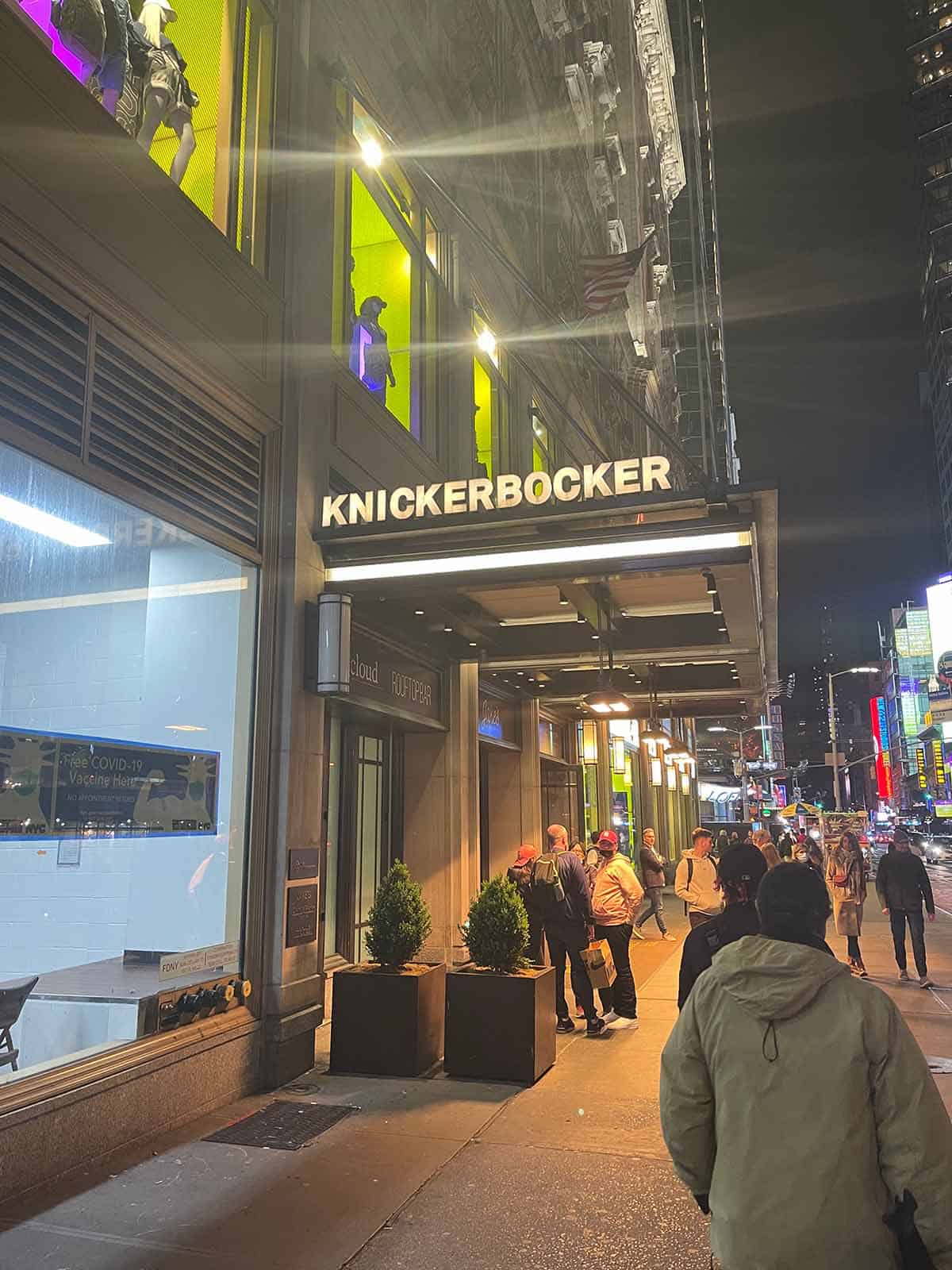 Show #1 – Wicked
We'd already seen Wicked with the kids, but it was #1 on my list of shows to see again. Mike scored some sweet seats for us and it nearly brought me to tears.
When we were kids, watching The Wizard of Oz was a regular thing. We never missed it – commercials and all! So seeing Wicked has a lot of meaning to me, even though the stories are quite different.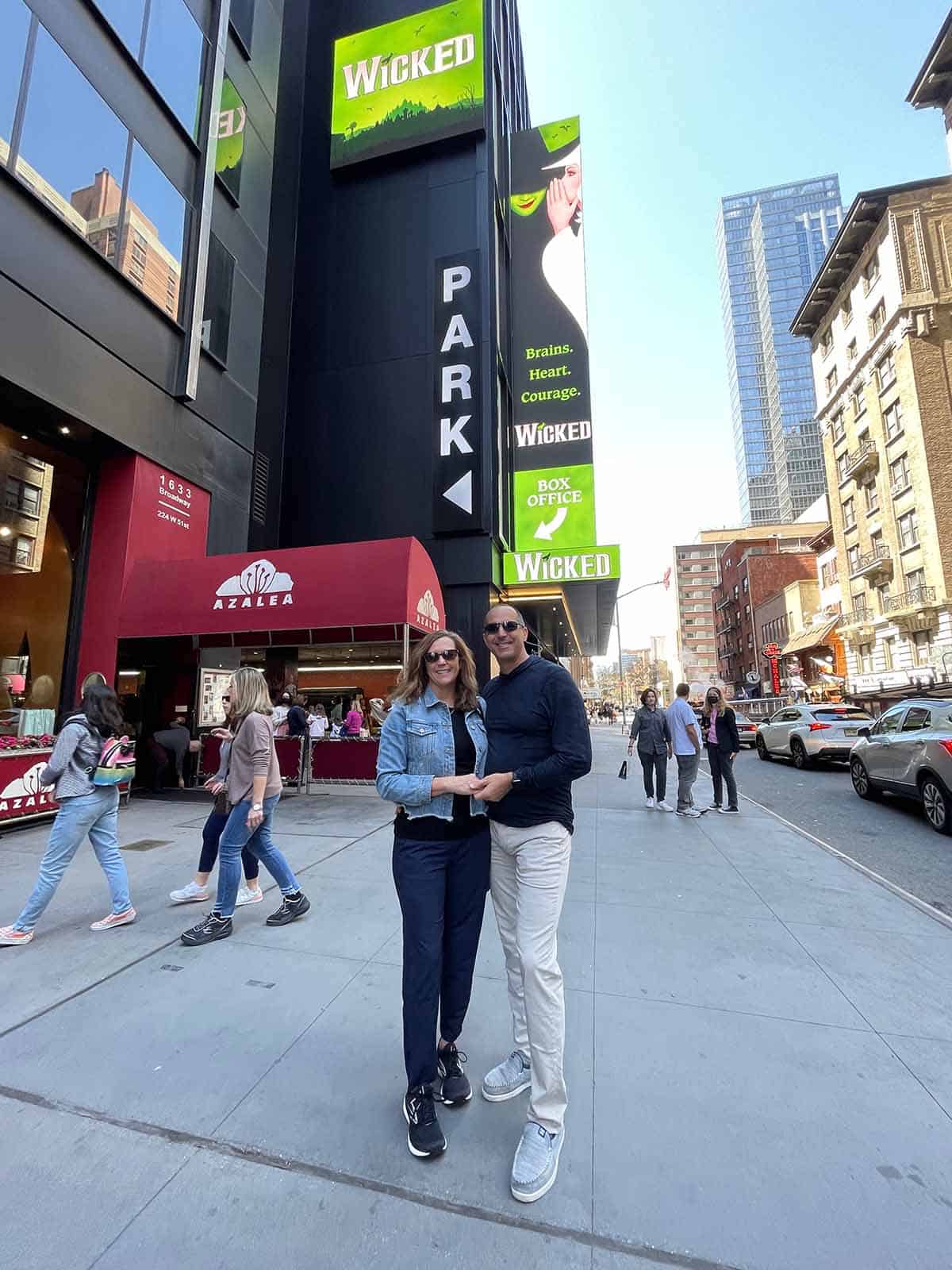 Show #2 – Hamilton
Speaking of tears, this one got me. Once again, we'd seen Hamilton at a theatre in Dallas, but the sound and special effects can't be matched compared to NYC! We LOVED it! AGAIN!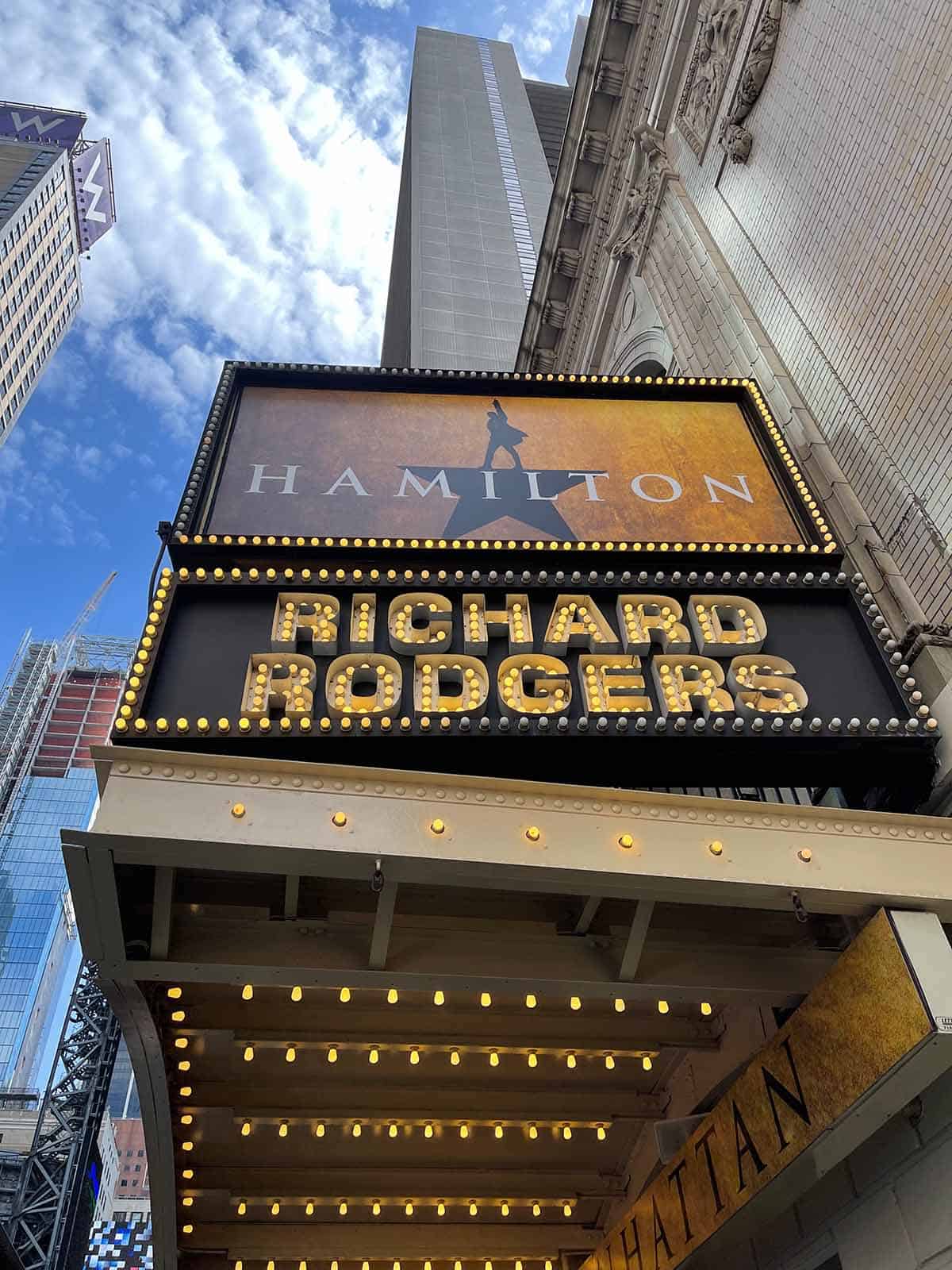 Show #3 – Music Man
Since Mike booked the first two shows for us (after my hints of wanting to see them again, but in NYC), I chose The Music Man for our third show. Since Hugh Jackman was starring in the show, it was a no-brainer for me!
Let's talk about Hugh. 🙂 Boy can he dance! And sing. And act. He does it ALL in this show and it was amazing! Go see him before his run is over!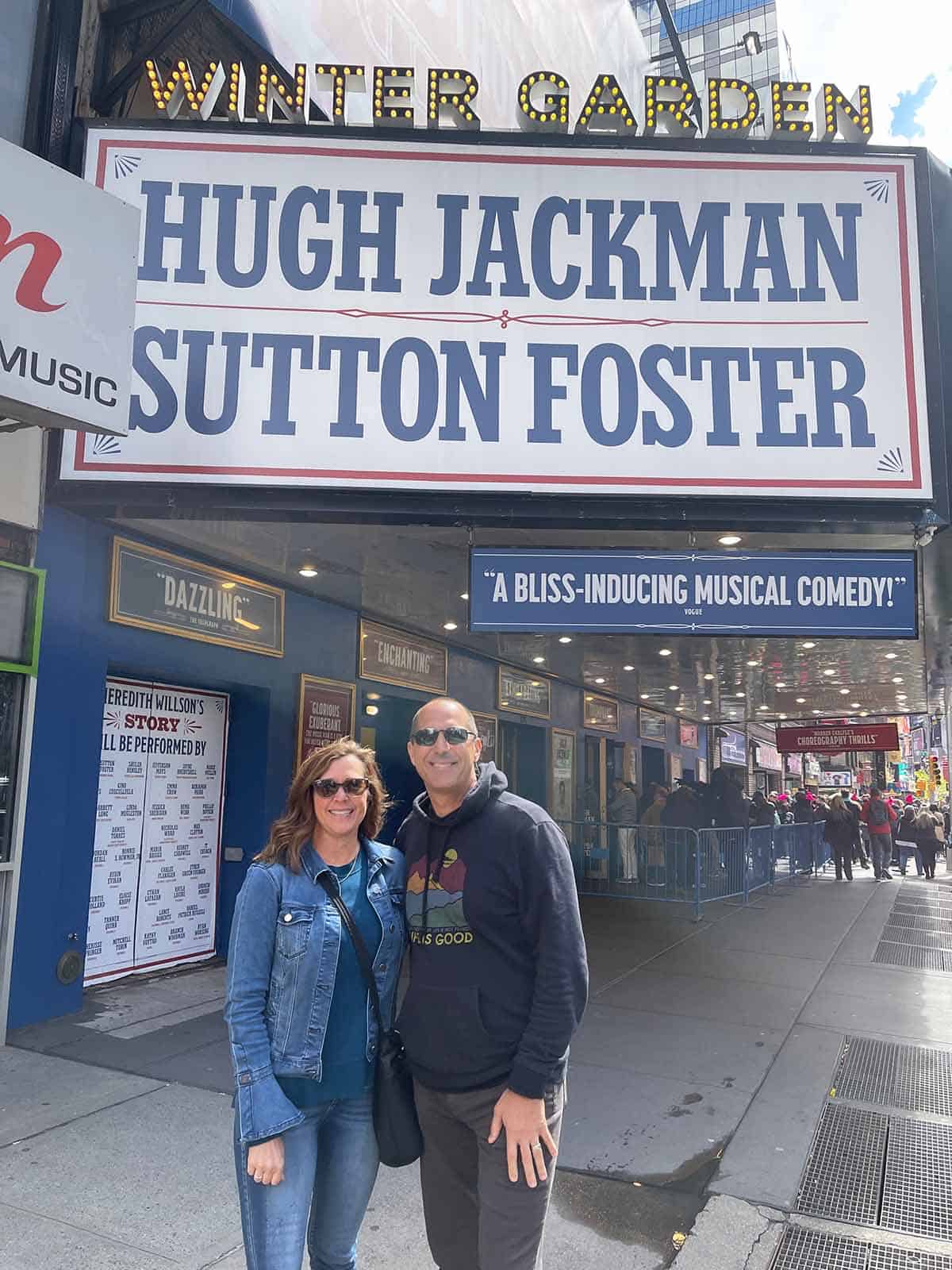 Biking NYC
Thanks to Mike and his Garmin watch, we've got maps showing exactly where we biked in NYC. After learning from a local that there is a bikeway all along the west side of Manhattan, we knew where we'd be heading.
Our first biking adventure was heading south. We rode the bikeway all the way to The Brooklyn Bridge and decided against crossing it due to time restraints (i.e. a scheduled matinee).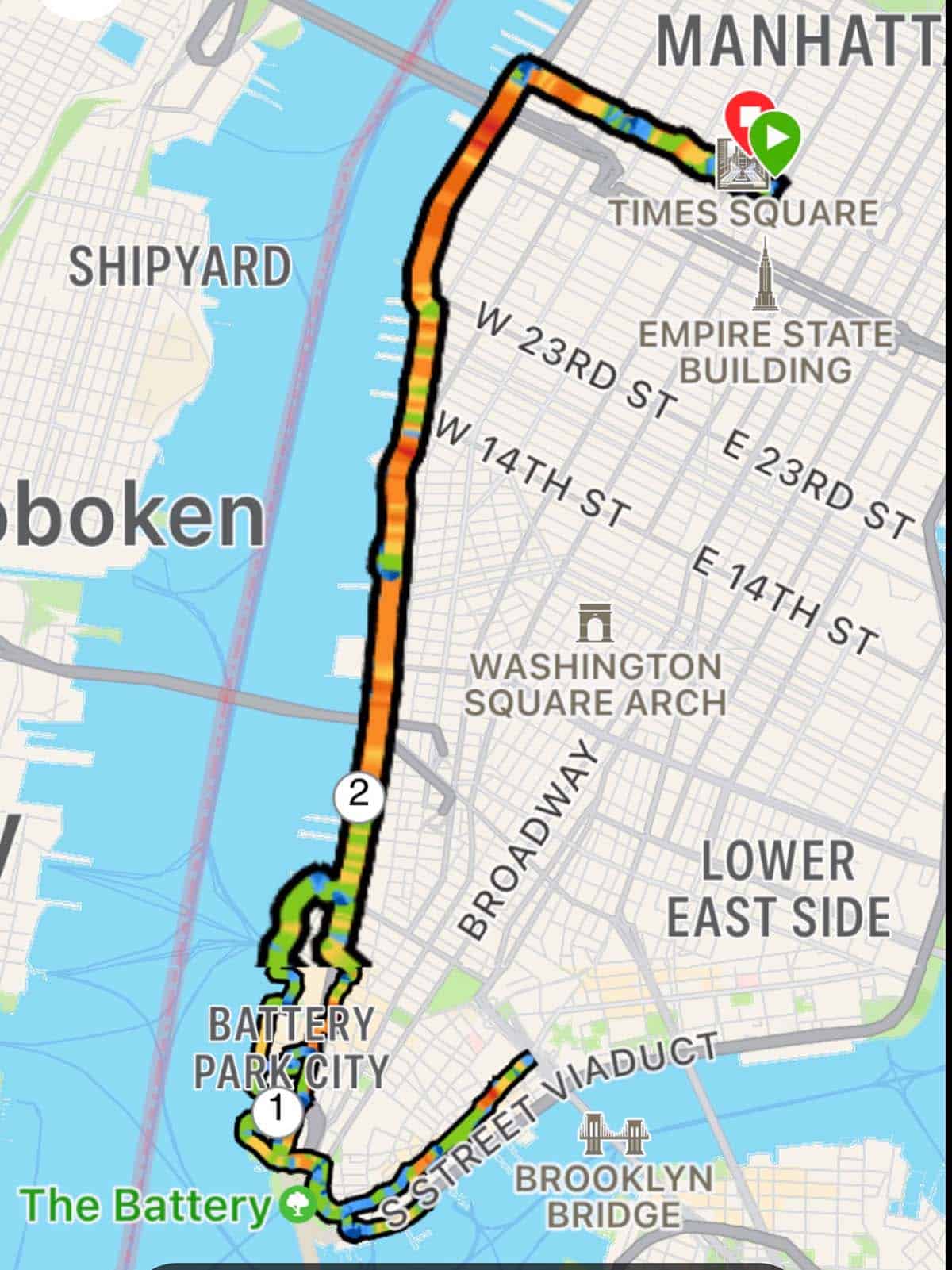 We were unbelievably lucky with beautiful weather during our stay in NYC. Light jacket weather and mostly blue skies!
The bikeway along Manhattan was really fun to ride. Lots of room and great people watching along the way. We were surprised to see patches of green for parks (and dogs) and all of the kids playing there.
As you can see below, we rode right by the One World Trade Center – the tallest building in the United States. We took a quick breather next to The Statue of Liberty before hopping back on our bikes to find The Brooklyn Bridge. Luckily, we've both walked and biked across the bridge in former trips so we decided to skip it this time.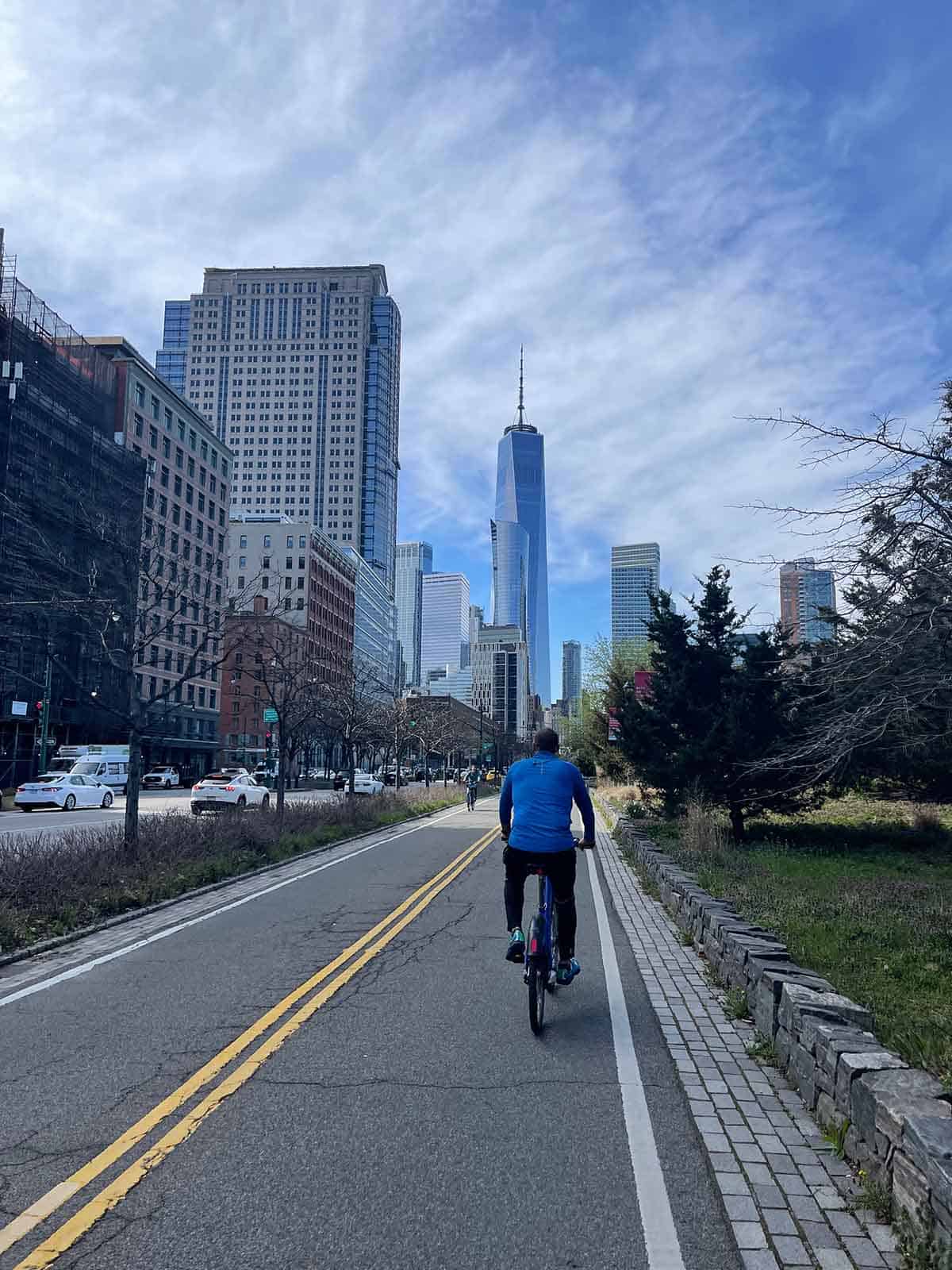 We headed north on our second bike ride. Again, we rode on the bikeway up to Harlem, stopping a couple of times to snap a few photos.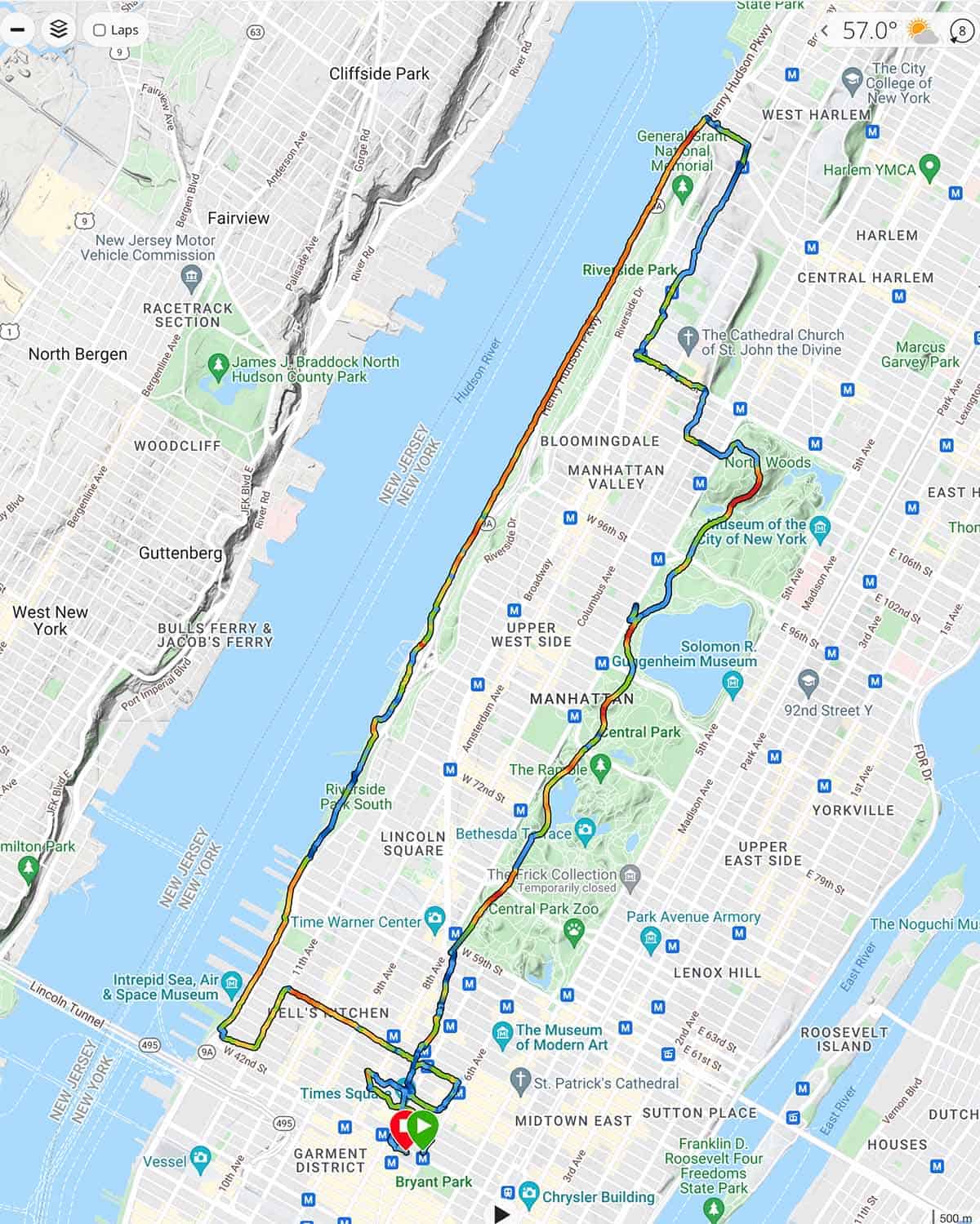 After riding north, we cut through Harlem and headed to a local coffee shop (in the Upper West Side) for coffee and a fresh cinnamon roll. Then we rode through Central Park for more people watching and the beautiful blooming cherry blossoms before heading through traffic to our hotel.
Riding the streets of NYC is both interesting and a little scary. But the great part is that traffic normally moves so slowly that scooting around cars becomes the normal. Note that we stayed behind the NYPD car in the second photo below!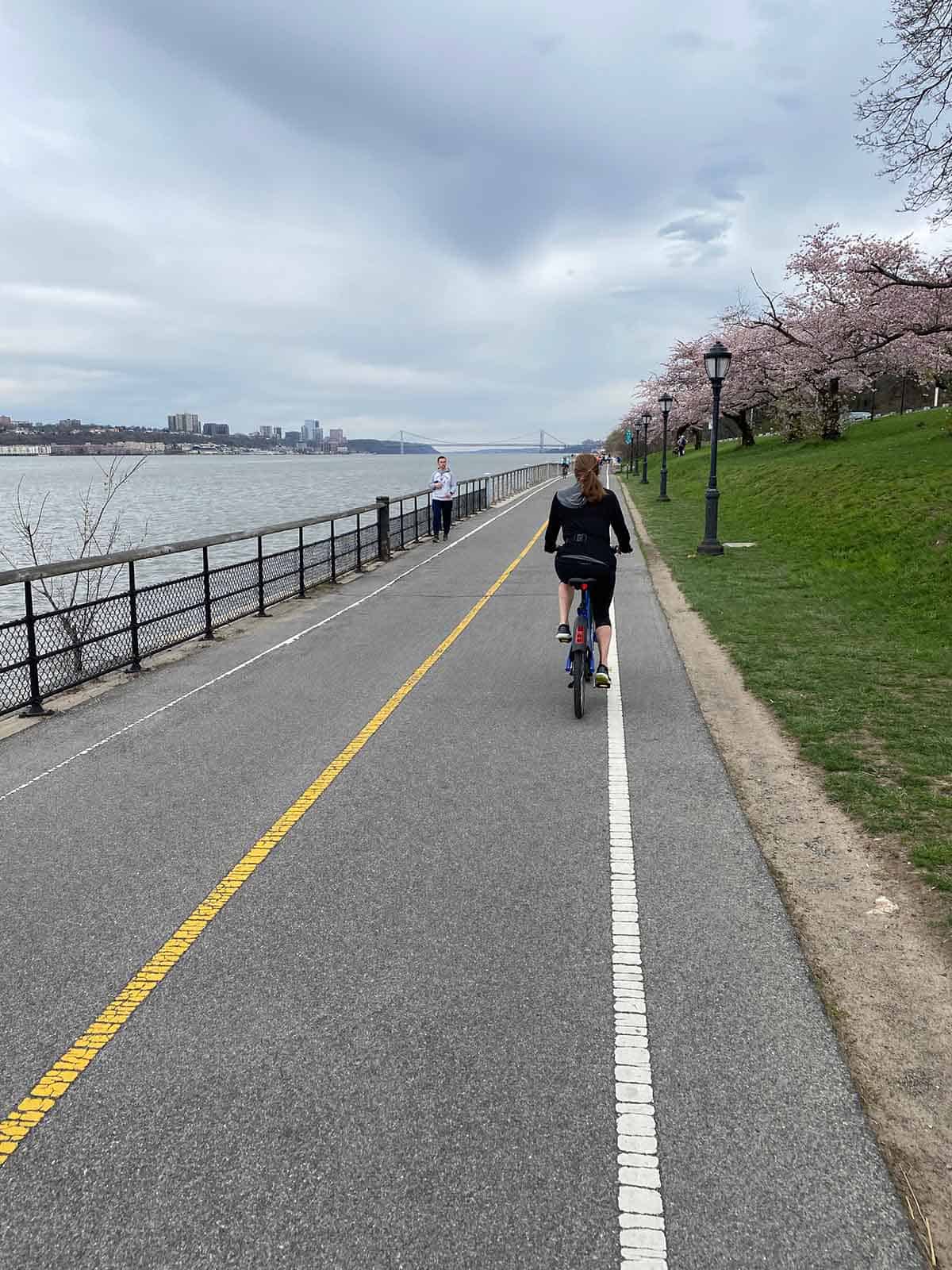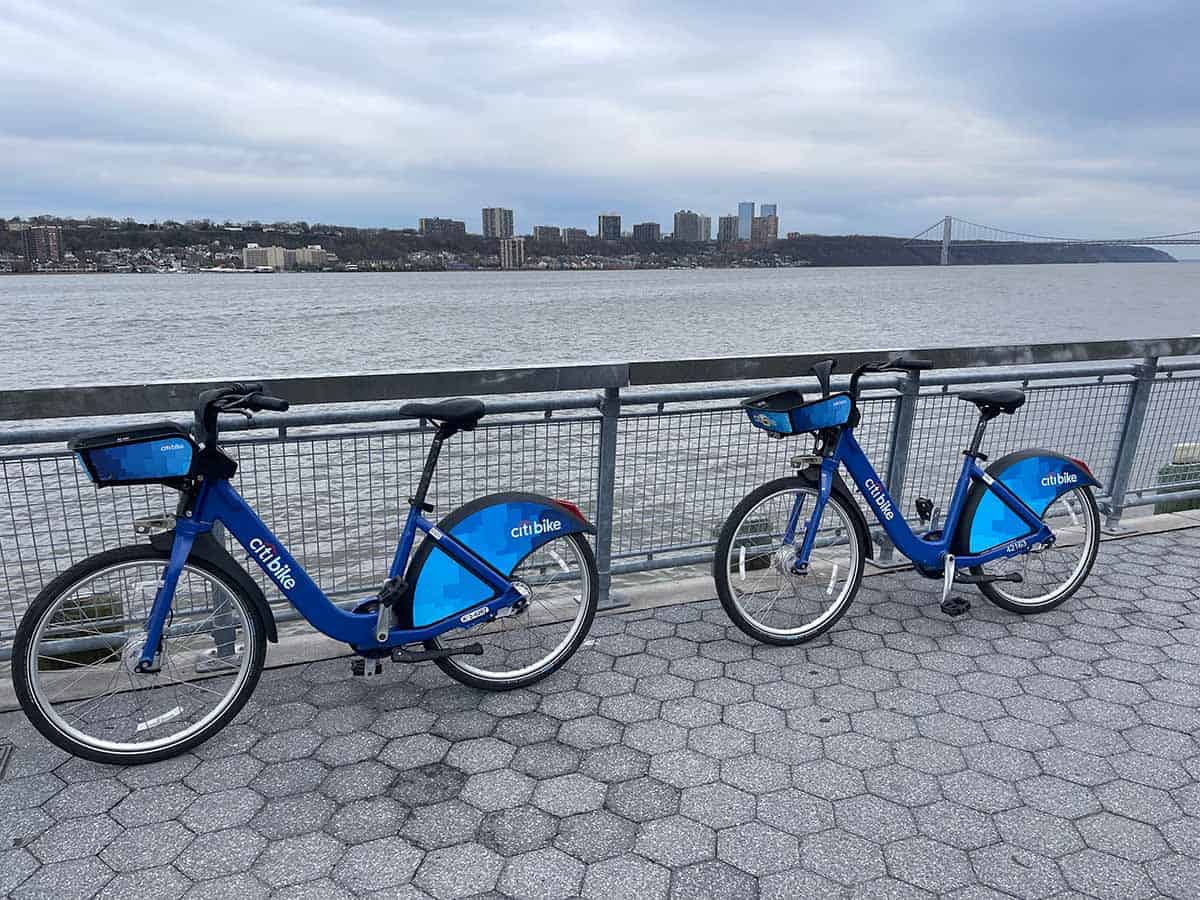 Food and Drinks
The Knickerbocker is only a couple blocks away from Bryant park so we hung out there quite often among the tulips. Coffee, to-go lunches from Whole Foods (across the street), and beer and French fries at a little pop-up restaurant in the park made it extra fun!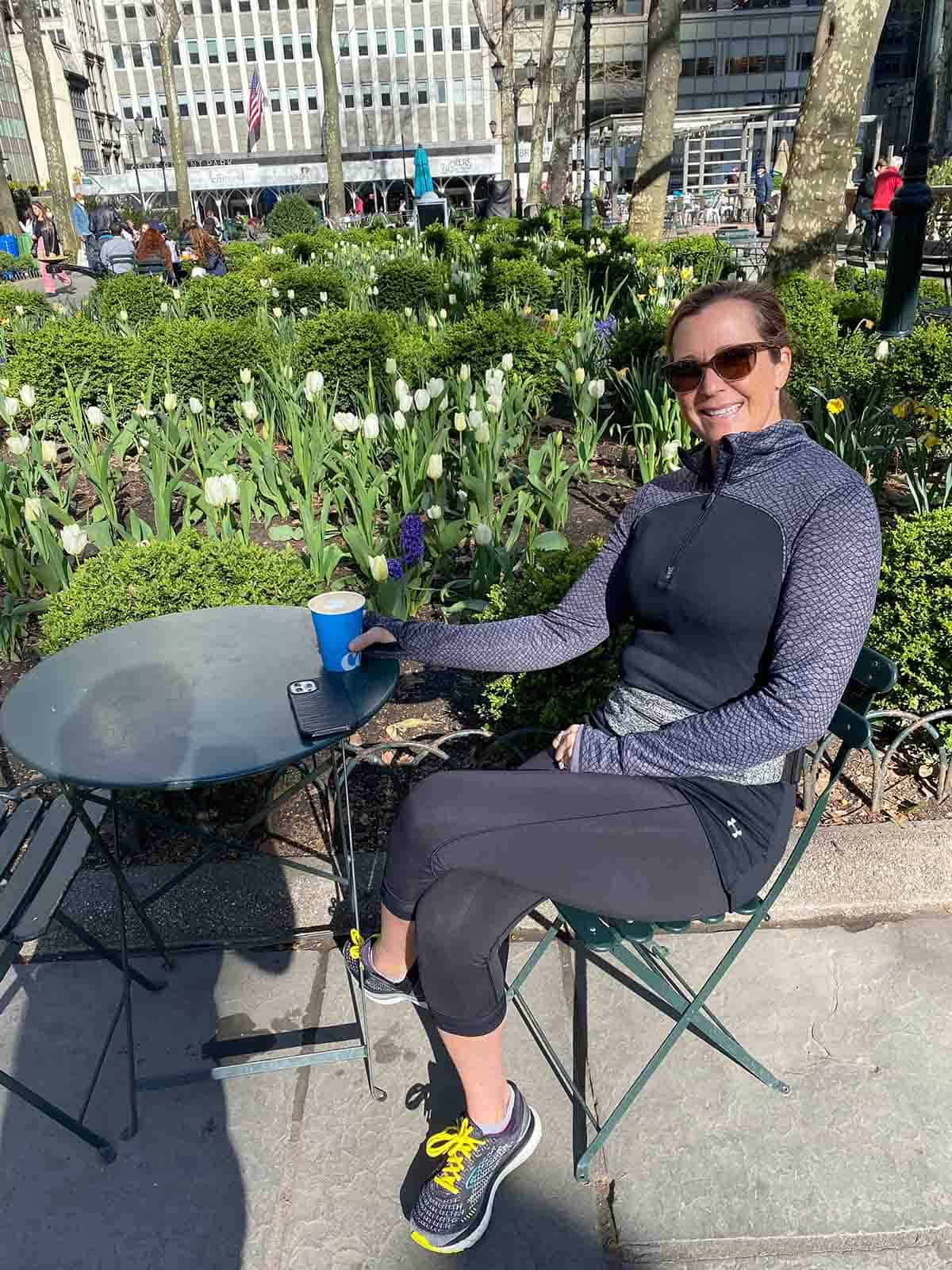 While in NYC, we ate Italian four our of four dinners (pizza, pasta, pizza, and pizza). We had to go back to Don Antonio a second time because it was so unique and delicious!
Don Antonio
Osteria
Norma Gastronomia
Don Antonio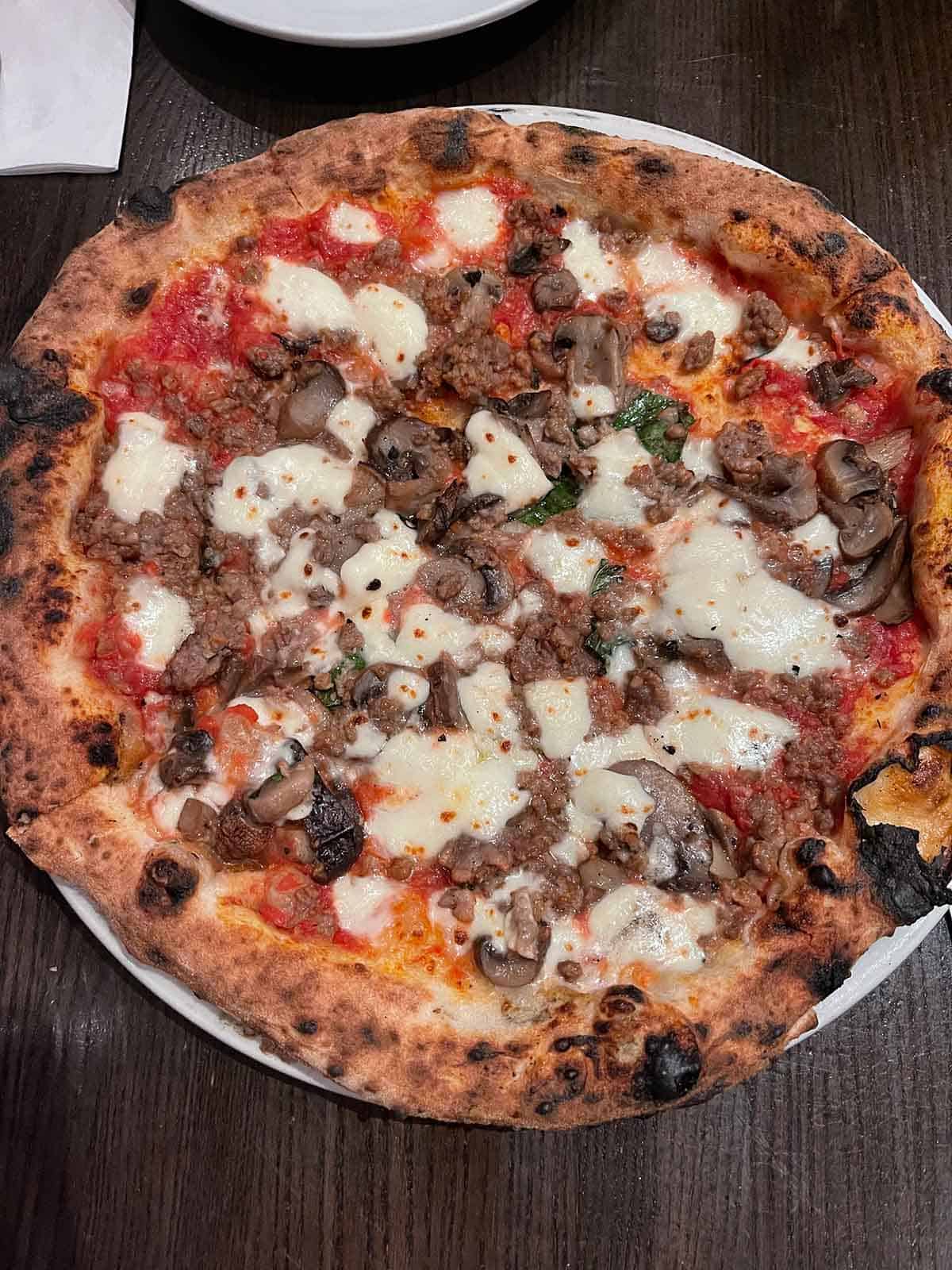 Mike and I were researching restaurants and both stumbled upon a place called Norma and decided it was destiny. We hopped on some City Bikes and headed southeast to find this pizza place named after my mother. 🙂
The food and wine was delicious and we found ourselves striking up a conversation with a "mostly" French speaking couple from Canada. They even shared a piece of the pizza while we were waiting for ours, which was super sweet.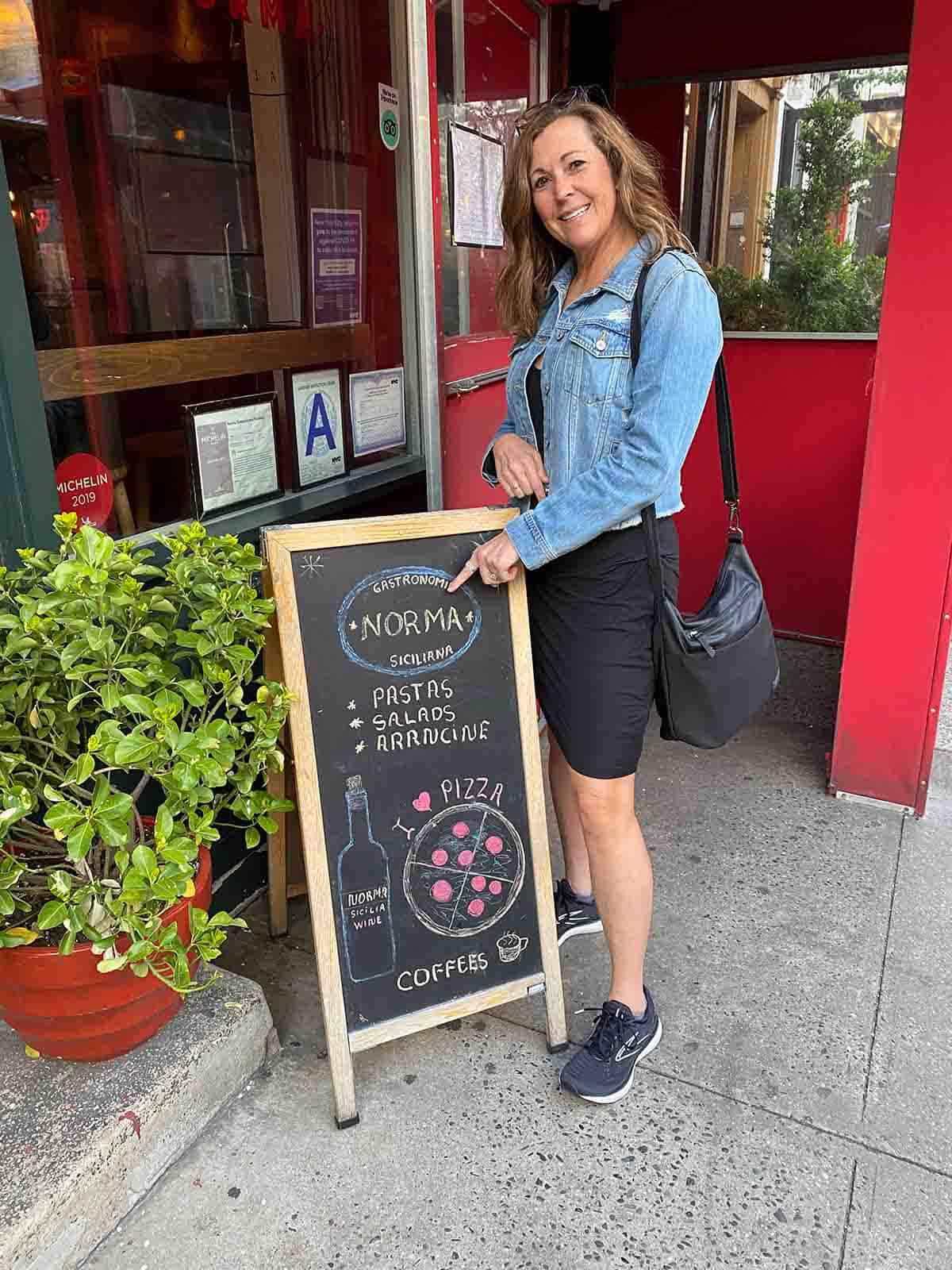 In addition to shows, bike rides, and pizza/pasta, we occasionally stopped for a happy hour of beer or wine or an occasional cup of joe! I attempted ordering some soft-serve ice cream at a "pot-cream" truck (not realizing it was a pot truck – LOL!) and Mike practically died from laughter! Sheltered much?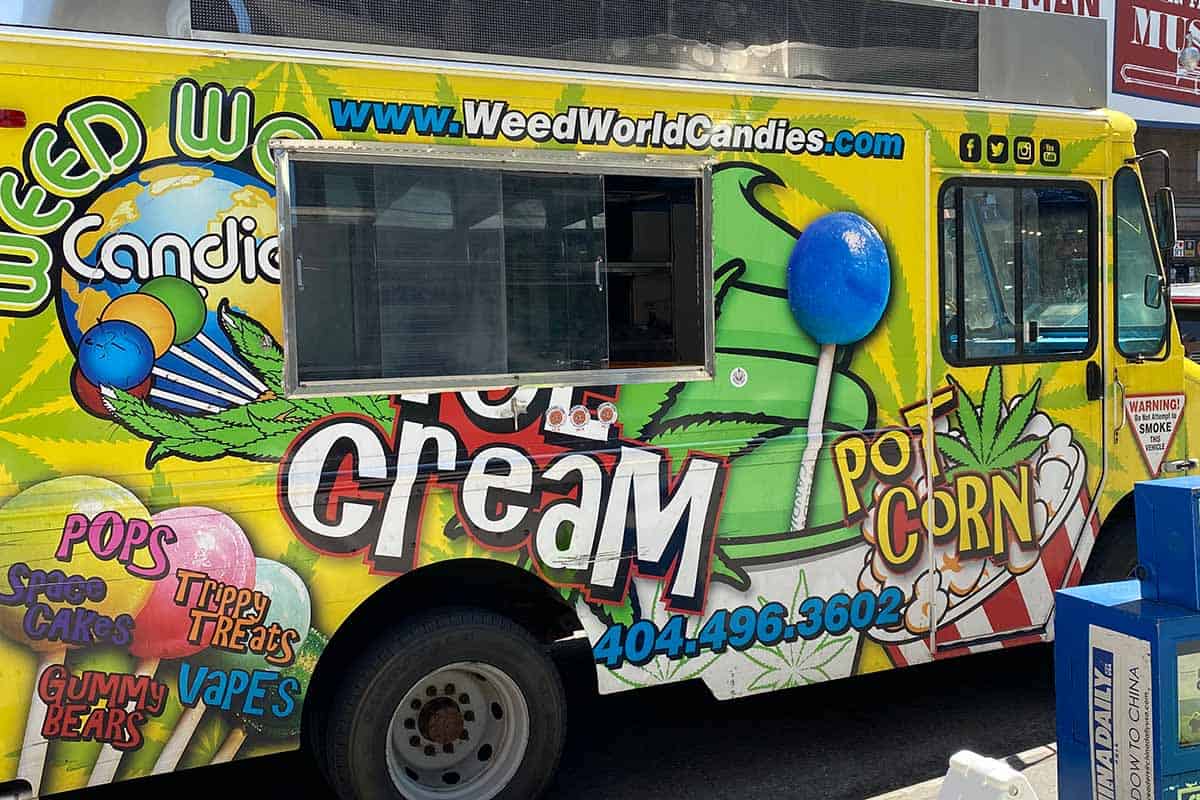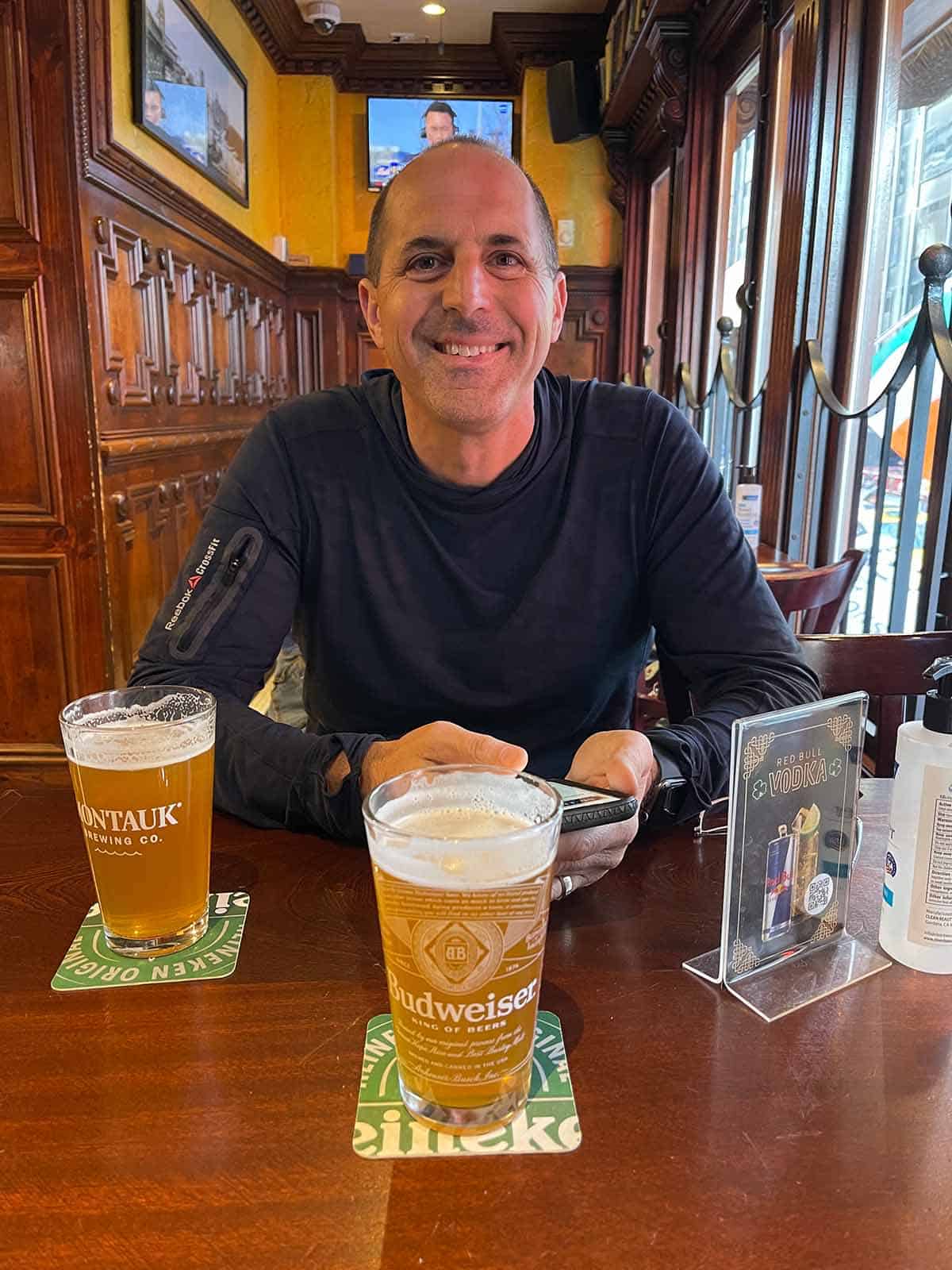 Easter Sunday
Our last day in the city was spent attending St. Patricks Cathedral for Easter Sunday Mass (following a cold bike ride). We enjoyed the service and afterward saw this group of nuns singing together outside the cathedral!
Following Mass was a quick brunch inside the Rockefeller Center. It was the only really chilly day so we took what we could find! Then we headed out to catch a few looks at the Easter Parade which was quite unique (and a little strange). Big hats, painted faces, and dressed up doggies!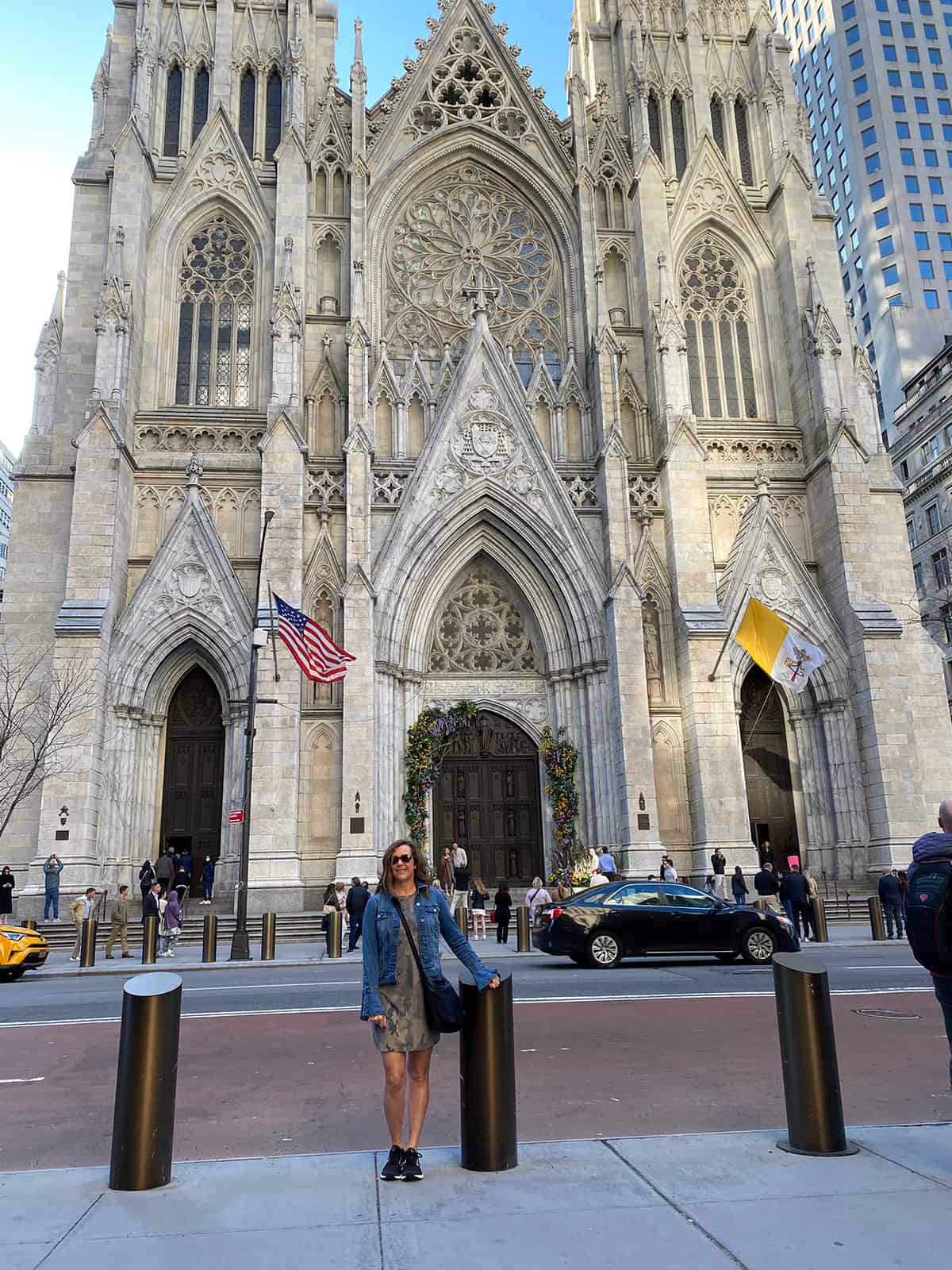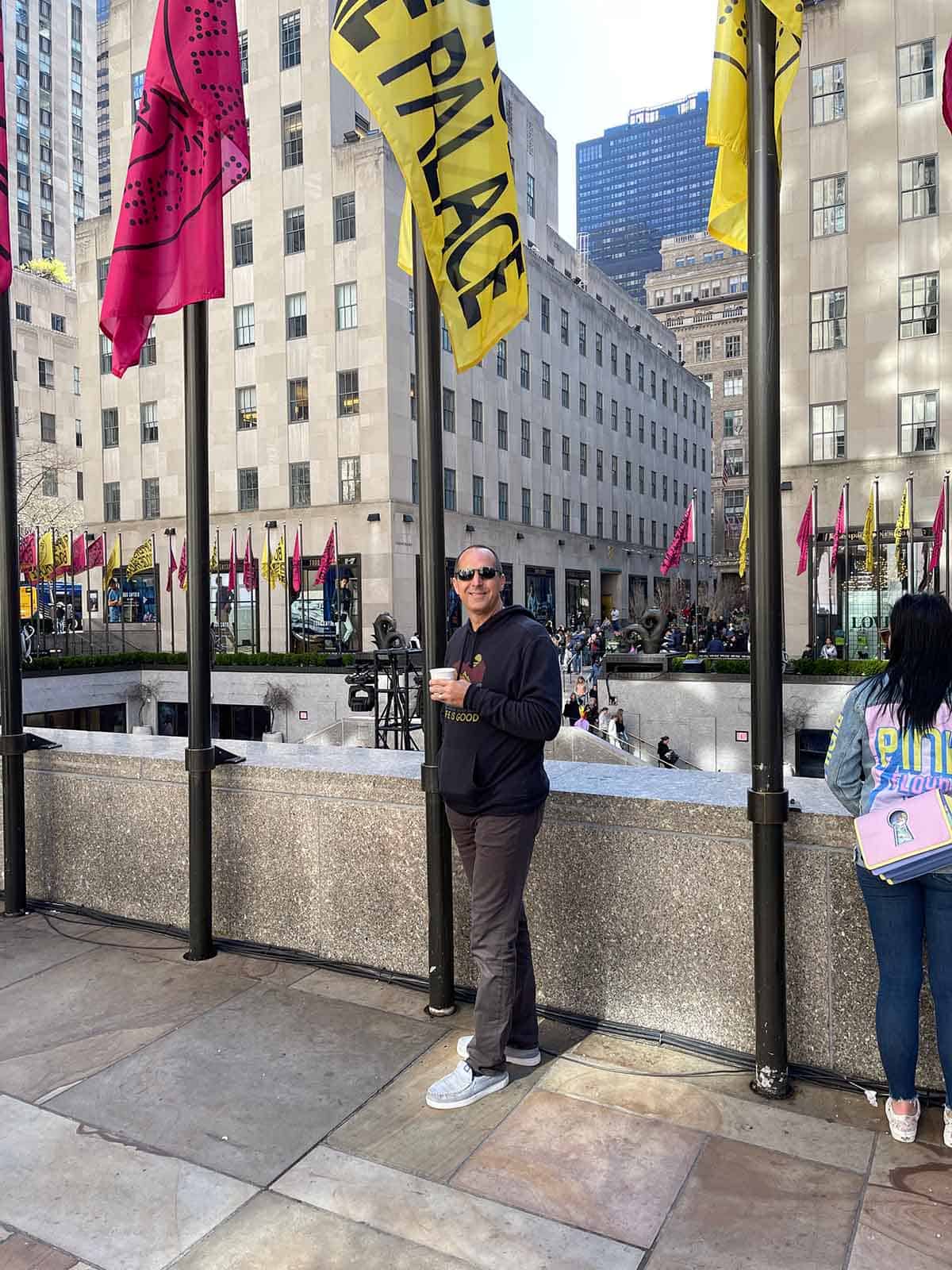 While we absolutely love the hustle and bustle of NYC, we also love the quiet suburban life we live. We had such a great time and are filled to the brim with memories!