This post may contain affiliate links which won't change your price but will share a commission.
Introducing my mother's Best Chewy Sugar Cookies, combining both brown and granulated sugar. These are so full of flavor that you don't really even need the icing!
For other versions, try my Best Cut-Out Sugar Cookies or my Frosted Soft Sugar Cookies!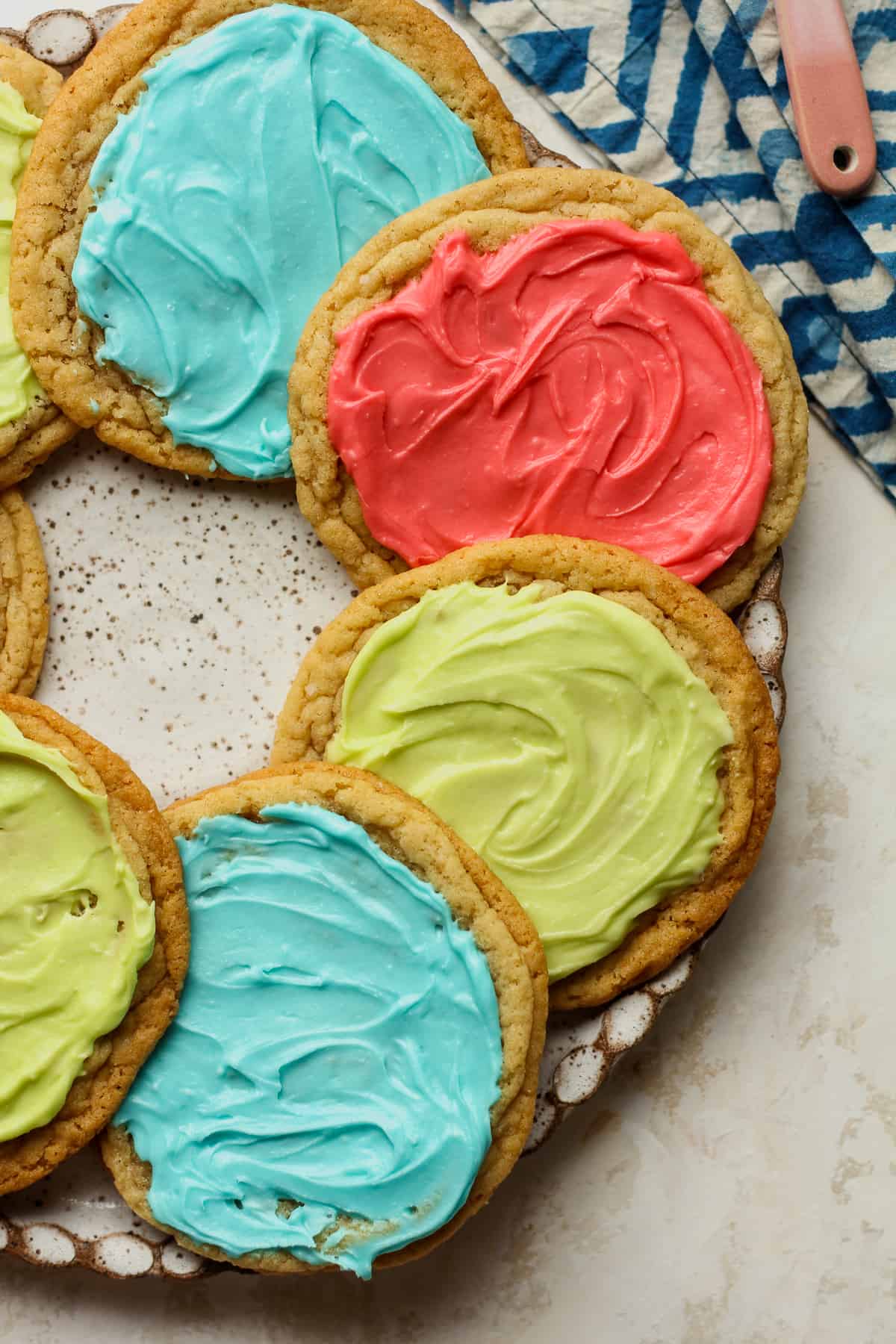 If you don't want to read a fun story about my family, simply scroll on by! 🙂
Some Family History
Mom's original recipe made about 40 cookies. I've cut it in half for the blog, but feel free to make the original by doubling this recipe!
I guess you bake tons of cookies when you are a mom to six kids and married to a man whose sweet tooth rivaled Cookie Monster. I still remember coming home from school and seeing Mom's back countertop filled with cookies that she had JUST baked. All is right in the world when you come home to that!
I also remember sneaking an extra one when she wasn't looking, because I know she TRIED to limit the amount we ate in one sitting (two was max, I believe).
So if all six of us kids ate two sugar cookies, plus a few extra "sneaks", plus a few for Dad and maybe one for Mom (because she never ate a lot of her own baking), that leaves 20 cookies out of the 40 remaining. Man, I'm good at math! 🙂 And guess what she did with the other 20?
BINGO. She GAVE them to neighbors, as well as the priests and nuns that lived across the street. That was totally routine for Norma Jean, the queen of baking and the giver of all things sweet. Giving away her baked goods was her reward for her sweat in the kitchen. She loved to hear the "ooohhs and aaahhhs" from the recipients of her gifts. That was all she ever needed. She never expected anything in return, just a little love.
Why This Recipe Works:
SIMPLE INGREDIENTS – This easy recipe uses standard baking ingredients. Nothing fancy.
CHEWY TEXTURE – These chewy cookies have the perfect texture – crispy edges with a chewy center..
DELICIOUS FLAVOR – These cookies have the best flavor using two types of sugar. One of our favorite sugar cookies!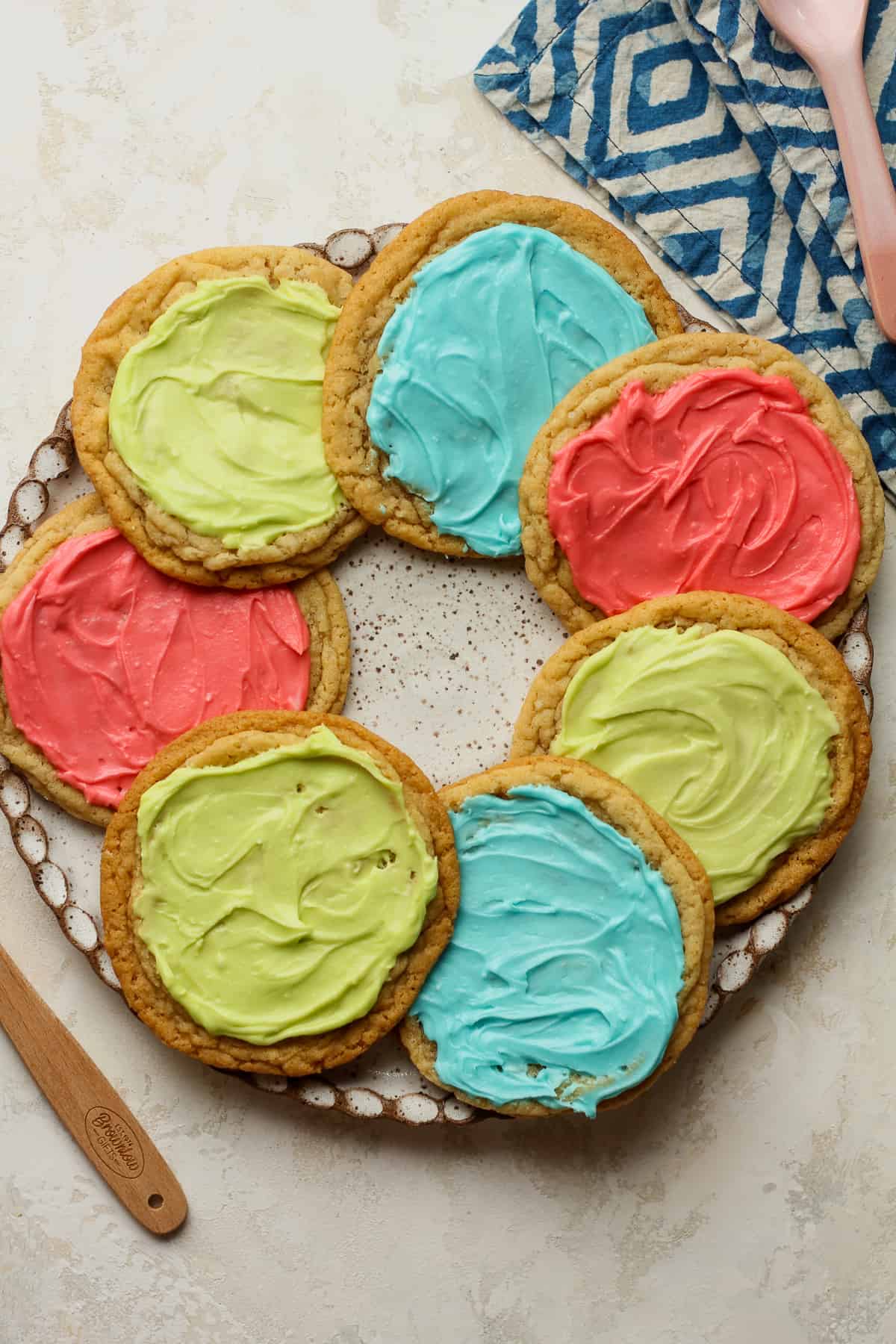 KEY INGREDIENTS:
Unsalted Butter – Make sure you let the butter sit on your countertop to soften it before using it in this recipe.
Sugars – A combo of granulated sugar and brown sugar is needed.
Egg – Let the egg come to almost room temp.
Cream of Tartar – Acts as a Leavening Agent and may be combined with baking soda. The resulting chemical reaction makes your treats fluffier.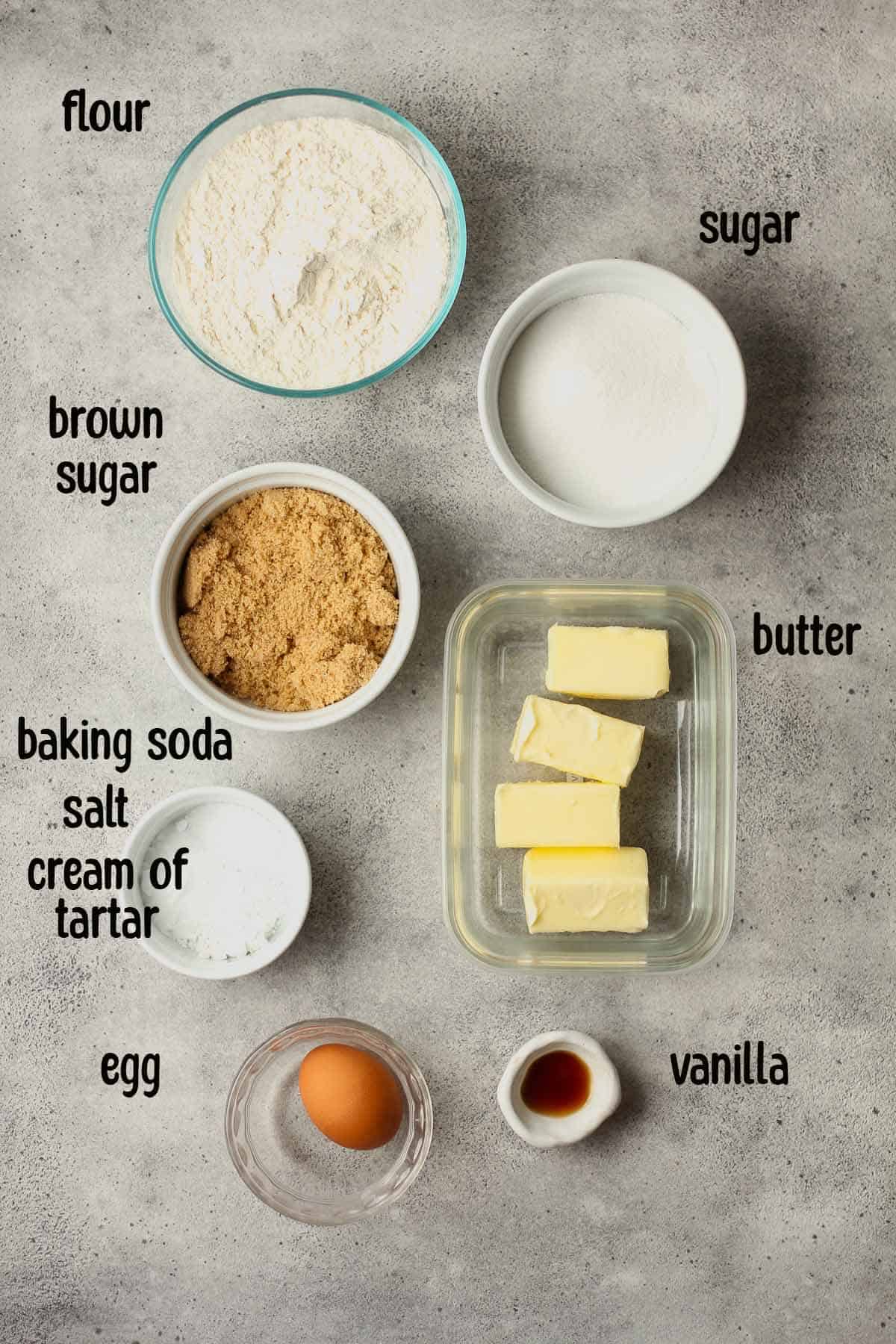 How to make this Chewy Sugar Cookie Recipe:
Step 1
Make the dough. In a large standing mixer using a paddle attachment, cream butter and sugar together until creamy, occasionally scraping down the sides of the bowl with a spatula. Add eggs and vanilla and mix again. Then add the dry ingredients – the cream of tartar, baking soda, salt, and all-purpose flour – and mix at medium-low speed until just combined.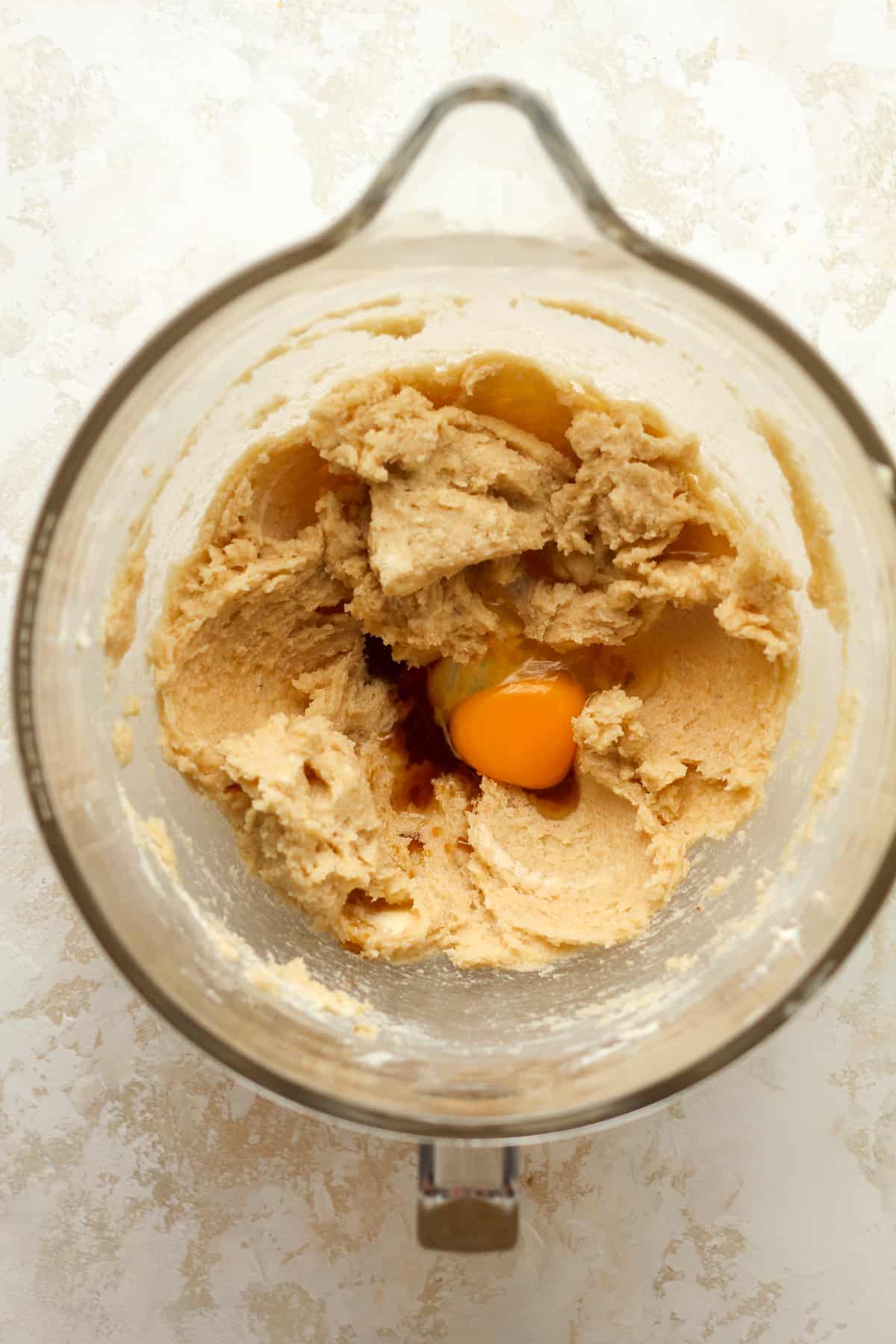 Step 2
Form cookie balls and chill dough. Use a cookie scoop to form 2-inch balls, place on a baking sheet, and cover with plastic wrap. Refrigerate cookie dough balls for a couple of hours.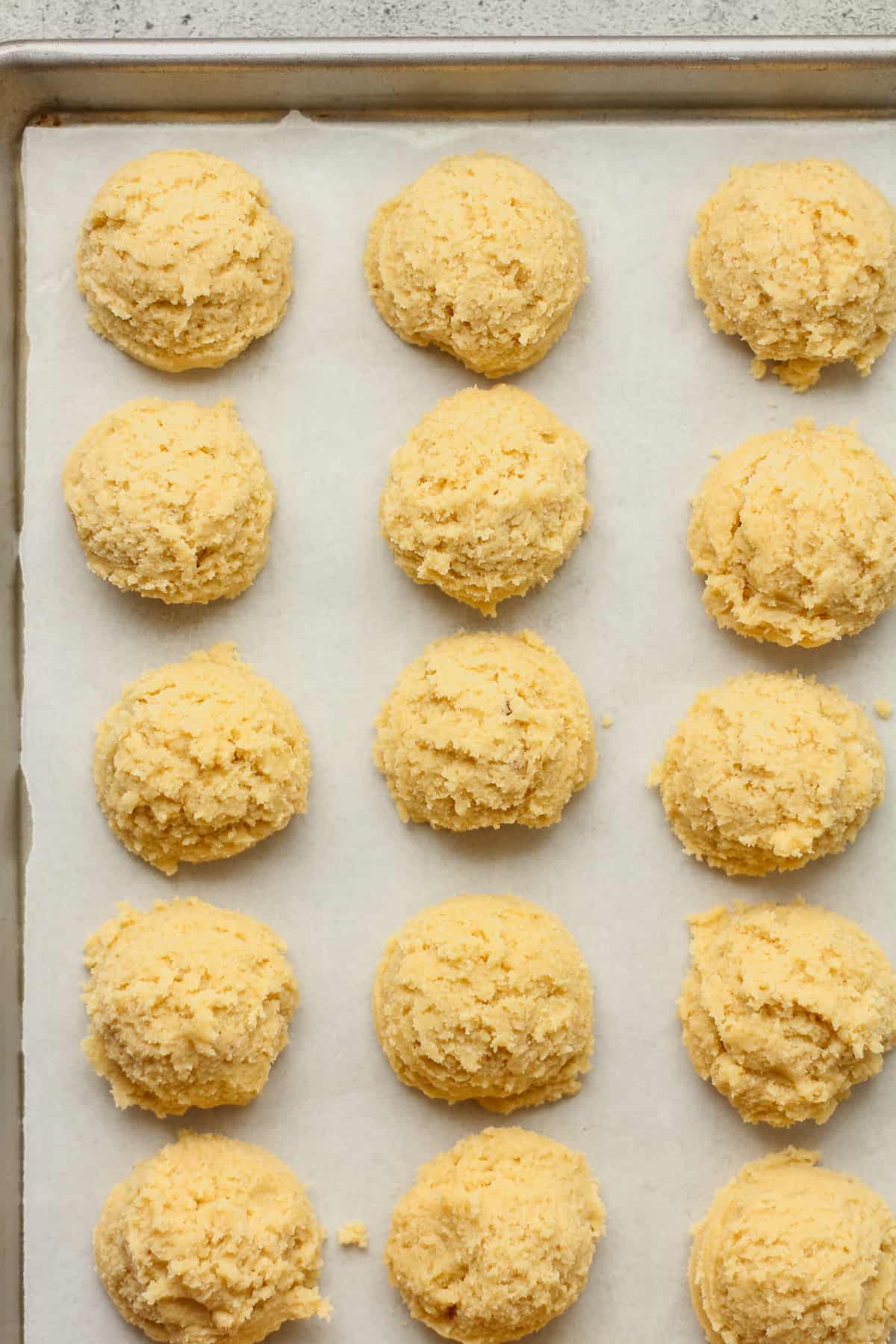 Step 3
Bake. In a preheated oven, bake cookies for just 10-11 minutes to ensure a soft inside. Let them sit on the pan for 5-7 minutes before transferring to a wire rack.
Step 4
Make icing. Melt the butter. Add to a medium bowl, and add the half and half and vanilla extract. Then slowly add the powdered sugar and use a hand mixer to combine.
You'll want to use as much powdered sugar as needed to get a nice consistency for the cookies. Not too runny and not too stiff!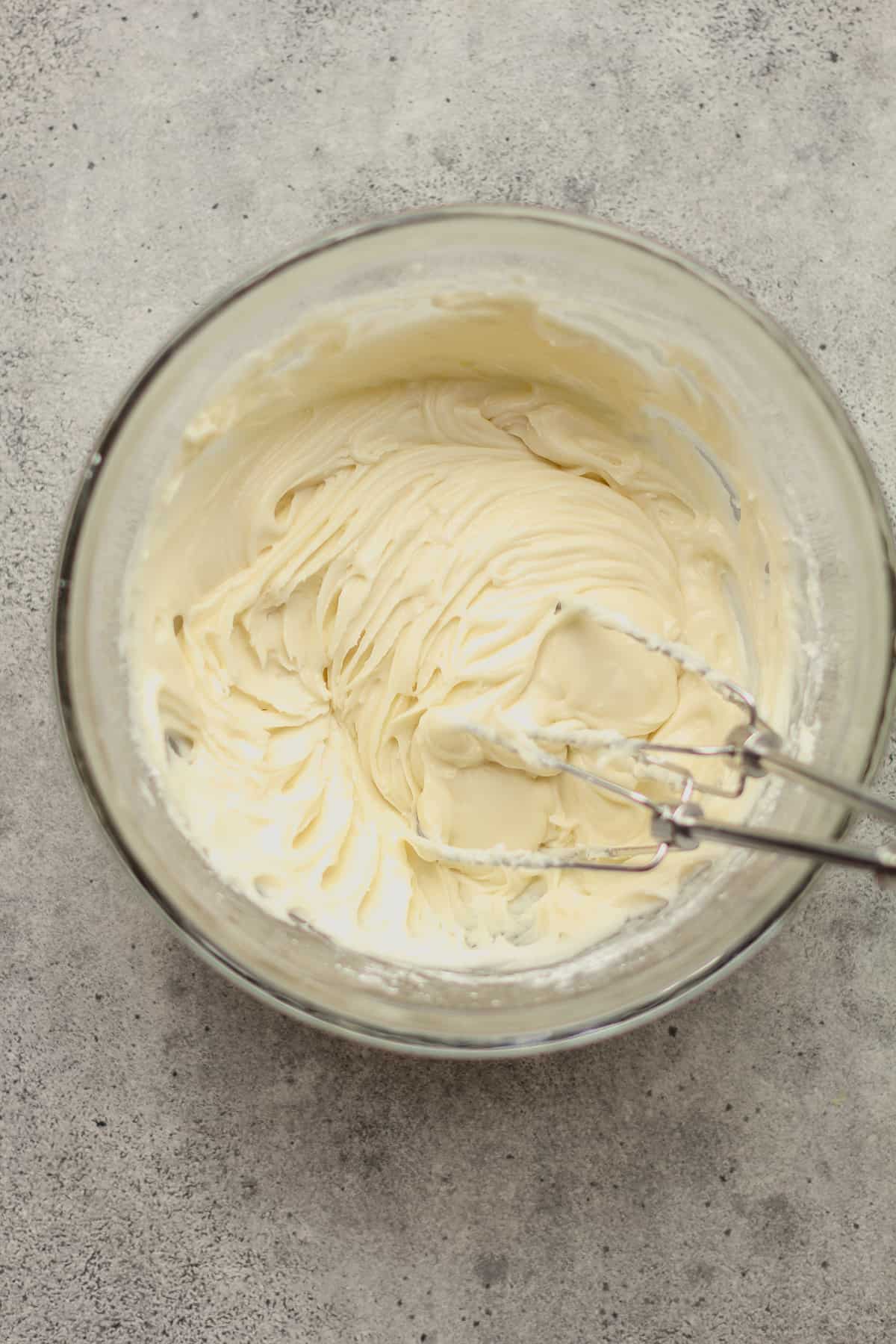 Step 5
Ice the cookies. When the cookies are completely cool, add the icing.
Food coloring can also be added for decorating for various occasions.
Step 6
Share! These are too good not to share!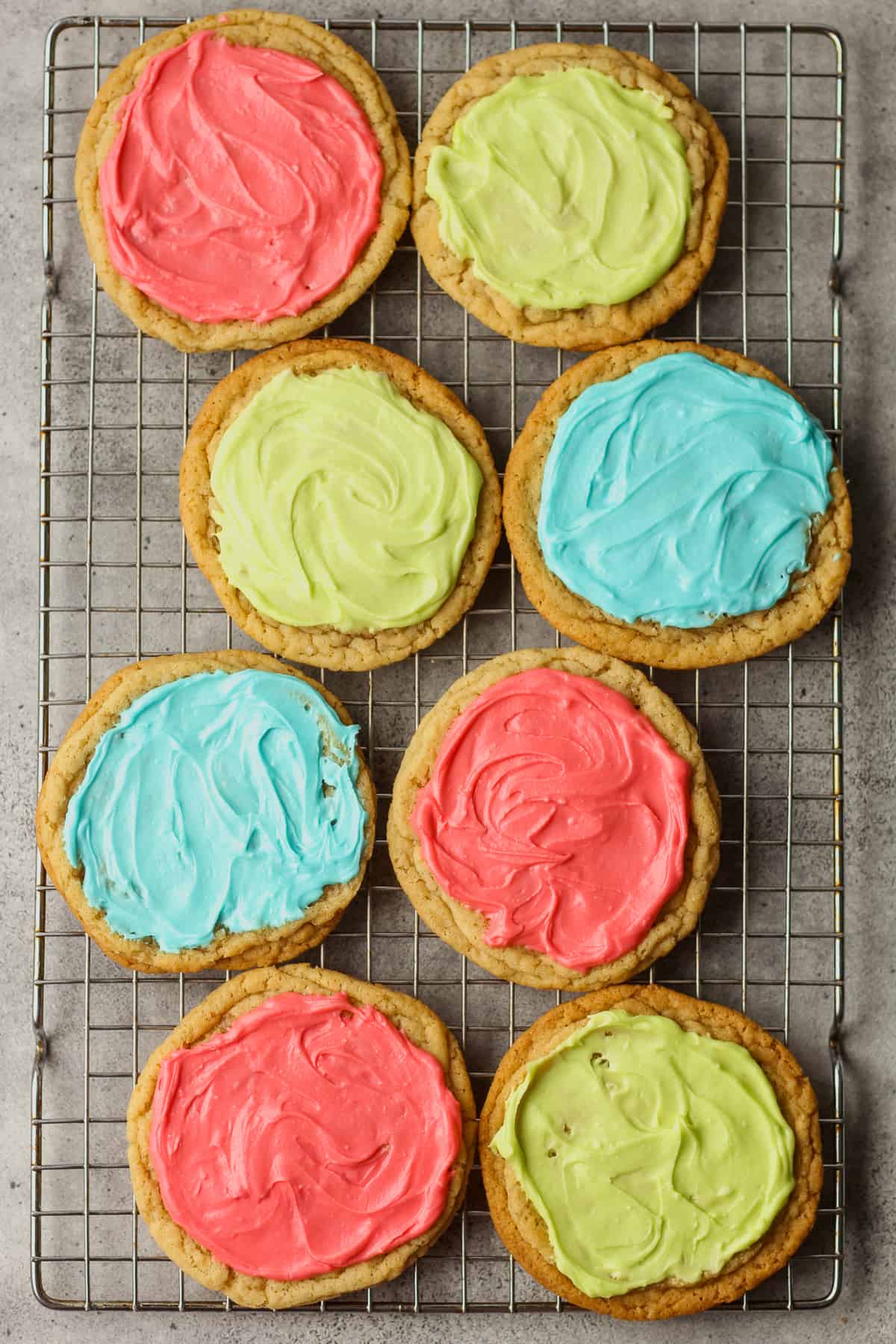 If your cookies spread too much, it could be due to several reasons, including the quality of ingredients, how soft your butter was, your oven temperature, etc.
You can fix cookies that over-spread by taking them out of the oven a few minutes early and using a spoon to gently push the edges in. Then pop them back in the oven to finish baking!
Cookie Baking Tips:
Use room temperature butter and eggs to up your cookie game. This allows the ingredients to form an emulsion which traps air. While baking, this trapped air expansionists to produce a fluffier cookie. Using cold ingredients will prevent this magic from happening.
Chill your dough. This will allow the fat in the cookies to chill and firm up. When baking, this chilled fat will prevent an over-spreading of the cookies. The resting time will also allow the flour to soak up the liquids in the dough. When the cookies are fully-hydrated, they brown better, bake more evenly, and have a more complex flavor.
Bake your cookies to YOUR preference. If you like your cookies darker, bake them longer. If you like them gooey, then slightly under-bake them. You do you!
Bake one batch at a time. If using a regular oven, baking one batch at a time is recommended for more even baking. If using a convection oven, you can bake two batches at a time.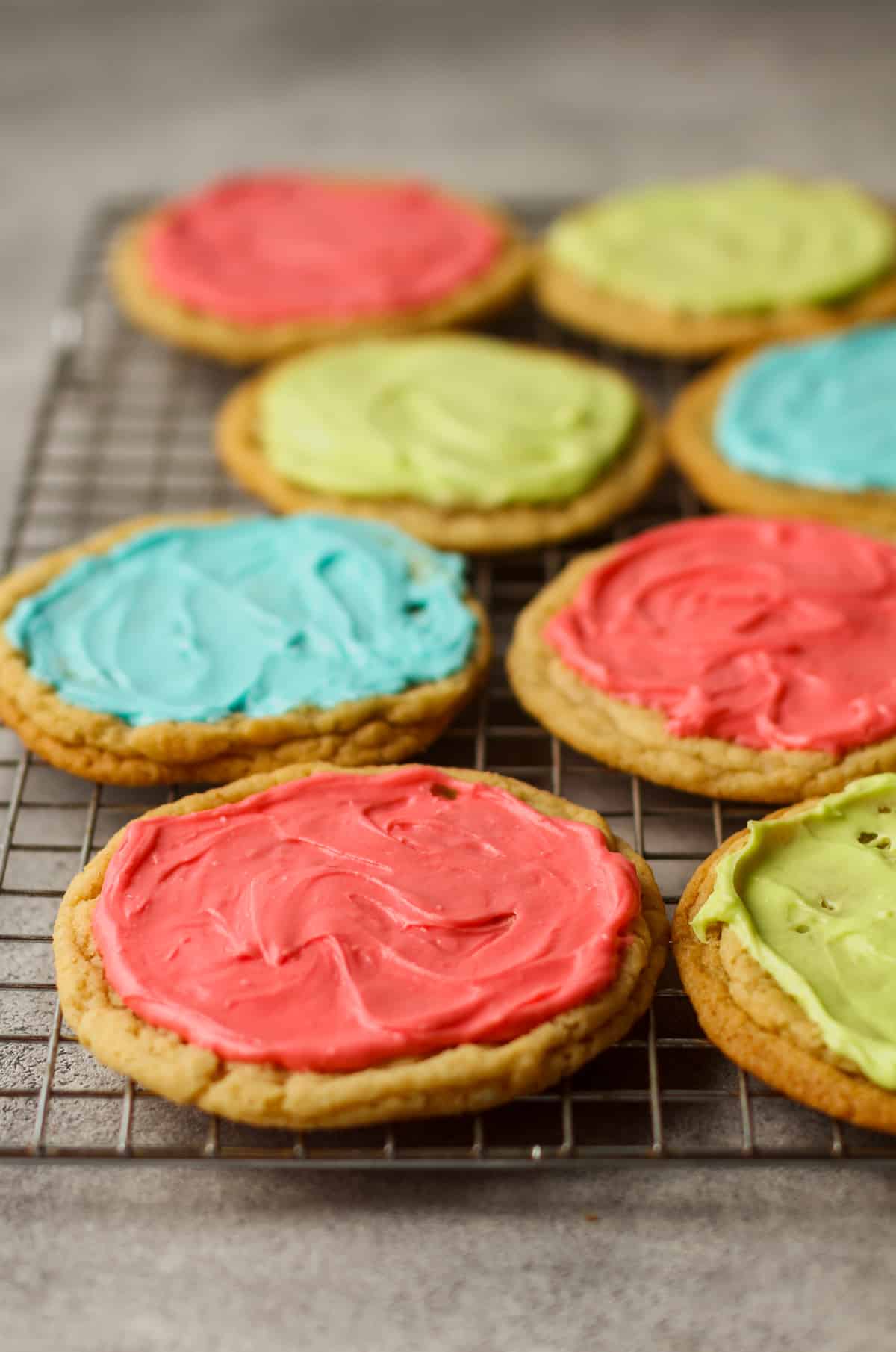 Storing Tip – Store these sugar cookies in an airtight container on the kitchen counter, for up to three days.
Freezing Tip – Freeze in airtight container plus freezer bag, for up to three months.
Other Cookies to Try Next: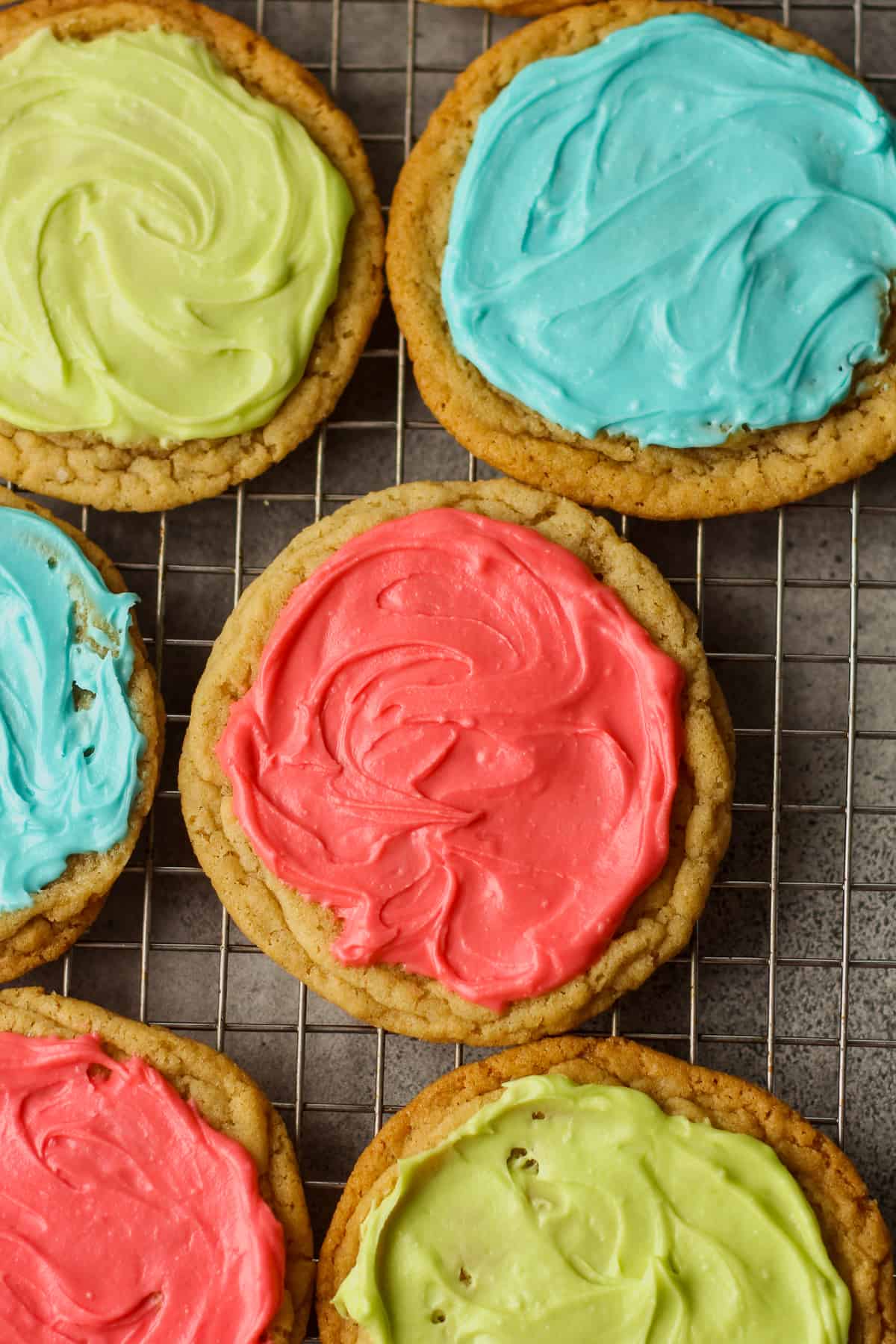 Kitchen Tools Used: (affiliate links)
xoxo ~Sue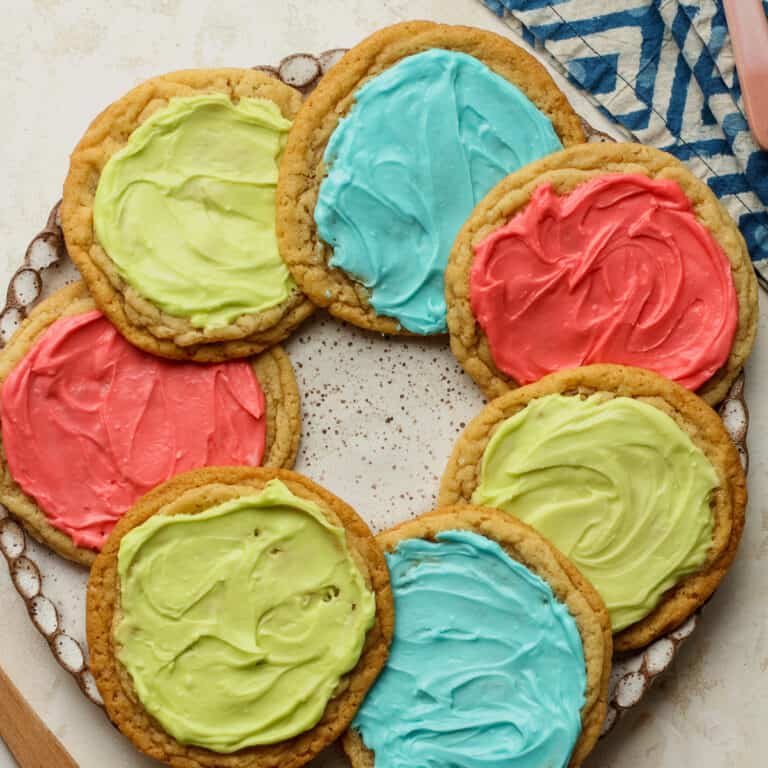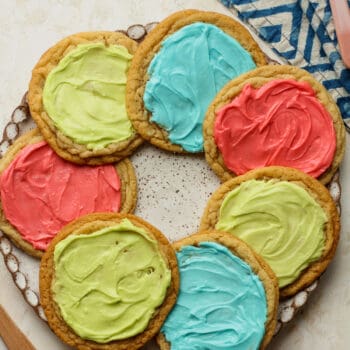 Best Chewy Sugar Cookies
Introducing my mother's Best Chewy Sugar Cookies, combining both brown and granulated sugar. These are so full of flavor that you don't really even need the icing!
Print
Pin
Rate
Ingredients
For the sugar cookies:
1

cup

unsalted butter

– softened

1/2

cup

brown sugar

(110 grams)

3/4

cup

white sugar

(150 grams)

1

large

egg

– at room temperature

1

teaspoon

vanilla

2 1/4

cups

all-purpose flour

(270 grams)

2

teaspoons

baking soda

2

teaspoons

cream of tartar

1/2

teaspoon

salt
For the icing:
2

Tablespoons

unsalted butter

– melted

2

teaspoons

vanilla

3

Tablespoons

half and half

– or milk

2 1/4

cups

powdered sugar

– depending on desired consistency

food coloring

– optional
Instructions
For the sugar cookies:
In a large standing mixer, cream the butter and sugars together. Add eggs and vanilla and mix.

In a separate bowl, combine flour, baking soda, cream of tartar, and salt. Slowly add dry ingredients to wet ingredients and mix until just combined.

Place cookie dough in airtight container and store in the refrigerator for at least two hours.

Preheat oven to 350 degrees. Roll dough into 1 1/2 inch balls and place cookie balls on prepared sheet pan. Bake in batches, for approximately 12 minutes.

Let cookies cool slightly before removing to baking sheets to cool completely.
For the icing:
Melt the butter in medium bowl. Add vanilla and half and half and stir. Add powdered sugar until you reach the right consistency. You want to make sure it's thick enough for spreading but thin enough to use a decorating kit (optional).

Add a few drops of food coloring to achieve your desired color. I used red to get pink icing, and red and blue to get purple icing.

Fill decorating kit with icing. Make designs on the cookies to decorate for the appropriate holiday or celebration.
Nutrition
Calories:
282
kcal
|
Carbohydrates:
42
g
|
Protein:
2
g
|
Fat:
12
g
|
Saturated Fat:
8
g
|
Polyunsaturated Fat:
1
g
|
Monounsaturated Fat:
3
g
|
Trans Fat:
0.5
g
|
Cholesterol:
42
mg
|
Sodium:
196
mg
|
Potassium:
92
mg
|
Fiber:
0.4
g
|
Sugar:
29
g
|
Vitamin A:
378
IU
|
Vitamin C:
0.02
mg
|
Calcium:
15
mg
|
Iron:
1
mg