It's National COOKIE Day!! 🙂
Monster Cookie dough is probably the best dough EVER. I happened to be a peanut butter lover so that's probably why. Or maybe because there is oatmeal in the dough and I secretly think it's health food. I don't know. But I DO know that it's dang good!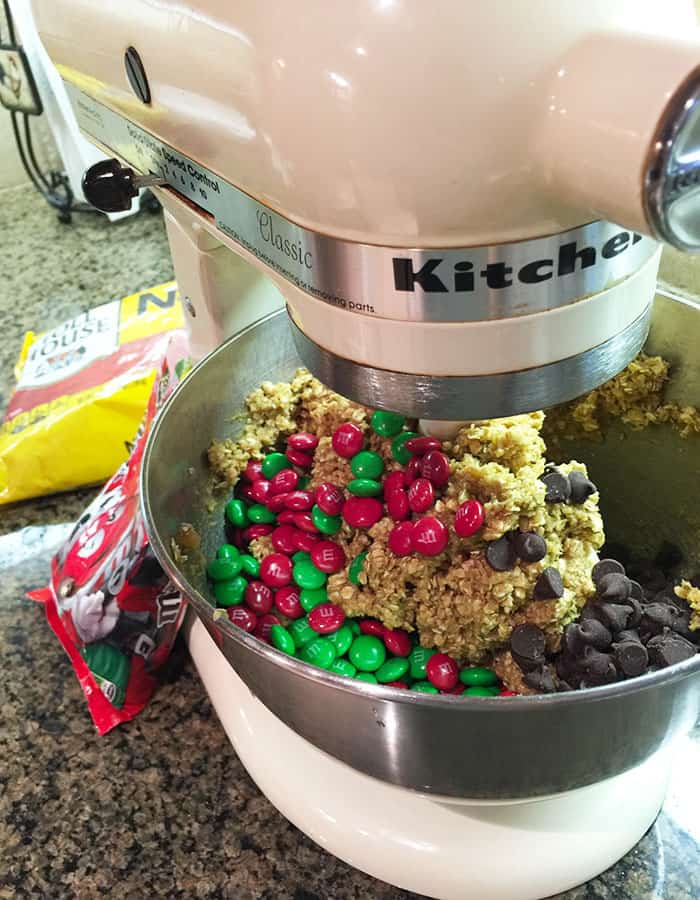 I tend to like these cookies browner than most. They are chewy and delicious.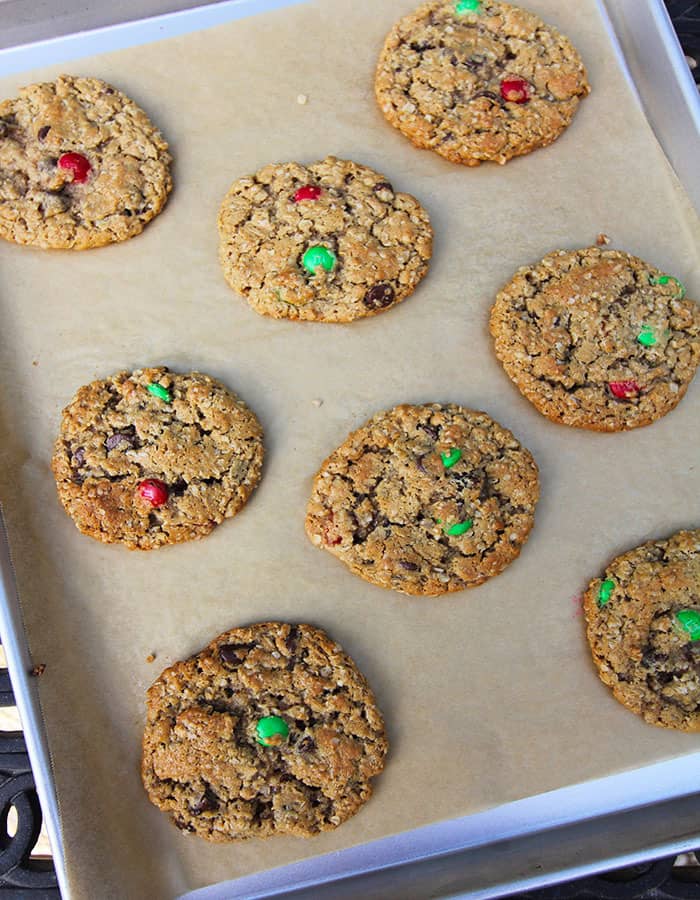 When I was kid, I remember getting sick quite often on cookie dough. One instance, in particular…I ate so much dough that I decided to go for a run to make myself feel better. NOT. Didn't happen. I actually almost "lost" my cookies on the run instead. To this day, I think about that and I usually proceed with caution when dealing with cookie dough. Just a couple of bites will do now.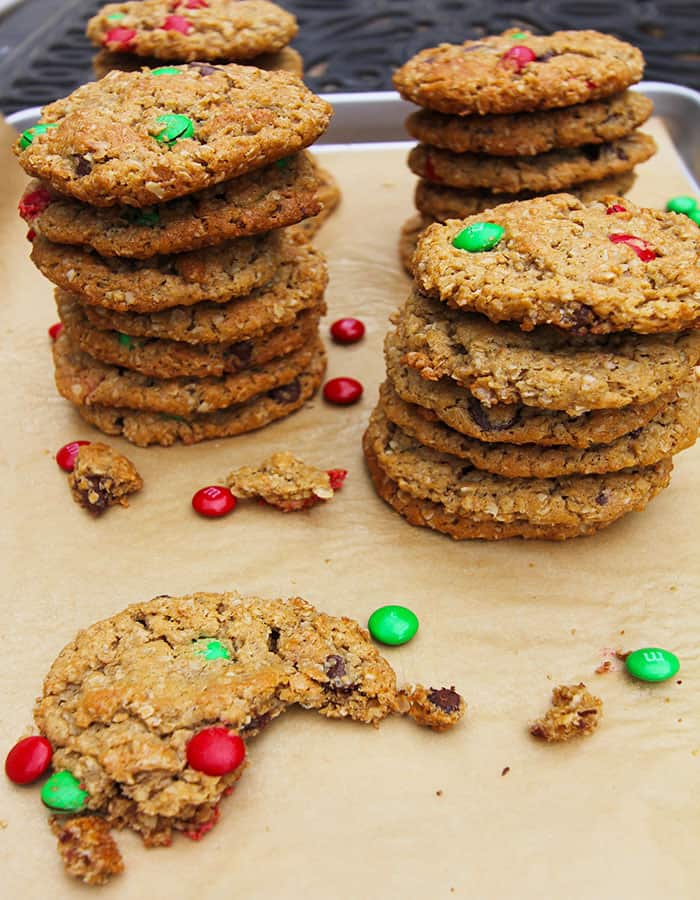 This is my mom's recipe and it's delicious, of course. She used to make them SO big that one cookie was about as big as my head. Well, maybe not that big. But BIG. When she and Dad would visit us in Dallas, Mom liked to make a bunch of Monster Cookies for the kid's teammates (when they played team sports). Everyone loved it when Norma Jean came to town.
If there was ever a cookie monster, Dad was definitely him. I'm pretty sure Mom started delivering treats to the neighbors when she saw his cookie monster personality emerging, as well as his pants size. Yikes.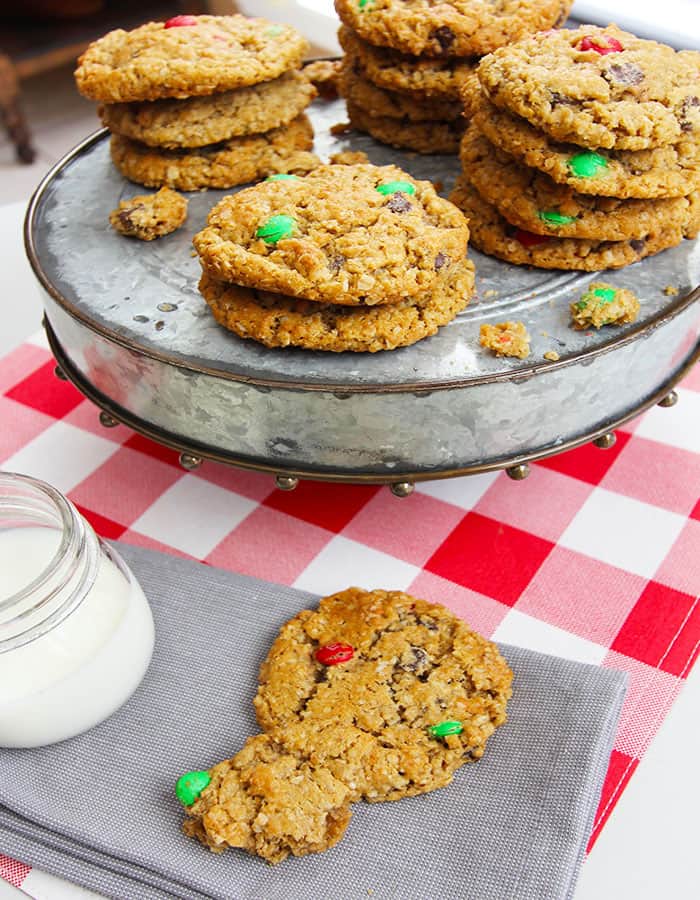 The nice thing about this recipe is that you can easily adapt the mix-ins according to whatever you like. Nuts, any kind of chips (white, butterscotch, dark chocolate, mini), any color m&m depending on the season, other candy, etc. Just keep the proportions the same and anything goes.
I decided to turn this recipe festive for the Christmas season. Hello green and red m&ms! But you could use pastel colors for Easter, or a mixture for any day of the year, or red, white, and blue for a patriotic holiday. Oh, the possibilities.
If you are looking for other cookie recipes this holiday season, check out my Iced Sugar Cookies and my Best Ever Peanut Butter Cookies!!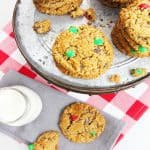 M&M Monster Cookies
a delicious cookie full of m&ms, chocolate chips, peanut butter, and oatmeal
Ingredients
1/2

cup

butter

softened to room temperature

1 1/4

cups

brown sugar

1

cup

white sugar

3

large

eggs

at room temperature

1 1/2

cups

creamy peanut butter

1

teaspoon

vanilla

2

teaspoons

baking soda

4 1/2

cups

quick oats

1

cup

chocolate chips

1

cup

m&ms
Instructions
Cream butter (that is at room temperature) and sugars together until smooth. Add eggs, peanut butter, and vanilla, and mix.

Add oatmeal and vanilla and combine. Add chocolate chips and m&ms and mix until just combined.

Refrigerate dough for at least two hours.

Roll dough into balls (you determine the size) and press down slightly. Bake at 350 degrees for 12 - 14 minutes, or until lightly browned on top.

These freeze nicely.
Recipe Notes
You can use different color m&ms, different types of chips, or other candy to replace the mix-ins. Be creative!