Shrimp Fried Rice is the perfect weeknight meal that can be thrown together in 30 -40 minutes! Make your rice the day before, and then spend some time cooking with your family, using the freshest of ingredients. Who needs take-out anyway?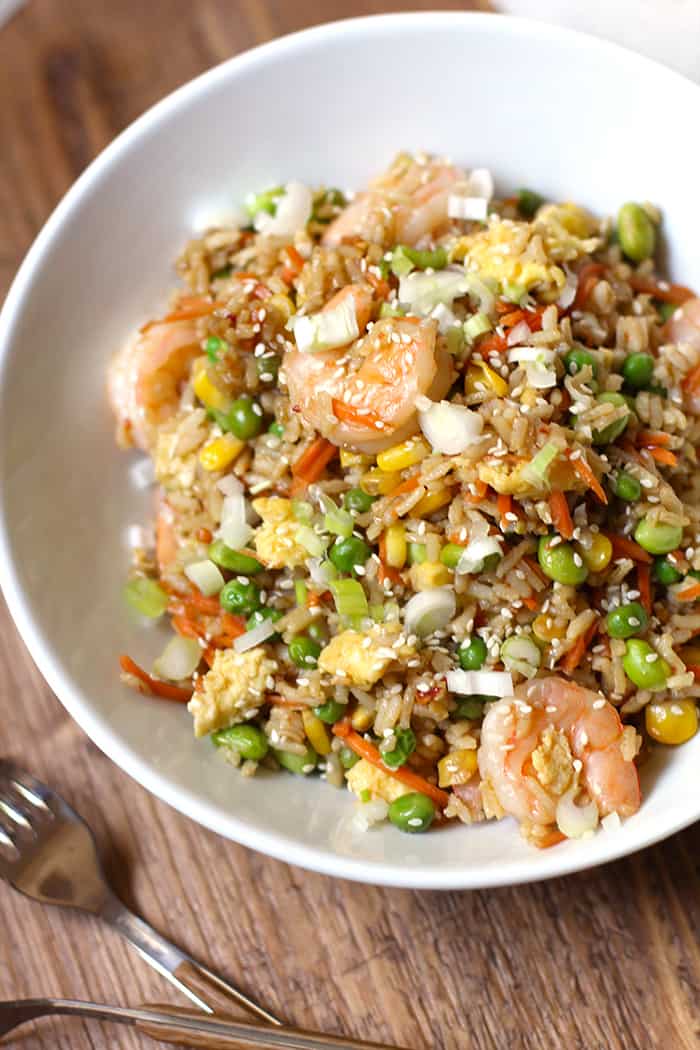 Stir Fry was my go-to meal when we were first married. I stumbled upon a good recipe, tried it, and the rest is history. The really amusing thing is that I rarely cook with Asian ingredients, but that is changing with this Shrimp Fried Rice.
I spend SO much time in my kitchen. On any given day, I probably average 3-4 hours (or more!) cooking, doing dishes, and planning future meals. It really is my happy place.
But sometimes, I just want to be OUT of my kitchen. Hanging out with my family, going on a bike ride, shopping, meeting friends….just anything other than cooking. So THIS dish is the answer for those days. Because it really IS quick and tastes great too.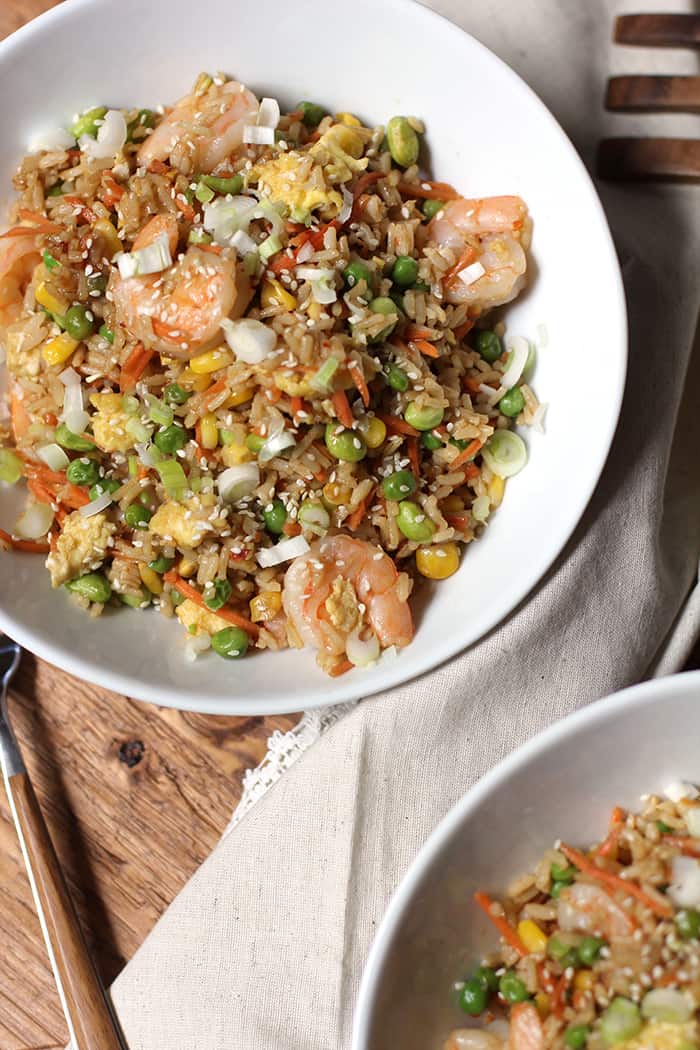 Most of the ingredients for my Shrimp Fried Rice are pictured below.
Remember to cook your rice the day BEFORE. This takes a little bit of planning but it is REALLY important!
Buy raw shrimp, and peel and devein them. If they are frozen, be sure to have them thawed and ready to go.
The veggies consist of frozen corn, frozen peas, frozen edamame, and fresh shredded carrots. Let the frozen veggies thaw out before you cook.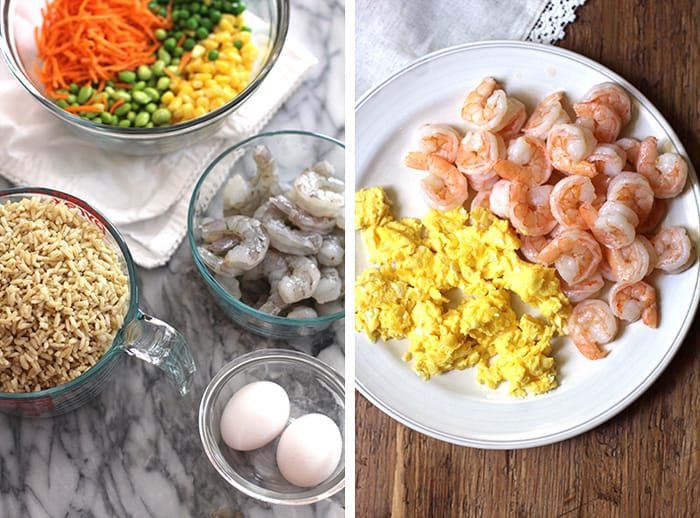 The other VERY important ingredients are the Asian sauces, oils, and spices. This is what gives this quick dish all the flavor. DON'T skip them!
sesame oil
chili paste
oyster sauce
soy sauce
red pepper flakes
You can use as much or as little of the above ingredients as you want. I always tend to go heavy with the spice level, so even though this recipe calls for two teaspoons of chili paste, I used three. 🙂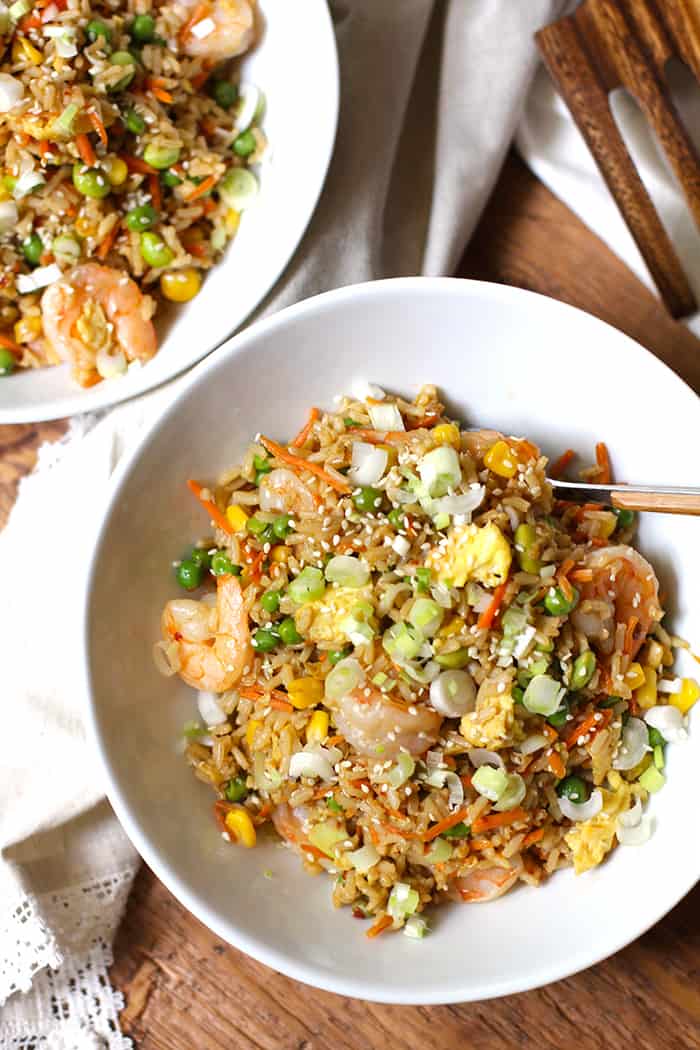 If you love Chinese take-out, you will appreciate the fact that this recipe uses fresh ingredients and is relatively healthy. I rarely eat Chinese food anymore because of the huge calorie burden, but this one isn't fried or laden with too much oil.
Now if I can just convince my sons to skip their favorite take-out spot, and help me in the kitchen with this delicious dish. 🙂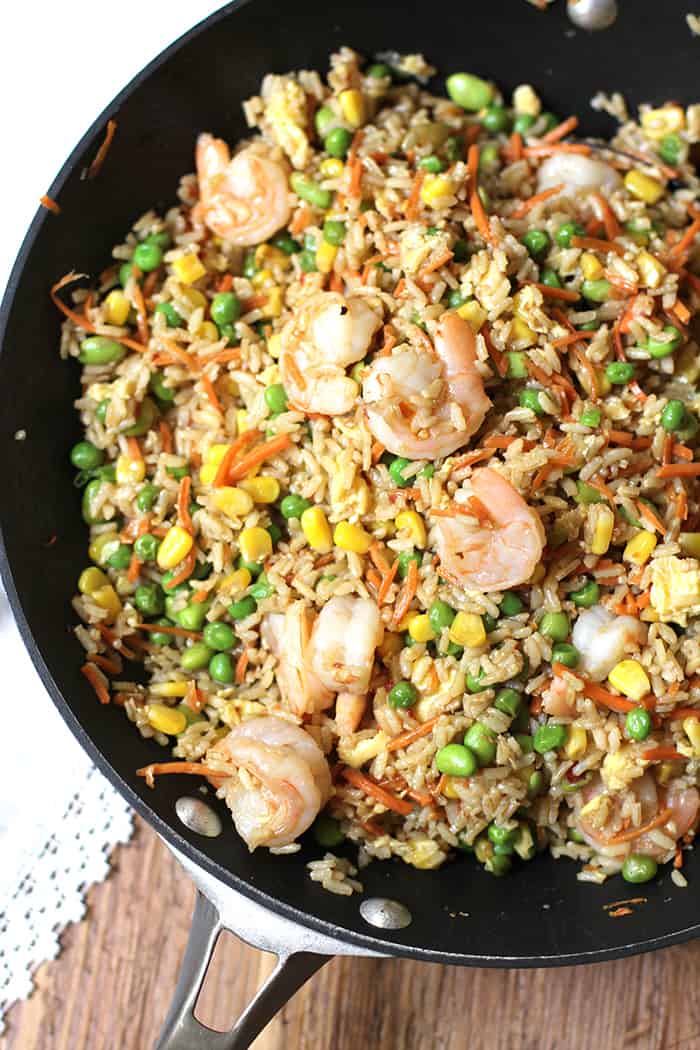 Please let me know if you try this Shrimp Fried Rice, and how you like it!
You can stay up-to-date with SueBee Homemaker by:
signing up for post updates (top right-hand corner of my blog)
liking my Facebook Page
and following me on Pinterest
I'm also sharing tidbits of my life on Instagram. 🙂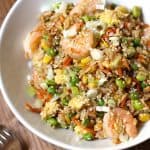 Shrimp Fried Rice
Ingredients
1

Tablespoon

olive oil

1

pound

shrimp

- peeled and deveined

3

large

eggs

2

Tablespoons

peanut oil

- more or less, depending on preference

1

cup

frozen peas

- thawed

1

cup

frozen corn

- thawed

1

cup

frozen edamame

- thawed

1

cup

shredded carrots

5-6

cups

brown rice (COLD)

- day old at least

salt and pepper

- to taste

2

teaspoons

chili paste

- or more

1

generous teaspoon

oyster sauce

1

teaspoon

red pepper flakes

1-2

Tablespoon

soy sauce

green onions

- to garnish
Instructions
In a wok, or a large stock pan, sauté the shrimp in one tablespoon of olive oil until just pink. Take them out of the pan (set aside on a plate) a little bit early because you will be putting them back in the pan at the end.

Drain the pan of liquid, and add just a tiny bit more of oil (if needed). Fry the eggs till soft scrambled. Remove to the same plate as the shrimp.

Add one tablespoon of peanut oil to pan followed by the veggies - peas, corn, edamame, and carrots. Sauté on medium high heat for about five minutes, or until cooked through.

Take brown rice out of the refrigerator and add to veggies. Add another tablespoon of peanut oil, salt, pepper, chili paste, oyster sauce, red pepper flakes, and soy sauce - and stir well. Continue cooking over medium heat until rice is warm, and flavors become absorbed, about 6-7 minutes.

Add shrimp and eggs back to pan, and stir to combine. Garnish with green onions, and serve immediately.

SHARE THIS POST TO YOUR FRIENDS: