Print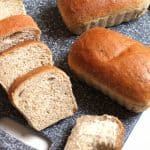 Whole Wheat Honey Bread
Whole Wheat Honey Bread is a healthy, nutty tasting bread, perfect for toasting. I grew up eating this bread via Norma Jean's Kitchen, the absolute best place to be!
Total Time
2
hours
25
minutes
Prepare the yeast mixture. Combine the yeast, sugar, and the warm water in a large mixer. Be careful to use WARM water, not hot. If the water is too hot, the yeast will disappear and you can't make bread without yeast. Mix and let sit for about 15 minutes to get the yeast working.

Add the honey, oil, salt, and cold water. Stir with a spatula. Attach dough hook to mixer and add the flaxseed meal and the whole wheat flour. Start the mixer and mix until fully combined.

Then add approximately 4 more cups (this is not an exact measurement) of all-purpose flour to desired consistency. You want the bread dough to be slightly sticky but not too much. When you touch the dough, it should bounce back slightly. Be sure to leave the mixer on for several minutes after you get the right consistency.

Grease a large bowl with canola oil. Add dough to the bowl, making sure you smooth it into a ball. Cover the dough with a clean dish towel and set it in a warm corner of your kitchen. Let the dough rise until doubled in size.

Punch down the dough - by pushing down with your fists in the middle of the dough, pulling the outer edges in towards the middle. Re-grease the bowl with oil and place the dough with smooth side up. Let rise until doubled in size again.

Form dough into 12 mini shapes (for mini loafs) or 4-5 larger loafs. Use same punch down method for each loaf, making sure smooth side is facing up. Let loaves rise again until doubled in size.

Bake loafs on 350 degrees for approximately 25 minutes or until bottom is browned nicely. Remove from pans to wire racks and brush tops with butter.

Cool completely before storing in storage/freezer bags. This bread freezes well.
Nutrition Facts
Whole Wheat Honey Bread
Amount Per Serving
Calories 486
Calories from Fat 117
% Daily Value*
Fat 13g20%
Sodium 586mg25%
Potassium 293mg8%
Carbohydrates 81g27%
Protein 12g24%
Vitamin A 5IU0%
Vitamin C 0.1mg0%
Calcium 41mg4%
Iron 4.2mg23%
* Percent Daily Values are based on a 2000 calorie diet.