Tomato Soup and Grilled Cheese Sandwiches were a staple in our house pre-kids.
Let me take you back to the early 90's when oversized shirts and really big hair was in style. Oh and do you remember Zuba pants? Those stretchy pants with crazy designs, sort of resembling a zebra, and REALLY comfy. And then there were Air Jordan's (we even lived in Chicago then) and Guess jeans. So many great memories of that era. And so much BAD fashion.
So then there was Tomato Soup and Grilled Cheese. I made a lot of it in the early days. But my idea of Tomato Soup was opening up a can of Campbell's Tomato Soup and adding some milk. Zap it in the microwave and      wa-laaa. Dinner is served.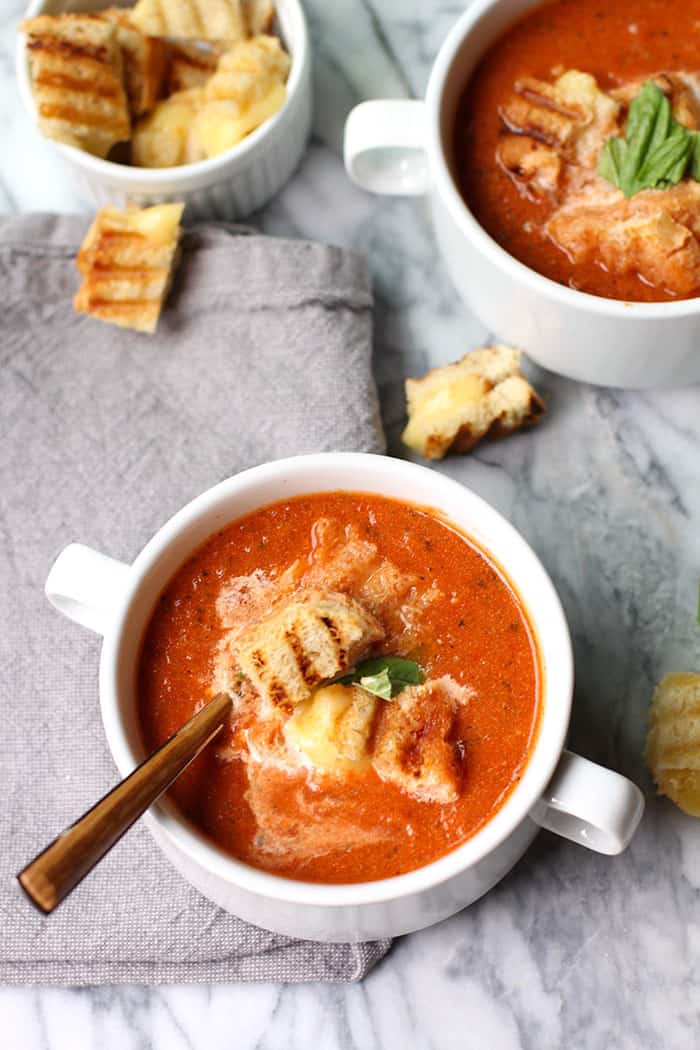 But this. THIS is not a can of Campbell's. And truthfully, it's also not difficult to make. My homemade version of tomato soup is basically only a few ingredients plus a few spices. It literally takes only 25-30 minutes, and 15-20 minutes of that time is letting the soup simmer. It's also healthy. Just a little bit of half and half (or milk) to give it a creamy texture.
The other step to making this soup creamy is to puree the ingredients with an immersion blender
. There will still be tiny bits of onion, but no big chunks.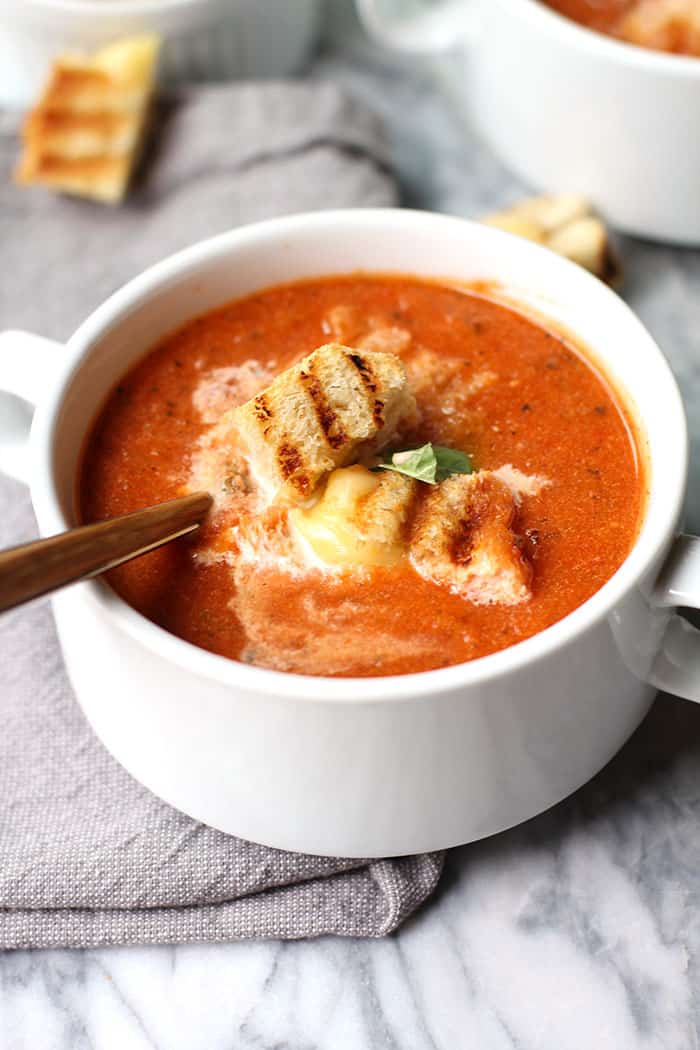 Using a panini maker
allows for a "pretty" grilled cheese. It has those nice dark grill marks that is necessary for great presentation – if you are a food blogger like me. But if you aren't, just throw it in any pan on your stove top.
Adding the croutons to the top of the soup really makes this dish unique. I'm smiling here. 🙂 Because for real – my family was impressed. They loved eating the tomato-soup-soaked-croutons, instead of simply dipping a sandwich in the soup. I love it when they appreciate my food presentation. 🙂 So go ahead and impress your family!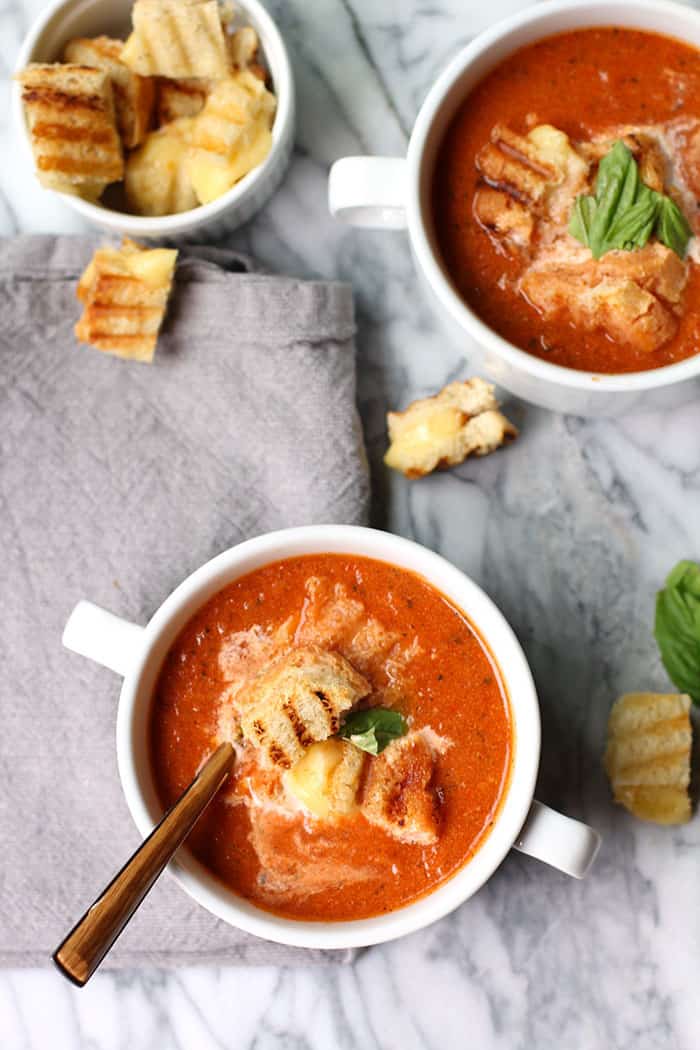 Shop the recipe: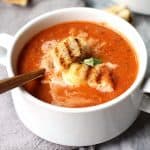 Tomato Soup with Grilled Cheese Croutons
Classic tomato soup made with tomatoes, onion, basil, and half and half, topped with sourdough grilled cheese croutons.
Ingredients
2

Tablespoons

olive oil

2

cloves

garlic

diced

1

medium

onion

diced

1

28 oz.

can crushed tomatoes

4

cups

chicken broth

low sodium

salt and pepper

to taste

2

teaspoons

dried basil

2

teaspoons

sugar

3/4

cup

half and half

or milk

4

slices

sourdough bread

2

Tablespoon

butter

4

slices

smoked gouda cheese

or any cheese you like

fresh basil

for serving

heavy cream or half and half

for serving
Instructions
In a medium saucepan on medium high heat, add olive oil. Then add onion and sauté until onions are soft. Add garlic and stir for 30 seconds.

Add crushed tomatoes, chicken broth, salt and pepper, dried basil, and sugar. Let simmer for about 15 - 20 minutes.

Take pot and place on countertop or in sink. Using immersion blender, puree soup until creamy. There will still be small bits of onion.

Return pot to stove, add half and half and simmer another 5 minutes. Remove from heat.

Meanwhile, make grilled cheese croutons. Butter sourdough bread and put butter side down in pan (or panini maker). Put cheese on top, followed by remaining slices of bread. Cook until warm.

Slice grilled cheese into croutons. Serve soup with croutons, fresh basil, and a swirl of cream or half and half.

SHARE THIS POST TO YOUR FRIENDS: