Today I give you Part Three of my gingerbread obsession…Spiced Gingerbread Loaf. If you missed part one and part two, check it out here:
I absolutely love this time of year for so many reasons. But one very important one is because it is a great excuse to bake. One of my favorite hobbies. Besides giving a ton of sweets away, I'm filling my freezer. If we get snowed in this winter, we'll have a huge sugar stash. Good and bad.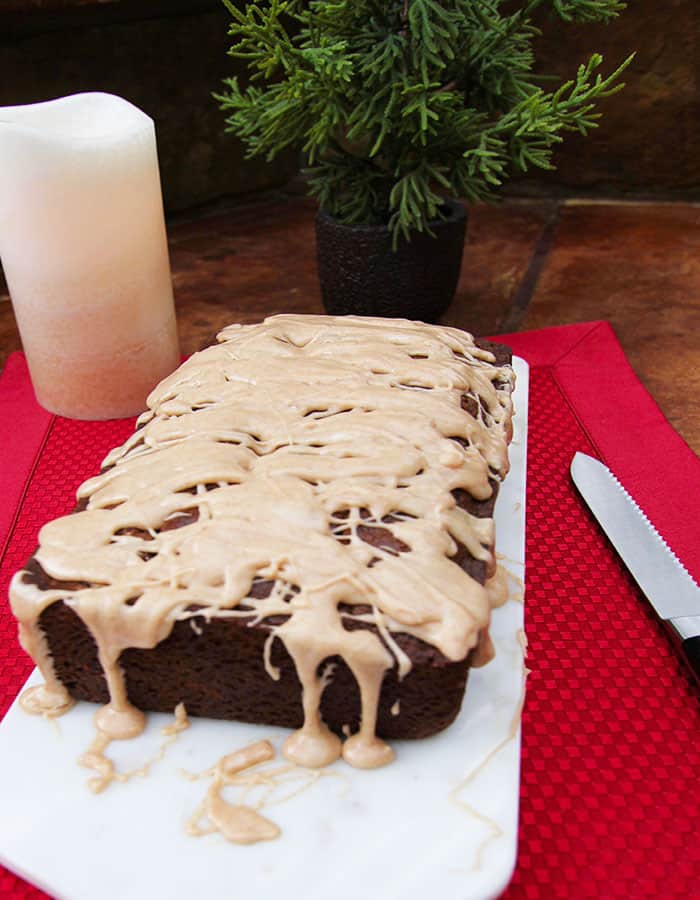 Other reasons for loving Christmas time are the following.
The weather is cooler. YAASSS!!
It's family time. Josh is home from college, Mike is taking off work, Zach will be on break, and we're all (including Tiffany, Josh's girlfriend), heading north to see family.
I can listen to my favorite Christmas music 24/7. Ask my boys!! They love it. (wink wink)
I get to bake. Oh, I said that already!!
Most importantly, we reflect on the true meaning of Christmas and the hope that He has given us.
As for the gift giving and receiving, that is probably last on my list of reasons to love Christmas. Don't get me wrong. I love gifts. I just don't like buying so many at once. Or the pressure to find the perfect gift. Or the feeling that commercialism often outweighs the reason for celebration.
So I'm just gonna keep on baking.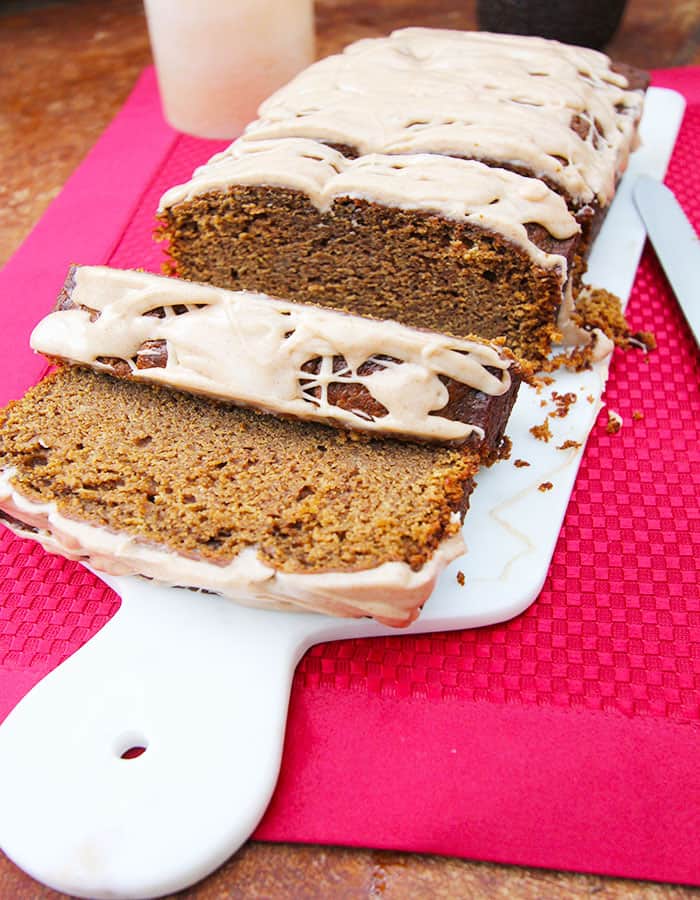 On to this gingerbread loaf! Again, you have the deep molasses flavor along with all the spices. I created this recipe using my cookie and scone recipe, and turning it into a cake like mixture. It was total trial and error and I believe I succeeded, after a few failures! Thank goodness for my at-home taste testers. 🙂
It took slightly more than 50 minutes for this gingerbread loaf to bake. I used a large loaf pan
– just slightly larger than a normal loaf pan. You could also use two smaller pans if you don't have a large one (and then bake for less time). Make sure you let the bread sit in the pan for at least 15 minutes before turning it out onto a baking rack. And then wait again for the bread to cool before drizzling the icing.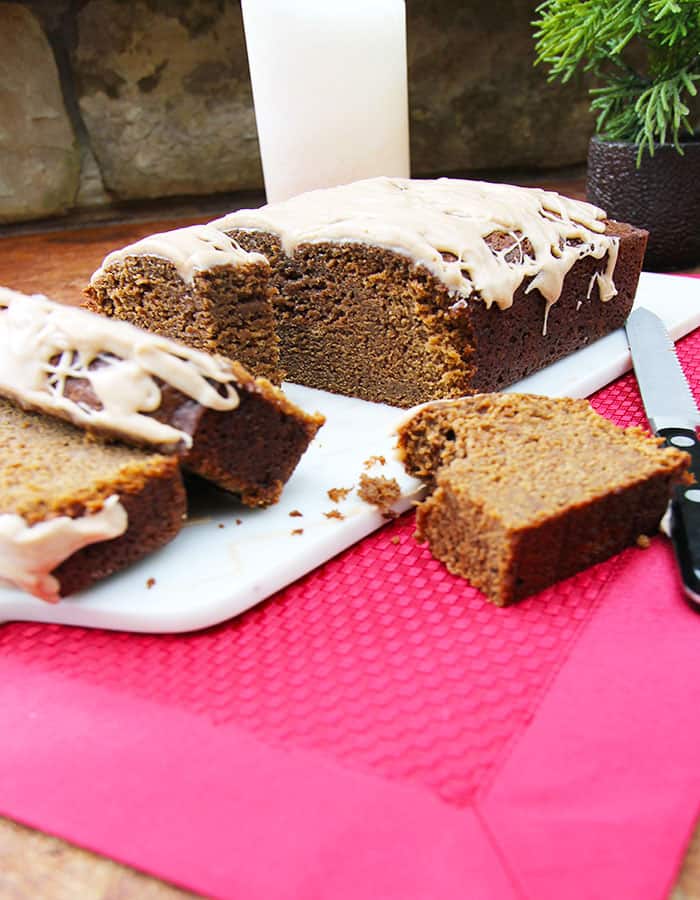 Let's talk about the icing real quick. I used my standard icing recipe except I used heavy cream, instead of milk, and I added a teaspoon of cinnamon to get that nice tan color. When I asked Zach if he liked this recipe better than the last one, he said he liked the cinnamon in the frosting. So there you go!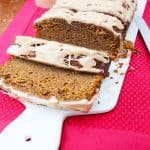 Spiced Gingerbread Loaf
a slightly sweet, tender gingerbread loaf with a deep molasses flavor and plenty of spices
Ingredients
For gingerbread loaf:
1/2

cup

unsalted butter

softened to room temperature

3/4

cup

brown sugar

2

large

eggs

at room temp

1/4

cup

canola oil

1/2

cup

molasses

2

teaspoons

vanilla

3/4

cup

sour cream

1/2

cup

HOT water

2

cups

all-purpose flour

1

teaspoon

baking soda

1/2

teaspoon

salt

2

teaspoons

cinnamon

1/2

teaspoon

ginger

1/2

teaspoon

cloves
For the icing:
1

Tablespoon

un-salted butter

melted

2

Tablespoons

heavy cream

or can use half and half

1

teaspoon

vanilla

1

teaspoon

cinnamon

1

cup

powdered sugar
Instructions
Preheat oven to 350 degrees. Grease a large loaf pan.

In standing mixer (or hand mixer), cream softened butter with brown sugar till light and fluffy. Add oil and mix again.

In separate bowl, mix together the eggs, molasses, vanilla, and sour cream. Add to mixer and combine with butter/sugar mixture. Add hot water and mix again.

In medium bowl, combine flour, baking soda, salt, cinnamon, ginger, and cloves. Add to wet ingredients and mix until just combined.

Pour gingerbread batter into well greased loaf pan. Bake on 350 degrees for 48 - 52 minutes or until toothpick comes out clean. Remove from pan after 15 minutes or so. Let cool on baking racks.

Make the icing. Melt the butter in small bowl. Add vanilla and cream and mix well. Add cinnamon and powdered sugar and combine. May need to add more cream or powdered sugar, depending on your desired consistency. I made mine a little runny for drizzling with a spoon.

This bread stays fresh on the counter in an airtight container for up to three days. You can freeze it without the icing and then add icing later.
SHARE THIS POST TO YOUR FRIENDS: