Snug on the Square is one of my favorite Dallas area coffee shops. Located in the Historic District of McKinney, Texas, Snug is a good 45 minute drive for us but totally worth it. We stumbled upon it after our TreeHouse Adventure in the fall of 2015.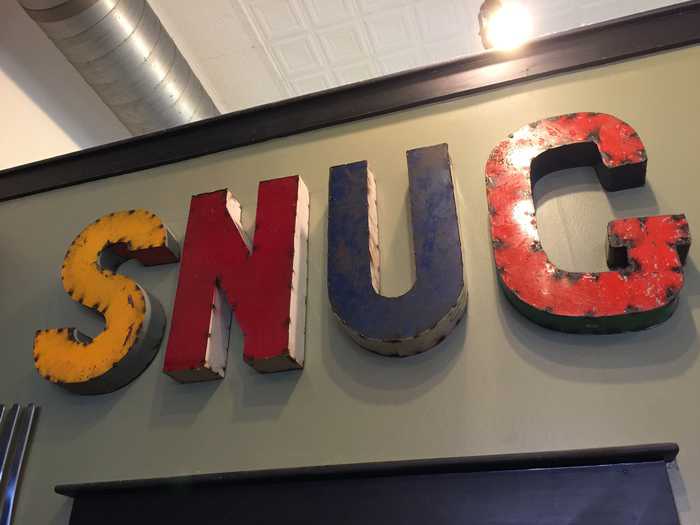 Snug on the Square expanded last year into an adjoining space, but it still has the original coffee shop intact. The new space has a bigger menu, and many more tables, which is a good thing due to it's crazy popularity.
Mike's cute arm band is not his signature look but more a sign of his colonoscopy (which he had the morning of our adventure). 🙂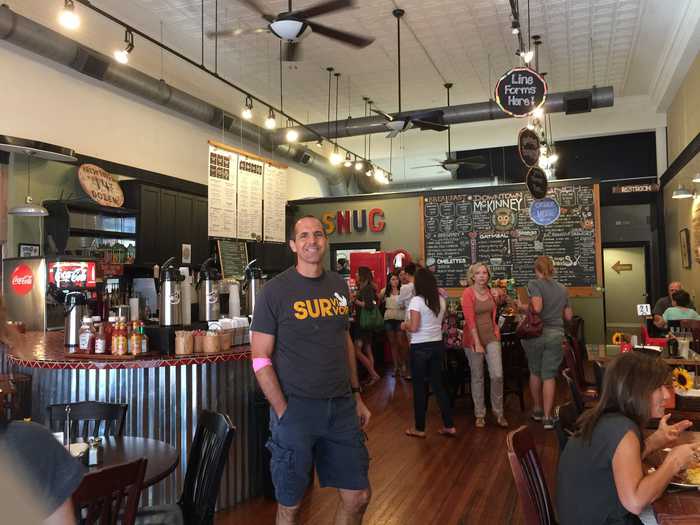 We found a table along the back wall and decided to sit side-by-side because we were on a date. And because we both wanted to look around the shop the entire time we were there!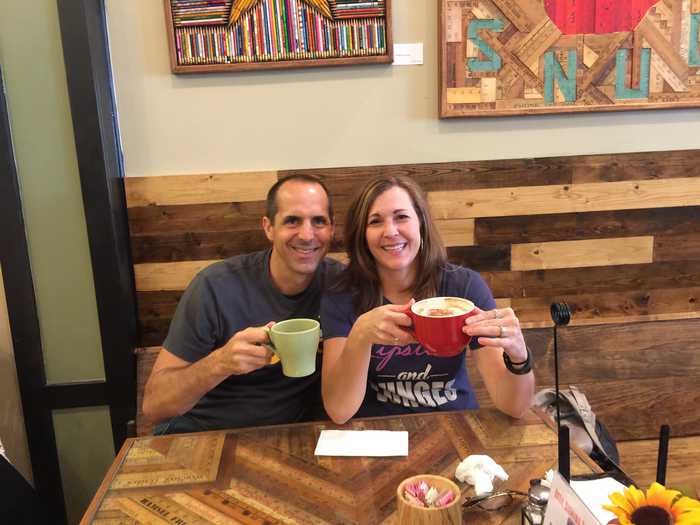 The decor is totally eclectic yet comfortable. I love all their interesting artwork.
Here's a piece made out of rulers. And do you know what? I just realized that the table we sat at was also made out of rulers. I guess we were too busy gawking at everything to notice.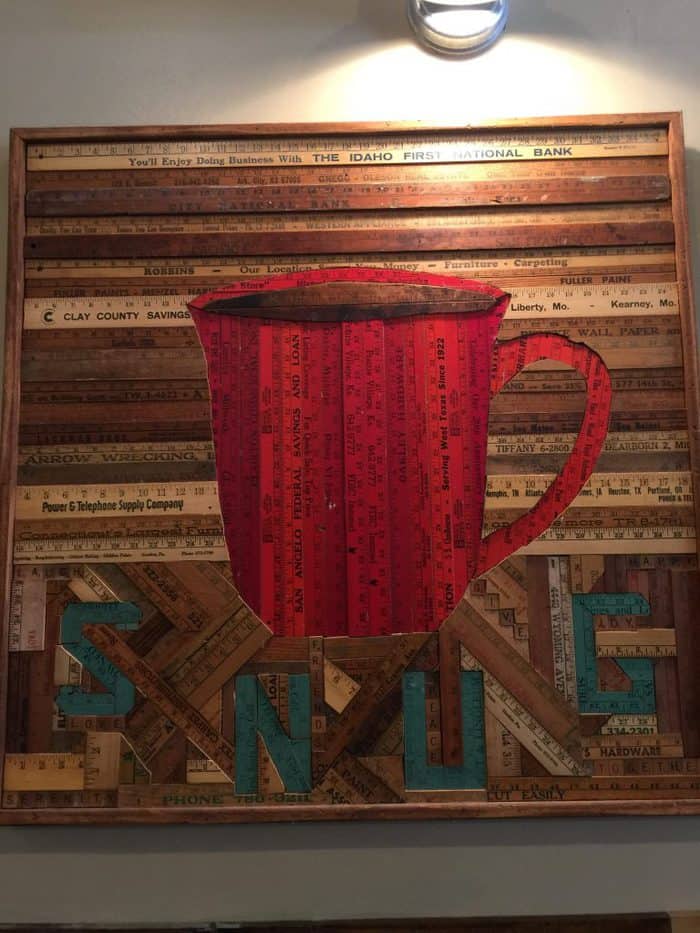 This one's made out of pencils.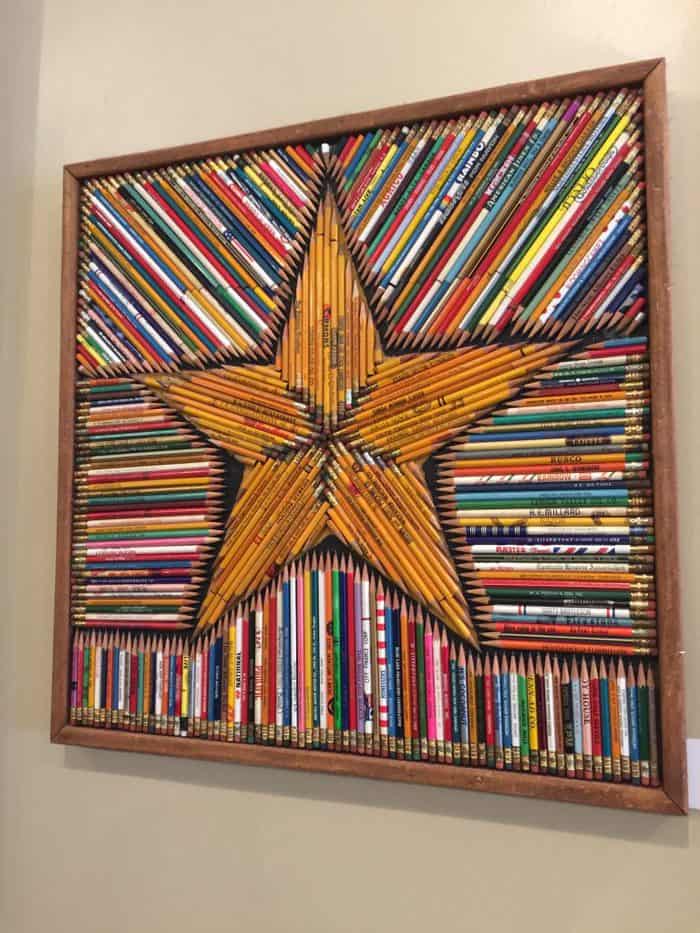 And another one made out of crayons.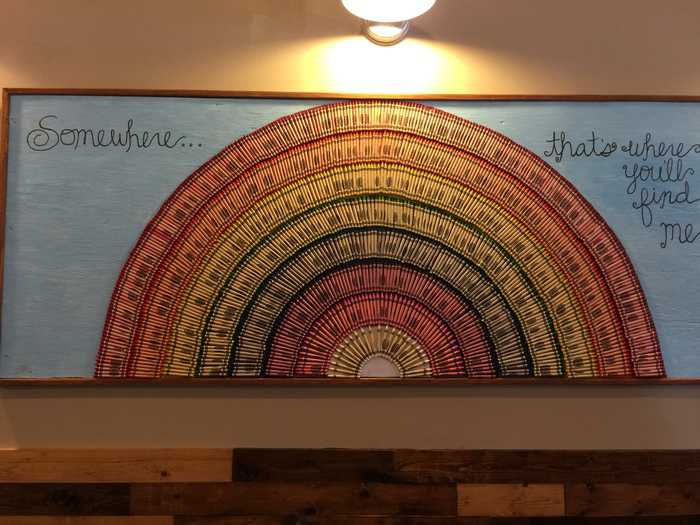 Snug on the Square serves breakfast and lunch all day. They close at 3pm most days.
Their menu is displayed on a chalk board along the back of the shop. I wanted to order one of everything but…you know. Calories.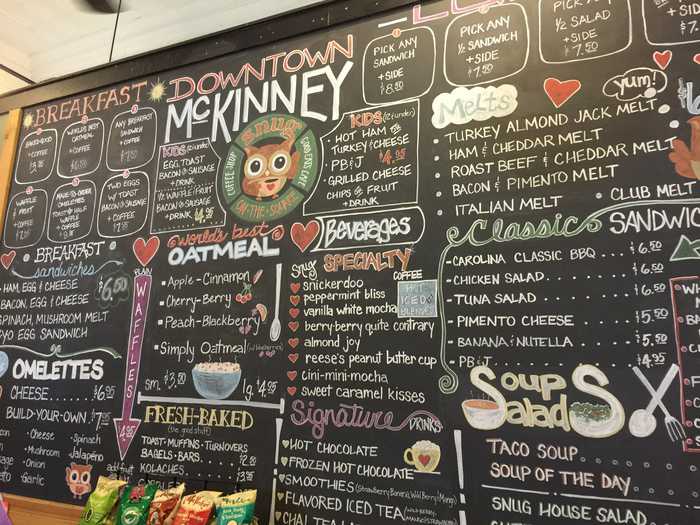 I love the giant coffee mugs so I HAD to order a large Cinnamon Honey Latte. It was SO good. Mike ordered a bottomless cup of coffee. He doesn't like fancy coffee like I do, and wants several cups, so the bottomless coffee was a great deal for him. But kinda boring..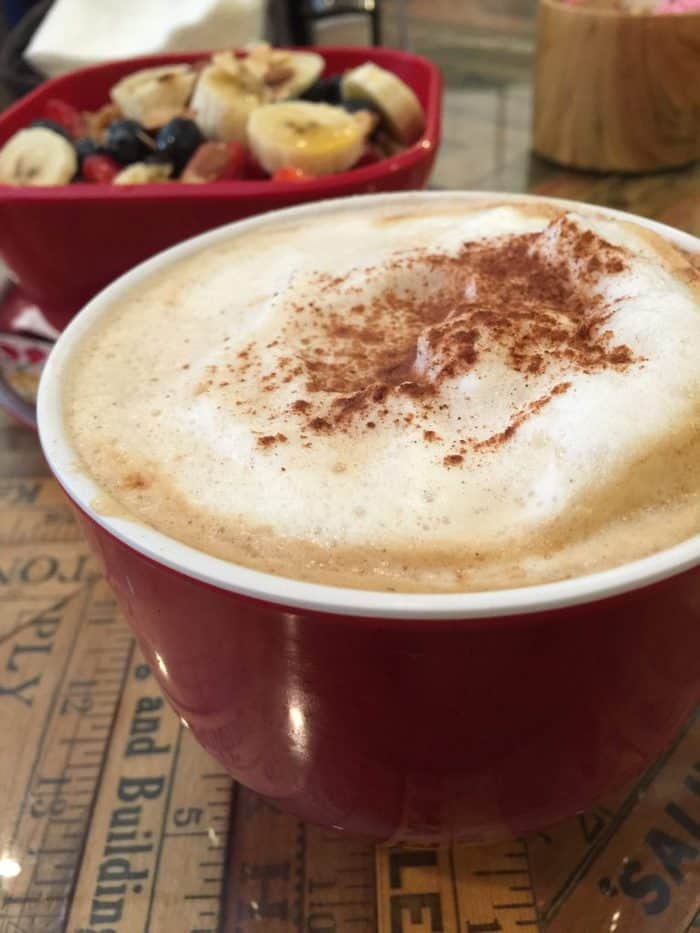 Oh, and do you see that bowl of fruit behind it? It's actually their Simply Oatmeal with Fresh Fruit. They also have three other more decadent oatmeals that include cobbler in them. I've tried it and it's kind of like dessert for breakfast which I totally don't mind. At all.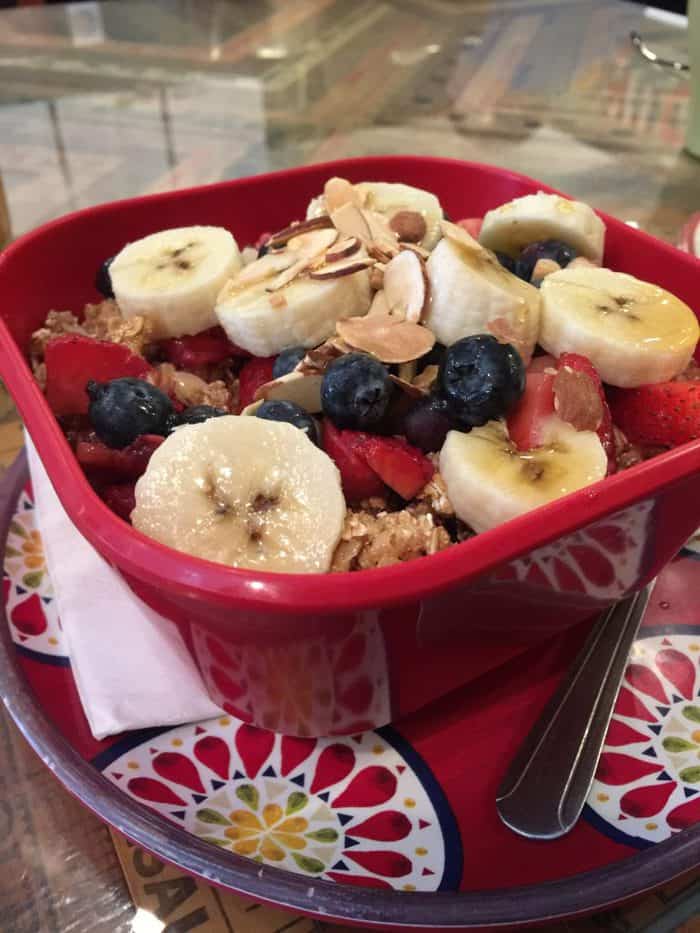 Mike and I shared both the oatmeal and a delicious made-to-order omelette sandwich. Talk about an OMG sandwich. It was unbelievably good.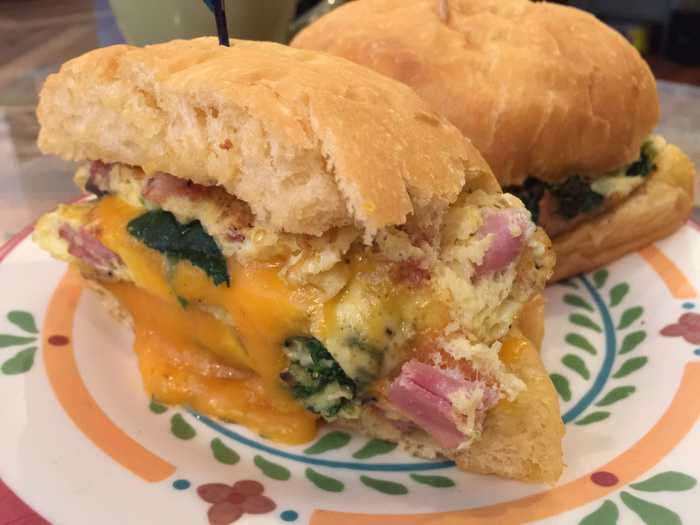 Is your mouth watering yet? Mine is.
As you can see, Snug has a pretty large outdoor area too. We went on a hot day so we decided we'll need to come back again once the weather cools down.
The other really nice thing about Snug is that it sits in a very interesting part of McKinney. The Historic District has many other cool restaurants and shops. When you visit, make sure you bring some extra cash. In fact, I suggest that you have breakfast, then shop, then come back for lunch.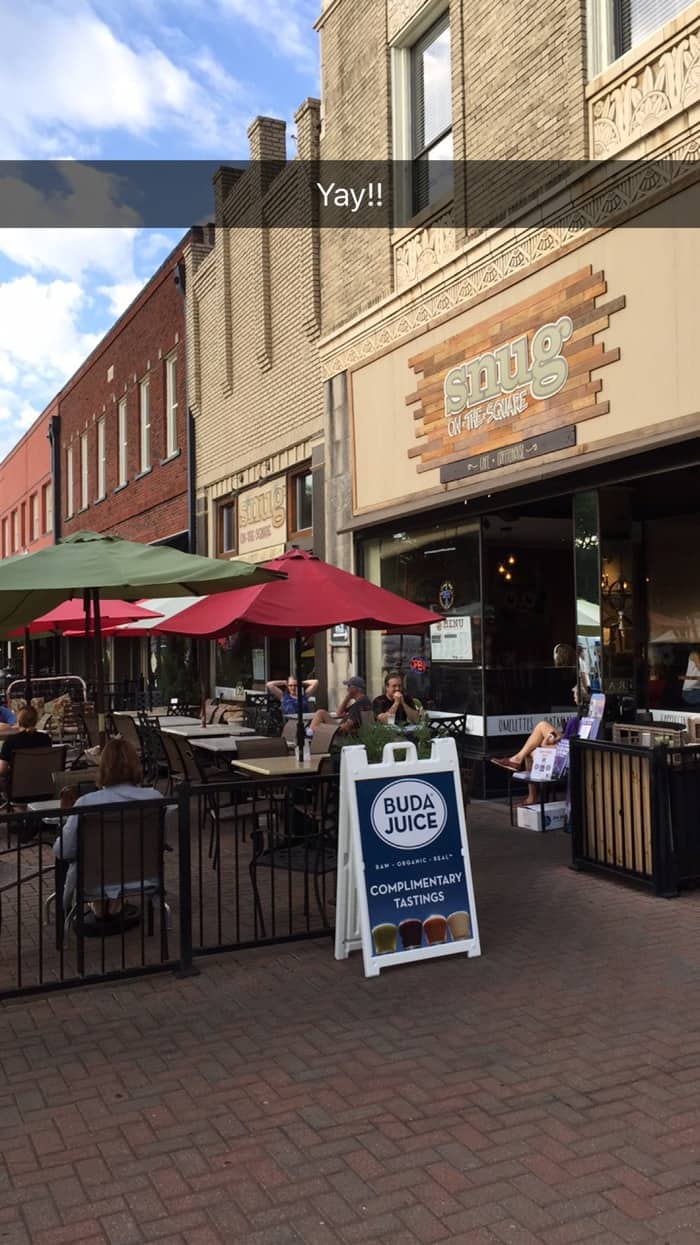 SHARE THIS POST TO YOUR FRIENDS: