Rhubarb Nut Bread combines tart rhubarb with brown sugar, oil, nuts, and other ingredients – to make the most delicious quick bread of all time. Unbelievably moist!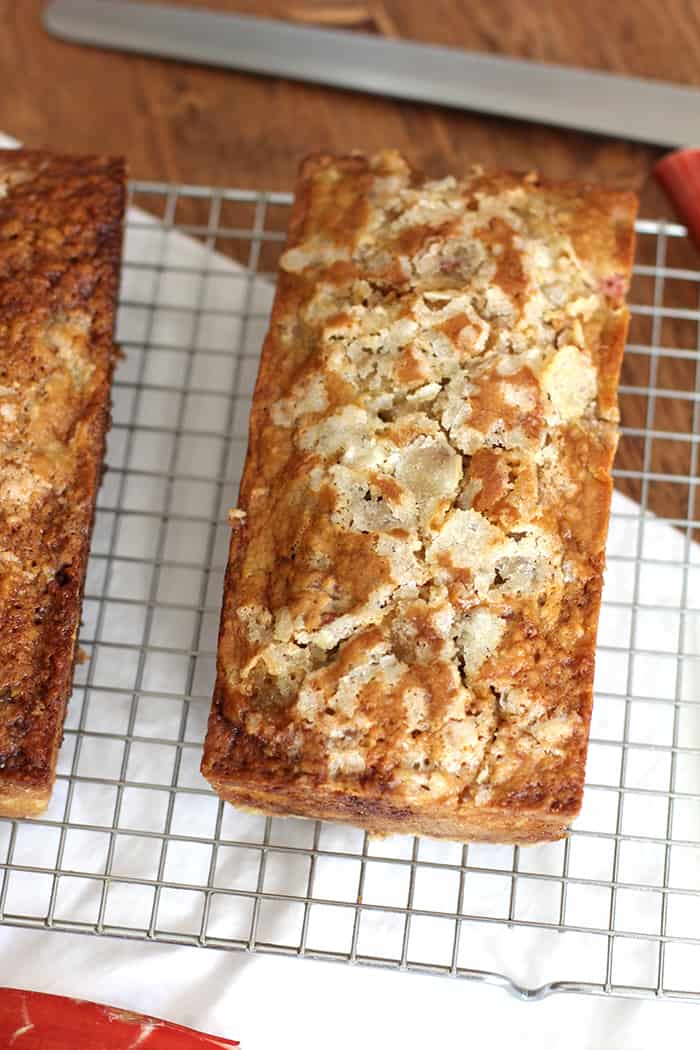 It always amazes me when I buy rhubarb, and the cashiers struggle with how to ring it up. Most claim to have never seen it before, so I think it is more of a northern crop. Mom and Dad always had a rhubarb patch in the yard at their home in Iowa, as well as most of the neighbors. The growing season was early summer, and we practically had rhubarb growing out of our ears by the last harvest.
loads of rhubarb –> rhubarb bread, rhubarb custard pie, and strawberry rhubarb jam –> happy me
I don't remember Mom making anything savory with rhubarb. However, she made plenty of sweets with the harvest. The tartness of the rhubarb combined with the sugar and oils results in a wonderful tart-but-sweet flavor. This bread is one of the BEST.
I promise.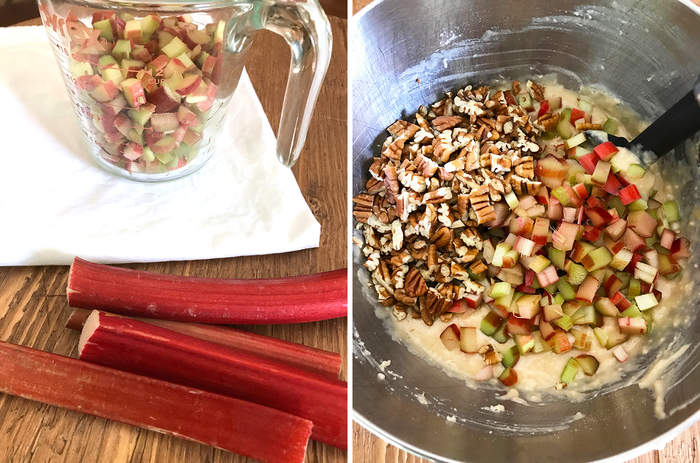 Rhubarb Nut Bread is a very quick and easy bread to throw together. You don't even need a mixer. Instead, use a whisk and a little muscle. Mom's recipe said to use nuts, but not the exact kind. I used pecans because I happen to adore them. But you could use whatever you like.
The streusel topping is just a little butter combined with some sugar. Two ingredients! So easy and who can pass up a little extra butter and sugar? 🙂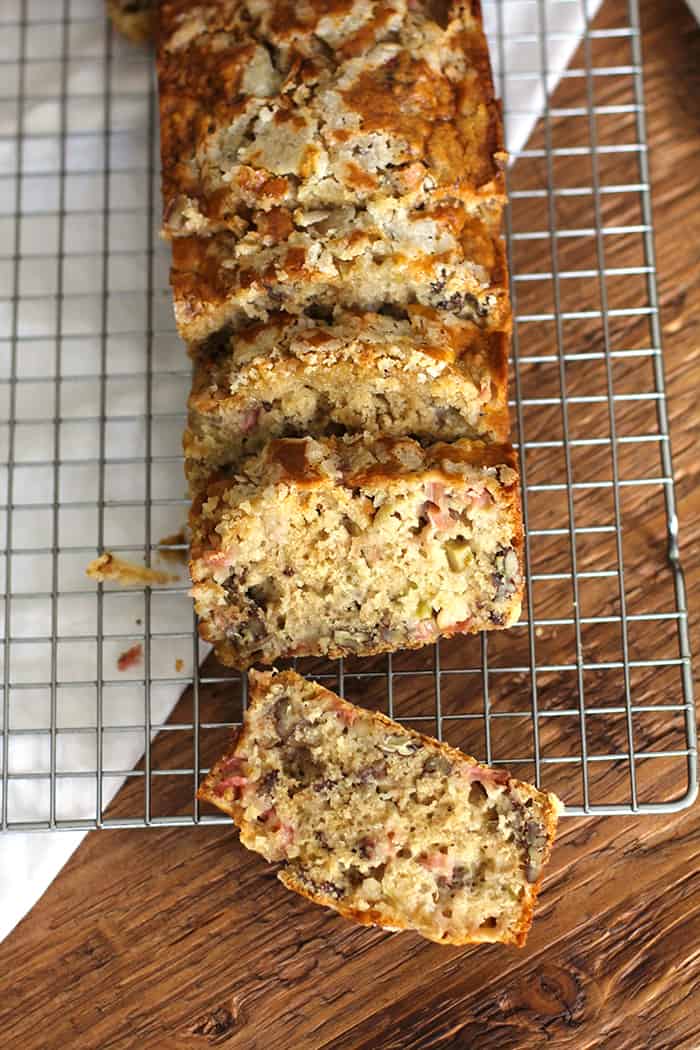 I love how you can see the rhubarb in the bread. Those little chunks of red and green nestled in a perfectly moist quick bread.
Rhubarb is a hearty perennial, and contain tons of nutrients, like:
antioxidants
fiber
Vitamin K
Vitamin C
calcium
potassium
magnesium
So there you have it. Seven REALLY good reasons to make Rhubarb Nut Bread. 🙂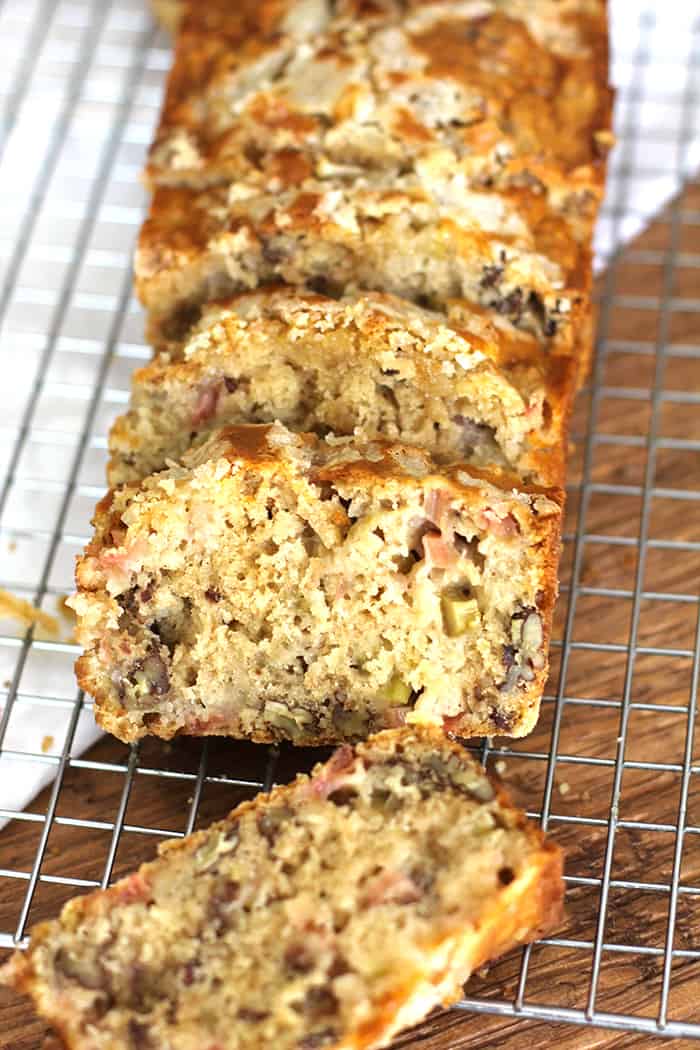 Please let me know in the comment section below if you make this Rhubarb Nut Bread, or any of my recipes! I love to hear from my readers. You can also tag me on social media! I'm on Facebook, Twitter, Instagram, Pinterest, Bloglovin', and Yummly. 🙂 Thanks for reading along!
AND…if you want to receive an email to notify you when I post, please sign up in the top right corner of my site! 🙂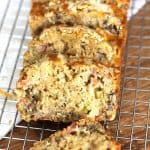 Rhubarb Nut Bread
An incredibly moist bread, using fresh rhubarb and topped with a crunchy streusel.
Ingredients
For the bread:
1

large

egg

1 1/2

cups

brown sugar

2/3

cup

canola oil

1

cup

sour milk

- or buttermilk

1

teaspoon

vanilla

2 1/2

cups

all-purpose flour

1

teaspoon

salt

1

teaspoon

baking soda

1 1/2

cups

rhubarb

- diced

1 1/2

cups

pecans (or any nut)

- chopped
For the streusel topping:
1/2

cup

sugar

1

Tablespoon

unsalted butter
Instructions
In a large mixing bowl, whip the egg and add brown sugar, oil, milk, and vanilla.

In separate bowl, mix together the flour, salt, and baking soda. Pour into the wet ingredients, and stir gently, careful to not over-mix.

Dice rhubarb and pecans, and add both to the mixture. Pour into two prepared (well-greased) loaf pans.

Mix the streusel topping by combining the sugar and butter until crumbly. Pour over the two loafs.

Bake on 325 degrees for approximately 50 - 60 minutes. Check to see if a toothpick comes out clean and remove to cooling racks.
Recipe Notes
This bread freezes (in freezer bags) well up to three months.

SHARE THIS POST TO YOUR FRIENDS: