If you know my family well, you know that we are HUGE crazy ice cream lovers. And that's an understatement. haha!  The ice cream lovin' genes come from both sides of the family…both the Redings and the Ringsdorfs.
Double whammy. Lord help us.
When I was a teenager living in Iowa, my dad and I would literally stand at the kitchen sink with two spoons and a tub of Schwann's vanilla ice cream (you know, from the ice cream truck). We ate straight from the tub! A lot. I think we both agreed that the calories were less when standing with a spoon. No bowl – just a couple of ice cream junkies loving life. And man, would I give anything to be standing with him, over an ice cream tub with two spoons right now. Most likely, we were discussing the current sport I was playing (and he was probably give me "advice"). Strategy, ice cream, father and daughter time. A memory I won't forget.
And then there is the Ringsdorf side. Mike's dad, Joe, is an ice cream fanatic too. He literally tops ice cream pie with ice cream. Pie and ice cream, cake and ice cream, cookies and ice cream, ice cream and ice cream.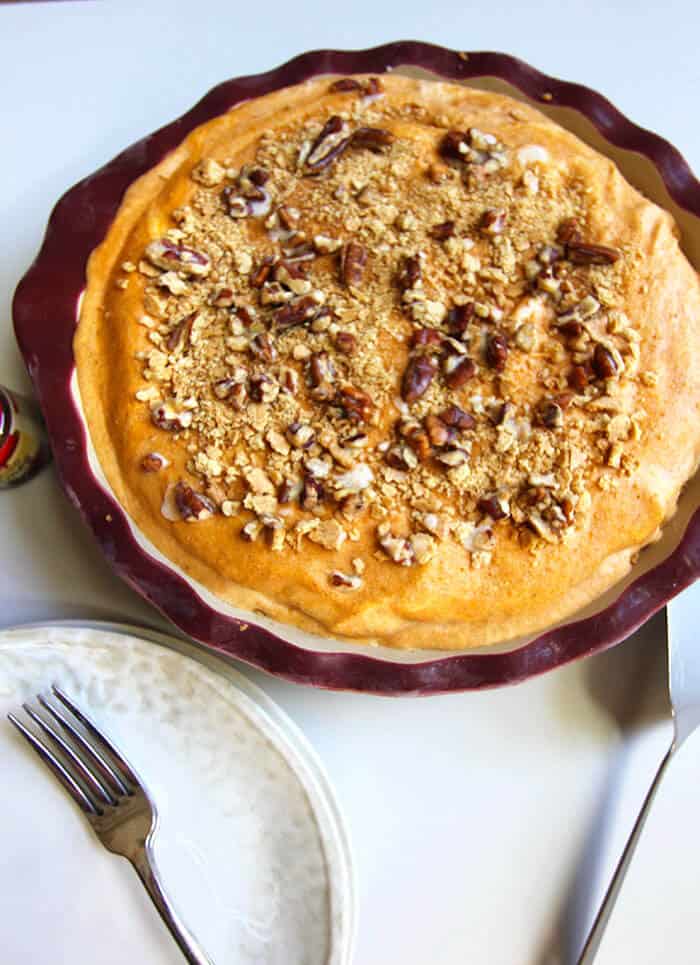 That brings us to our little family of four. You can guess who the biggest ice cream fans are here. Yup, Mike and I. Our boys love it but not as much as us. We are SO glad the DQ finally set up shop about a mile from our house. It makes it super convenient during the summer months (winter months too, if I'm honest) to pop by for a cone. We also occasionally make homemade ice cream as well.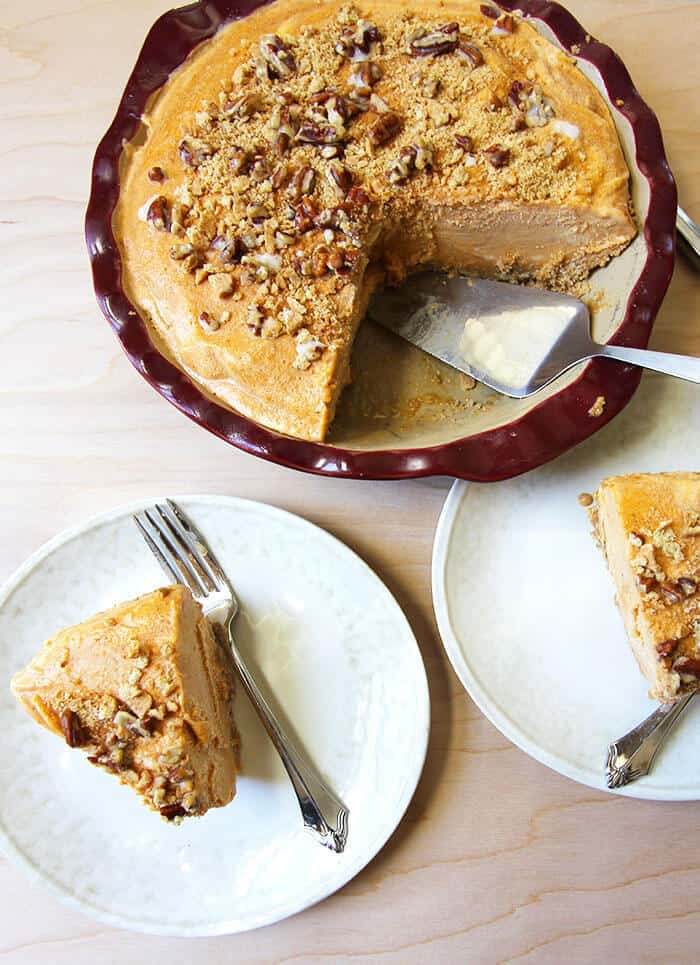 This Pumpkin Ice-Cream Dessert Pie is Mike's mom's recipe. She always made it for the holidays and we love it. This recipe makes me think of her and how she absolutely loved having her family around. She was one-of-a-kind lady. We miss her so much.
I'm currently planning our Thanksgiving meal and Josh requested this for dessert. I'm pretty pumped about that, because it is super easy and so delicious. I've only made it about one thousand times so I pretty much have it memorized. I'm also using this pumpkin ice cream to make Pumpkin Ice Cream Cookie Sandwiches. Yum.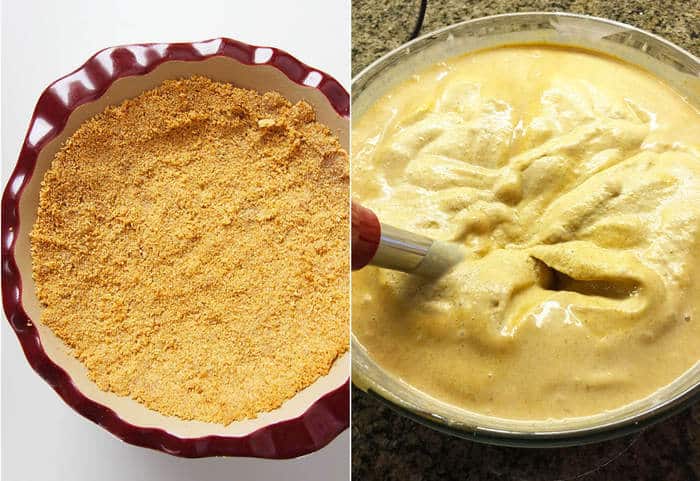 You can see above that I used my immersion blender
to blend the ice cream with the pumpkin, brown sugar, and spices. After using two different blenders and making a giant mess (because I'm always doubling recipes and being crazy like that), I brought it out. It's kinda easy to forget I have it and I'm really glad that I do.
Pumpkin Ice-Cream Dessert Pie is great to make ahead of time. It freezes great…hello, it's ice cream. So try it. You will love it.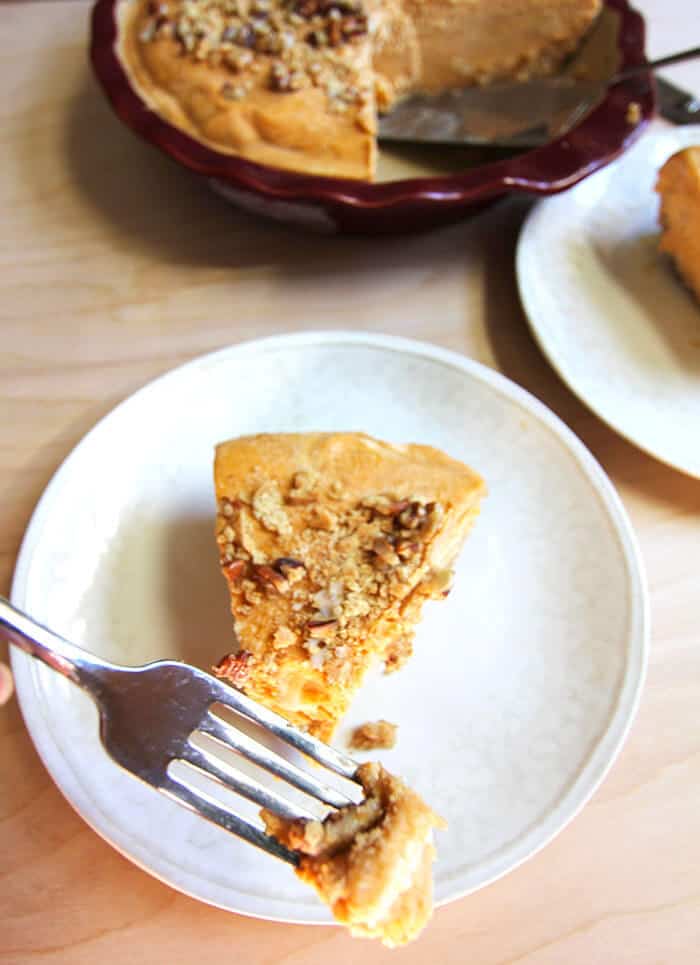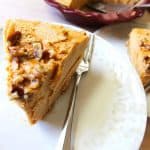 Pumpkin Ice Cream Dessert Pie
a delicious pumpkin spiced ice-cream delight in a graham cracker crust
Ingredients
For graham cracker crumb crust:
1 1/2

cup

graham cracker crumbs

crushed

3

Tablespoons

white sugar

1/3

cup

butter

melted
For ice cream:
2

quarts

vanilla ice cream

softened

1

can

pumpkin puree

1

cup

brown sugar

1/2

teaspoon

salt

1

teaspoon

cinnamon

1/2

teaspoon

pumpkin pie spice

2

Tablespoons

pecans

chopped (optional)
Instructions
Crush the graham crackers. Add the crumbs and sugar to medium bowl. Melt butter and add to bowl. Stir to combine.

Grease a 9-inch pie pan. Reserve 1/2 cup of the crumbs. Add remaining graham crackers and press firmly in pan. Bake on 350 degrees for 10 minutes.

In large bowl, mix slightly softened ice cream, pumpkin, brown sugar, salt, cinnamon, and pumpkin pie spice, using immersion blender. Pour over crust. Top ice cream layer with the remaining graham cracker crumbs and pecans (optional).

Cover pie and freeze until serving.
SHARE THIS POST TO YOUR FRIENDS: