This post has been updated. Please see Peanut Butter Power Balls!
____________________________________________________________________________
These power balls have all the right ingredients to keep a family of boys coming back for more. A little bit of sweet with the chocolate chips, raisins, and honey, a whole lot of protein with the peanut butter and nuts, and YES – a little bit of hidden nutrition with the chia seeds and flax seed. Don't you love it when you hide healthy stuff in the food you feed your family?
I started making these this summer after Mike's brother, Mark, made them for their Market to Market run in Des Moines, Iowa. I adapted the original version and ever since, I've kept a bag of Power Balls in the fridge for the occasional fix. I also sent a bunch with Josh to college, and he just informed me that the first bag out of his freezer is gone. They are THAT GOOD!!
To begin, grab your food processor and add all dry ingredients and pulse.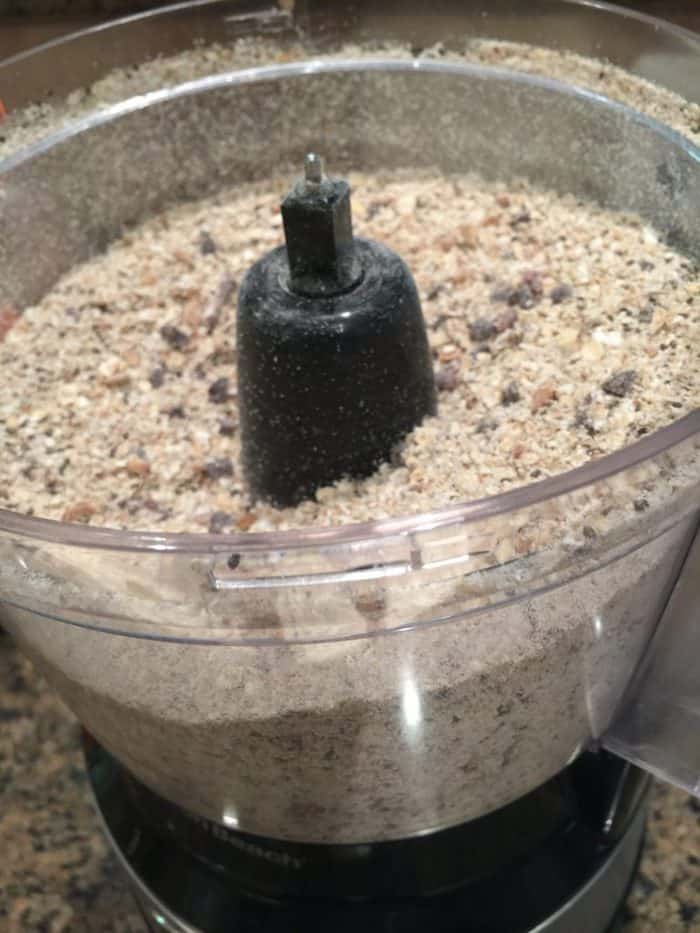 Then add the peanut butter and honey to smooth everything together.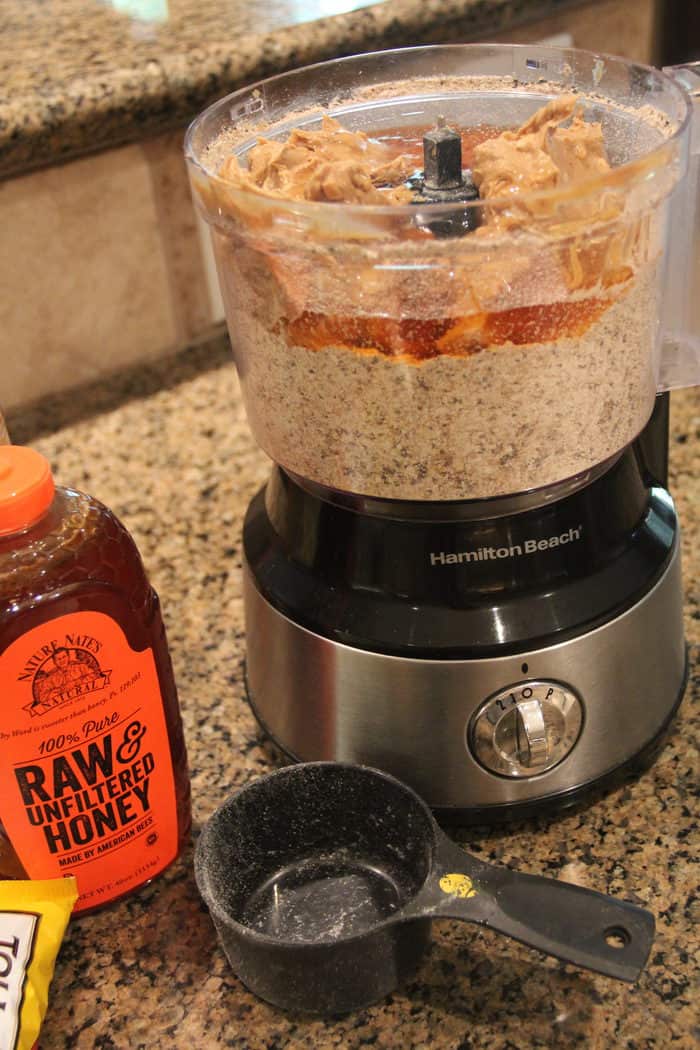 Transfer the mixture to a separate bowl and refrigerate for one hour.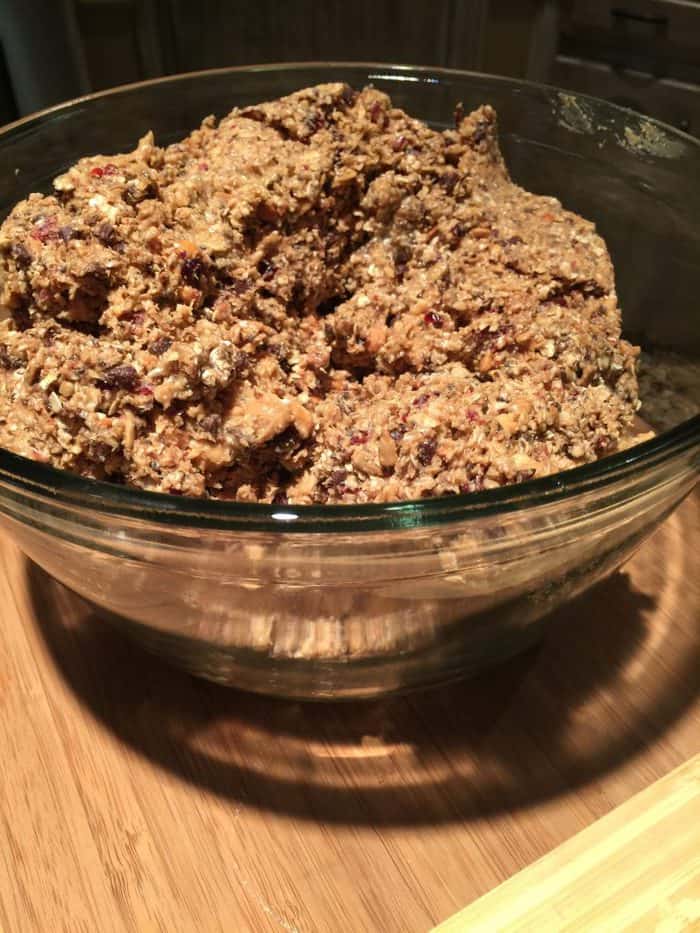 Then roll into uniform balls. You will get approximately 20-24 balls out of one batch. I usually make two batches and keep one in the freezer. Or send it to my college kid.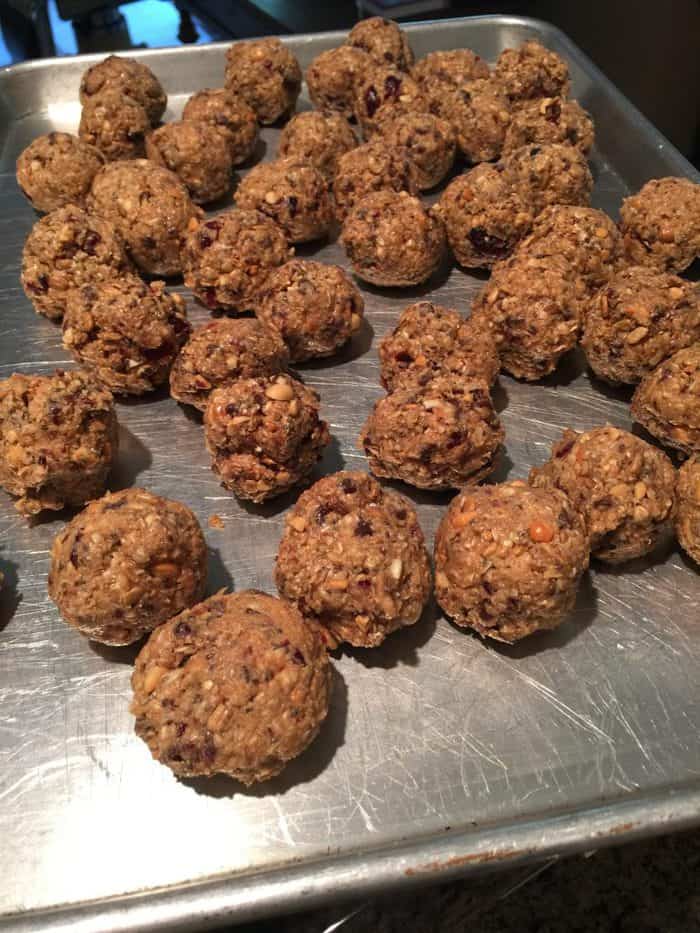 Place the cookie sheet in the fridge for another hour before transferring power balls to an air tight container or bag. Enjoy.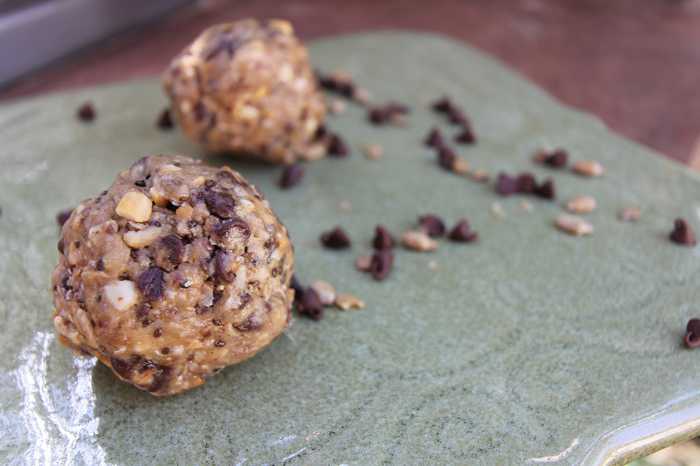 Power Balls
A blend of oats, honey, peanut butter, craisens, chocolate chips, nuts, flax and chia seeds...for a perfect healthy snack
Ingredients
3

cups

quick oats

3/4

cup

craisins (or raisins)

3/4

cup

sunflower seeds, almonds, or pecans

3/4

cup

mini chocolate chips

2

T

flax seed

2

T

chia seeds

1.5

cup

extra chunky peanut butter

3/4

cup

raw honey
Instructions
Put all dry ingredients in food processor and pulse.

Add peanut butter and honey and continue to mix until dry ingredients are well coated.

Transfer mixture into separate bowl and refrigerate for an hour to make it easier to roll into balls.

Roll mixture into approximately 20-24 balls and place on cookie sheet.

Refrigerate another hour.

Place power balls in airtight container or storage bag and keep in refrigerator until ready to eat.
SHARE THIS POST TO YOUR FRIENDS: