Perfect Lemon Cupcakes are incredibly moist and bursting with freshly squeezed lemon juice and zest. The lemon flavor continues in the buttercream frosting, also made with more freshly squeezed lemons!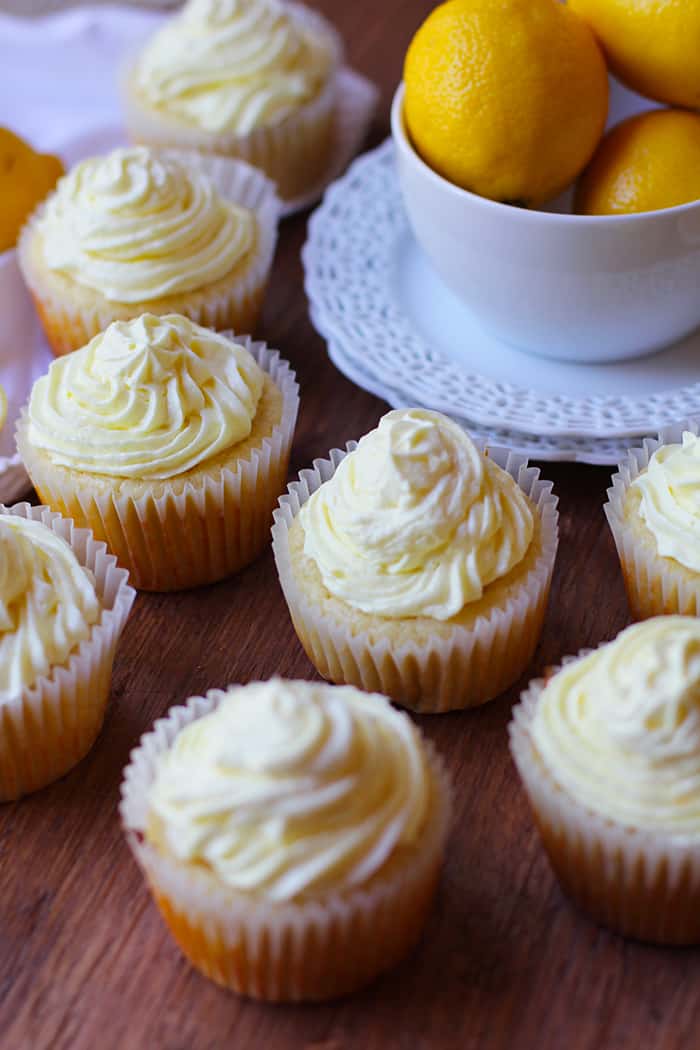 There is something about spring time that makes me happy. Even in Texas, where our "coats" are really just "jackets" up north. You know, just a light layer to take the chill off. This happy feeling has something to do with green grass, colorful flowers, budding trees, and wide-open windows.
It's the intangible. The newness. The warmth.
I remember our Iowa winters quite vividly. They seemed to never end. I used to long for the warm sunshine on my face, and for my closet to be rearranged – short sleeves and flip flops moved to the front, sweaters and boots moved to the back. Even in spring, the weather was often times overly rainy and dreary. I had no idea that some day, I'd be complaining about the hot summer weather instead of the bitter cold and snowy winters.
But spring. That's a whole different story.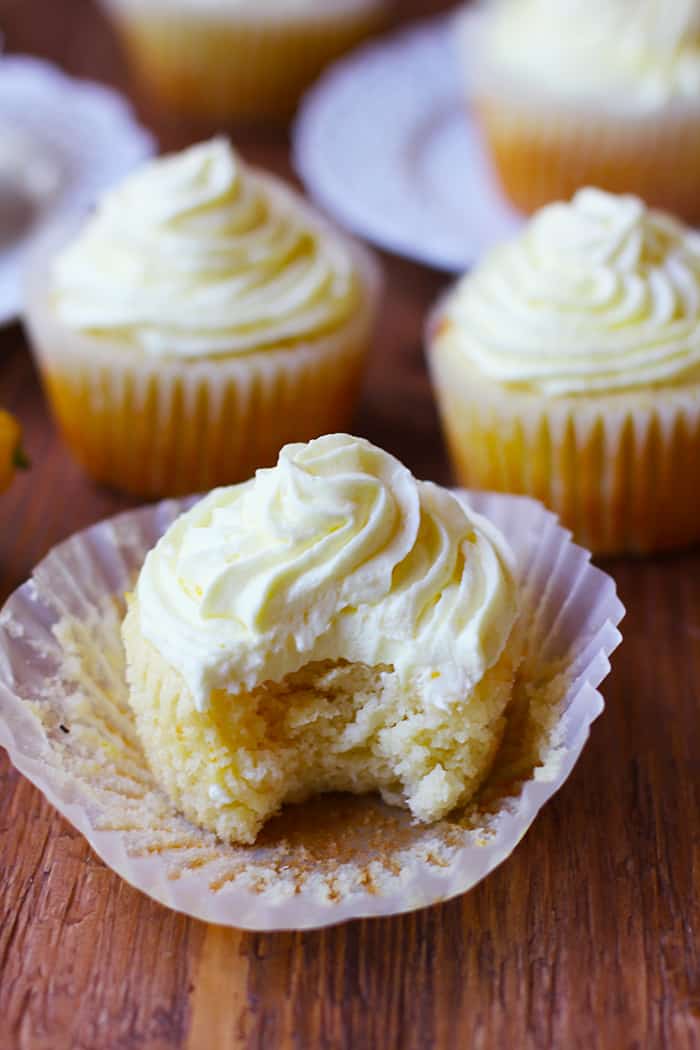 Spring in Texas is so many things.
windows opened – ahhhh!
flowers planted
bright green (almost artificial looking) grass
long bike rides
iced coffees
baseball season – GO Rangers!
blueberries, raspberries, strawberries, asparagus, peas…LEMONS! 🙂
I love lemons.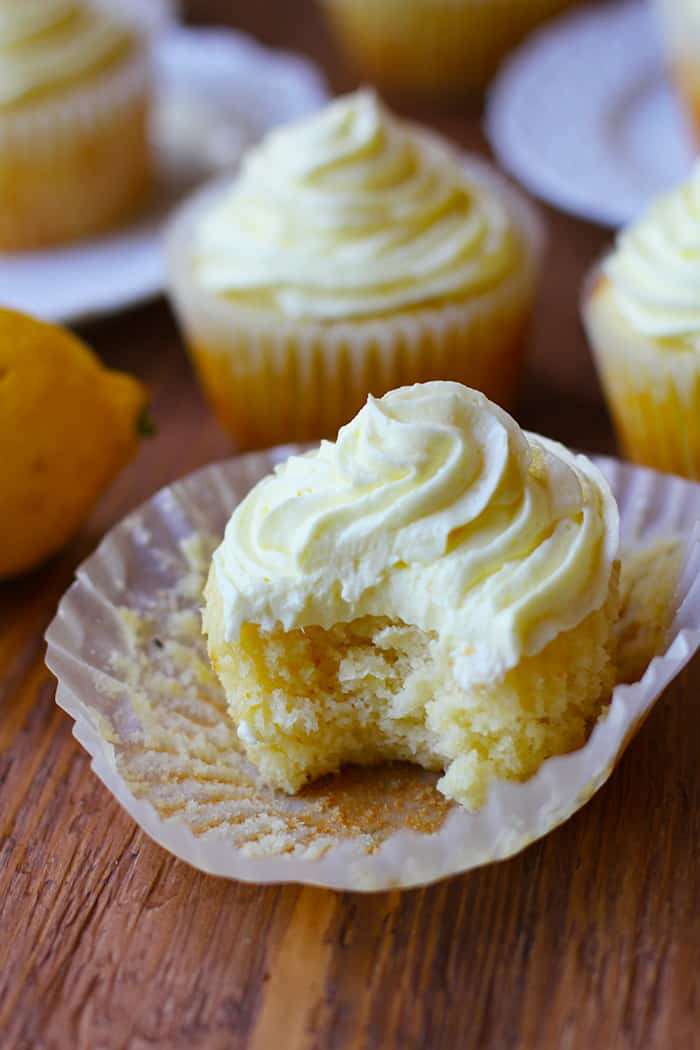 This Perfect Lemon Cupcake recipe was created by adapting my Jumbo Chocolate Cupcakes and Chocolate Sweetheart Cupcakes recipes. I basically removed the chocolate and the filling, and added in a WHOLE BUNCH OF LEMONS! I also used some lemon yogurt, but you could use plain yogurt too, or even sour cream. All of these ingredients yield a super moist and lemon-y cupcake. Tart-but-sweet and incredibly delicious.
Even the buttercream frosting is made with real lemons. I used three MORE tablespoons of freshly squeezed lemon juice, along with another tablespoon of zest.
So lemon-y.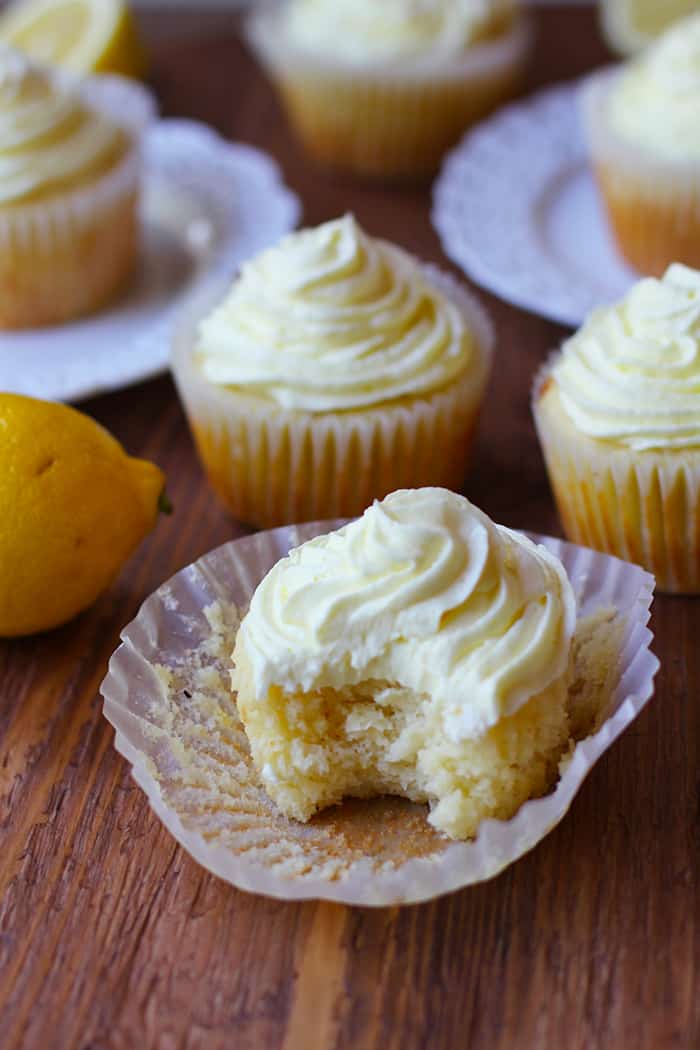 The key to this recipe is either using a whole lot of muscle to squeeze a whole lot of lemons, OR…investing in a really great lemon juicer. Go to MY KITCHEN TOOLS (and go to Food Prep) to see what juicer I have in my kitchen. I purchased it on Amazon recently for $20.
Another great lemon recipe is my Glazed Lemon Poppyseed Muffins. And if you aren't that into lemons but want something spring-y, try my Yogurt Glazed Blueberry Muffins. Both are divine!
Just in case you are wondering, I buy my lemons at Sam's Club. You can buy a fairly large bag for pretty cheap there, and the lemons are SO much larger.
large lemons –> more juice –> more PERFECT LEMON CUPCAKES! 🙂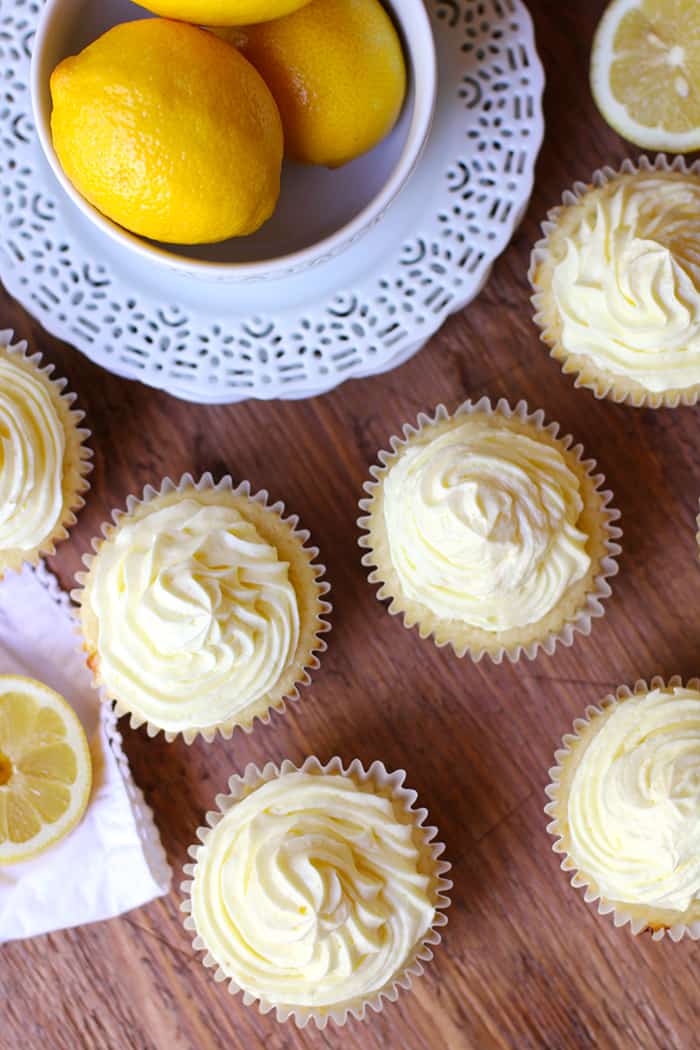 Please let me know in the comment section below if you make these Perfect Lemon Cupcakes, or any of my recipes! I love to hear from my readers. You can also tag me on social media! I'm on Facebook, Twitter, Pinterest, Instagram, Bloglovin', and Yummly. 🙂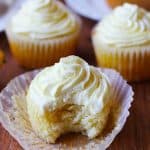 Perfect Lemon Cupcakes
Servings
:
8
jumbo cupcakes
Ingredients
For the cupcakes:
1/2

cup

unsalted butter

- melted and slightly cooled

1

large

egg

3/4

cup

buttermilk

6

oz.

lemon yogurt

- use any brand

1

teaspoon

vanilla

- I use Watkins Vanilla

5

Tablespoons

fresh lemon juice

- freshly squeezed

2

teaspoons

lemon zest

1 1/2

cups

all-purpose flour

3/4

cup

sugar

1

teaspoon

baking soda

1/2

teaspoon

baking powder

1/2

teaspoon

salt
For the buttercream frosting:
3/4

cup

unsalted butter (1.5 sticks)

- softened to room temperature

3

Tablespoons

fresh lemon juice

- freshly squeezed

1

teaspoon

lemon zest

3

cups

powdered sugar
Instructions
Preheat oven to 350 degrees. Line a 6-cup jumbo cupcake pan plus two more cups - with jumbo cupcake liners (four will be empty).

Mix the dry ingredients (flour, sugar, baking soda, baking powder, and salt) in a medium bowl. Set aside.

In a separate bowl, mix together the melted (and cooled) butter, egg, buttermilk, yogurt, vanilla, freshly squeezed lemon juice, and zest. Add to dry ingredients and mix to just combined.

Fill cupcake liners with mixture, filling 2/3 full. Do NOT over-fill!

Bake for 18-22 minutes, or until toothpick comes out clean when inserted. Remove cupcakes to cooling racks.
For the buttercream frosting:
Using a handheld mixer, beat the butter until creamy, about two minutes, Add fresh lemon juice, zest, and powdered sugar, and mix on high speed for two more minutes, until nice and fluffy.

Using a decorating kit, pipe frosting onto cooled cupcakes.
Recipe Notes
If you make regular sized cupcakes, this recipe will make approximately 10-12 cupcakes. Baking time should be decreased, however.
These cupcakes should be stored, covered in the refrigerator. To serve, let sit on countertop to come to room temperature. They will stay fresh up to three - four days.

SHARE THIS POST TO YOUR FRIENDS: