What do you need when you start a blog? 1) an idea…check, 2) a plan…check, 3) a computer…check, and 4) a NEW DESK!
I've been talking about getting a new desk for a long time now. But nothing struck my fancy.  Everything I saw was too "office-y". I can't have an office desk for my blogging corner! I finally did the logical thing and put out a "HELP ME!" request on Facebook – and a friend (Thank you Jeff Warner!) referred me to Nicole Wilson, aka Mrs. Wilson's Restorations.
Nicole is just as sweet as she looks and is an extremely busy young lady. She is a 25 year old mom to three little boys (three years and under) with a husband who works full-time and goes to school full-time.
And she builds furniture?? Yup. And she does it fantastically!
Carpentry is in Nicole's blood. Her grandfather is a carpenter and engineer, her brother builds custom homes, and her mom is an interior designer. Her younger brother is also involved in carpentry and assisted her with my desk.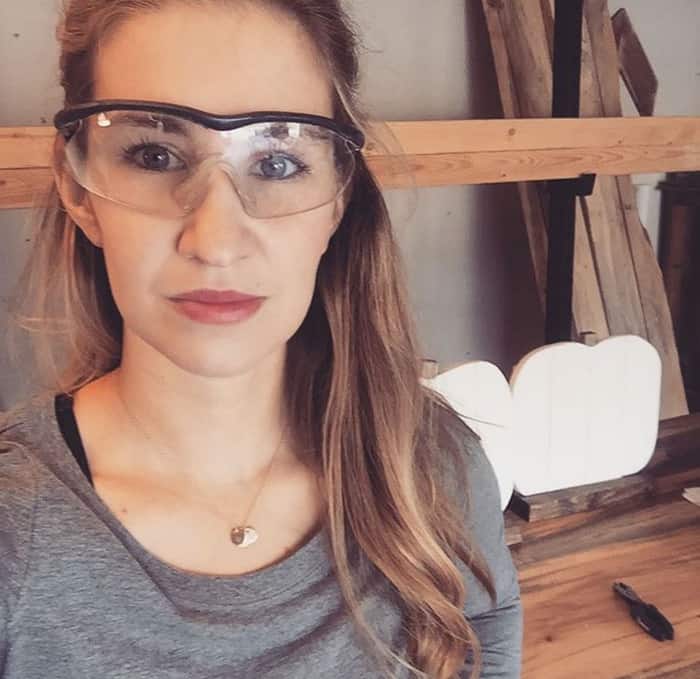 She came to my house in late August to discuss my vision as well as  my small space. 30 minutes later, we had a plan. And three weeks later, I had this desk!
Here it is in pieces at her workshop. This side piece has a pencil drawer and two shelves.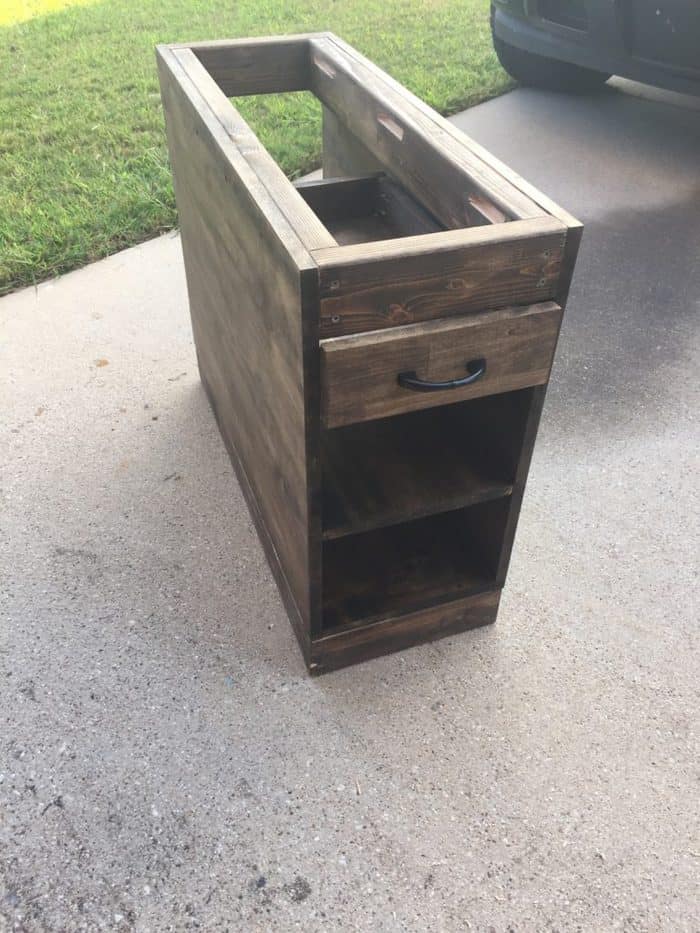 I found these two cool tin containers at World Market to fit perfectly on the shelves.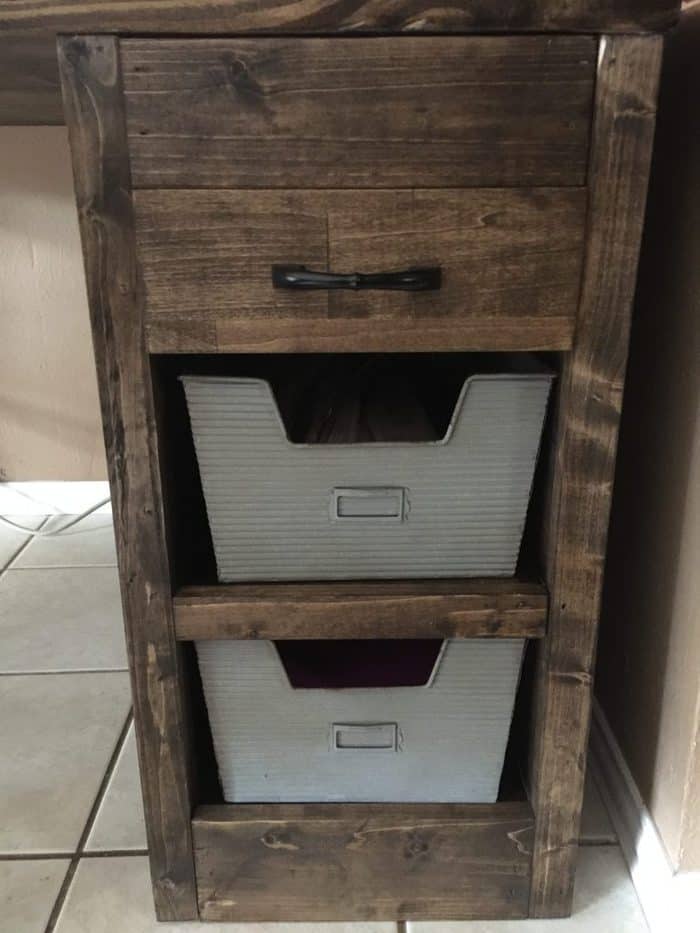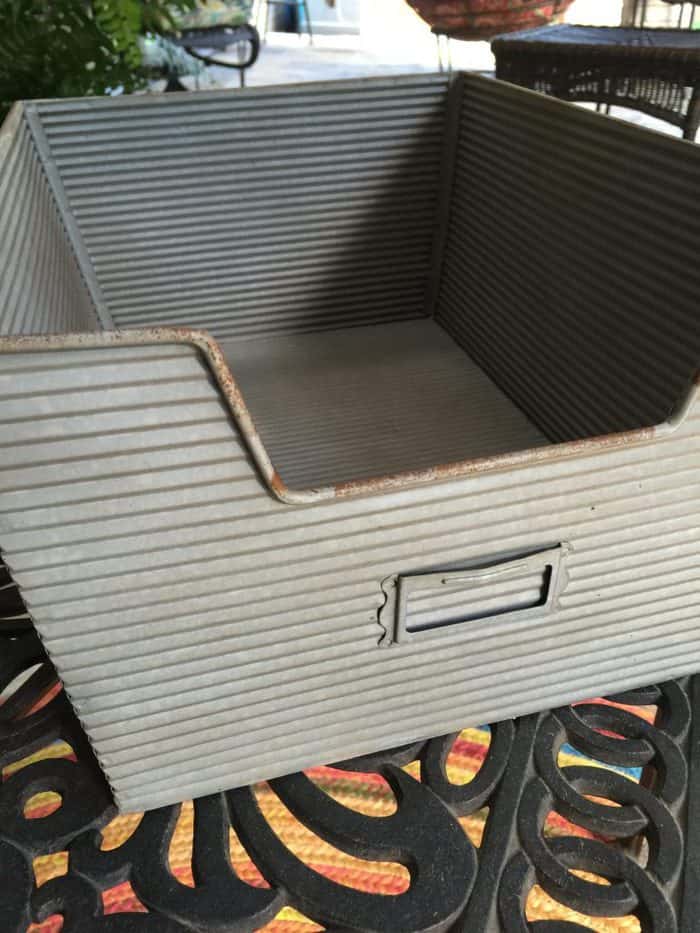 To construct the desk, Nicole started off with four pieces of 2x12x8 yellow pine and ripped them, using a table saw, which took off 1/2″ from the ends and allowed them to lay flush with no seems or cracks between. She built a frame for the shelf pedestal and then wrapped it with trim, using a dark walnut on the entire piece. She then added three different coats of poly with wet sanding between.
Here's the desk top. It's absolutely beautiful!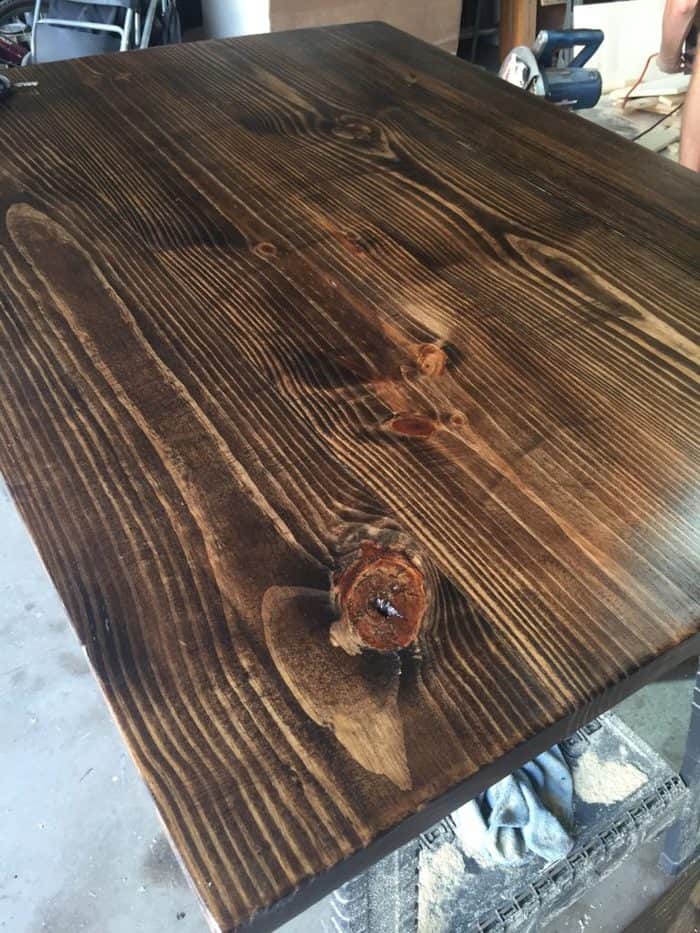 The left side of the desk has an industrial flare with the legs made of metal piping.
I also purchased this tin pencil holder and mail bin at World Market for my desk top. Oh, and this tin tray from the Magnolia Section in Nebraska Furniture Mart!
Let's not forgot about the cool not-so-office-y chair, also found at World Market – one of my favorite places to shop.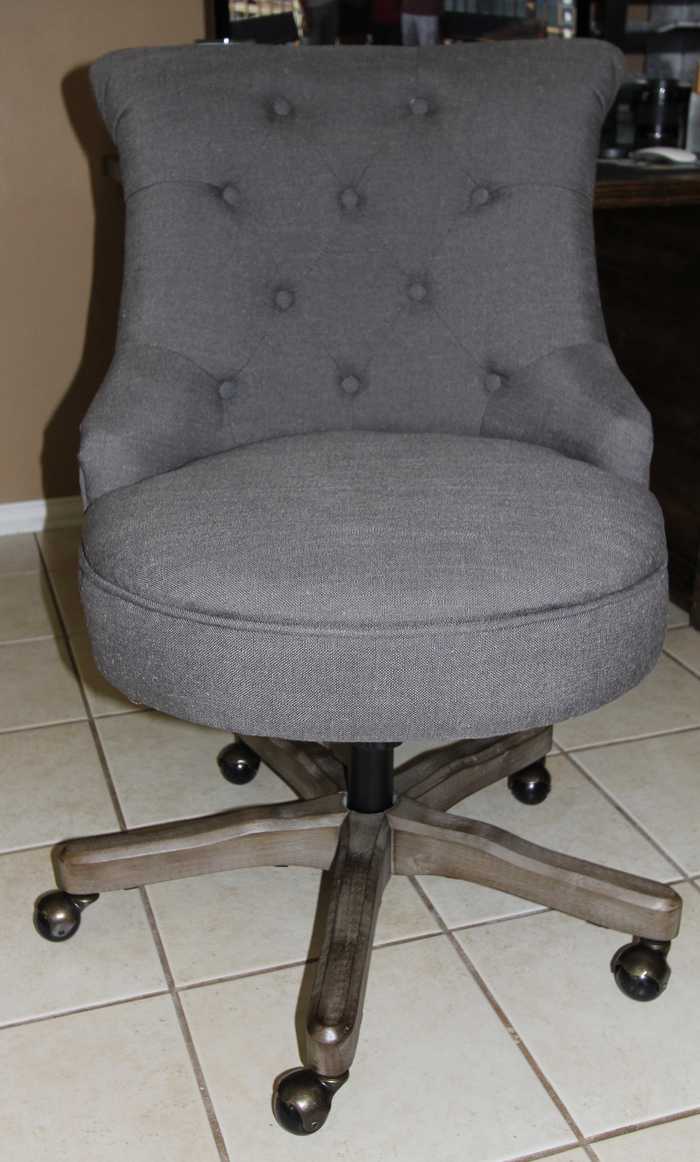 And my really awesome Tao Tronics LED lamp that I found on Amazon.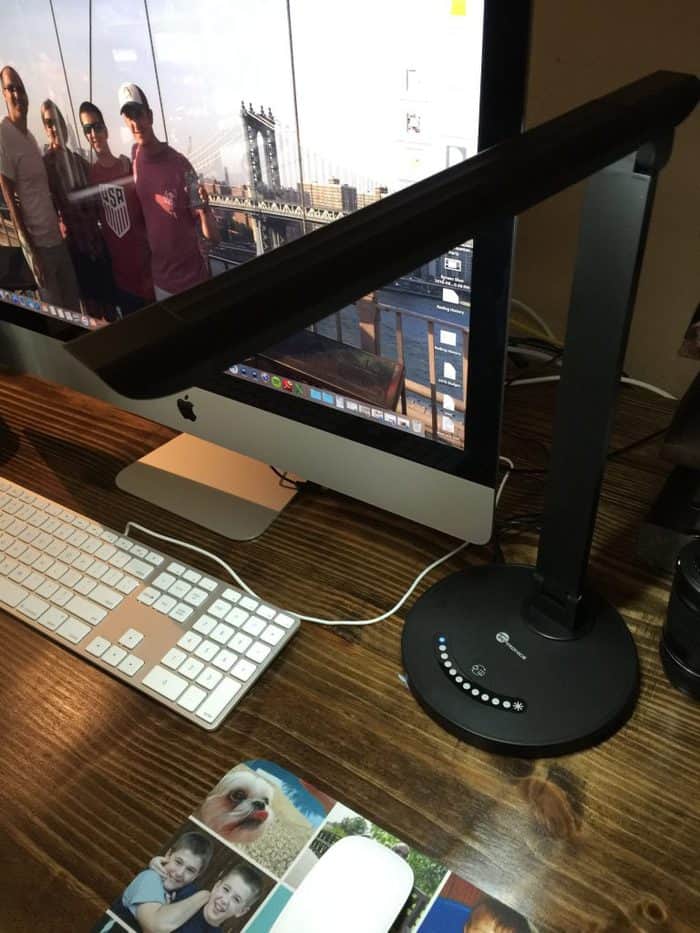 One more thing…see that mousepad? I designed one on my favorite photo site, shutter fly. It was super easy and I love anything personalized.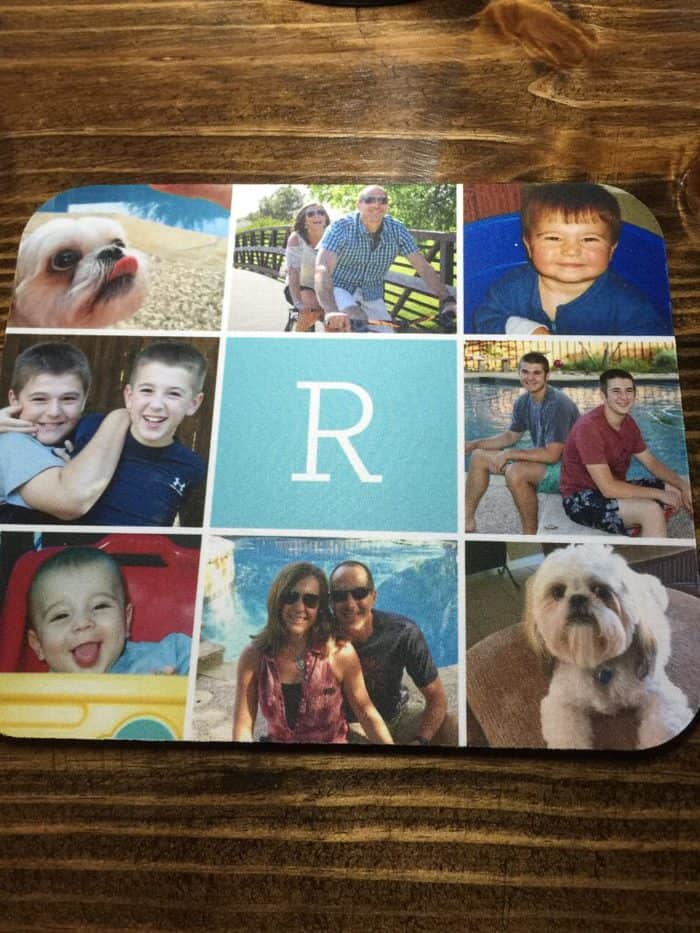 I LOVE my new space (and that doggie is kinda cute too). 🙂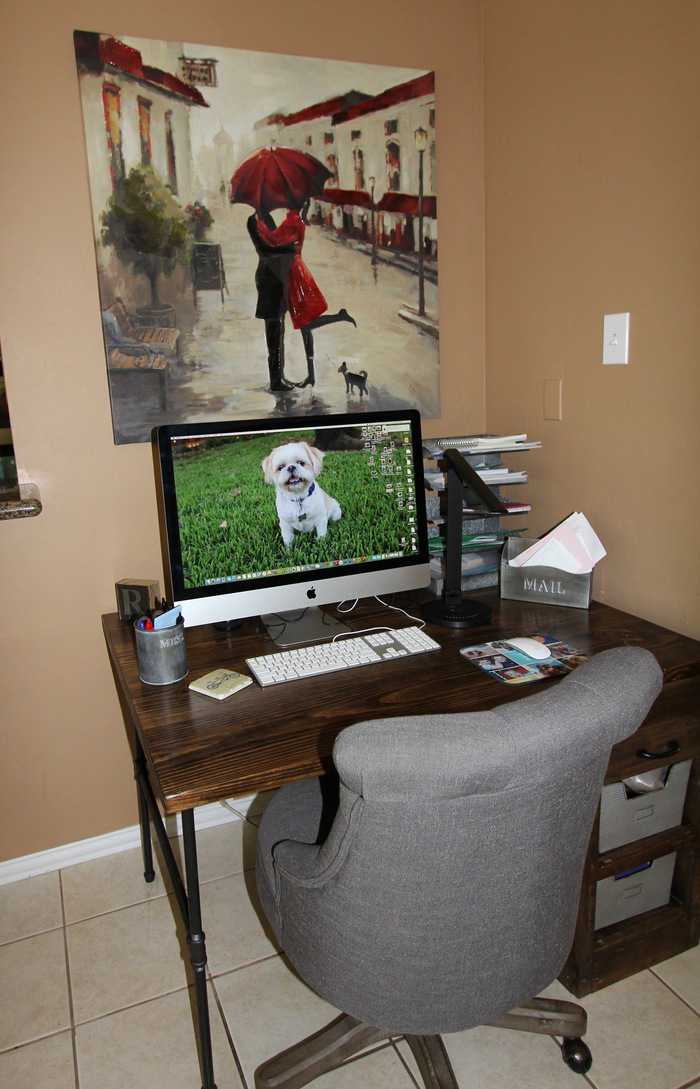 SHARE THIS POST TO YOUR FRIENDS: