Mexican Quinoa Salad is a new family favorite. Protein packed with two cups of quinoa, black beans, peppers, jalapeños, green onions, fresh corn, and Cotija cheese – topped with rice wine vinegar and the AMAZING Creamy Avocado Dressing!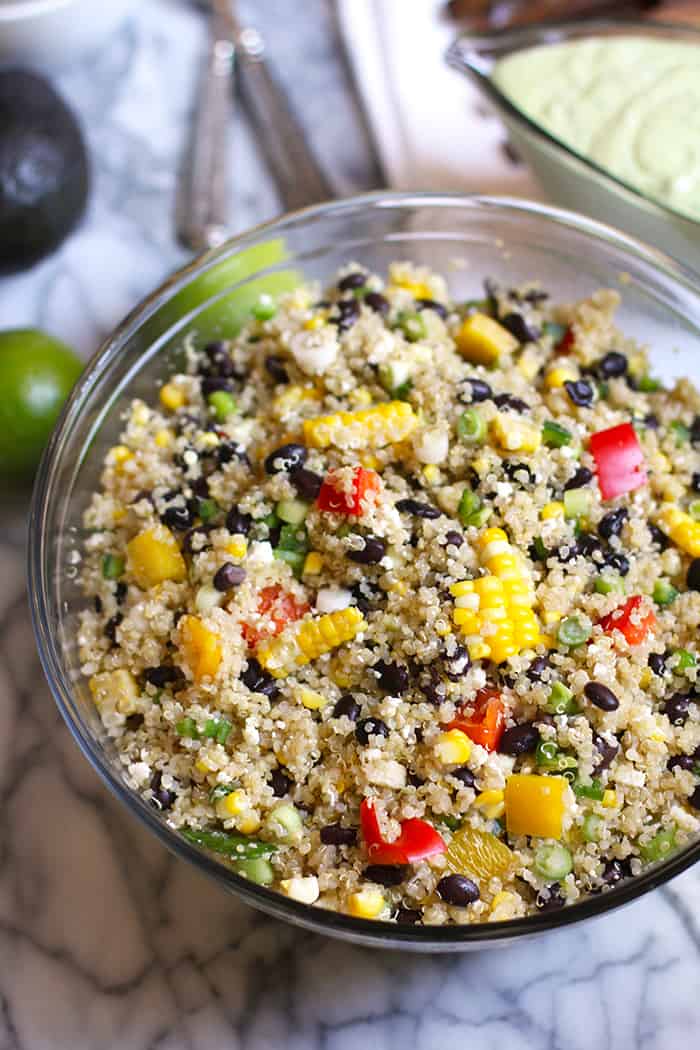 Every time I make quinoa, Mike gives me that look. He likes to take credit (and credit is due!) for introducing me to the grain, back when it was new to cook with. I seriously drug my feet because he likes to tweet food and recipe ideas to me, and that time I made kale didn't go so well. He even suggested that I make "kale chips" once, and I bought him a store-bought bag of them instead. 🙂
So I was hesitant, but I figured out how to cook it – using a 2 x 1 ratio of chicken broth to quinoa. I threw a bunch of veggies and some feta cheese in it, and I made it a bunch of times before posting my Loaded Veggie Quinoa Salad earlier in the year.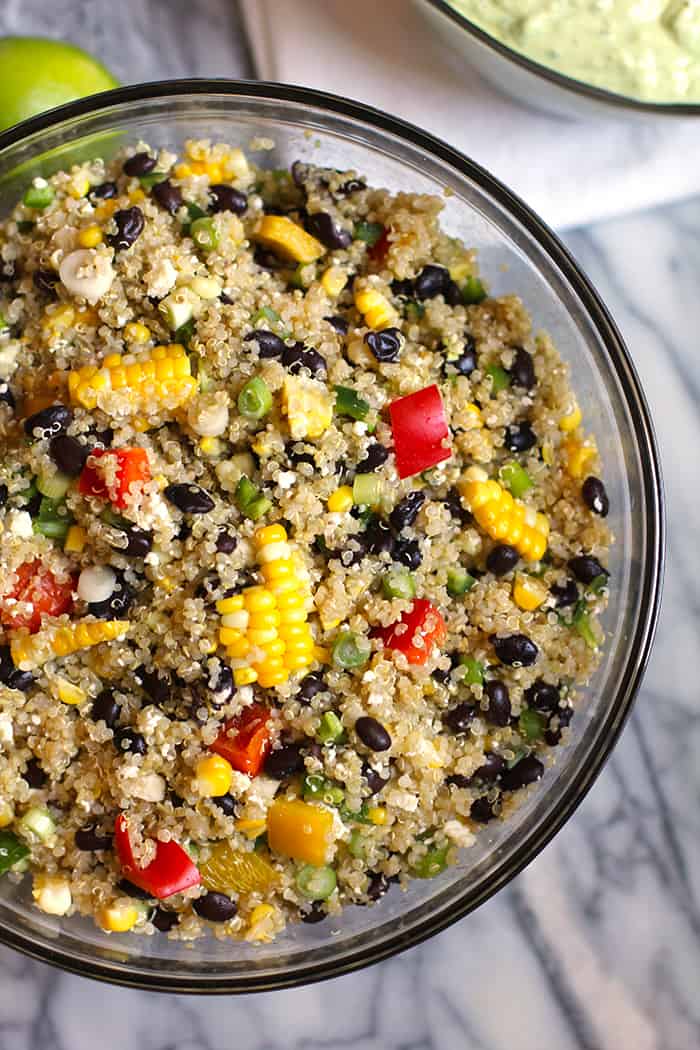 Like I said in my earlier recipe, quinoa is a SUPER food. It's a seed (prepared as a grain) that is high in protein and loaded with vitamins and minerals. It's also high in fiber, naturally gluten-free (if you are watching that), and is low on the glycemic index.
I used a whopping two cups in this Mexican Quinoa Salad. In case you didn't know, quinoa puffs up A LOT, so those two cups grew to about 6-7 cups. With the addition of all of the veggies, this salad made a HUGE bowl. But that was my goal, since it keeps well for several days – if it lasts that long. So if you are small eaters, or just don't want to eat that much of it, you can easily cut the recipe in half.
A couple of other notes:
Fresh corn on the cob is key. I boiled four ears and cut the corn kernels off of the cobs. The crunch absolutely makes this salad – don't use canned!
The Cotija cheese is a Mexican (crumbled) cheese, that is really important for flavor. I bought mine at Sprouts.
I added the rice wine vinegar to the salad for flavor, but mostly to keep the quinoa from sticking together. My Creamy Avocado Dressing is added right before serving.
I finally started buying my quinoa on Amazon – in large quantities (four pound bag). Here it is if you want to try it.
You can also warm up individual servings of this salad. My family likes it cold, but I like it both ways.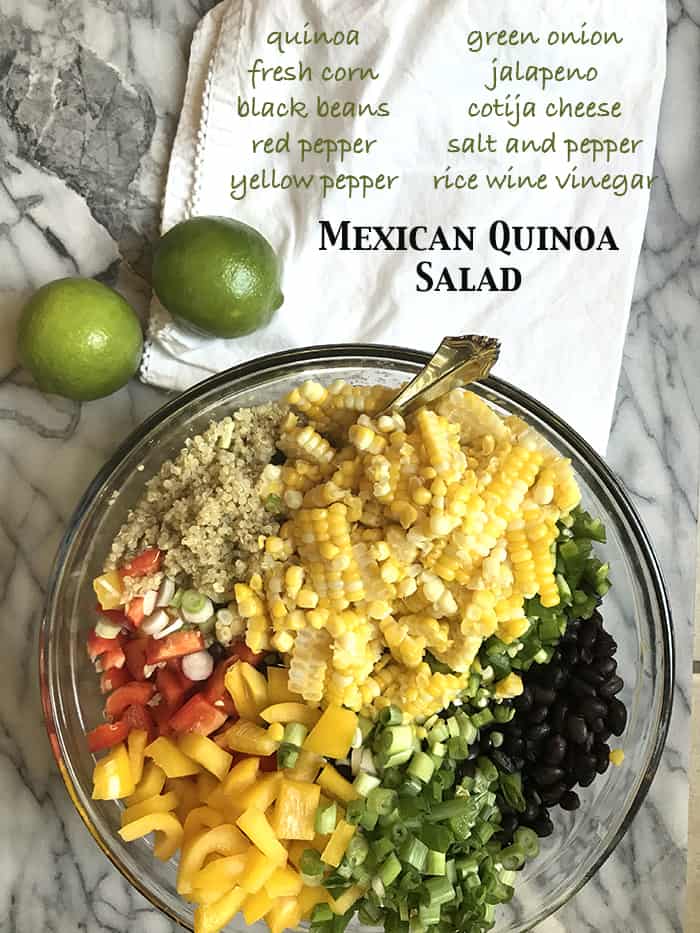 The rice wine vinegar DOES give the salad a nice flavor. But my Creamy Avocado Dressing gives it an OUTSTANDING flavor! It's totally worth making, and it stores well in the refrigerator too.
All you need is..
avocado
plain greek yogurt
jalapeno
cilantro
lime juice
salt and pepper
olive oil
water to thin it – if needed
I just throw it all in a food processor and it's done in a few seconds. The color is AMAAAAZING! 🙂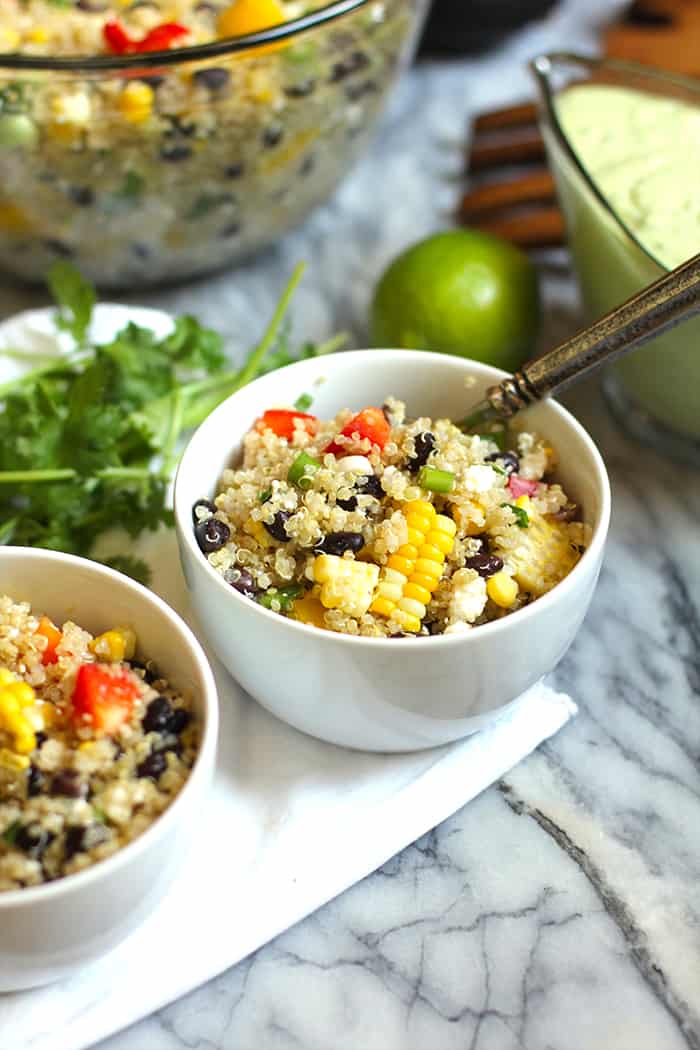 I love eating salads in the summer. In fact, I crave them! And it's a very good thing, cuz crazing salads instead of nachos is better for the figure. We are now IN shorts and swimsuit season. That means it's time to lighten up, and get our salads on.
For some other salad or lighter recipes, try the following.
Meet ya at the pool! 🙂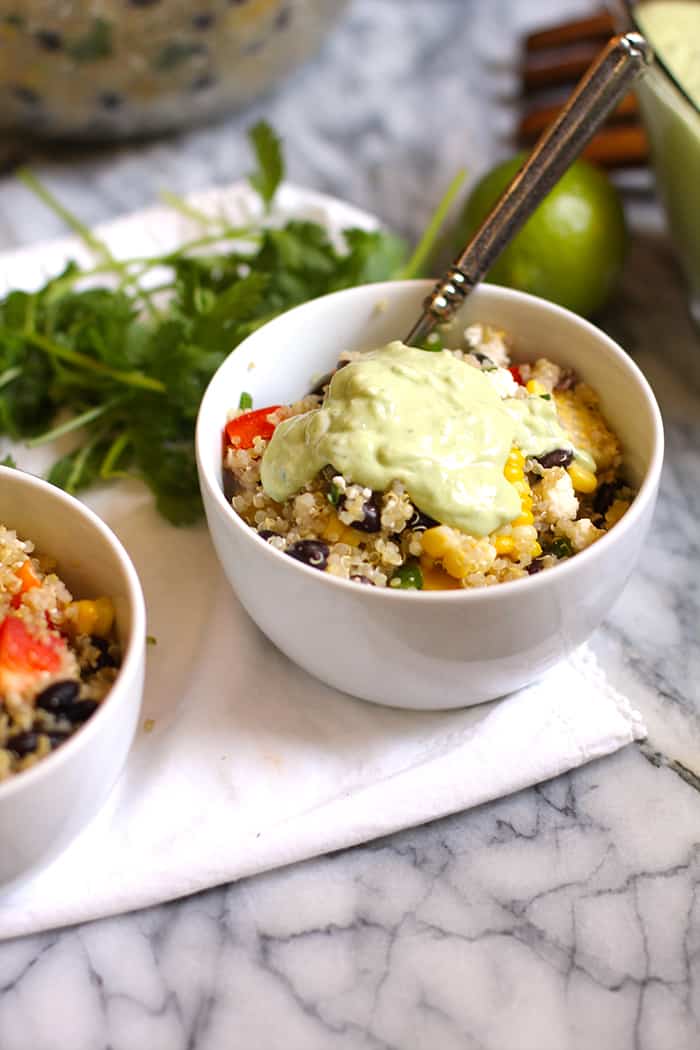 Please let me know if you try this Mexican Quinoa Salad, and how you like it (or not)! You can stay up to date with SueBee Homemaker by signing up for post updates (top right-hand corner of my blog) or liking my Facebook Page. I'm also sharing tidbits of my life on Instagram. 🙂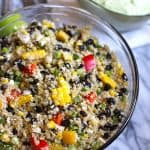 Mexican Quinoa Salad with Fresh Corn
Ingredients
For the salad:
2

cups

quinoa

4

cups

chicken broth

2

15 oz.

can black beans

- rinsed and drained

1

bunch

green onions

- diced

1/2

medium

red pepper

- diced

1/2

medium

yellow pepper

- diced

2

medium

jalapeños

- diced (one with seeds, one without) - use less if you are wary of the spiciness

4

ears

corn

- boiled and corn removed

1

cup

cotija cheese

- crumbled

salt and pepper

- to taste

1/3

cup

rice wine vinegar

- or more
For the dressing:
1

large

avocado

1

cup

plain greek yogurt

2

Tablespoons

cilantro

1

large

jalapeno

1

large

lime

- freshly squeezed

salt and pepper

- to taste

1

Tablespoon

olive oil

2

Tablespoons

water

- if needed to thin the dressing
Instructions
For the salad:
Do these two things in advance:

* Rinse the quinoa in cold water. In medium pan, bring chicken broth to a boil, and add quinoa. Bring to rolling simmer and cook until the liquid cooks out. When done, pour quinoa into a large bowl. Set aside.

* Boil corn by bringing water to a boil - in a large saucepan. Then add corn and salt. Cover and turn off the heat. Set timer for 15 minutes. When done, remove corn to cool.

Rinse and drain black beans. Dice up the onions and pepper. Cut the corn kernels off of the cobs.

When quinoa and corn are cool, combine all salad ingredients in bowl, add rice wine vinegar, and store in refrigerator.
For the dressing
Place avocado, greek yogurt, cilantro, jalapeño, salt, pepper, and lime juice in food processor. Add olive oil and if necessary to thin out, add water.

Store dressing in refrigerator.
Recipe Notes
This is a large recipe. For a smaller recipe, cut it in half.

SHARE THIS POST TO YOUR FRIENDS: