These Maple Nut Wheat Pancakes are holy deliciousness! Tons of pecans, oatmeal, and white whole-wheat flour are just a few of the wholesome ingredients, plus some maple syrup and extract, and a moderate amount of buttah!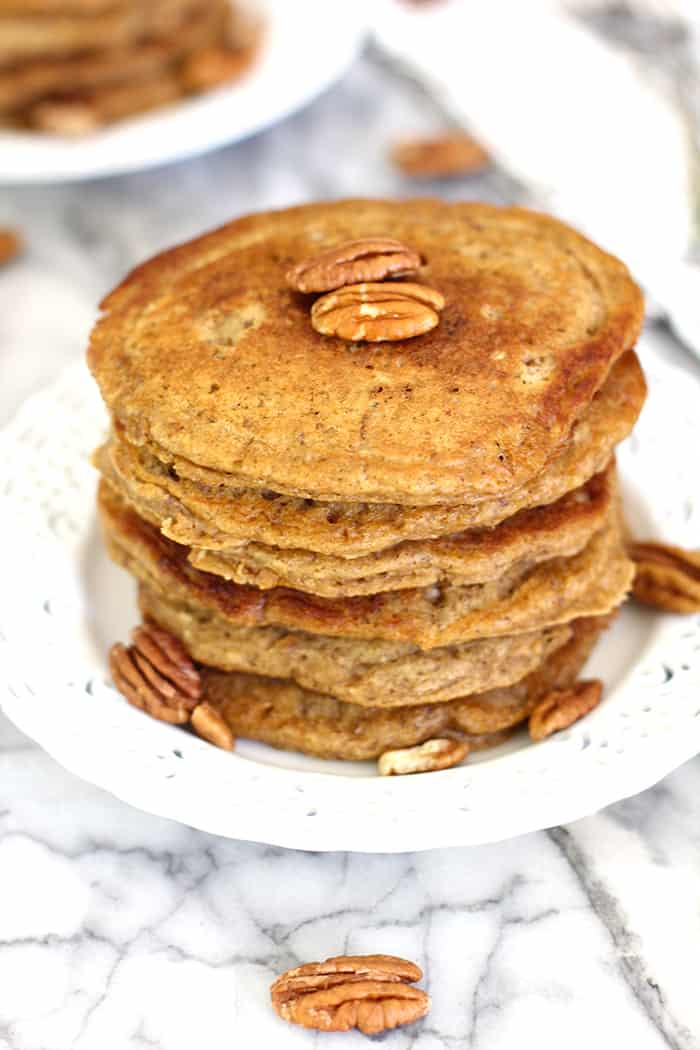 Do ya'll remember my Maple Oat Pecan Scones? They are the best scones ever, and I modified that recipe to make these pancakes. The flavors are similar as both include oatmeal, pecans, and maple flavoring.
You can see below, that I used my food processor
 to turn the pecans and old fashioned oats into coarse crumbs. Don't over-pulse or you'll get crumbs more like flour. I happen to like the chunky texture of these pancakes.
In addition to the pecans that I pulsed in the food processor, I added more pecan chunks to the batter as a last step. Doing this gives the pancake that extra bite. It's just plain nuts how good these are. 🙂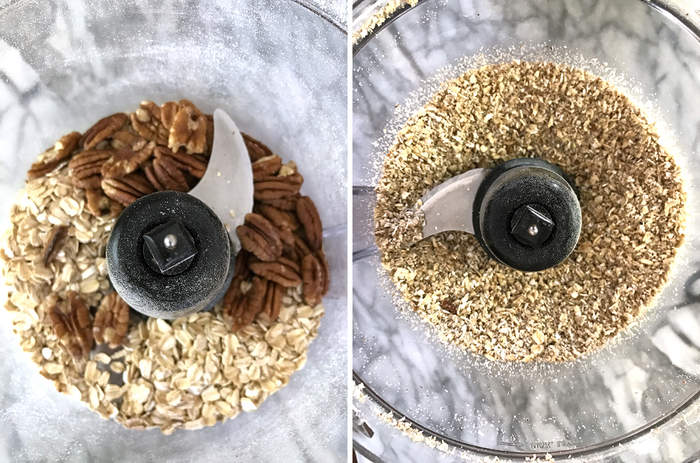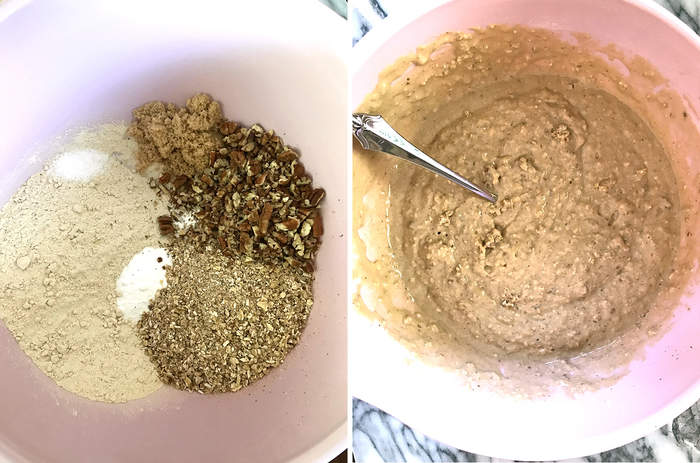 My family is all VERY different when it comes to eating pancakes.
Mike prefers his plain – no butter or syrup.
Josh likes peanut butter on his.
Zach prefers his with butter AND syrup (heavy on the syrup)
And I like to eat them with butter only.
So you might wonder why I have so many photos with syrup dripping off of them. Because…presentation!!
I actually had to wait for Zach to get home from school to do the drizzling. If I take one hand off of the camera, I can't focus on the picture and you would see one big blur. But I love the look of the syrup dripping off the pancakes. It makes me want to reach into the picture and take a bite.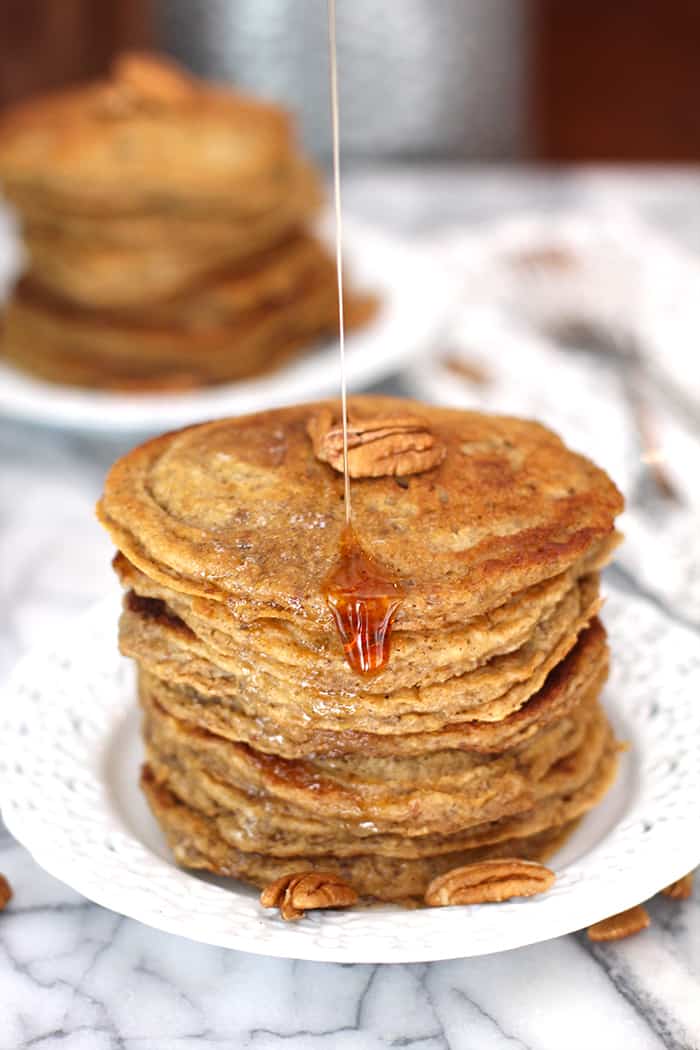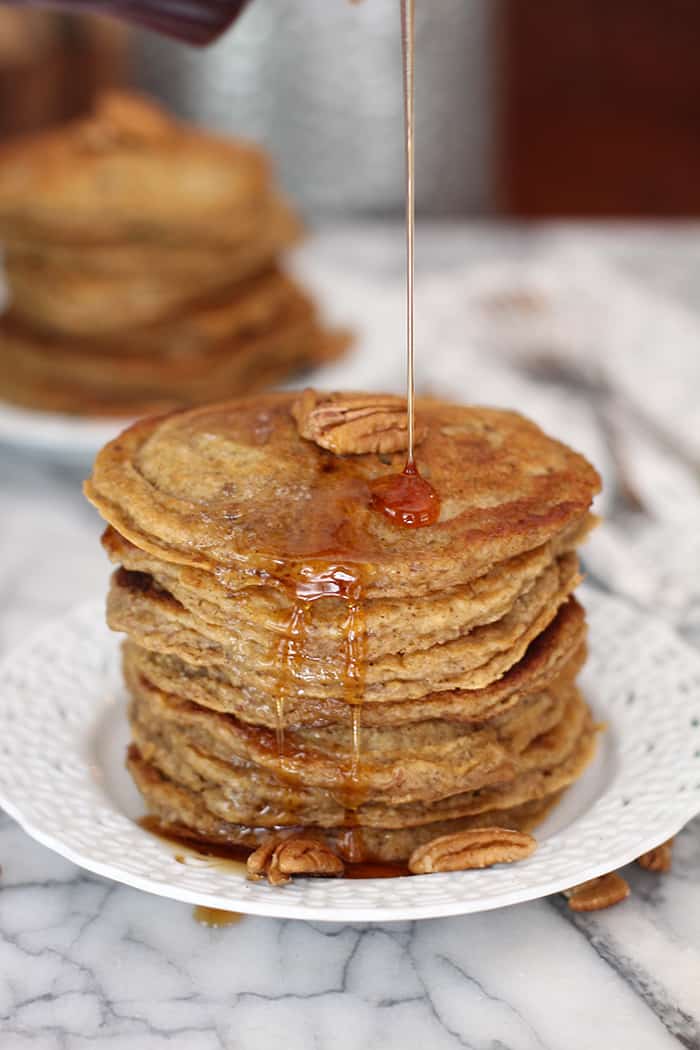 If you prefer a simpler, more traditional pancake, try my Classic Buttermilk Pancakes. They are delicious too and are a favorite in our home.
You can also freeze any leftover pancakes. Just wrap them in saran wrap (after they cool off), and stack them in a large freezer bag. They are super handy to pull out in the mornings. Just defrost in the microwave, or you can even stick them in the toaster.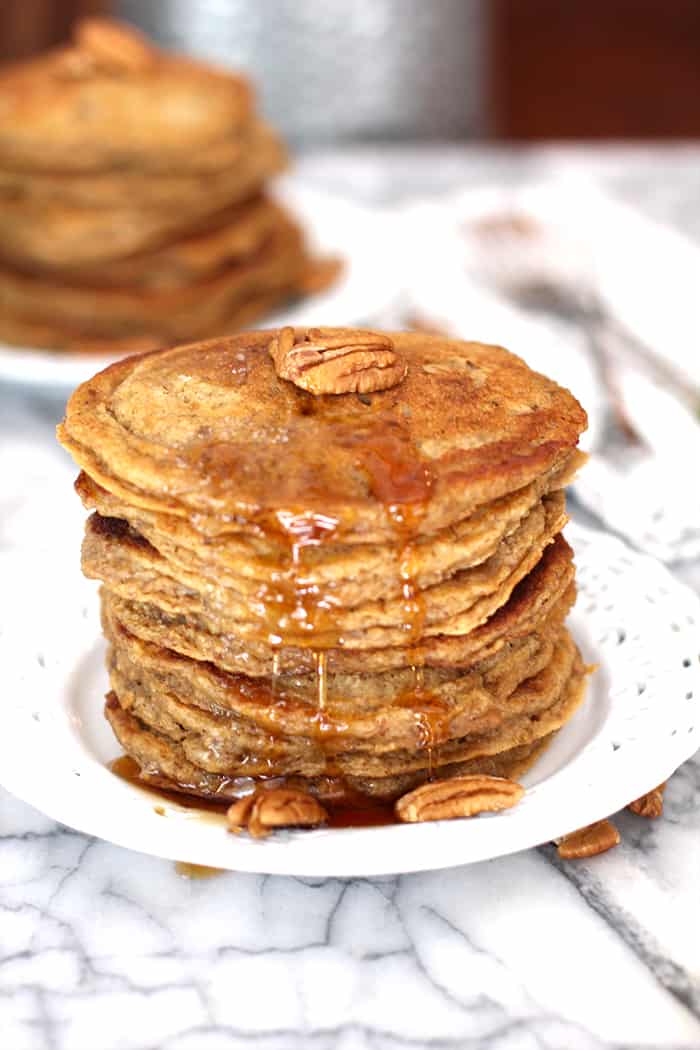 Please let me know in the comment section below if you make these Maple Nut Wheat Pancakes, or any of my recipes! I love to hear from my readers. You can also tag me on social media! I'm on Facebook, Twitter, Pinterest, Instagram, Bloglovin', and Yummly. 🙂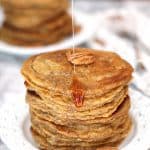 Maple Nut Wheat Pancakes
A nutty oat pancake, with a big maple flavor and white whole-wheat flour, make this pancake one of the best ever!
Ingredients
2/3

cup

old fashioned oats

1 1/3

cup

white whole-wheat flour

1/2

cup

pecans

2

Tablespoons

brown sugar

2

teaspoons

baking soda

1

teaspoon

baking powder

1/2

teaspoon

salt

2

large

eggs

2 1/2

cups

buttermilk

1/4

cup

un-salted butter

melted

2

Tablespoons

pure maple syrup

2

teaspoons

maple extract

1/2

cup

chopped pecans

add last

canola oil

for cooking pancakes
Instructions
Pour old fashioned oatmeal and 1/2 cup of pecans into food processor. Pulse until resembles course crumbs, about 20 seconds. Pour into large mixing bowl.

Add remaining dry ingredients - brown sugar, baking soda, baking powder, and salt.

In separate mixing bowl, combine eggs, buttermilk, melted and cooled butter, maple syrup, and maple extract. Pour wet ingredients into dry ingredients and gently stir. Add remaining 1/2 cup chopped pecans and stir again.

Turn pancake griddle on medium temperature. When warm, add a bit of oil to coat griddle. Add pancake batter to make about 4 inch (in diameter) pancakes. When pancakes start to bubble and poof up, flip to cook the other side.

This recipe should make approximately 14 pancakes.
Recipe Notes
You can freeze pancakes by wrapping in saran wrap and storing in freezer bags.

SHARE THIS POST TO YOUR FRIENDS: