Jumbo Chocolate Banana Wheat Muffins are another spin on banana muffins, made with tons of wholesome ingredients, like honey, applesauce, coconut oil, bananas, white whole-wheat flour, and flaxseed meal.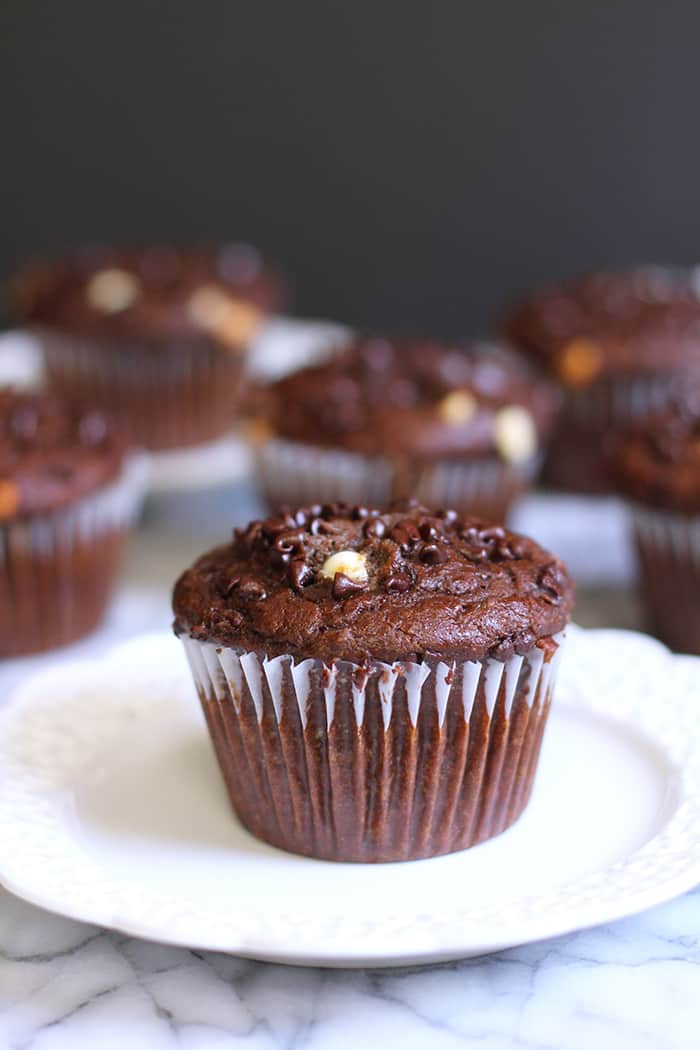 It seems like I have over-ripe bananas on my counter four out of every seven days of the week. Either I buy too many or my family isn't eating them like they used to. I'll admit, sometimes I buy extra so I have an excuse to make banana bread. But more often than not, we just don't eat as many bananas as I expect.
Since I've started this blog thing, I am CONSTANTLY trying to whip up another banana something-or-other concoction. It has become a fun (and sometimes frustrating) game. I pull out all my OTHER banana bread/muffin recipes, and start improvising.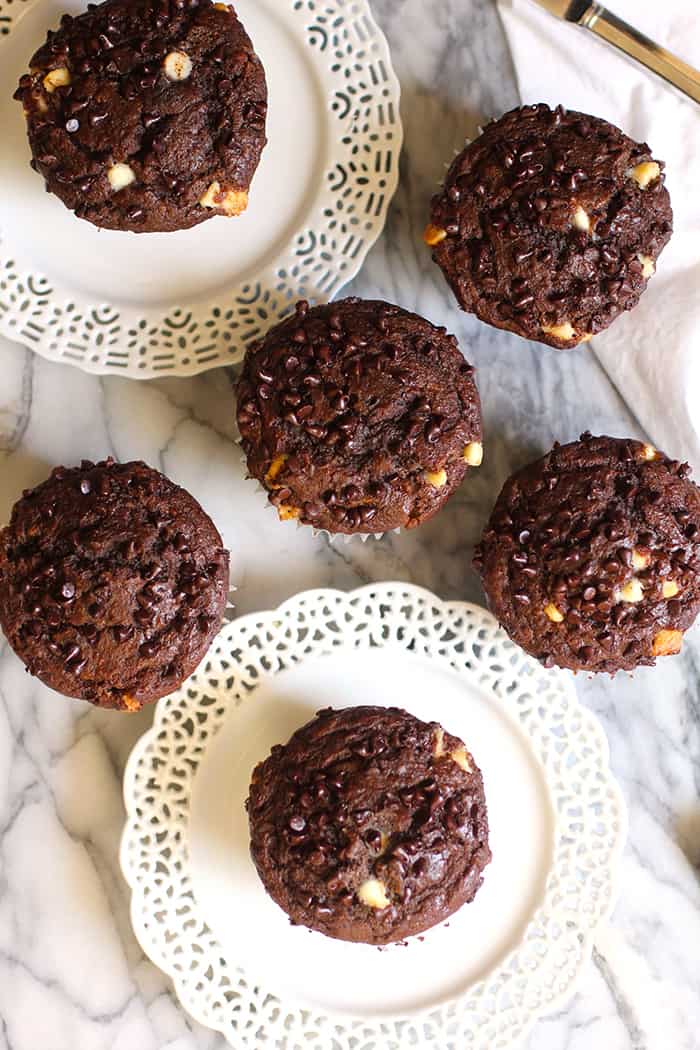 For this concoction, I reduced the sugar and oils – and added honey and applesauce. I also decided to use white whole-wheat flour and some flaxseed meal. And then, well, there are white chocolate chips in the center, and mini semi-sweet chocolate chips on the top!! Gotta throw some of that in these healthy, wholesome muffins.
Work out –> eat healthy –> splurge a little bit –> get a solid 7-8 hours of sleep –> REPEAT! 🙂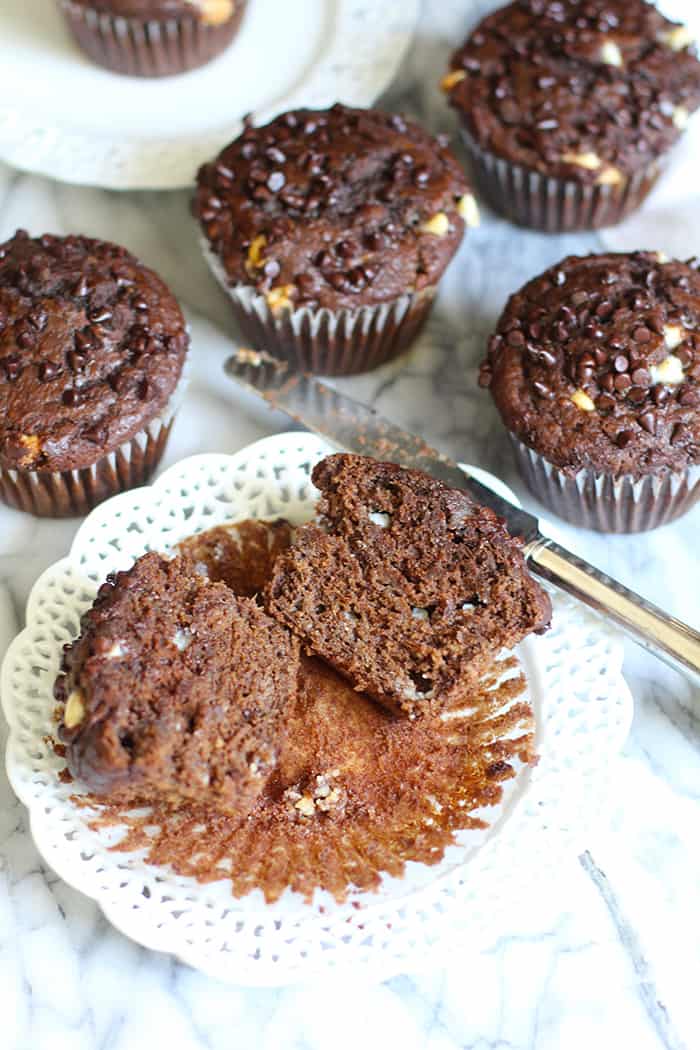 I've made this wholesome version several times because I keep tweeking it. And then a few nights ago, I just couldn't help myself. I got out my jumbo muffin tin and this recipe made exactly six nice HUGE muffins. Perfection. I absolutely love looking at them. And eating them. And watching my boys eat them.
Luckily, they are lower in sugar and fats. AND hey – flaxseed meal! Yes.
Did you know that you can change the quantities on the recipe (on my site), and the recipe will adjust accordingly? So if you have six bananas on your counter, you can change the quantity to 12 muffins instead of 6!! Or you can change it to 9 or 15 or 20.. You get me, right? 🙂
What are some of your favorite banana bread/muffin recipes? I'd love it if you shared with me. And I'm always looking for new things to try. Speaking of which, I just spied three over-ripe bananas on my counter. 🙂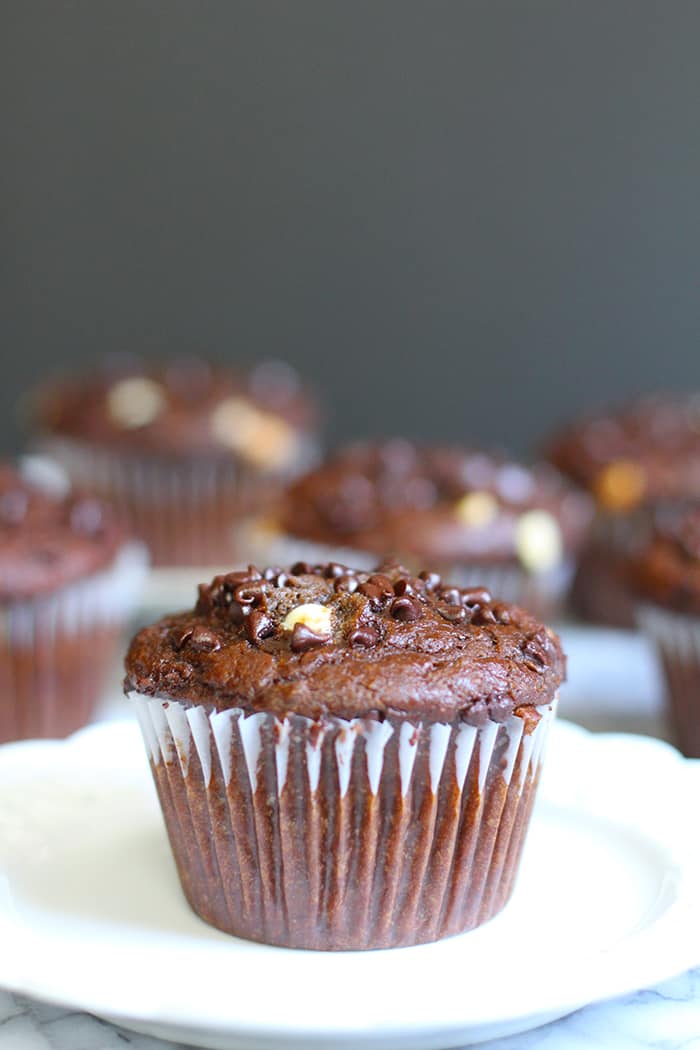 Please comment below if you:
have tried these muffins and love them
haven't tried them but plan to SOON
love muffins
hate muffins but you think they are pretty to look at 🙂
Also, you can stay up-to-date with SueBee Homemaker by liking my Facebook Page. I'm also sharing little tidbits of my life on Instagram.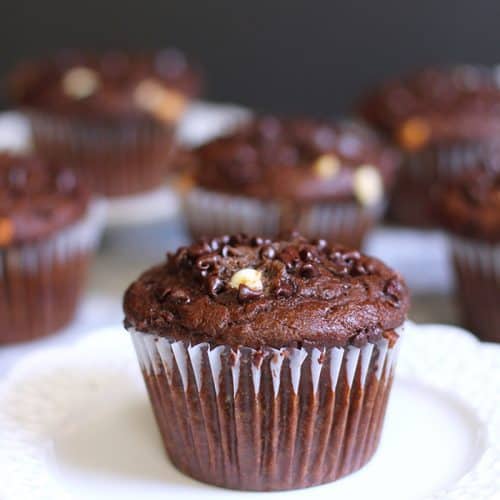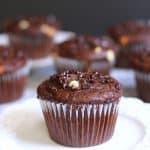 Jumbo Chocolate Banana Wheat Muffins
These muffins are made with tons of wholesome ingredients, including honey, applesauce, bananas, white whole-wheat flour, and flaxseed meal! Try them today!
Servings
:
6
jumbo muffins
Ingredients
3

over-ripe

bananas

- pureed

1/4

cup

brown sugar

1/4

cup

honey

1/4

cup

applesauce

1/4

cup

coconut oil

- melted

2

large

eggs

1

teaspoon

vanilla

1 1/2

cup

white whole-wheat flour

2

Tablespoons

flaxseed meal

1/2

teaspoon

salt

1

teaspoon

baking soda

2

ounces

unsweetened baking chocolate

melted

1

cup

white chocolate chips

6

Tablespoons

mini chocolate chips

- for top of muffins
Instructions
In a large standing mixer, puree bananas until runny. Add brown sugar, honey, applesauce, melted and cooled coconut oil, eggs, and vanilla. Mix well.

In a separate mixing bowl, combine white whole-wheat flour, flaxseed meal, salt, and baking soda. Mix and then add to wet ingredients, mixing again until just combined.

Melt unsweetened baking chocolate in microwave at 50% power for two minutes. Be careful not to burn! Add to mixture.

Add the white chocolate chips to mixture and stir gently.

Pour batter into jumbo muffin tins, filling almost to top. Sprinkle one Tablespoon of mini chocolate chips to the tops of each muffin.

Bake on 350 degrees for approximately 25 minutes, or until toothpick comes out clean.

Let muffins sit for about 10 - 15 minutes and then remove to cooling racks.
Recipe Notes
Store muffins in airtight container. These freeze well.
Did you make this recipe?
Tag @suebeehomemaker on Instagram and hashtag it #suebeehomemaker