An easy spin on a traditional chicken noodle soup, this Easy Italian Chicken Tortelloni Soup is the perfect weeknight soup.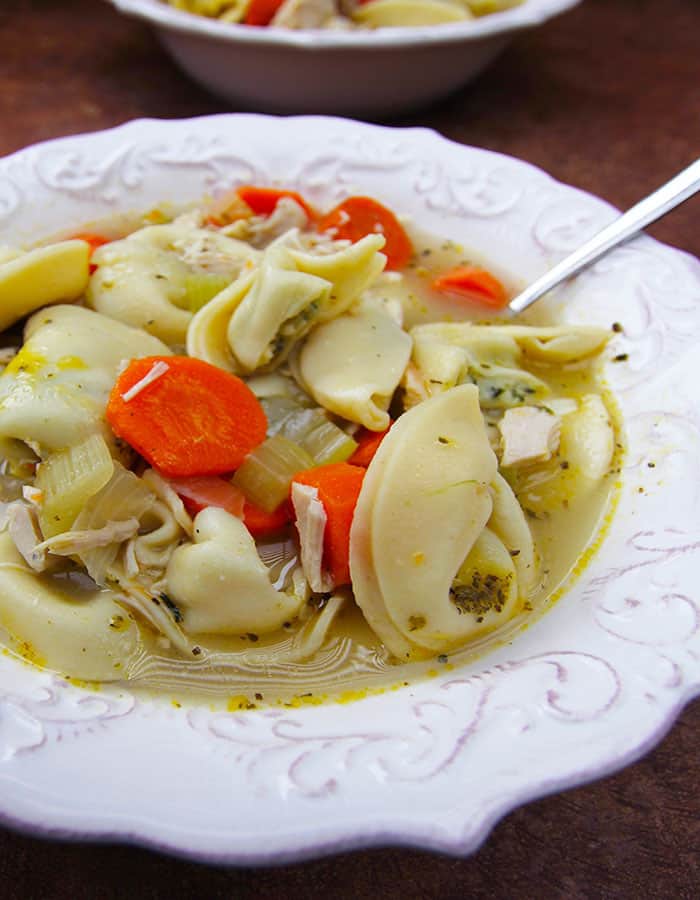 Texas weather has two seasons. 1) hot and 2) not so hot. Well, we are in the "not so hot" season right now and I'm jumping for joy. I LOVE the cooler weather and we actually dipped BELOW freezing this week. In fact, we had to bundle up our plants. Do you remember our giant elephant ear plant that I shared? Well, we moved that, and a very large fern, away from the pool and under our covered deck. I'm hoping and praying that these two plants survive the cold front.
Growing up in Iowa surely made my blood thicker. We are probably the last house in North Texas to actually turn on our heat (I finally did that on Wednesday). I'd rather start the fire and throw on a sweatshirt. After our long hot summers, I so look forward to the cold. Don't get me wrong though. I could NOT survive the bitter cold winters that I grew up in. When we travel north for Christmas, I am always reminded that I can deal with the heat better than the extreme cold now.
And now it's time to talk about this super EASY Italian Chicken Tortelloni Soup. I basically just turned my normal chicken noodle soup into a slightly different version. And it's easy, because I cheated and bought rotisserie chicken to use instead of cooking my own. This soup comes together in less than 45 minutes.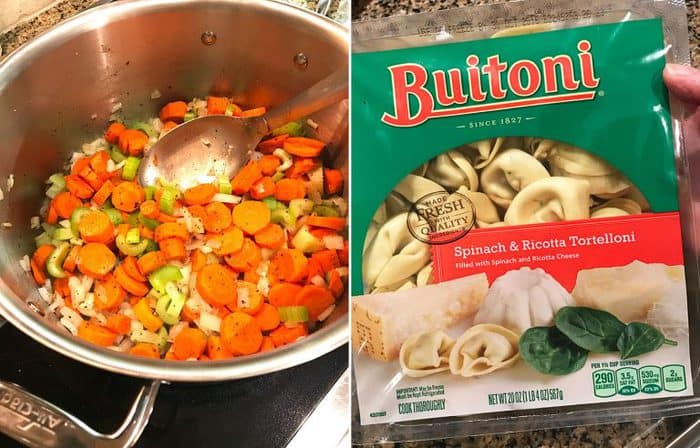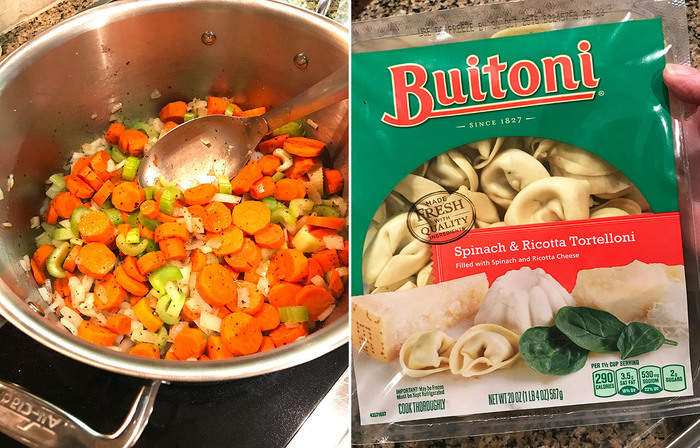 I almost always start my soups by sautéing vegetables – usually onion, carrots, and celery – in olive oil or butter. Did you know that this is called a Mirepoix (meer-pwah)? A mirepoix is a french term for a rough vegetable cut of onion, carrots, and celery, usually in a 2:1:1 ratio (meaning two parts onion, one part carrots, and one part celery). So now you can talk fancy when explaining how to make this soup. 🙂
I bought two kinds of tortelloni but ended up using the spinach and ricotta one. You could also use a three-cheese tortellini. Make sure you buy the refrigerated version and be very careful to not overcook. These noodles only need to be heated through and that happens very fast. You may only need to simmer for five minutes or so.
This chicken tortelloni soup is perfect for cold winter nights. And I couldn't be happier to be enjoying another Texas winter and this warm soup. So good.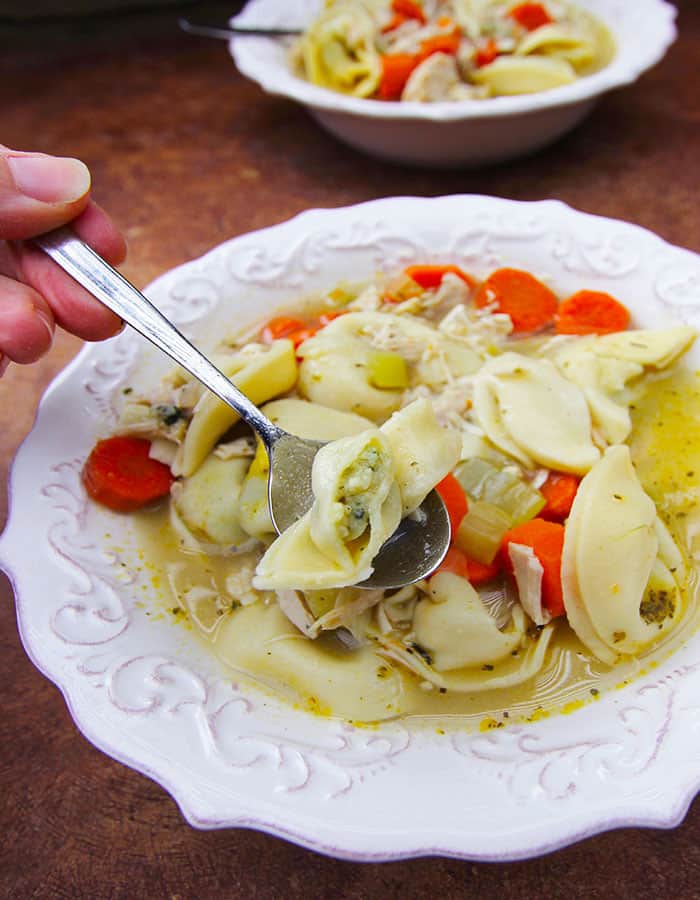 Make this soup next: Vegetable Beef Soup
You can stay up-to-date with SueBee Homemaker by:
signing up for post updates (top right-hand corner of my blog)
liking my Facebook Page
and following me on Pinterest
I'm also sharing tidbits of my life on Instagram.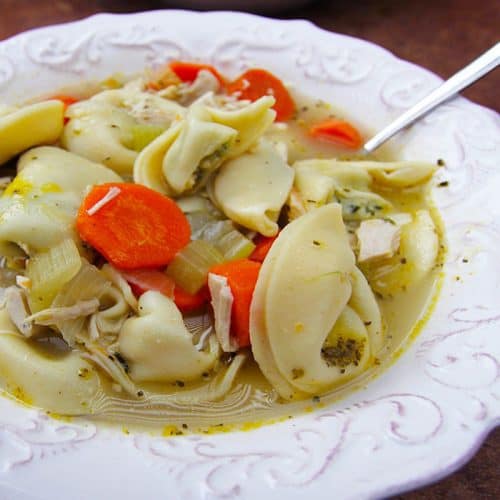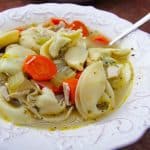 Easy Italian Chicken Tortellini Soup
A super easy Italian spin on a traditional chicken noodle soup!
Ingredients
2

Tablespoons

olive oil

1

large

onion

diced

5

large

carrots

peeled and chopped

5

large

celery stalks

chopped

3

cloves

garlic

minced

salt and pepper

to taste

2

Tablespoons

Italian Seasoning

2

teaspoons

onion powder

10

cups

chicken broth

3 1/2

cups

rotisserie chicken

20

oz.

Spinach & Ricotta Tortelloni

Buitoni

1/2

cup

grated parmesan cheese
Instructions
Heat a large soup pan over medium high heat. Add olive oil, onion, carrots, celery, Italian seasoning, onion powder, and salt and pepper (to taste). Sauté for 7-8 minutes, or until vegetables are somewhat soft. Add garlic and stir for 30 seconds or so.

Add chicken broth and bring to boil. Turn heat down to medium and add rotisserie chicken. Simmer for another 7-8 minutes. Add tortellini and parmesan cheese and cook on low until tortelloni is done, approximately 5 minutes. Check seasonings.

Serve with another sprinkle of parmesan cheese.
Nutrition Facts
Easy Italian Chicken Tortellini Soup
Amount Per Serving
Calories 462
Calories from Fat 171
% Daily Value*
Fat 19g29%
Cholesterol 85mg28%
Sodium 1640mg71%
Potassium 672mg19%
Carbohydrates 43g14%
Protein 29g58%
Vitamin A 8025IU161%
Vitamin C 26.3mg32%
Calcium 287mg29%
Iron 3.3mg18%
* Percent Daily Values are based on a 2000 calorie diet.
Did you make this recipe?
Tag @suebeehomemaker on Instagram and hashtag it #suebeehomemaker