It's a chilly morning in North Texas and I'm all bundled up in my green fuzzy robe with Christmas music playing in the background. The fire is roaring and my tree is just a few feet away from my work space. Our little pup, Theo, is snuggled up with a little blanket that Mike put on him this morning before he went to work (so sweet!). And I'm writing and sipping on coffee and thinking about how very blessed I am. And how much I love gingerbread scones.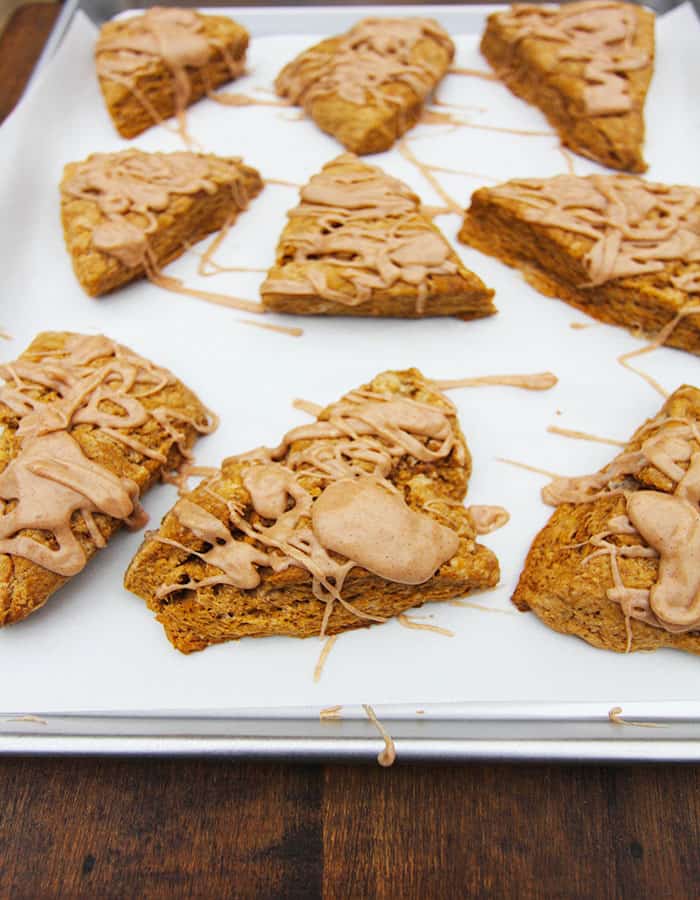 These Cinnamon Glazed Gingerbread Scones are a truly great treat this holiday season. Just like my Maple Oat Pecan Scones, these are a perfect snack with coffee. The gingerbread taste is great for the holidays and will wow your guests (and your family).
Remember that when you make scones, you must cut the butter in with a pastry cutter
. You don't want to cream the butter. You want to cut it in with the dry ingredients to form a crumbly mixture. The small bits of butter will form a delicious buttery pocket in each bite of the gingerbread scones. The butter must be COLD when you cut it in. Have everything else ready, and the oven preheated, before you do this step. This recipe makes 14 scones (besides the small sample size one I made for my taste test). 🙂  I actually cut the dough in thirds and then made triangle shapes in each section.
When you add the wet ingredients, the dough should be somewhat crumbly, but you still want to be able to form it into a ball and then press down. Be sure to add the wet ingredients slowly so the dough doesn't become too wet. There is a "just right" amount that will produce the most delicious scones. Use plenty of flour on your work surface so the dough doesn't stick to the counter.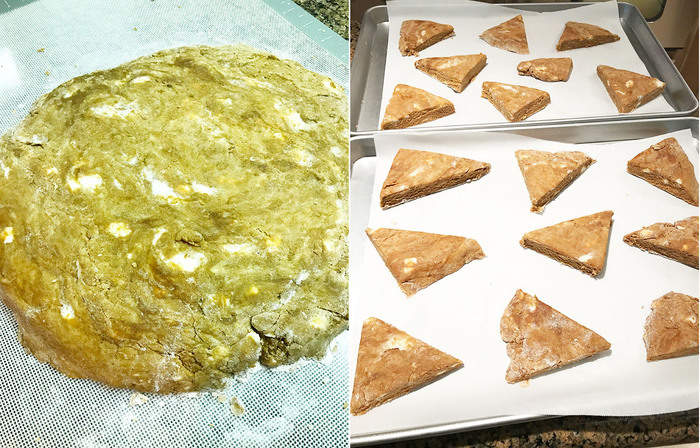 If you want to learn more about molasses and the type you should buy, see my Soft and Chewy Gingersnap post from earlier in the week. I used the same full flavor molasses and found it at a local grocery store.
The molasses makes these gingerbread scones turn the dark, rich color that you see. And the cinnamon in the glaze gives it that beautiful dark color as well. Such a perfect treat for this time of year.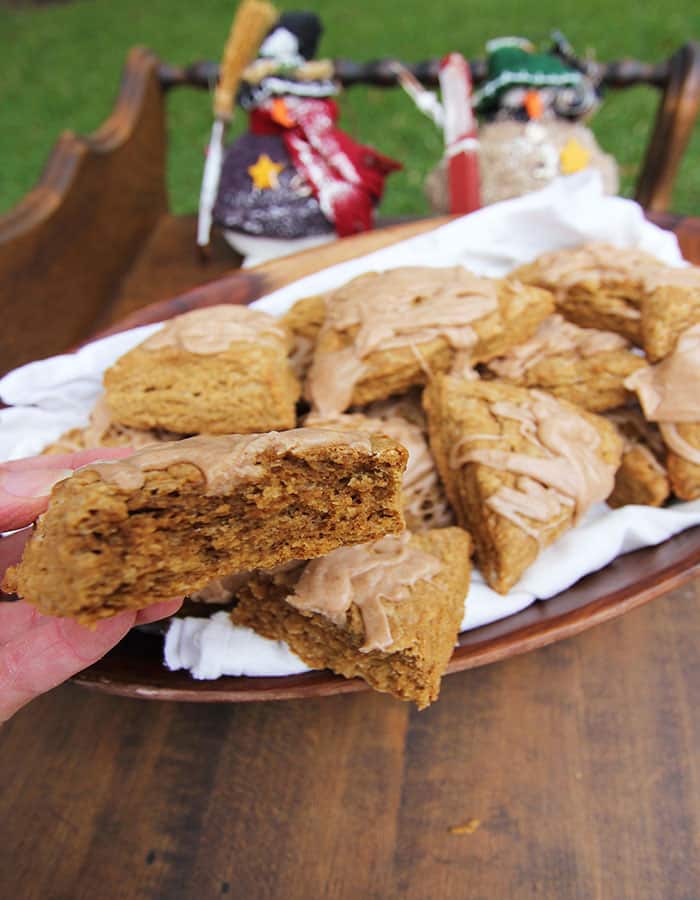 If you are looking for a great cookie sheet or want to put it on your Christmas wish list, take a look at these  jelly roll pans on Amazon. I use them for everything (almost daily), including roasting vegetables and baking almost anything.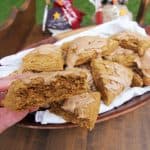 Cinnamon Glazed Gingerbread Scones
a crumbly, buttery scone with a deep spiced molasses flavor and a cinnamon glaze
Ingredients
For the scones:
2.5

cups

all-purpose flour

1

cup

whole wheat flour

1/2

cup

brown sugar

2

Tablespoons

baking powder

1/2

teaspoon

salt

1

teaspoon

cinnamon

1/2

teaspoon

ginger

1/2

teaspoon

cloves

1

cup

cold unsalted butter

cut into cubes

1

large

egg

1

cup

heavy cream

1/3

cup

molasses

2

teaspoons

vanilla
For the icing:
2

Tablespoons

unsalted butter

melted

2

Tablespoons

milk

2

teaspoons

vanilla

1

teaspoon

cinnamon

2

cups

powdered sugar

more or less, depending on desired consistency
Instructions
For the scones:
Preheat the oven to 350 degrees. Line two baking sheets with parchment paper.

Combine all dry ingredients - flour, sugar, baking powder, salt, cinnamon, ginger, and cloves - in large mixing bowl.

In small bowl, whip together the egg, heavy cream, molasses, and vanilla.

Take cold butter out of the fridge and chop into chunks. Using pastry cutter, cut in the butter with the dry ingredients until it resembles course crumbs.

Slowly add wet ingredients to dry ingredients, careful to not add too much. Don't over-mix or the scones will be tough. You may need to add additional cream if the dough is too dry.

Turn dough onto floured surface. Use hands to form into a large circle and press down to about 1/2 to 3/4 inch thickness. Cut into 14 equal wedges - or any shape you prefer.

Transfer wedges to prepared baking sheets. Bake until slightly brown on top, about 16 - 18 minutes. Cool on baker's racks.
For the icing:
Melt the butter in medium sized bowl. Add milk and vanilla and stir. Add in cinnamon and powdered sugar until right consistency. You want it to be thick but spreadable.

Drizzle the icing on the scones. Let scones sit until icing is firm.

These scones will stay fresh in airtight container for a few days. I like to store them in the refrigerator. They also freeze well up to three months.
SHARE THIS POST TO YOUR FRIENDS: