Perfect for hot summer weather, this Chilled Black Bean Dip is the perfect 10 minute party appetizer or side dish to your Tex-Mex meal. Black beans, lime juice, jalapeño, red onion, garlic, cilantro, spices, and a drizzle of olive oil – all pureed in a food processor. So simple and delicious!!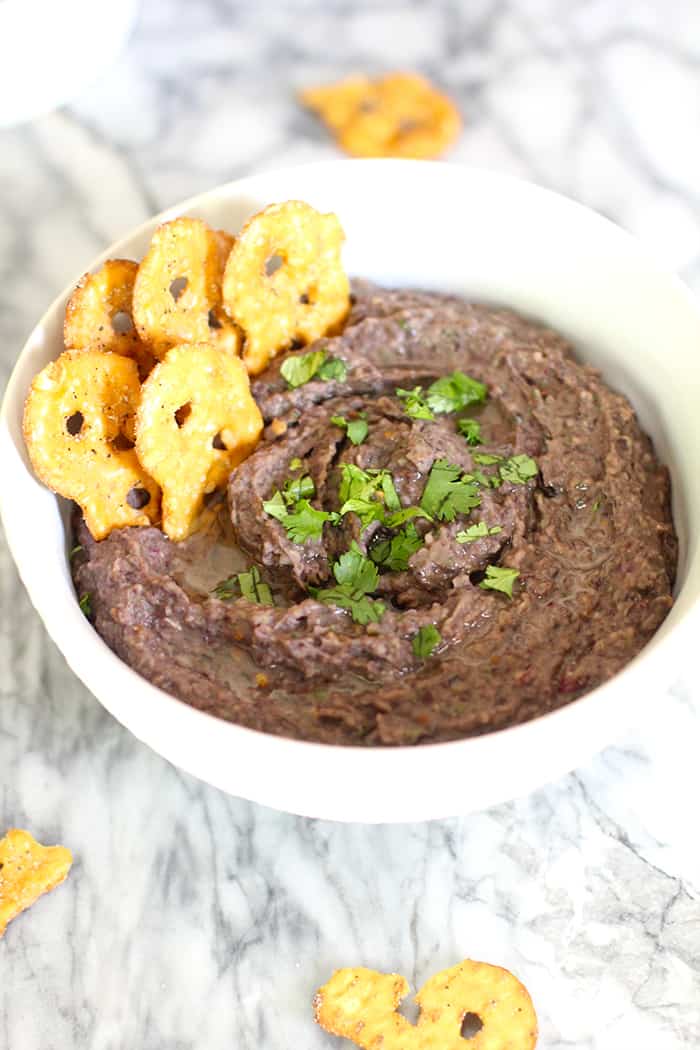 It's Friday, friends!! TGIF with a capital T G I F!! 🙂 Oh yes, a long weekend is upon us. I don't know about you, but I'm going to enjoy every single minute of it. Well, maybe not the…
laundry
dishes
or grocery shopping
My workload just doubled with Josh being home from college. The guy changes his clothes three times a day, and has a pretty big appetite. Not complaining though because I'm SO glad he's home for the summer (AND ready for Zach to be done with his junior year). Also doubly glad that Mike usually takes over in the laundry room on the weekends. He is actually a much better folder than I am too, because he smoothes out every wrinkle on every article of clothing. I'm more of a reckless-crazy-haphazard folder…i.e. don't care about every wrinkle cuz it's gonna get tossed around in the drawers anyway. 🙂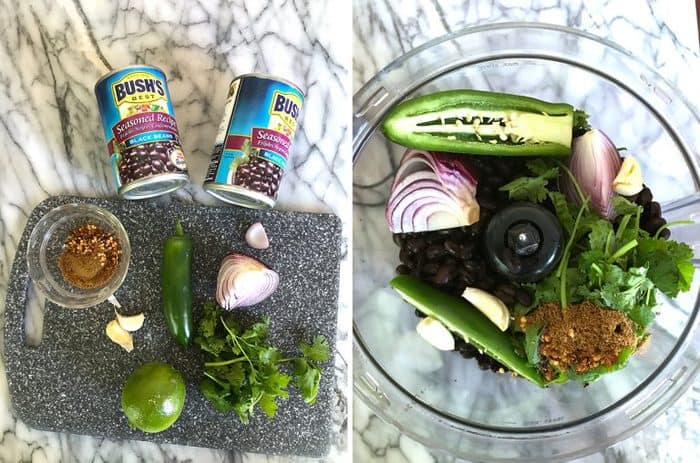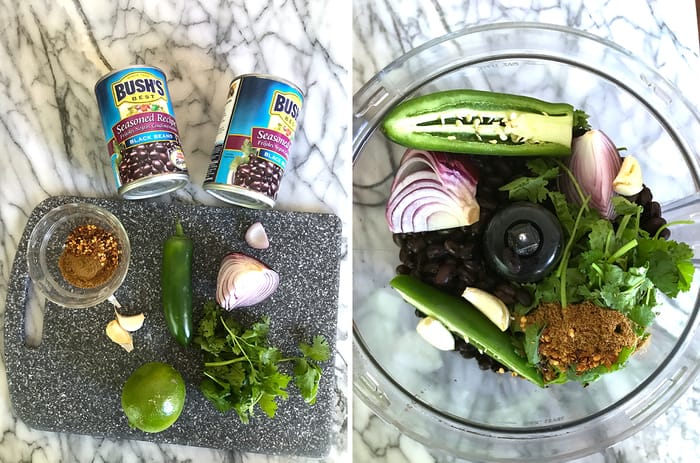 There is a story to the creation of this Chilled Black Bean Dip.
My sister-in-law, Janene (married to my baby brother), texted me recently asking if I knew how to make a cold black bean dip they recently ate at a restaurant. She described it to me and I told her I'd do a little testing. Who knew I could actually just wing up a dip, or a cupcake, or a salad dressing pre-blog?
So I took a handful of my favorite Tex-Mex ingredients, and threw them in the food processor. And wow, I was pretty tickled at how good it was! I immediately sent a picture to Janene and told her my family loved it, and I'd be blogging it soon. So here it is! (Thanks Janene!) 🙂
Just a couple of tips for you.
The first time I made this dip, I used a whole jalapeño. It was just right. The next time I made it the EXACT same way, it was just a tad bit spicy for the average consumer. (Did you know that some jalapeños are spicier than others?) I LOVE spicy, so the heat was perfect for me. BUT, if you are not the spice gal/guy, just reduce some of the heat, test it, and then adjust accordingly.
You can eat this at room temperature – just after you puree it – but it's also REALLY good cold, straight out of the refrigerator.
If you are making this for company, top it with an extra swirl of olive oil and a sprinkle of chopped cilantro. Gotta pretty it up some. 🙂
We've eaten this dip with tostitos chips, pita chips, and pretzel crisps (LOVE the Sea Salt & Cracked Pepper!). All are equally great.
Another great way to use my Chilled Black Bean Dip is to smear it on a tortilla, throw some grilled steak or chicken on it, with a sprinkling of cheese – and roll it up. You can heat it up or eat it cold. Wa-la! A perfect quick burrito for hungry kids! P.S. Josh gave me this idea because he's packing his lunches every day for his summer internship.
My kitchen is turning into a Tex-Mex factory as of late! My family approves.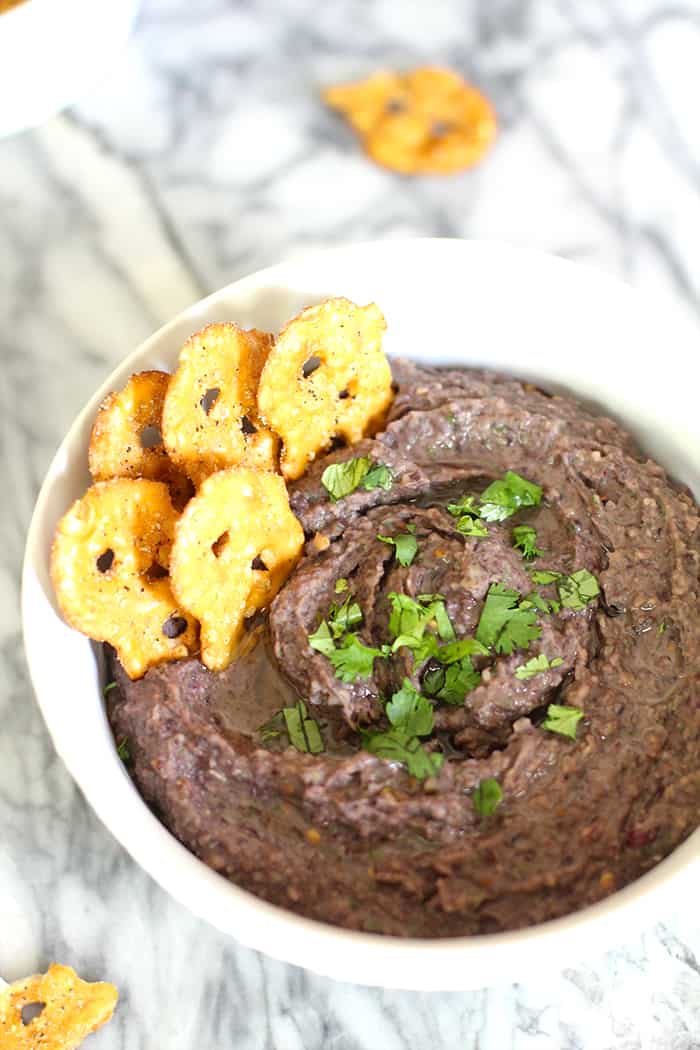 Try this dip recipe next: Mexican Black-Eyed Pea Dip
You can stay up-to-date with SueBee Homemaker by:
signing up for post updates (top right-hand corner of my blog)
liking my Facebook Page
and following me on Pinterest
I'm also sharing tidbits of my life on Instagram.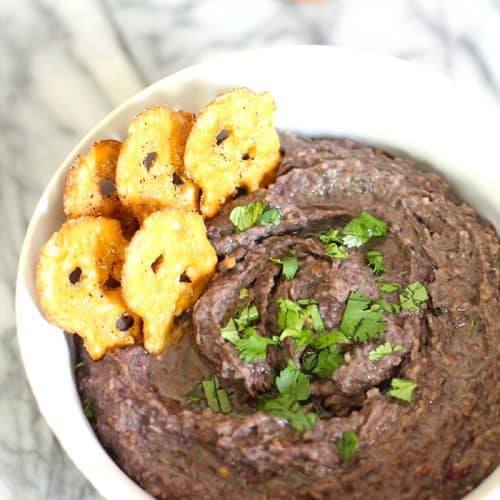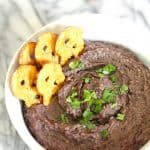 Chilled Black Bean Dip
Ingredients
2

15 oz.

canned black beans

- rinsed and drained

1

large

lime - freshly squeezed

2

cloves

garlic

- peeled

1/4

medium

red onion

1

large

jalapeno

- if you don't like spicy, reduce it!

3

Tablespoons

cilantro

2

teaspoons

red pepper flakes

2

teaspoons

ground cumin

2-3

Tablespoons

olive oil

- or to desired consistency

tostitos chips, pita chips, or pretzel crisps

- to serve

an extra swirl of olive oil and cilantro on top

- to serve
Instructions
Add all ingredients to food processor, except for olive oil. Pulse.

Slowly add olive oil to meet your desired consistency. Test for seasonings. Serve at room temperature or chilled, with tostitos chips or pretzel crisps.
Recipe Notes
Keep dip in refrigerator until serving. Will keep up to several days, covered and refrigerated.
Nutrition Facts
Chilled Black Bean Dip
Amount Per Serving
Calories 47
Calories from Fat 36
% Daily Value*
Fat 4g6%
Sodium 13mg1%
Potassium 24mg1%
Carbohydrates 1g0%
Vitamin A 220IU4%
Vitamin C 0.5mg1%
Calcium 10mg1%
Iron 0.6mg3%
* Percent Daily Values are based on a 2000 calorie diet.