Chicken Fajita Salad brings some Mexican flare to a fresh and healthy salad. Loaded with veggies, it's topped with spicy chicken and a fresh salsa/sour cream dressing.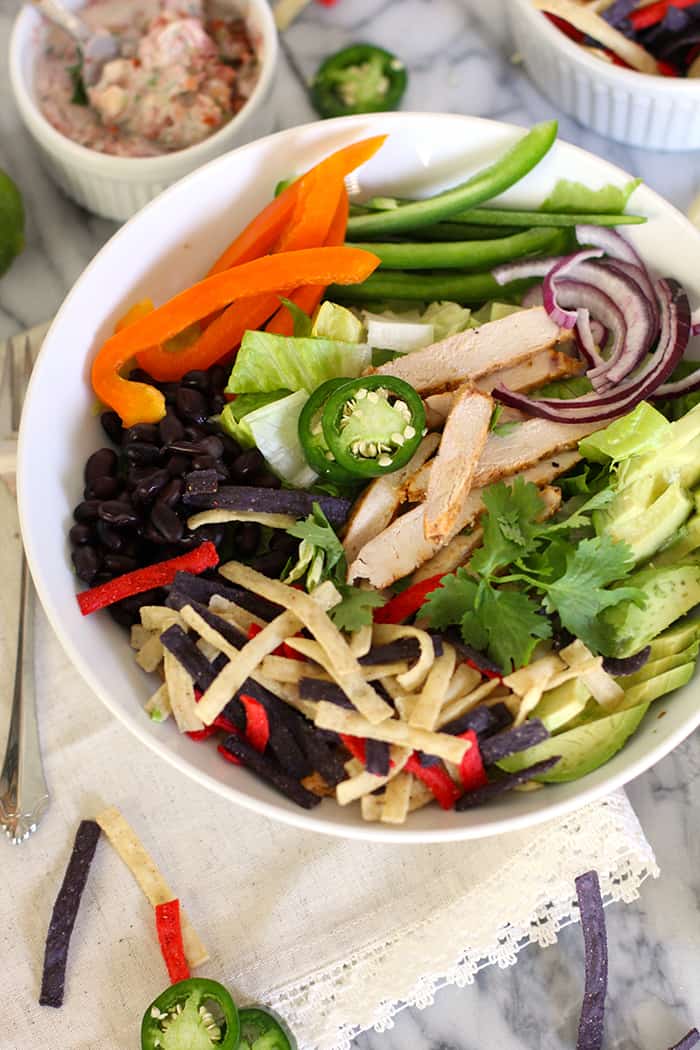 We are getting closer and closer to summer, and when the hot weather gets here, I tend to crave big salads. Just throw some chicken on the grill and chop up a bunch of veggies. Any greens will do for this one. I used romaine and opted away from the pre-bagged stuff. I even had to use my salad spinner, which doesn't get nearly as much use now that I tend to buy pre-packaged greens.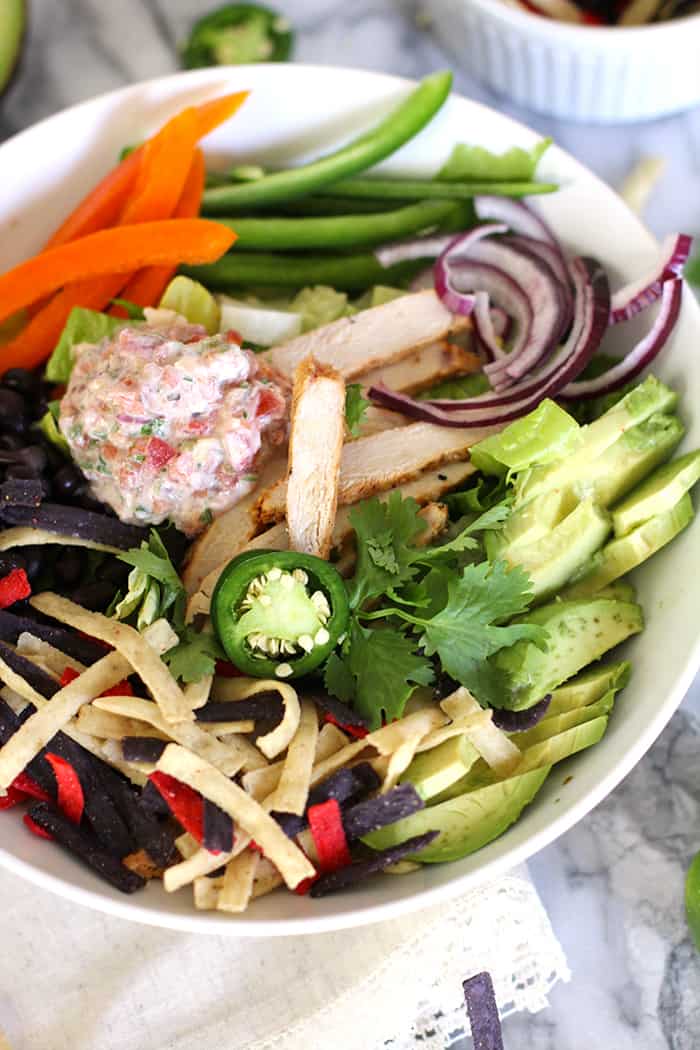 Spicy fajita chicken is what makes this salad a main dish, instead of just a side dish salad. Each serving has 7-8 ounces of chicken, and you can add cheese if you want to up the protein. The marinade is just a quick and easy 6-ingredients – plus a little more seasoning while grilling (which is optional). I love using Frank's Hot Sauce in a lot of my marinades, and it doesn't overwhelm the chicken like you might think.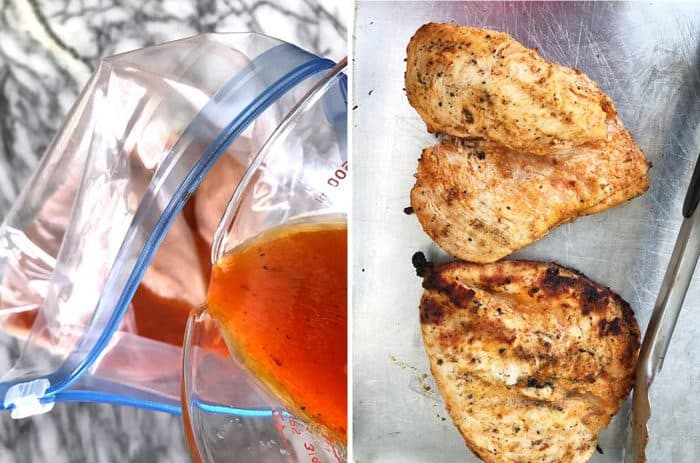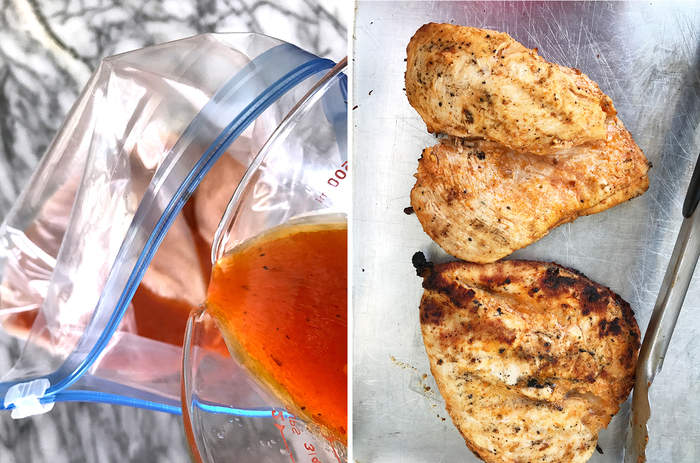 Remember that Easy Homemade Salsa I recently updated on my blog? Well, we ate it in two days because it was Mexican week here. 🙂 But for real. I made my Sweet Potato and Black Bean Quesadillas as well as these Chicken Fajita Salads. We topped the quesadillas with avocado and salsa last night, and then used the salsa to mix with sour cream – to dress these salads tonight. It's REALLY good this way, And yup, fresh and healthy.
Love it when you get 1) fresh, 2) healthy, and 3) deliciousness –> in one bowl!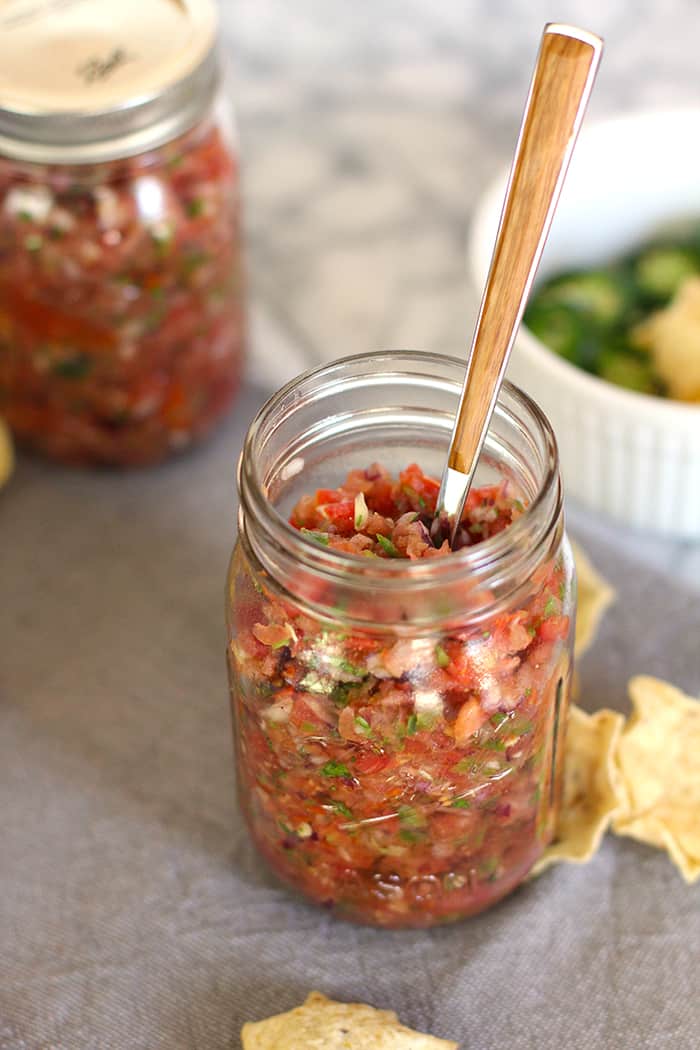 I'm currently working on some other yummy salad recipes for spring and summer. Because c'mon – we haven't all stuck to our resolutions, have we? It's tough. It seems like food is everywhere. Just grabbing our attention when we least expect it.
We can do this.
MUST.EAT.MORE.SALADS.NOW!! 🙂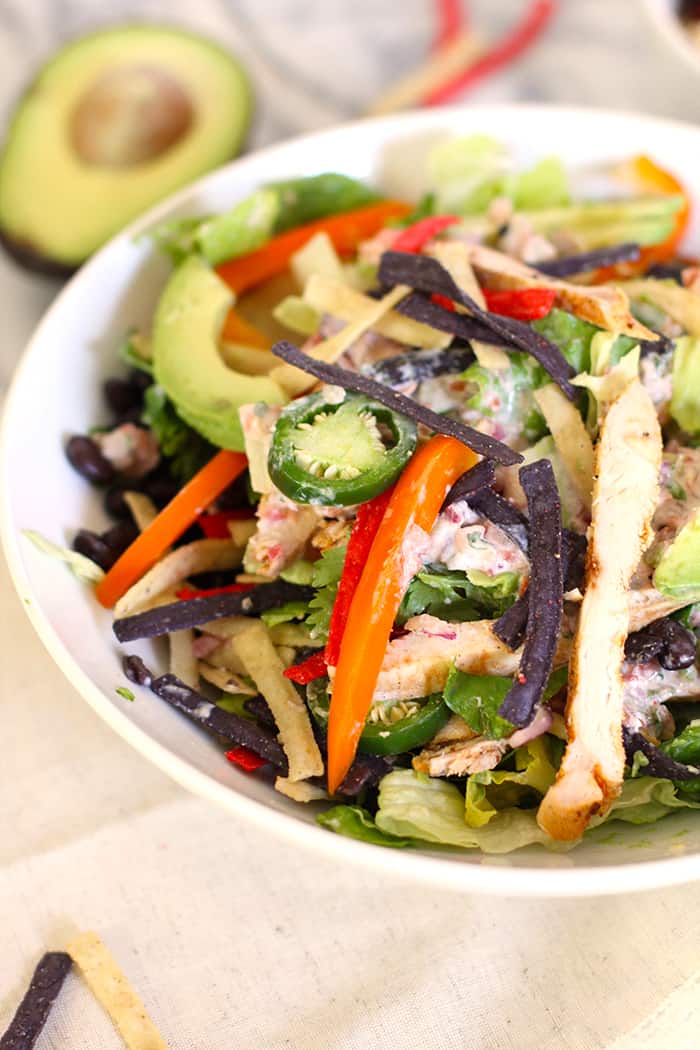 Please let me know in the comment section below if you make this salad, or any of my recipes! I love to hear from my readers. You can also tag me on social media! I'm on Facebook, Twitter, Pinterest, Instagram, Bloglovin', and Yummly. AND if you want to receive email updates when I post, just sign up in the box at the top right corner of my blog! 🙂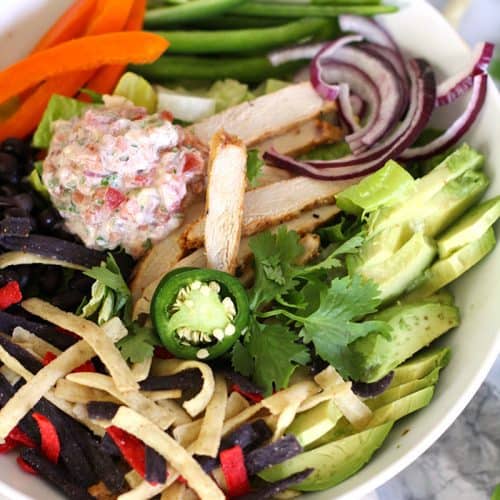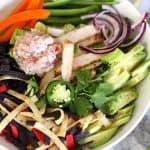 Chicken Fajita Salad With Fresh Salsa Dressing
Ingredients
For the chicken:
2

pounds

chicken breasts

- butterflied

1/4

cup

olive oil

1/4

cup

Frank's hot sauce

1

teaspoon

red pepper flakes

salt and pepper

- to taste

juice of one lime

garlic salt

- to taste
For the salad:
12

cups

salad greens

- any kind

1/4

cup

red onion

- sliced thin

1/2

whole

green pepper

- sliced thin

1/2

whole

orange or red pepper

- sliced thin

14

oz.

can black beans

- rinsed and drained

1

large

avocado

- sliced

1

cup

tortilla strips

- or chips
For the dressing:
1

cup

fresh salsa

- see homemade salsa recipe on this site

1/2

cup

sour cream light
Instructions
For the chicken:
Butterfly the chicken breasts by carefully slicing chicken breast open so that it doubles in surface area. Place in plastic bag.

Mix the marinade together - olive oil, hot sauce, red pepper flakes, salt, pepper, and lime juice. Pour into bag and massage gently to make sure entire breasts are covered. Place in refrigerator for at least two hours.

Grill chicken for about 20 minutes on 350 degree heat, seasoning with garlic salt. Let rest and then slice into long strips.
For the salad:
Arrange lettuce leaves in four large salad bowls. Add sliced onion, peppers, black beans, sliced avocado, and tortilla strips.
For the salsa:
Mix the sour cream and fresh salsa together. Drizzle over the salads.

If making homemade salsa, please refer to the Easy Homemade Salsa recipe on this site.