This post may contain affiliate links which won't change your price but will share a commission.
Chewy French Bread is an easy five ingredient bread. My mom perfected it, and its great for dipping in soup, as a sandwich, or just eating with a pat of butter!
We love eating bread with soup! Try my Italian Minestrone Soup with Pesto, a One Pot Lasagna Soup, or the best Creamy Potato Soup!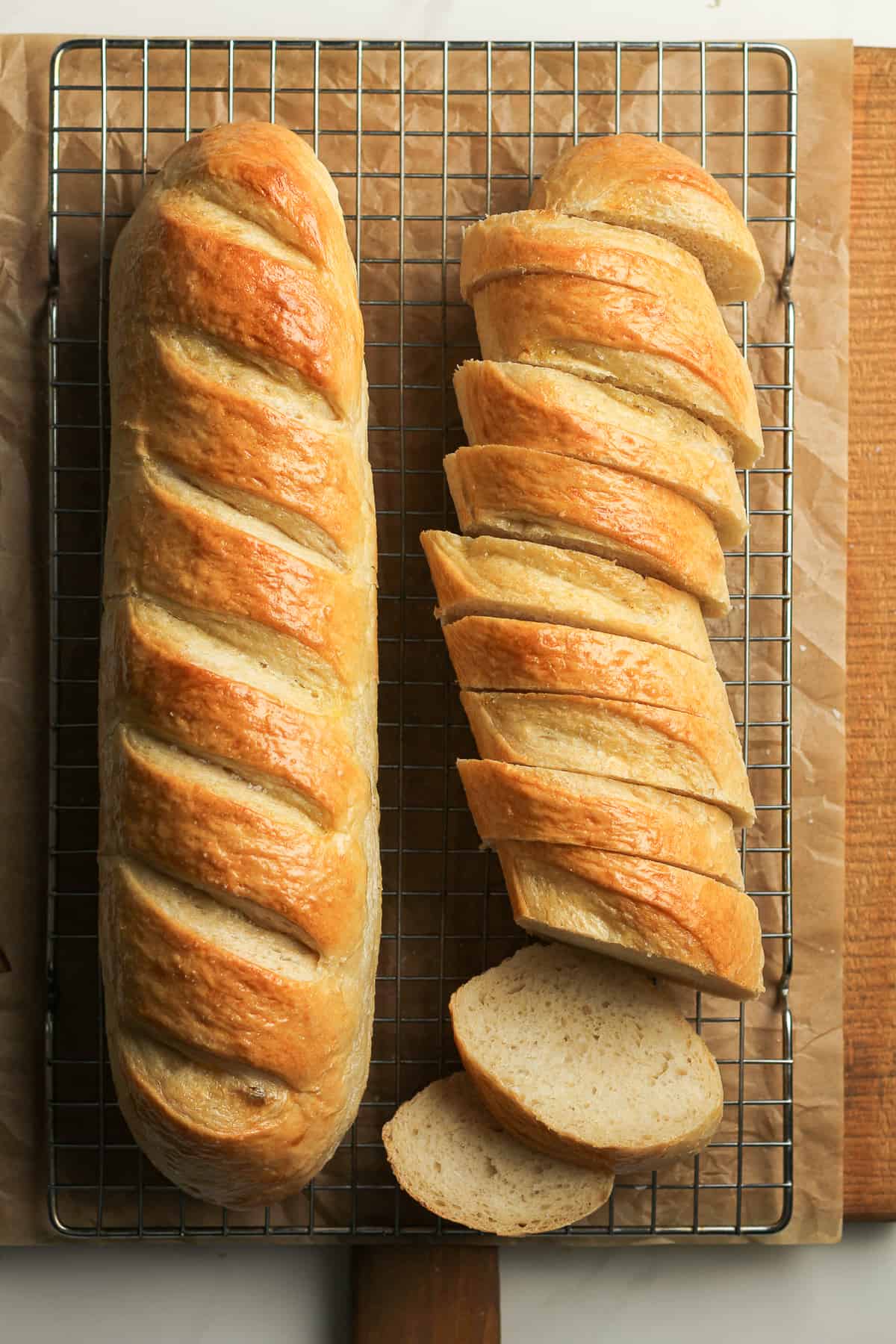 French Bread for Soup
Featured review from Erika ~"I made this – and man. I'm never buying grocery store bread again! It's sooooo delicious, so chewy! And so easy to follow!"
This post is in honor of my beautiful mother who passed away in April of 2019. I miss her so much. You can find more of her recipes under Norma Jean's Kitchen.
________
When I first started my blog, I texted my family asking for hand-written recipes from Mom. I know I had one for this french bread recipe at one time, but can only find one in my handwriting. Such a bummer. Mom's handwriting is so unique and I love seeing it today. My boys could never read her cursive handwriting and would ask that I translate all their birthday cards she sent them over the years.
It's funny how I never thought much about that handwriting at the time, but now, I look at it and just treasure those memories I have of Mom in the kitchen. Before we moved Mom and Dad out of their home in 2013 – our childhood home – I would visit and sit for hours at the bar in the kitchen with her. She would cook and bake, and we'd chat and look at recipes. Mom had every local church cookbook, and I loved looking at them and hearing about what she'd tried and what she liked. Then I'd copy them and take them home with me to try.
The kitchen was Mom's "happy place" and when I'm in my kitchen, it's mine too. And it's even happier when I spend time cooking Mom's recipes and thinking about all those moments we had together in her kitchen.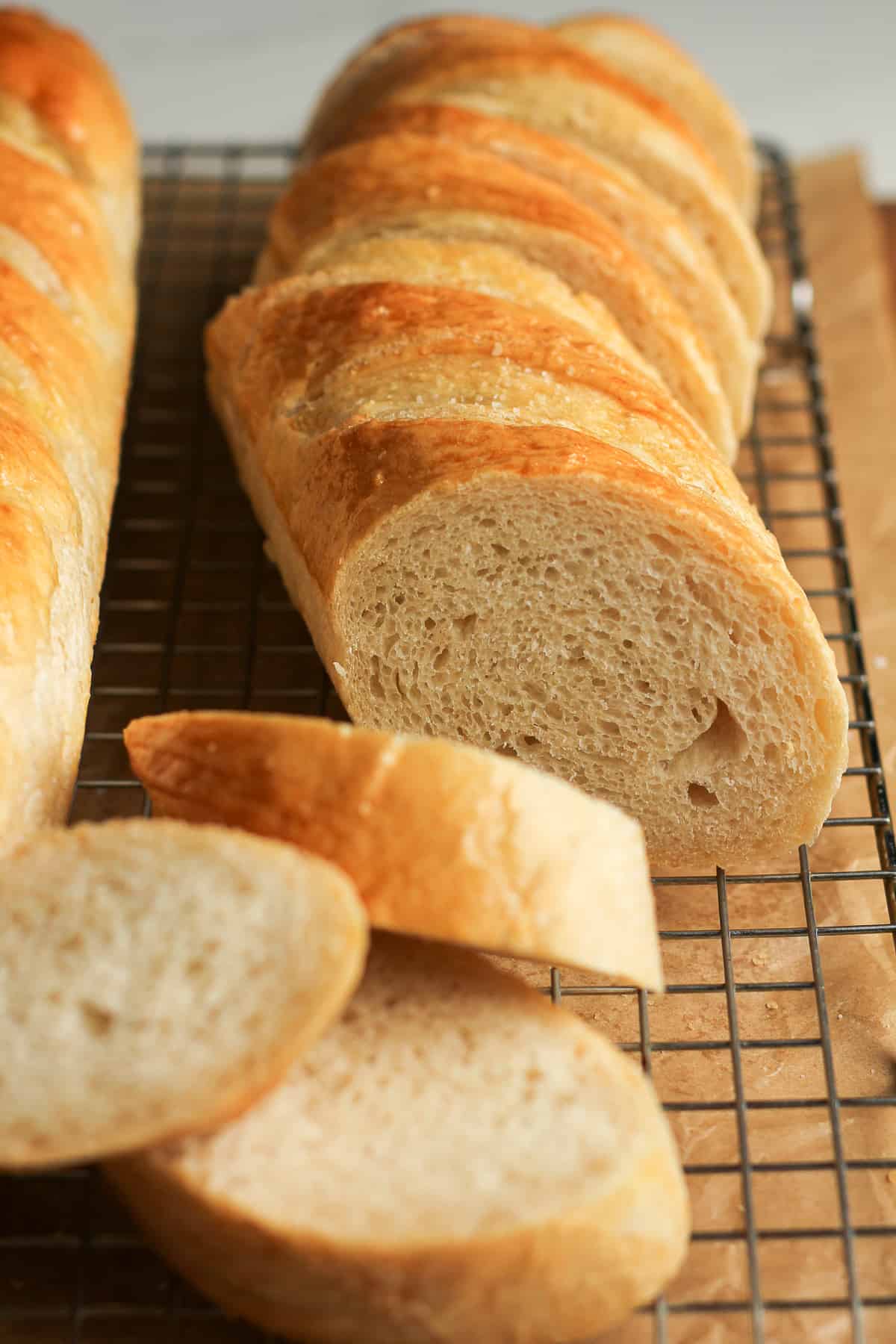 Five Ingredients Needed
There is a good chance that you have all of these baking staples, except maybe the yeast. If you are at all afraid of using yeast, DON'T BE! You can do it. Just follow my steps and don't be afraid to experiment a little.
Yeast – I use Red Star Active Dry Yeast.**
Sugar – Just a little bit of sugar is needed to help activate the yeast.
Water – It's very important to use warm water. I test it with my finger, and make sure it's not too hot, and not cold either.
Salt – I like kosher salt, but you can use regular salt as well.
Flour – For best results, use all-purpose flour.
**This is a very large amount of yeast. I keep a bunch in the freezer, and it lasts a long time. We have perfect bread-making weather here in Texas, and my bread always rises pretty quickly. You may need a Quick Rise Yeast, depending on where you live.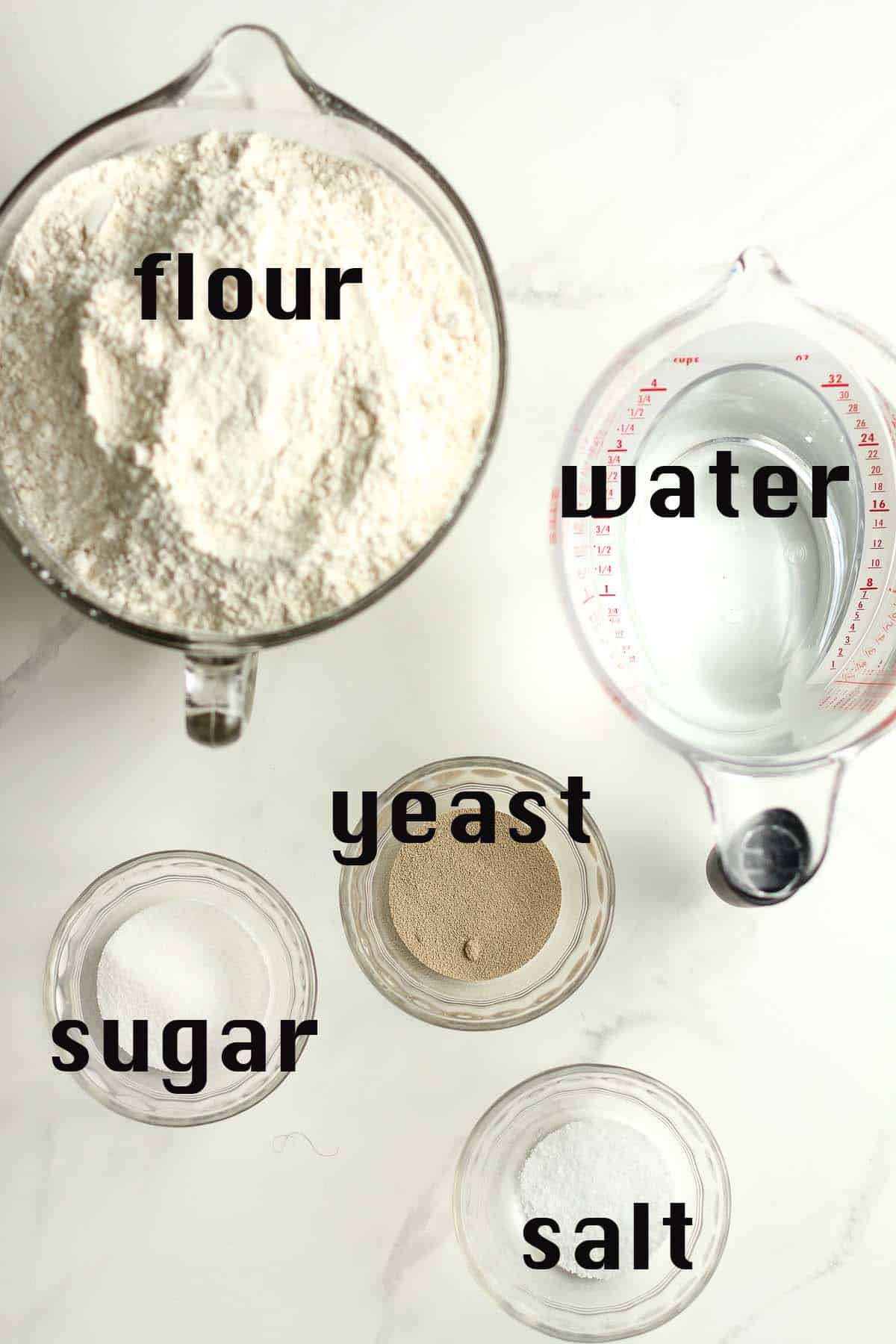 How to make Chewy French Bread
Note: You can definitely make this recipe by hand instead of using a mixer. It will take a little bit more time and some arm strength, but it can be done.
Step 1
Activate the yeast. Using a large standing mixer, combine the yeast, sugar, and warm water. Take a spatula, and stir it around a couple of times. Then let it sit for about 15 minutes so that the yeast activates. You should see a bubbly mixture when it's ready. See below.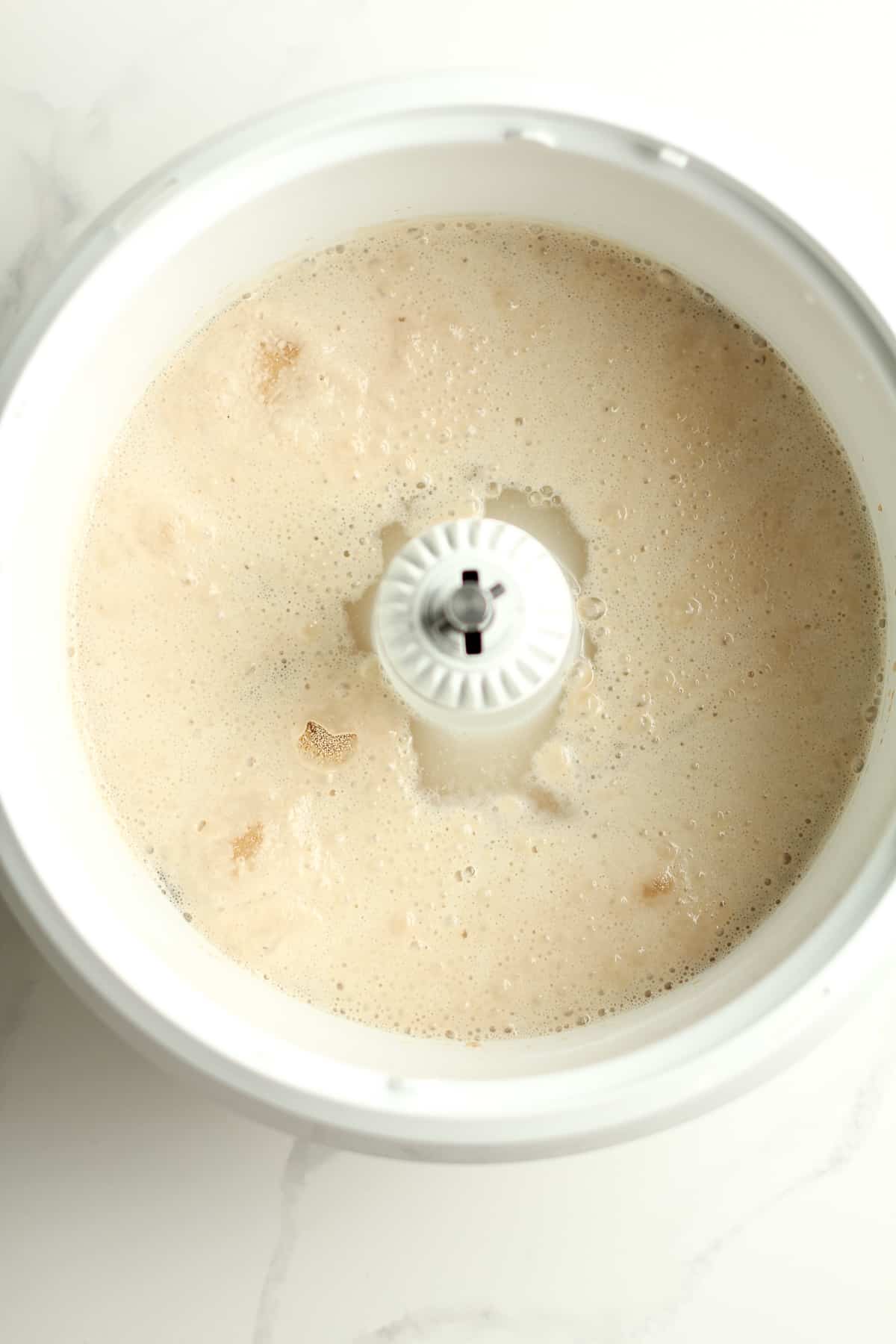 Step 2
Add flour to desired consistency. Start by adding the salt and about four cups of flour to the mixer. Let the mixer run, and occasionally scrape down the sides of the bowl with a spatula. Gradually add more flour until you get a nice dough consistency. It should be slightly sticky, but easy to handle.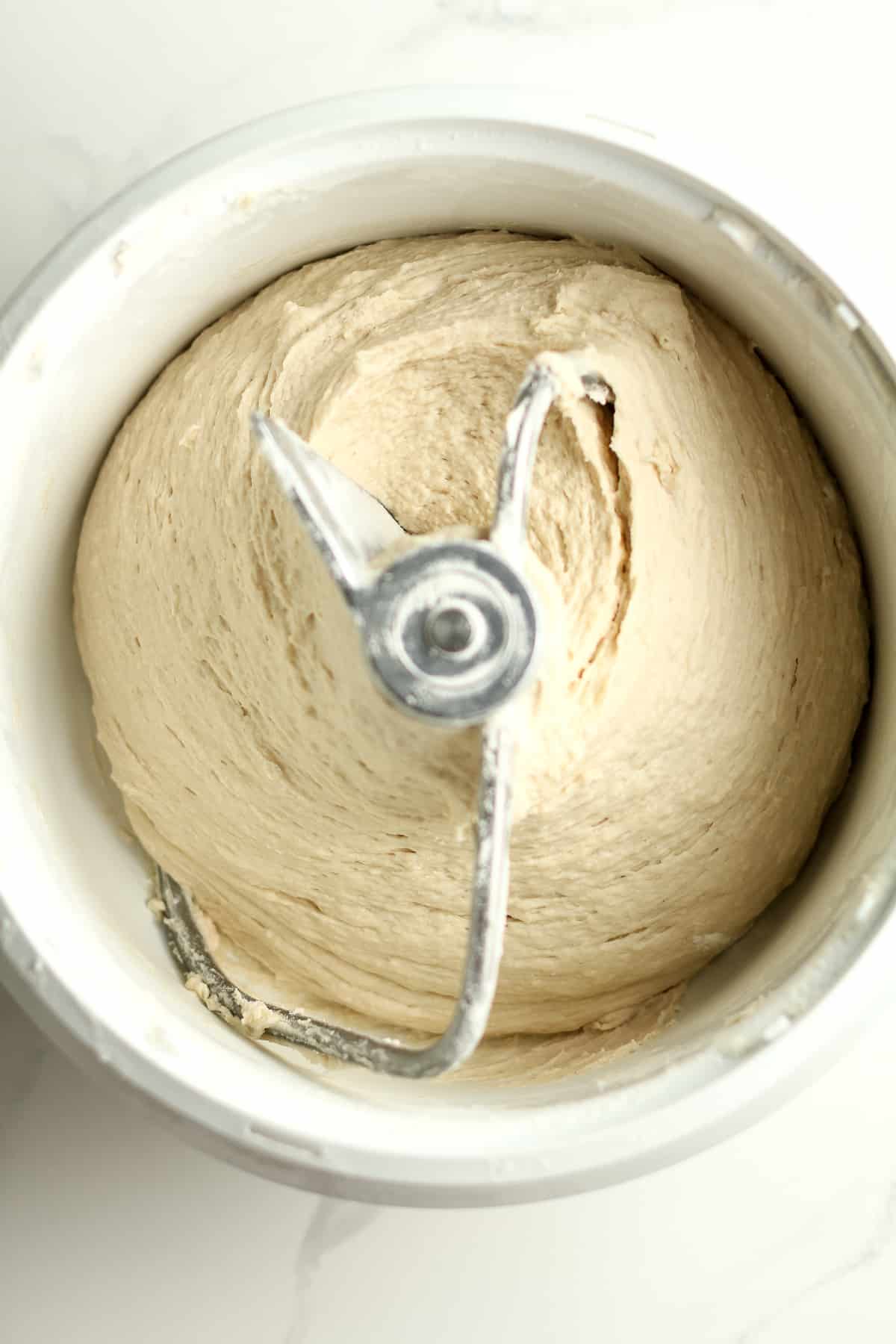 Step 3
Let the dough rise. Grease a large bowl with canola or olive oil. Remove the dough from the mixer, and form it into a ball. Then place it in the bowl, and cover it with a clean dishtowel. Place the bowl in a quiet corner of your kitchen and let rise until approximately doubled in size. The rise may be different each time, and will vary depending on where you live.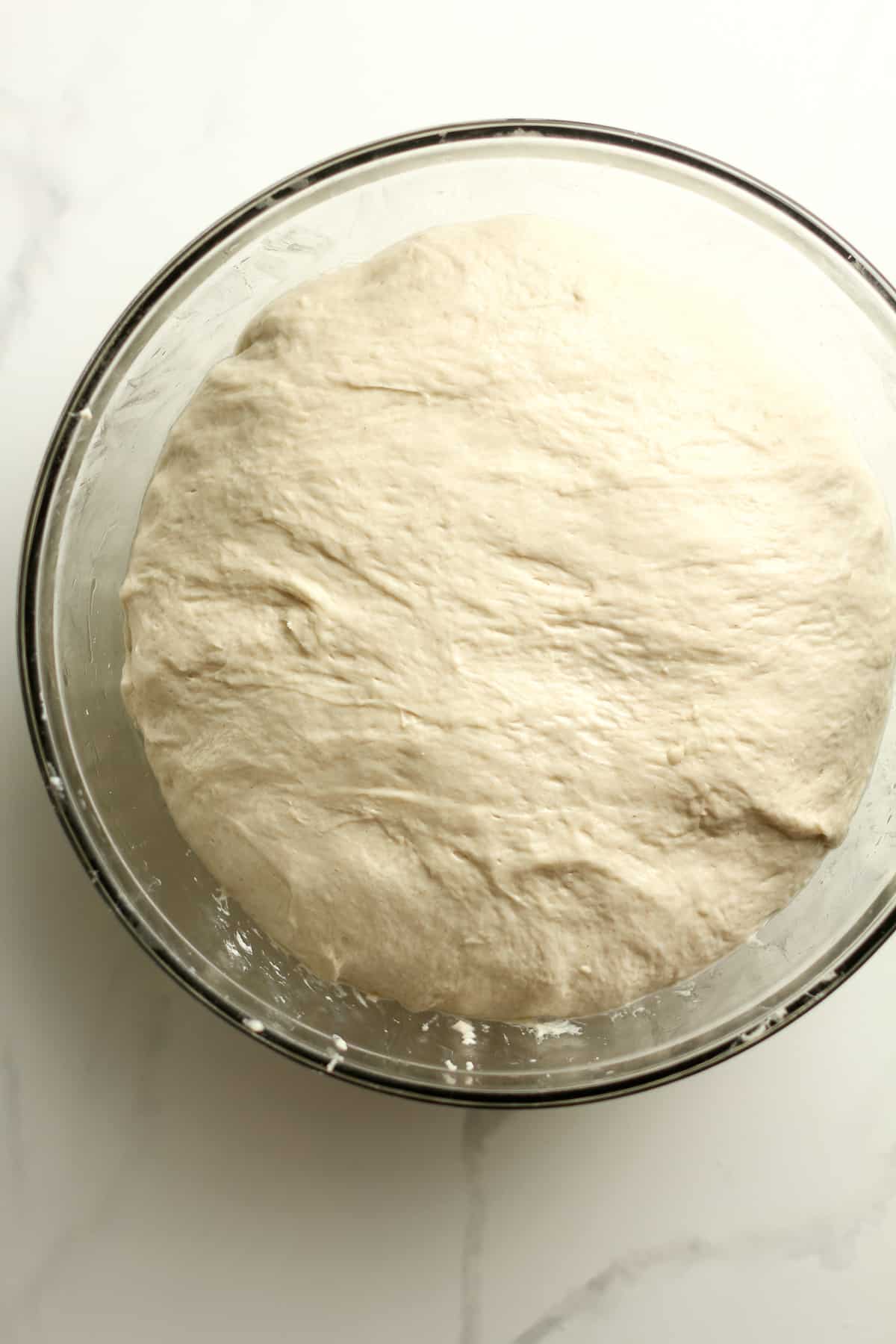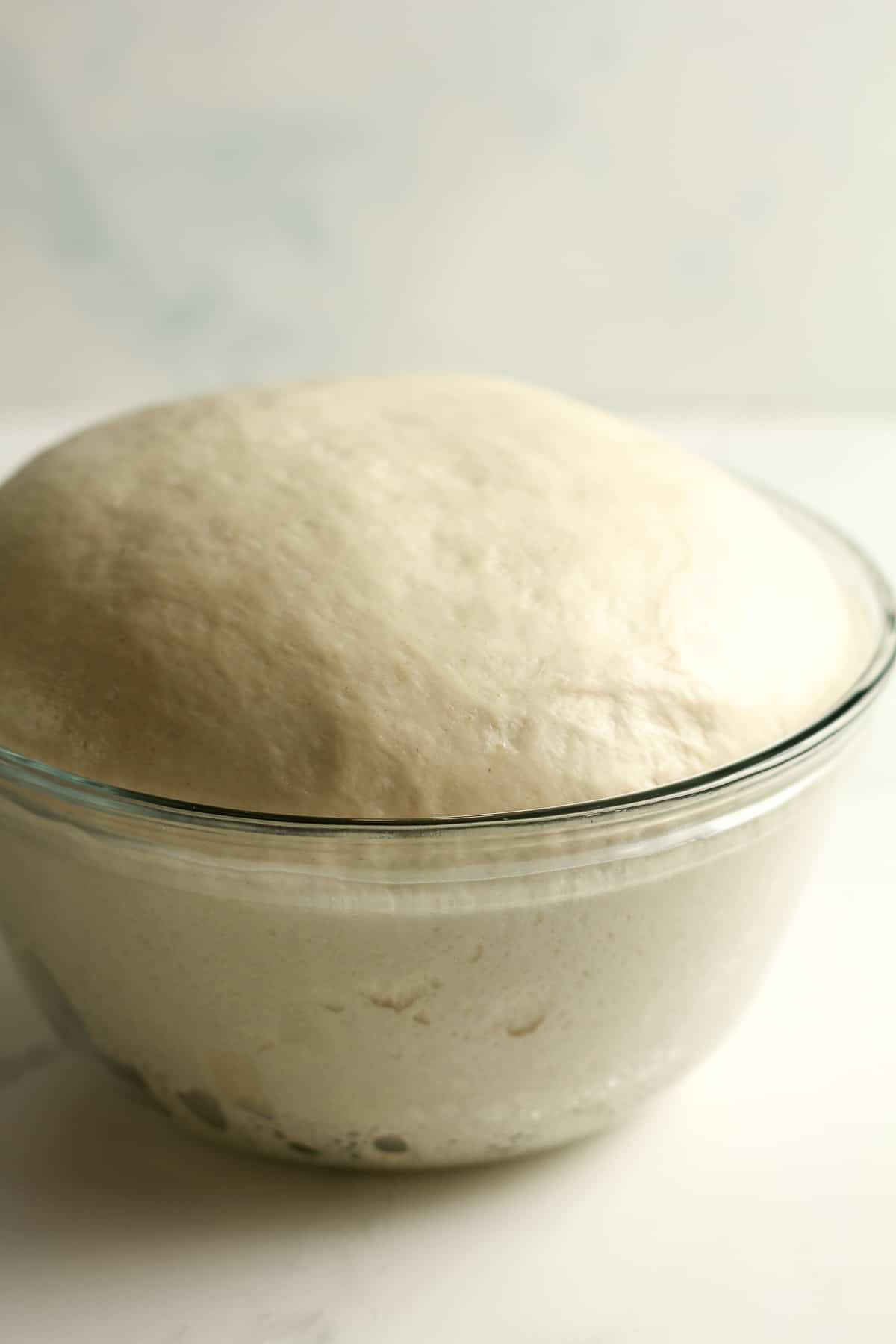 Step 4
Form loaves of bread (or buns). Once the bread rises twice, it's time to form the dough into desired shapes. Prepare bread pans or jelly roll pans with baking spray. (See below for my favorite pans.) Add a little oil to a pastry mat or a large flat surface (a cutting board works too), and form sections of dough into oblong shapes for large French bread, or into smaller shapes for buns or smaller loaves. Another option is baking a round piece of dough in a cast iron skillet.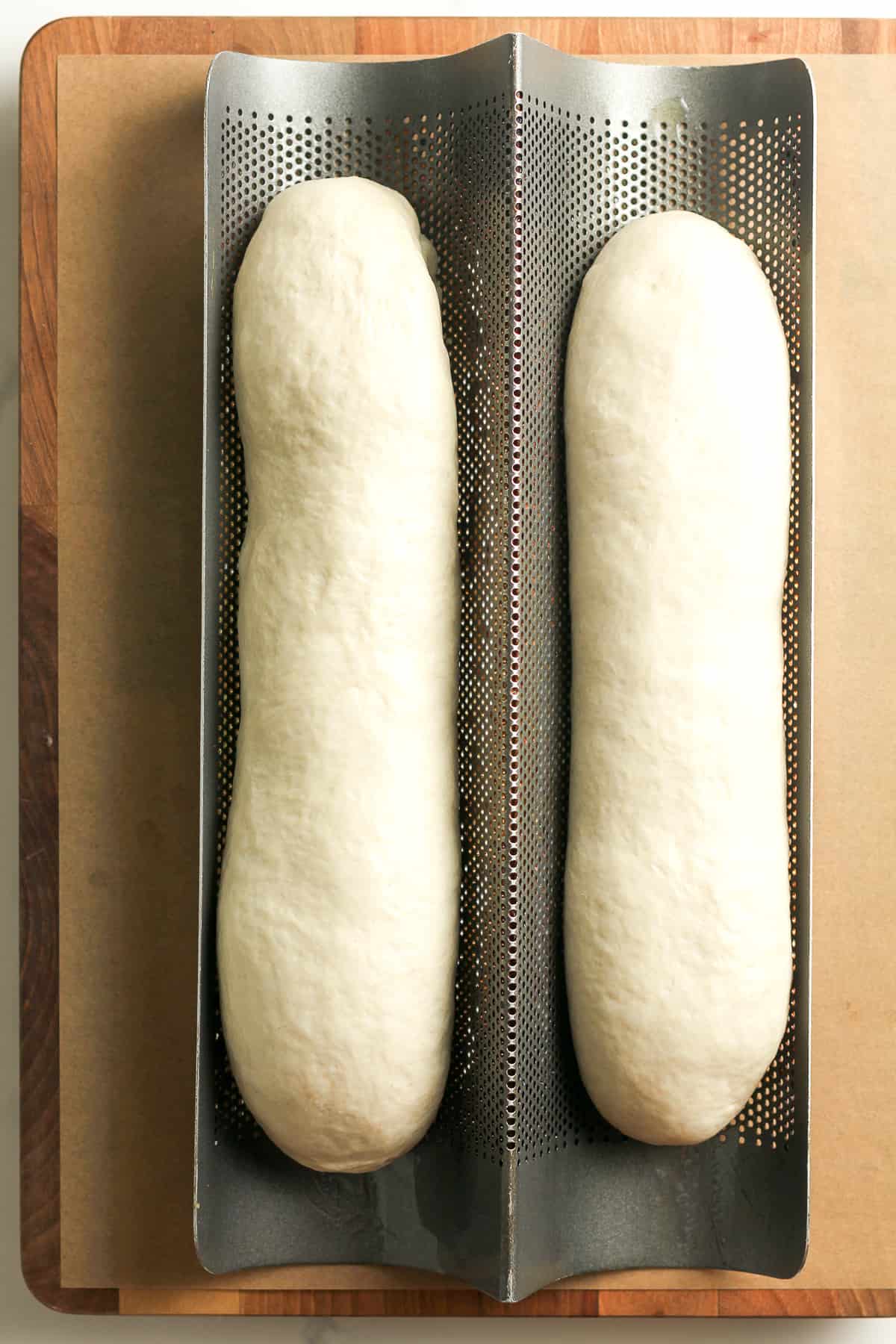 Step 5
Let rise again. Cover dough with clean dish towels, and let it rise again, until almost doubled in size.
Step 6
Prepare for baking. Use a sharp serrated edge knife to cut diagonal slits in the tops of the bread. Beat one large egg, and using a pastry brush, spread a thin layer over the tops of bread/rolls. Add a sprinkle of kosher salt.
When scoring the bread, make sure you use a very sharp knife or a bread lame (with a razor blade) to ensure that the cuts are quick and to avoid deflating the loaves.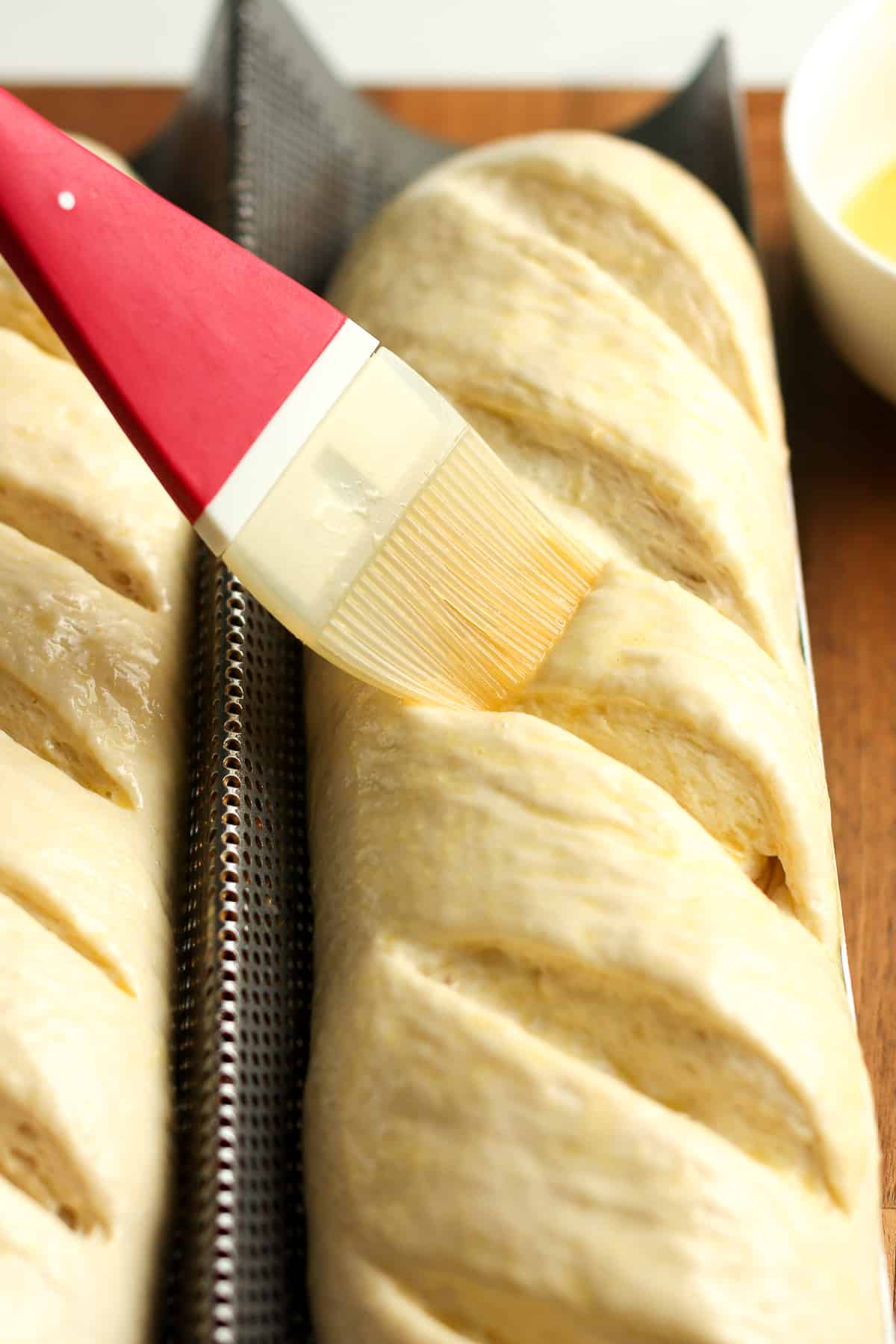 Step 7
Bake. Bake bread in a preheated 400 degree oven, until done, approximately 25 minutes. The bottoms should be slightly browned, and the tops a nice golden brown. Remove bread to a cooling rack.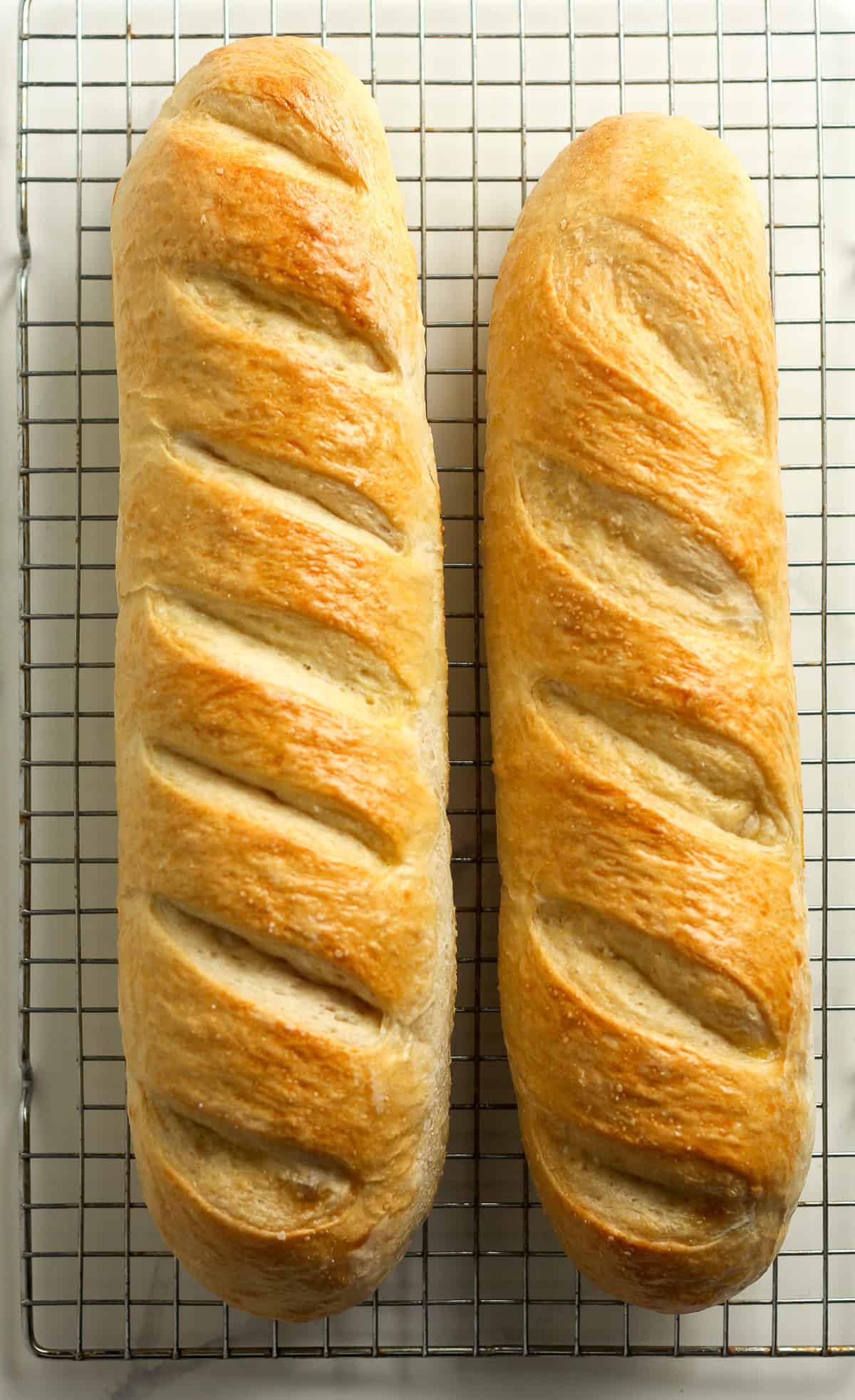 Storing and Freezing
Storing Tip: This bread is best fresh the first day! It can be stored in airtight bags on counter for 2-3 days.
Freezing Tip: You can freeze this bread in freezer bags for up to three months.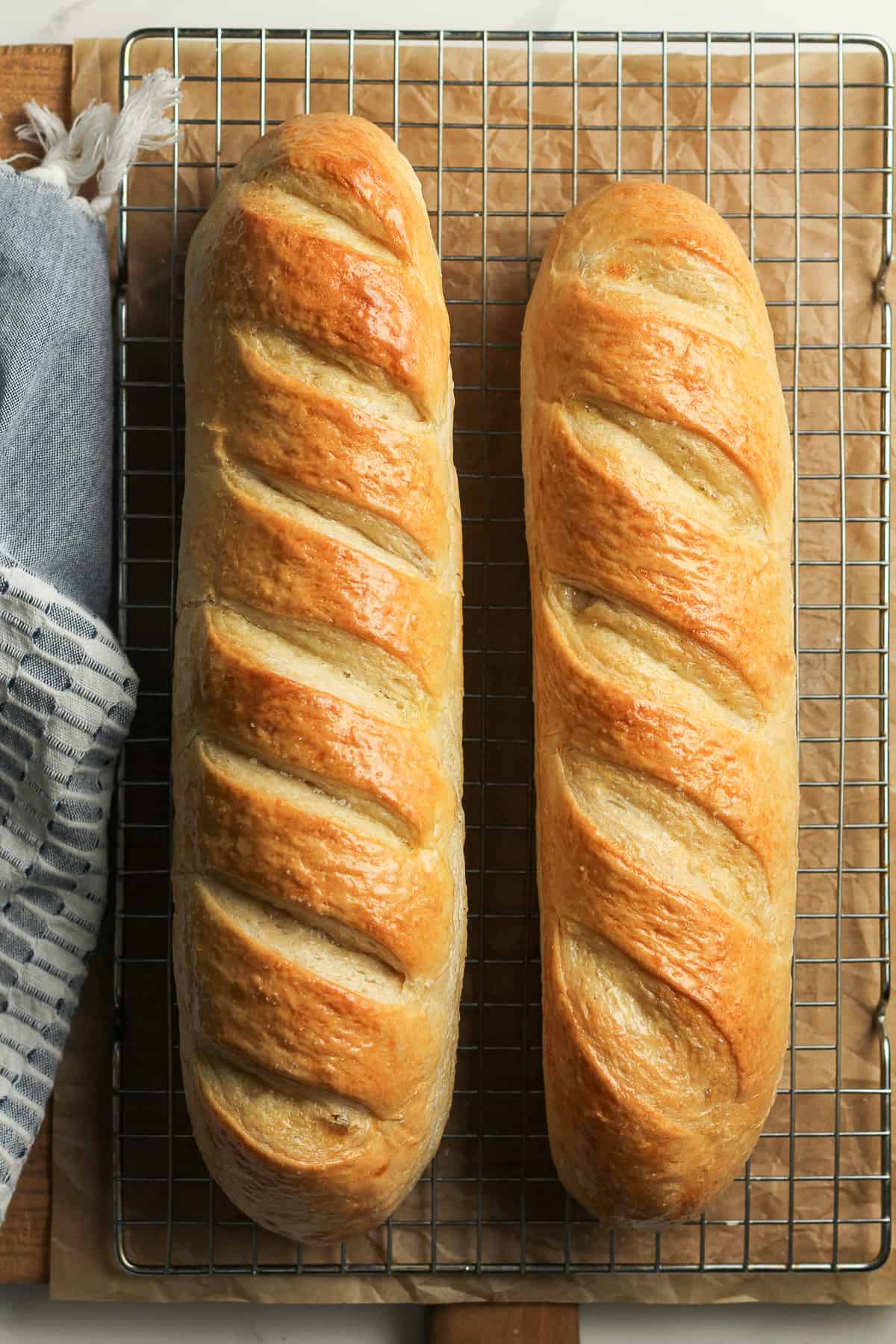 ** If you weigh the ingredients in grams, you will be able to get a more consistent dough. When I weighed the ingredients, I used about 735 grams of flour (or just a little bit more than 6 cups). Precise measurements are a HUGE factor, but it's not a requirement.
Expert Tips
When you add the warm water to the yeast, sugar, and salt – be careful to use WARM water, not hot. If the water is too hot, the yeast will disappear and you can't make bread without yeast. Also, do not use cool water because it won't activate the yeast.
Don't add all the flour at once because every baking day is different. Some days you will need a bit more flour and some days, you will need less.
The dough shouldn't be overly sticky when ready. It should bounce back slightly to the touch. Over time, you will learn exactly how much flour is needed to make the ultimate french bread.
Be sure to use an egg wash before baking. This is what gives the bread a nice golden color.
When done, the bottom of the bread should be slightly brown and crunchy, and the top, a nice golden brown.
Practice makes perfect. The more you make this recipe, the easier it will become, and you will learn to "feel" what consistency works best for you.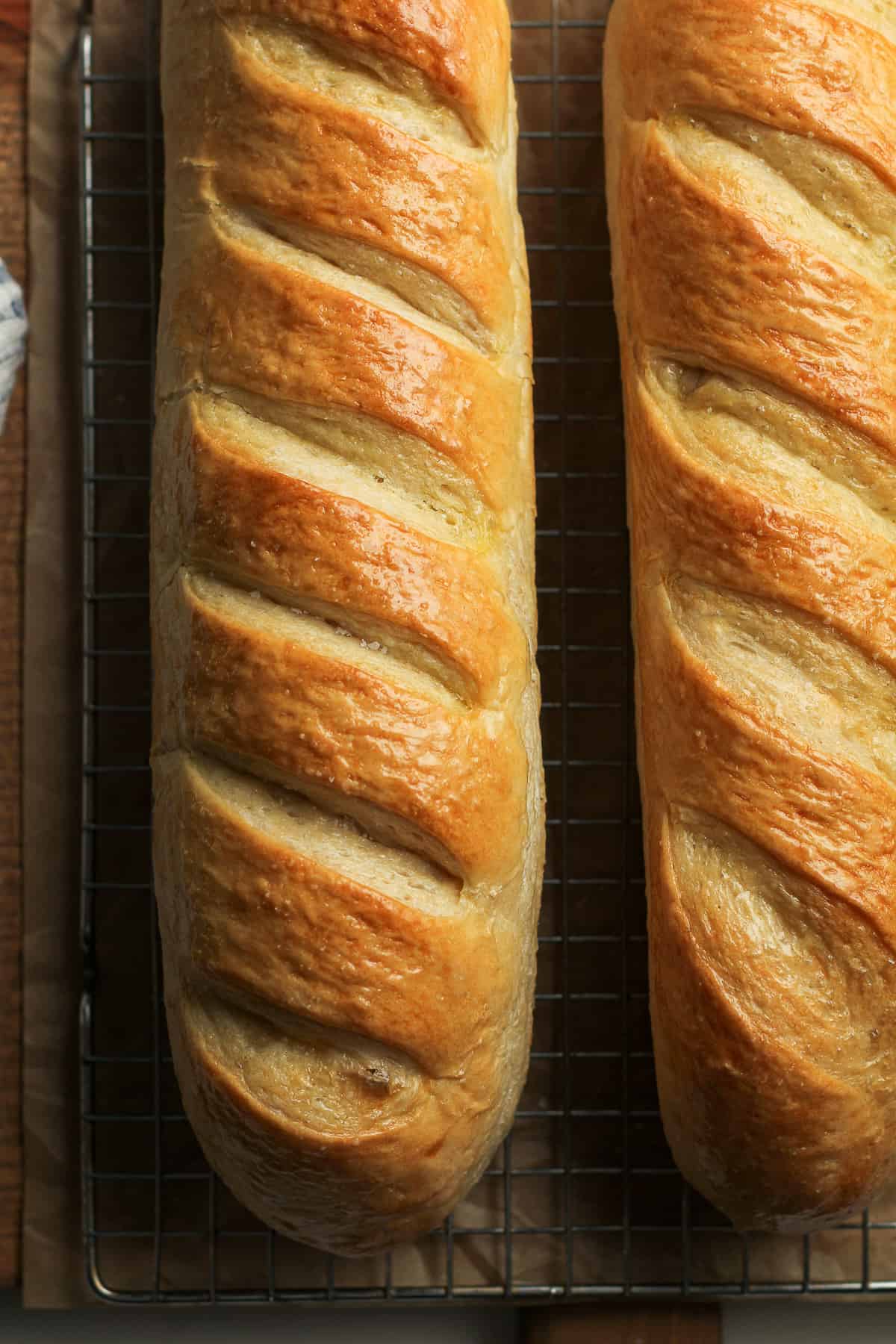 Recipes that use this bread: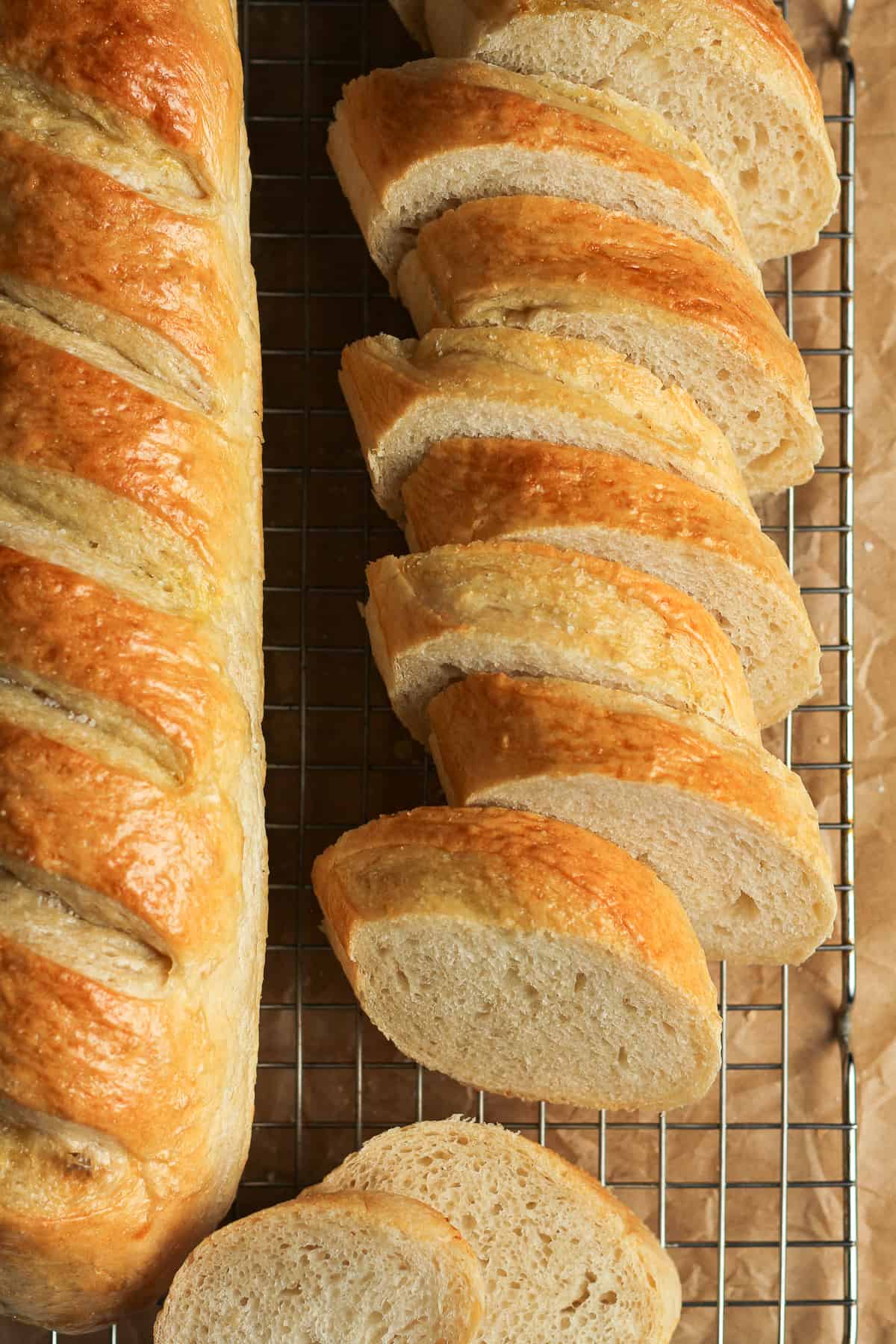 Kitchen Tools Used: (affiliate links)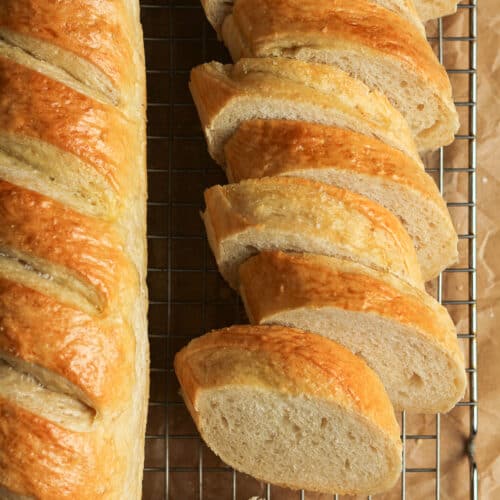 Chewy French Bread
A chewy and versatile bread, great for dipping in soup, as a sandwich, or just eating with a pat of butter!
Print
Pin
Rate
Ingredients
1

Tablespoon

yeast (9 grams)

– I use Red Star

1

Tablespoon

white sugar (12 grams)

2

teaspoons

kosher salt (12 grams)

2 1/2

cups

warm water (about 590 grams)

– not hot, not cold!

5-6

cups

all-purpose flour (600 -720 grams)

– or until right consistency
Instructions
** I recently adjusted this recipe and eliminated one of the rises. I don't think it's necessary for this recipe and it saves time.

In large standing mixer, combine the yeast, sugar, and warm water. Be careful to use warm water (100-110 degrees F), not hot.

Mix and let sit for about 15 minutes to get the yeast working.

Add the salt and then gradually add the 5-6 cups flour until you get just the right consistency. You want the dough to be soft but not too sticky.

Grease a large bowl with canola oil and add the dough. Punch the dough down into a nice smooth ball. Cover with a clean dishtowel and set it in a warm corner of your kitchen until doubled in size, approximately 45 minutes to an hour.

Form into two large oblong shapes (or you can make several smaller loaves or even buns). Place on a large greased cookie sheet or on a French bread pan. Cover with a towel and let rise again, about 30-40 minutes.

Cut slits on top of loaves with scissors or serrated knife. Mix one egg white and 1/2 teaspoon salt and gently brush this mixture on top of the loaves.

Bake on 400 degrees for 25 minutes or until bottom is slightly brown and crunchy, and top is nice and golden brown. Remove and let cool on baking rack.
Notes
Regarding measuring: If you have a scale, I recommend measuring the ingredients in grams, especially the water and flour. This will make it easier for you to get the correct consistency for this bread recipe.
TIPS:
Using warm water will activate the yeast mixture. After about 10-15 minutes, it should be foamy.
Add flour until you get the right consistency. It should be slightly sticky, but easy to handle.
The dough will rise differently each time you make it, depending on the temperature/humidity inside and outside your house.
Different climates also affect how fast dough rises. In Texas, my dough rises pretty quickly due to more heat and humidity.
This bread makes a terrific Beef Au Jus Sandwich or Pulled Pork Sandwich. My recipes can be found at suebeehomemaker.com. Just search in the sidebar.
Storing Tip: This bread is best fresh the first day! It can be stored in airtight bags on counter for 2-3 days.
Freezing Tip: You can freeze this bread in freezer bags for up to three months.
Nutrition
Calories:
116
kcal
|
Carbohydrates:
24
g
|
Protein:
3
g
|
Sodium:
233
mg
|
Potassium:
35
mg
|
Calcium:
5
mg
|
Iron:
1.5
mg