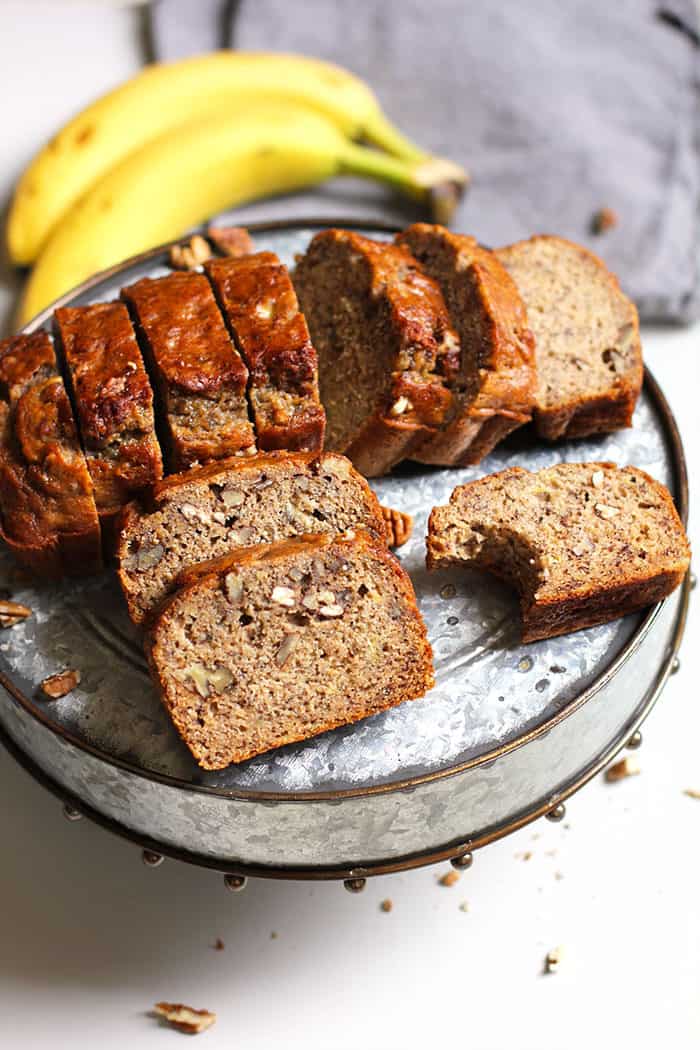 I know what ya'll are thinking. ANOTHER banana nut bread recipe! But just wait a minute. This isn't just any banana nut bread recipe. It really isn't.
It's LIGHTENED-UP Banana Nut Bread!
I've noticed SO many diet commercials on TV lately. Many of them are just so restrictive that they eventually backfire. That's what I like about lightening up recipes instead of totally cutting them out. If you tell me I can't have cookies, I'll crave them all day long. But tell me I can eat a lighter version of my favorite sweet, I'll have a piece and move on.
In honor of the new year, I decided to have another go with making a healthier version of this Easy Banana Bread recipe. I went through a period (several years ago) of trying to make everything I baked a light version. But I don't think I ever got it right. And Mike has been asking me to try it again. He remembers loving my lighter version but I don't agree.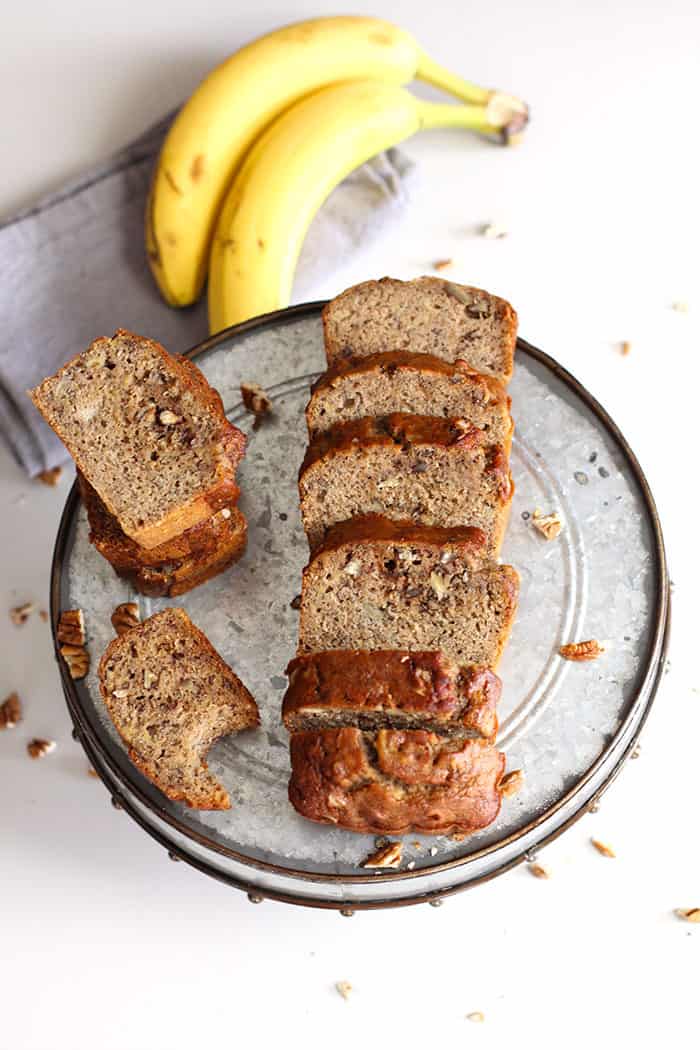 This version, on the other hand, hit the ball out of the park…if I do say so myself. My family all claimed to like it better than my regular version. I think I do too! It tastes much more wholesome..in a whole wheat, grainier, nuttier kind of way. If you are into that kind of thing. Which I totally am!
Instead of using all white flour, I used whole wheat for over half of the required amount. I also threw in some flaxseed meal. The original recipe calls for two cups of sugar (oh lawd!) so I cut that back to 1/2 cup and added a little honey and pure maple syrup. And lastly, I replaced half of the oil with cinnamon applesauce.
This Banana Nut Bread is best fresh out of the oven. But since there are three loafs in this recipe, you can just warm up a slice at a time.
I'm already thinking of ways to lighten up my Chocolate Zucchini Muffins. 🙂 Stay tuned.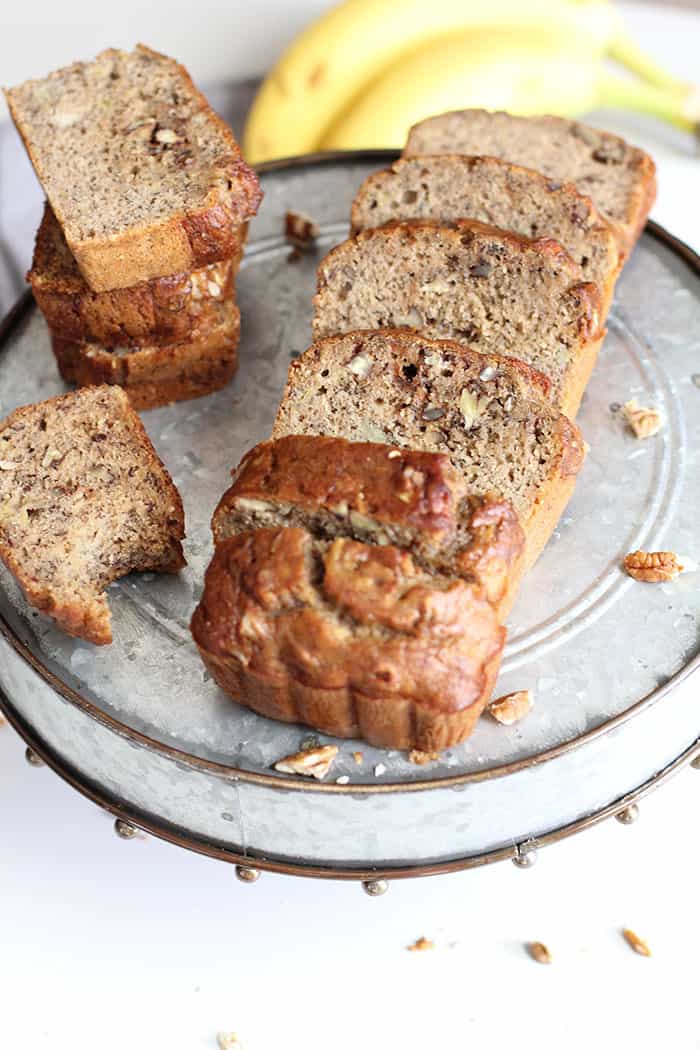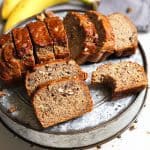 Banana Nut Bread
a lightened-up wholesome banana nut bread, moist and so delicious
Ingredients
6

over-ripe bananas

1/2

cup

white sugar

1/4

cup

honey

1/4

cup

pure maple syrup

1/2

cup

canola oil

1/2

cup

cinnamon apple sauce

4

large

eggs

1 1/4

cups

whole wheat flour

1

cup

all-purpose flour

1/4

cup

flaxseed meal

1

teaspoon

salt

2

teaspoons

baking soda

1

cup

pecans

chopped
Instructions
Preheat oven to 350 degrees.

In a standing mixer (or can use hand mixer), mash the bananas until runny.

Add the sugar, honey, maple syrup, oil, applesauce, and eggs. Mix slightly.

In a separate bowl, combine the dry ingredients (all-purpose flour, whole wheat flour, flaxseed meal, salt and baking soda). Add to wet ingredients and stir until just combined.

Add one teaspoon of flour to chopped pecans. Stir and then add to mixture.

Pour into three well greased loaf pans. Bake for 40-45 minutes, or until toothpick comes out clean when inserted.
Recipe Notes
This bread freezes well.
SHARE THIS POST TO YOUR FRIENDS: