Flank Steak is one of my personal favorite cuts of beef. We use it most often in fajitas and tacos, but this Stuffed Flank Steak Roll has become a sophisticated way to eat it. And Lord knows we could use some sophistication around this house of boys!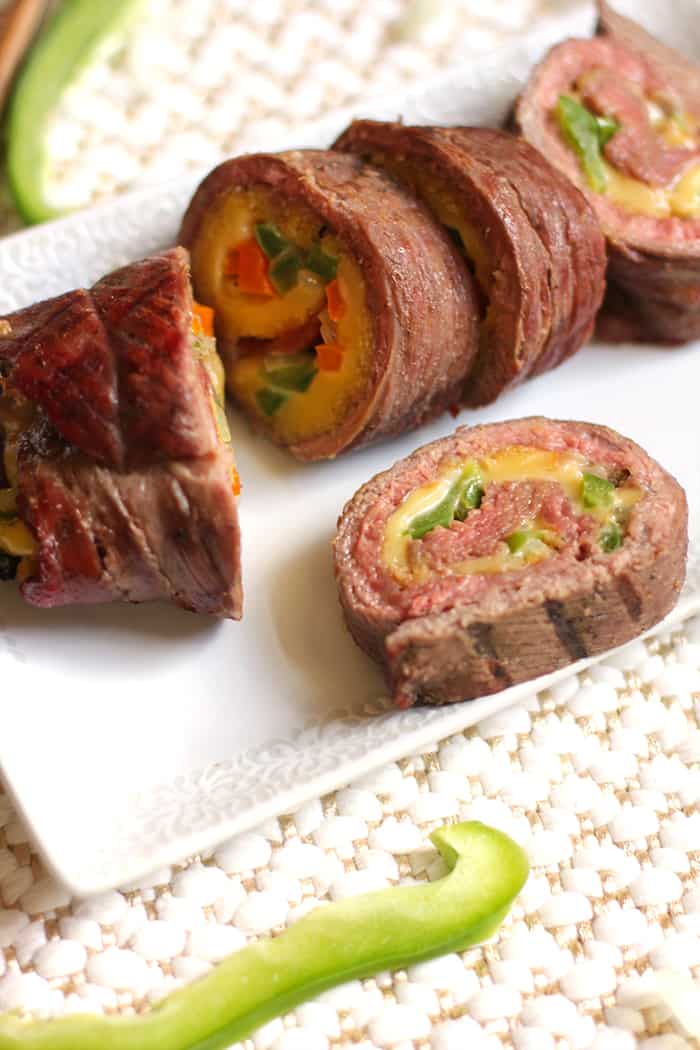 According to Wikipedia, the flank steak is a beef steak cut from the abdominal muscles, or lower chest, of the cow. It is usually long and flat, and has a very obvious grain (meat fibre), as it comes from a well-exercised part of the cow. Many chefs like to cut across the grain to make the meat more tender.
Note the last sentence. And then look at how I cut WITH the grain on these steak rolls. 🙁
When I asked the butcher to butterfly the flank steak, He did so in the opposite direction I asked him to. Thus, I have steak rolls that must be cut with the grain, instead of against it. But honestly, they were delicious and tender, so all is well in my world.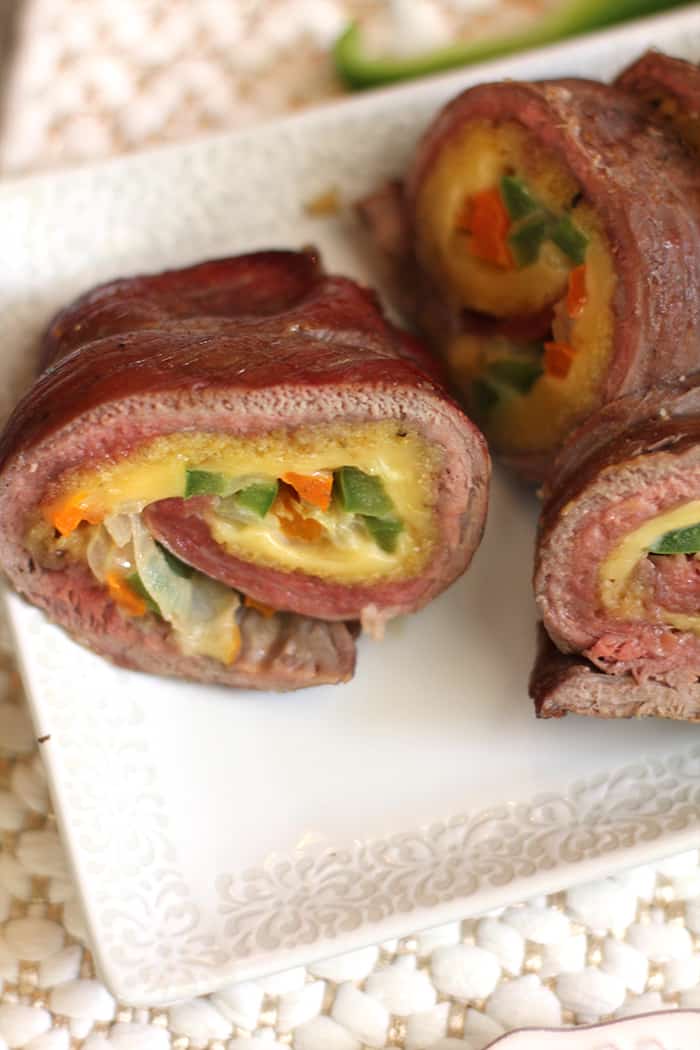 This steak roll may look like a lot of work, but honestly, it isn't that difficult. It involves seven steps, most of which I've photographed for you below.
Butterfly the steak, or ask the butcher to do it for you.
Mix up the bread crumbs, parmesan cheese, and egg. Spread it on the steak.
Lay the smoked gouda cheese on top of the bread crumb mixture.
Sauté the peppers and onions, and spread them over the gouda layer.
Gently roll up the steak, attempting to keep all the filling inside the roll. Secure the roll with cooking string.
Grill the steak roll over 400 degree heat, turning it occasionally for 20 minutes or so.
Rest, slice, and serve.
Steps 1 & 2 below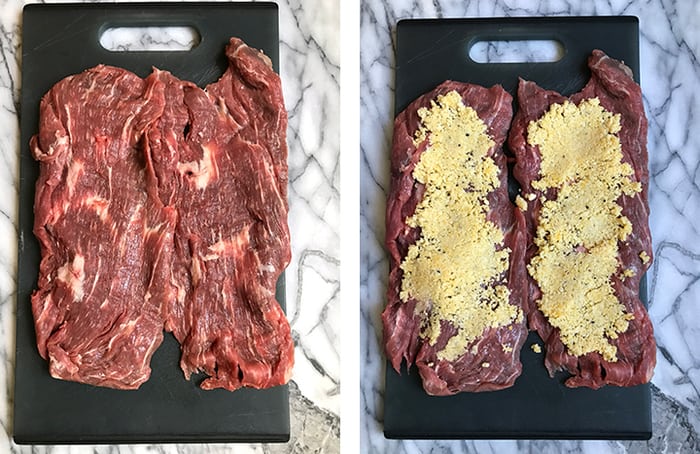 Steps 3 & 4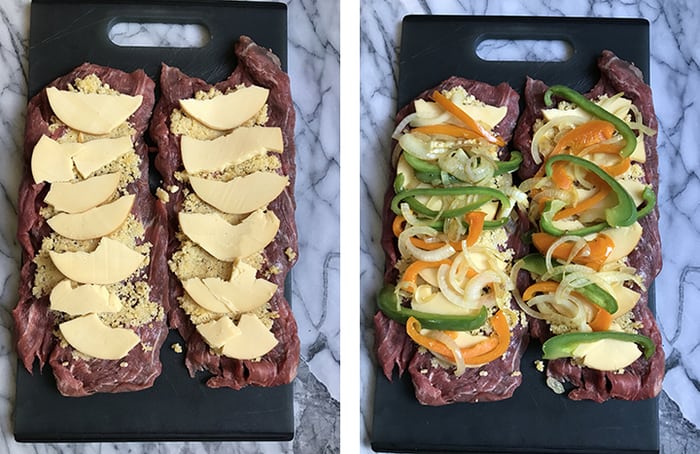 Step 5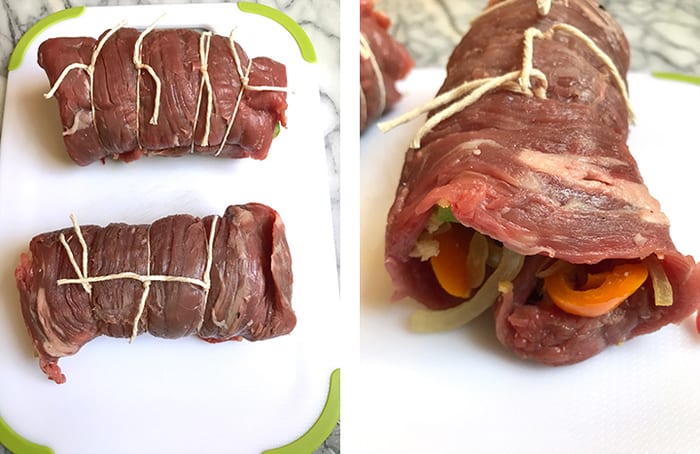 Step 6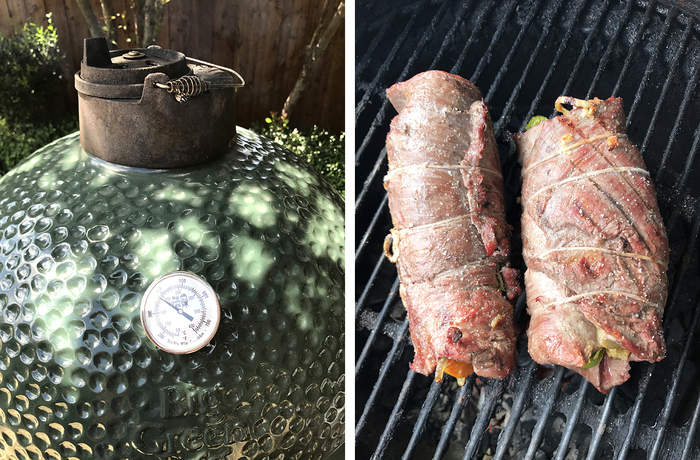 The final step – the part the involves serving – is the best part. Because it also involves eating. (<– YES!) Each bite has a smoky-cheesy-pepper-and-onion flavor. Try making this for guests, and they will be impressed!
I've tested this recipe several times. The first time, the steak was much larger, so I didn't get it cooked all the way through. We put it back on the grill for 5-7 minutes, and it was better. The second time, I was enjoying my beer too much, and failed to notice that my son (his name will go unmentioned) grilled it for at least 30 minutes, maybe more. So yea, he cooked the heck out of it. But my beer was good!
The third time was this one, the time I cooked it to medium rare, and it was….PERFECT. Ahhhh.
Moral of the story, just keep grilling. 🙂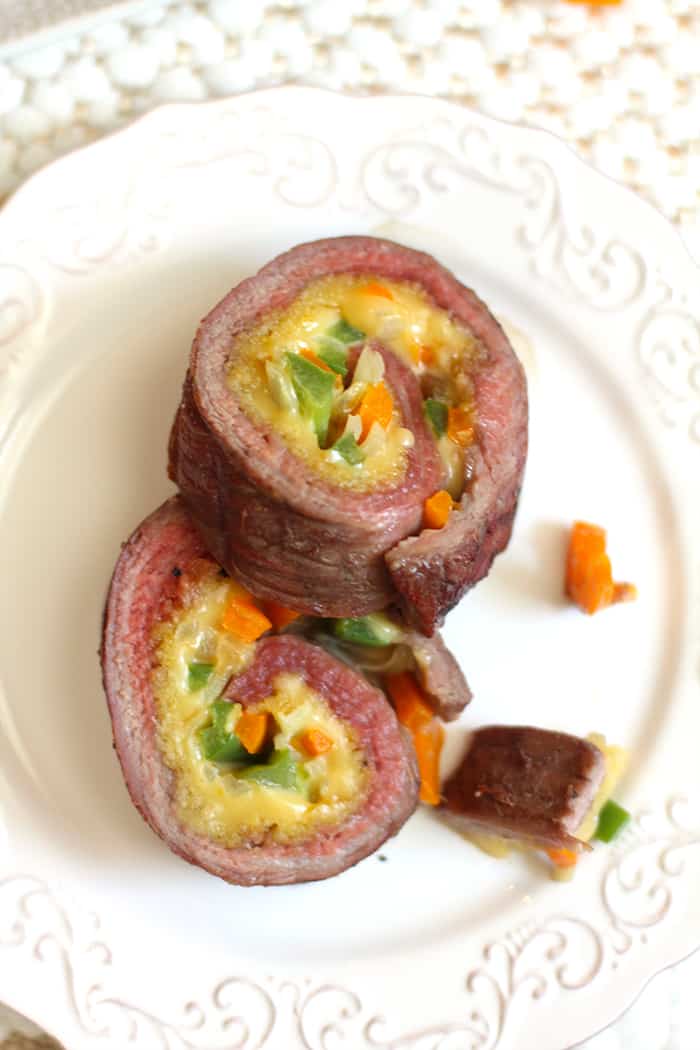 Please let me know if you try this Stuffed Flank Steak Roll, and how you like it!
You can stay up-to-date with SueBee Homemaker by:
signing up for post updates (top right-hand corner of my blog)
liking my Facebook Page
and following me on Pinterest
I'm also sharing tidbits of my life on Instagram. 🙂
Stuffed Flank Steak Roll
Ingredients
2

pounds

flank steak

1/2

cup

panko bread crumbs

1/4

cup

parmesan cheese

1

large

egg

6

slices

smoked gouda cheese

1

Tablespoon

olive oil

1/2

cup

bell pepper - any color

- sliced thin

1/2

cup

onion

- sliced thin

seasoned salt and garlic salt

- to taste
Instructions
Heat outdoor grill to 400 degrees.

Take your flank steak, and butterfly it, so that you have a thin steak with more surface area. (I had the butcher do this so the steak didn't have holes in it.)

Mix the bread crumbs, parmesan cheese, and egg together. Spread this mixture on the entire surface of the steak.

Lay cheese slices on top of the bread crumb mixture, covering the surface area by breaking up the cheese into smaller pieces.

Sauté the pepper and onions in olive oil until soft, approximately 4-5 minutes. Spread the veggies on top of the cheese slices.

Gently roll the steak up into a roll, making sure most of the stuffing stays put. Use cooking string to tie the roll together in several places.

Grill the steak roll on 400 degrees, seasoning it with seasoned salt and garlic salt. Turn the steak roll on all sides, until cooked to your desired doneness. Mine took about 20 minutes total.

Let the steak rolls sit for 10 minutes before slicing. Serve immediately.