Pork is a classic main course in our home. We love pork chops, pork loin, pork tenderloin, pork patties (you're thinking…what are those?), sausage, hotdogs, bacon (of course), and pork shoulder (for pulled pork). Did I miss anything?
Mike and I grew up in Iowa and we STILL bring back pork chops and pork patties when we go at Christmas time. They are THE best. We love both the smoked chops and the regular ones. And if you've never had a pork patty, you need to try one made with bacon. My brother-in-law, Dana, makes the best. They are plump and juicy, and way better than a hamburger.
Yes please.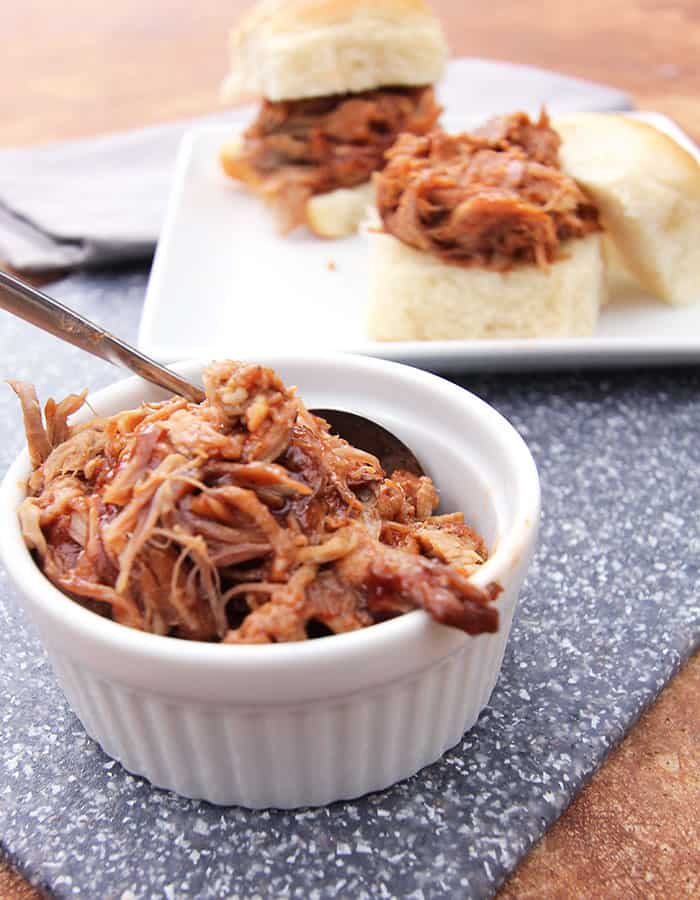 So making pulled pork was a no-brainer when Mike asked me what I "wanted" to make for his MK Team Holiday Party. I've been thinking about a slow cook method in the house, instead of on our Big Green Egg. I'm using the same rub that I always use (compliments of my brother, Dave) and the technique that I found on all recipes.com by Chef John.
I used my roasting pan
 for this recipe. But you could also use a large dutch oven if you have one.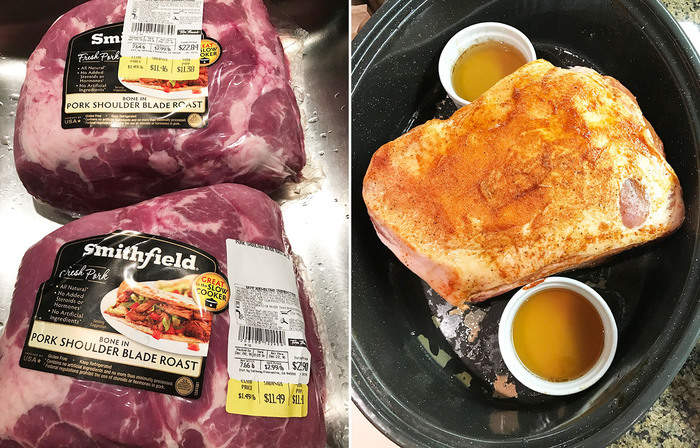 The technique is pretty simple. You coat the pork shoulder with the rub. Let it marinate overnight, or for at least 8 hours. Put it in a roasting pan with two ramekins, containing a mixture of water and liquid smoke. Cover it with a lid and let it bake for 12 hours on 210 degrees. Remove and let rest. Shred the meat with your fingers (or two forks) and top with barbecue sauce.
I didn't touch the oven for 12 hours and the meat literally fell off the bone. It was unbelievable delicious.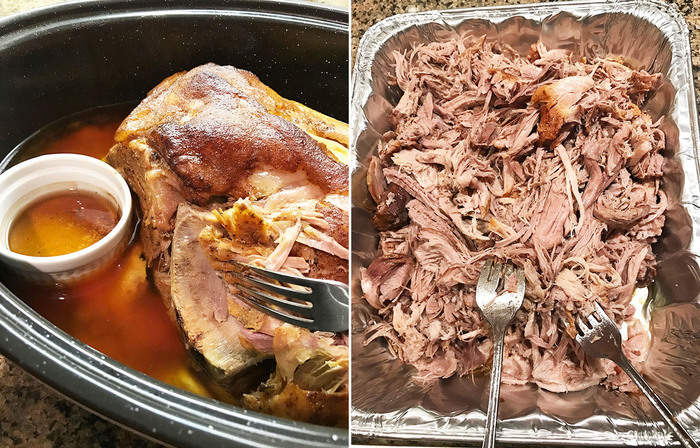 The ONLY thing I dislike about this recipe is the smells of the marinating pork. Wow. Even the dog went berserk as I tried to figure out what the smell was. Oh yea…it's the pork. Duh. Anyway, the actual taste of the pulled pork is well worth any mysterious aromas.
This is a great recipe for the holidays. It's very easy (you can make it while you sleep!) and makes a perfect main course for your gatherings. I recommend putting it in the oven 13 hours before your event so it is fresh out of the oven. OR, you can bake it in advance and then warm it up in a crockpot. Just add a little extra liquid (chicken broth and/or barbecue sauce) so it doesn't dry out.
Slow Baked Pulled Pork
a super slow oven baked pulled pork, with a spicy rub and barbecue sauce
Ingredients
7-8

pound

pork shoulder

1/4

cup

sugar

2

teaspoons

kosher salt

1

teaspoon

black pepper

1 1/2

teaspoon

smoked paprika

1/2

teaspoon

cayenne pepper

2

teaspoons

garlic powder

2

teaspoons

liquid smoke

1

cup

water

barbecue sauce
Instructions
The day before: Make the dry rub by combining the sugar, salt, pepper, paprika, cayenne, and garlic powder. Mix ingredients and coat liberally over the pork shoulder.

Place pork shoulder in a roasting pan or dutch oven. Let it marinate in the refrigerator overnight, covered.

The next day when ready to bake: Preheat oven to 210 degrees.

Take two ramekins and combine 1/2 cup water and 1 teaspoon of liquid smoke in each one. Place each ramekin on either side of meat and cover with lid.

Roast pork in the oven (covered) for 12 hours, or until very tender. Do not open the oven. After 12 hours, remove and let the roast sit for 20 minutes, or until it is cool enough to touch.

Remove skin and visible fat from roast. Remove the shoulder blade and discard.

Shred meat with your fingers or do a rough chop with a knife. Place shredded meat in a serving dish and drizzle with broth, or barbecue sauce. Serve warm.

Leftover pork freezes well in an airtight container or freezer bag.