You've probably noticed that I'm a pumpkin FANatic by now. I mean, this is my third pumpkin recipe and I've only been blogging for a few weeks now. Every fall, the same thing happens around here. I suffocate my family and friends with pumpkin. I'm so crazy mean that way.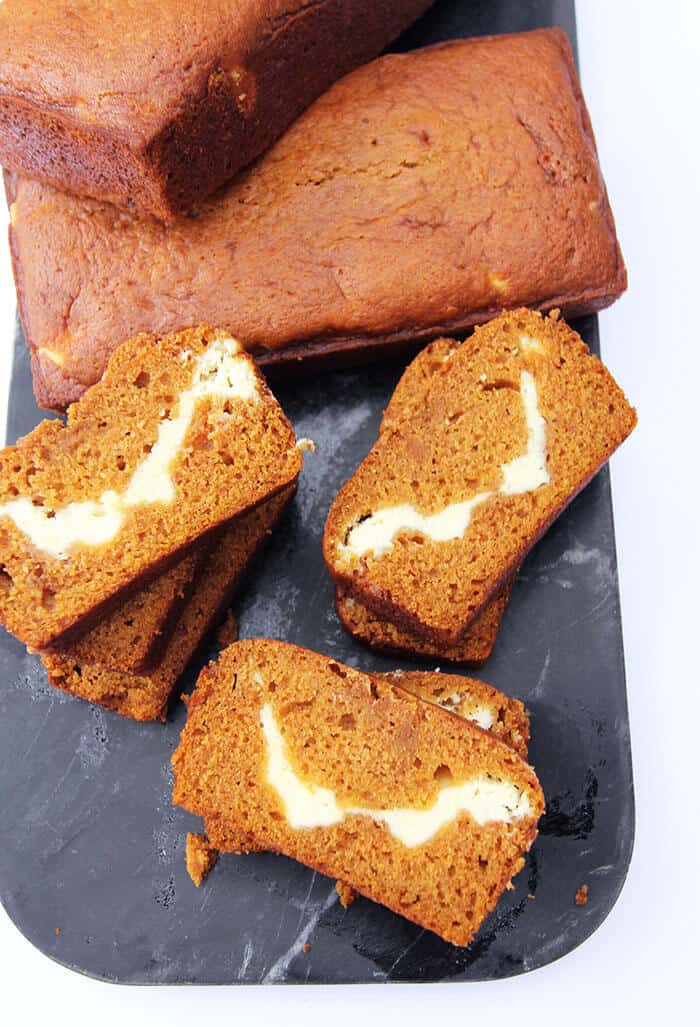 We are FINALLY having fall here in Texas and so I'm totally digging my stay-at-home "job" – recipe creation, cooking, baking, blogging, photography, and, most importantly, taking care of my family. My windows are open and that is my favorite thing about being home in the fall. The weather has finally cooled down and I love the chilly morning air in my house. If the weather could just stay like this ALL year, I'd be one happy girl.
The thing about Pumpkin Cream Cheese Bread is that it's hard to screw it up. Pumpkin, oil, eggs, sugars, sour cream….all of this screams moist. Each bite is better than the next. For real.
Oh hey, I forgot to mention the cream cheese! The best part is the cream cheese layer in between the pumpkin. It's delicious and beautiful to look at. And you will want to eat more than just one piece!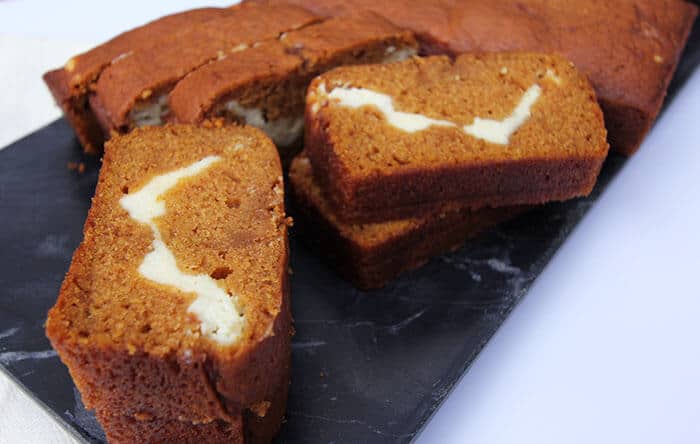 You could definitely use light cream cheese in this recipe. BUT, the layer of cream cheese will be more of a swirl than a layer. The full fat regular version makes the layer stay put. I've used both light and regular and decided I wanted to see (and taste) that thick cream cheese this time. Both are great so it really is up to you (and how many calories you want to cut).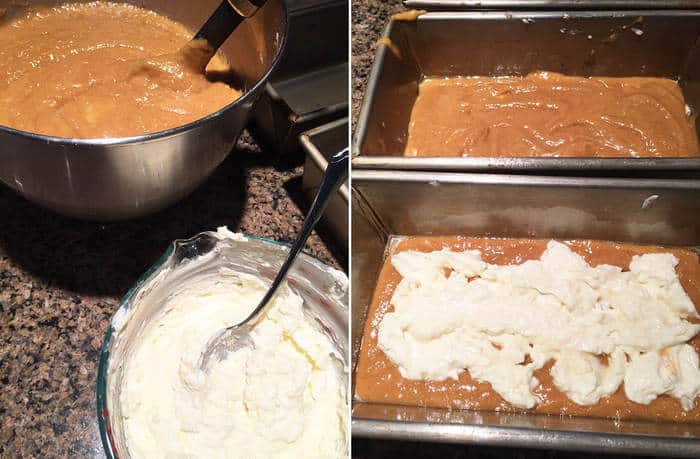 I made four loafs out of this recipe. They were on the small side so next time, I'll probably make three loafs and bake it a bit longer. Either way, your result will be deliciousness.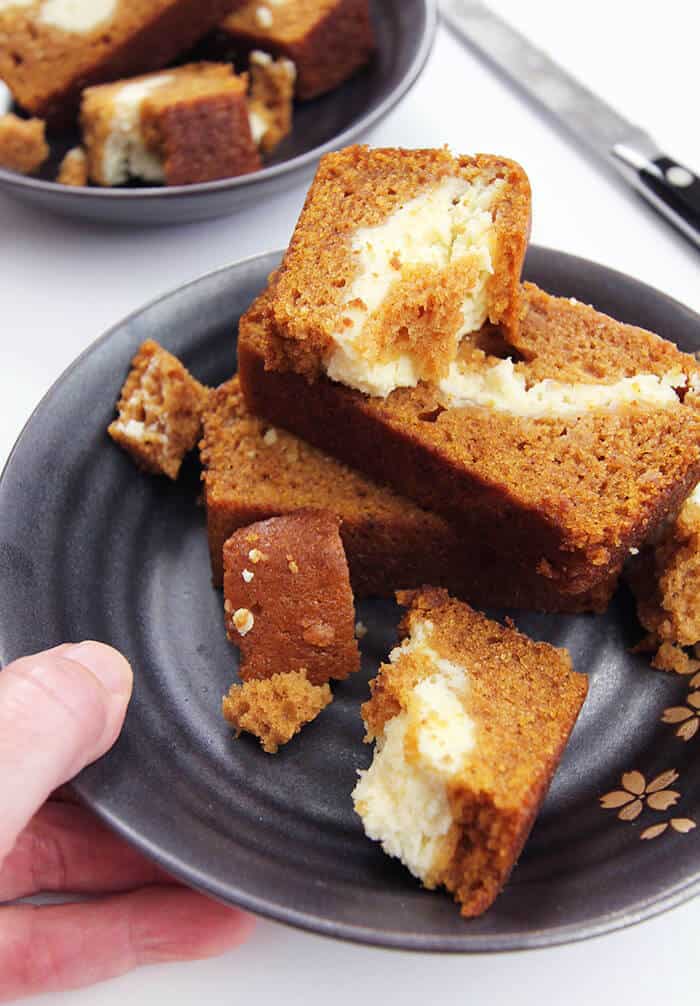 Every fall, I wonder why I don't make pumpkin treats all year round. Because I could. And everyone would love it. But I guess it makes fall just that much sweeter.
If you want to check out my other pumpkin recipes, take a look at my iced pumpkin cookies and my pumpkin streusel cake.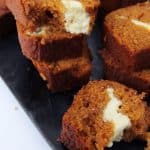 Pumpkin Cream Cheese Bread
a moist pumpkin bread with a cream cheese layer in the center
Ingredients
For the Pumpkin Bread:
3

cups

all-purpose flour

1

cup

granulated sugar

1 1/2

cups

brown sugar

2

teaspoons

baking soda

1

teaspoon

salt

2

teaspoons

cinnamon

1

teaspoon

pumpkin pie spice

1

cup

oil

3

large

eggs

1

15 oz.

can pumpkin

1/2

cup

sour cream

2

teaspoon

vanilla
For the cream cheese layer:
16

oz.

cream cheese

1/2

cup

granulated sugar

1

large

egg

1

teaspoon

vanilla
Instructions
Mix together the dry ingredients - flour, sugars, baking soda, salt, cinnamon, and pumpkin pie spice. Set aside.

To standing mixer, add oil, pumpkin, sour cream, vanilla, and eggs. Mix well.

Add dry ingredients to wet ingredients and mix until just combined.

Beat the cream cheese filling together until well mixed.

To assemble bread, spread half of pumpkin mixture to bread pans that have been sprayed with baking spray. Next add the cream cheese mixture. Then add the rest of the pumpkin mixture.

Try to completely cover the cream cheese layer with the pumpkin mixture on top.

Bake the pumpkin bread on 350 degree oven for 40 - 50 minutes, or until done.