Have you ever made omelettes for a group? If so, you probably spent the entire morning making one omelette at a time, and then by the time you sat down to eat yours, everyone was finished and up from the table. Am I right?
Oh, and then you spent the rest of the morning, cleaning up all the bowls and sauté pans from making omelettes, that you didn't even get to watch being consumed (because you were STILL cooking).
Well, this Overnight Omelette Breakfast Casserole is YOUR ticket to sanity. You can make this entire casserole (that serves ten people), the night BEFORE your big meal, and then you can actually sit down at the table to enjoy eating with your family and friends.
YES please.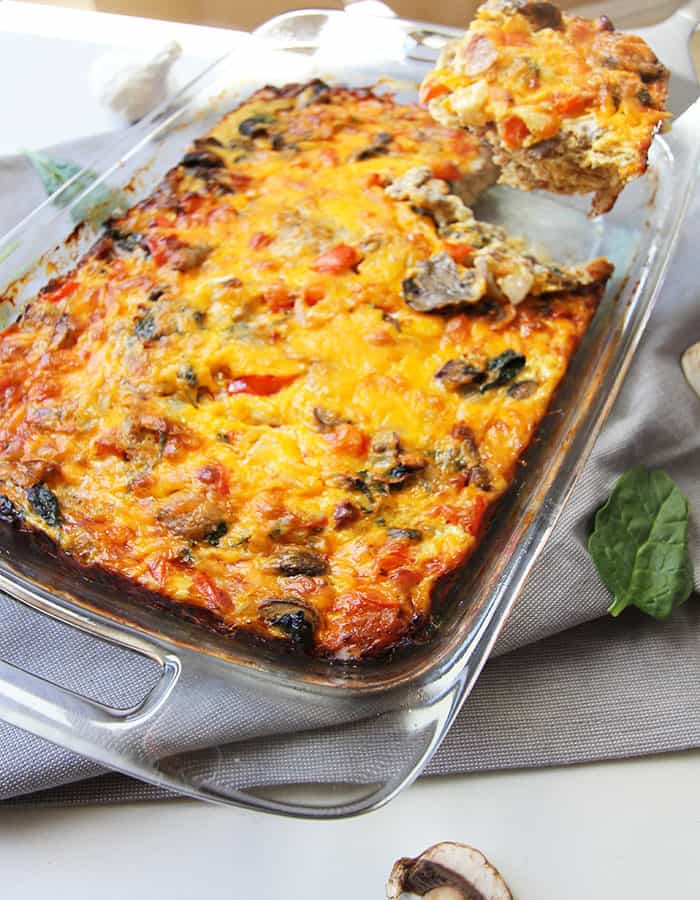 I love the veggies in this casserole. It really makes this an actual omelette. You have your bread, eggs, meat, and veggies…all in one dish. I used HOT Italian sausage but you could totally do mild or sweet. Personally, I think the spicy sausage is what makes it tasty. As you've noticed, I LOVE spicy and think it makes everything better. But use the sausage YOU like best.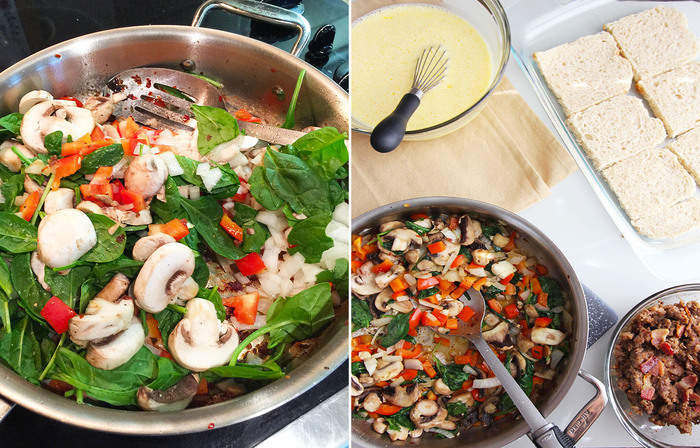 I spoiled my boys today and made this egg casserole as well as a french toast bake (that I'll be sharing soon). And the best part is that we'll be eating both dishes all week long. A perfect solution to reduce holiday stress when there is constant meal preparation.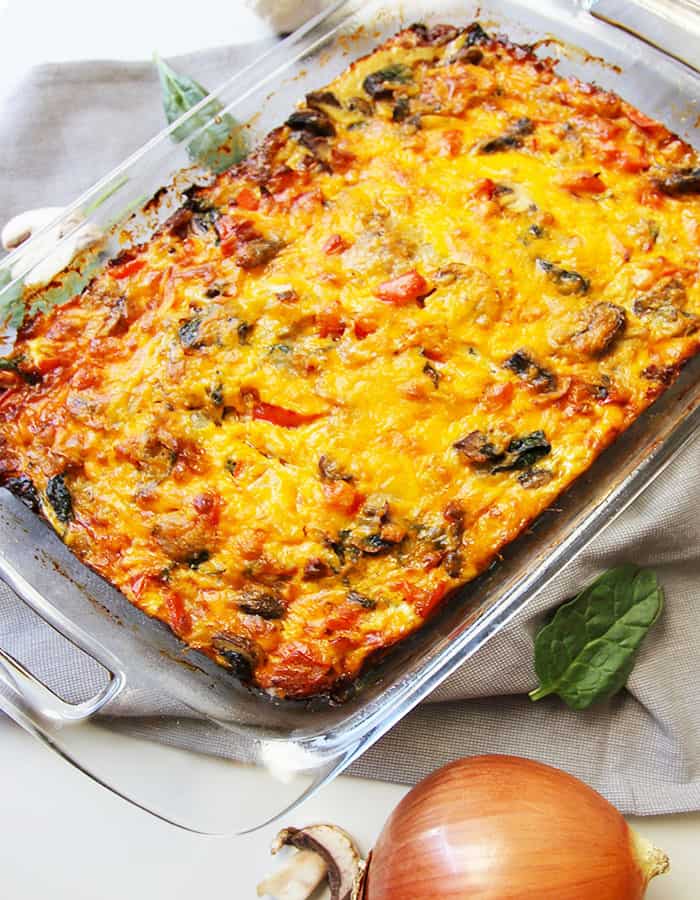 Josh is home for Thanksgiving and I love cooking for him, because he really and truly appreciates home cooked food. I guess that's what college does for you. We also made a 25 pound turkey this year so he can take leftovers back to school with him. He asked for "a meal" to take back with him on the day he arrived for break. No worries, Josh…I gotcha covered.
Oh…and a quick shout out to Josh's friend Joe who actually reads my blog! (Hi Joe!) Can you believe a college boy reads this? I think I'll send some extra treats back with Josh to give to his buddy. (Got that Joe?) 🙂
Back to the breakfast casserole. You really need to make this. And I would love to hear from you in my comment section below!!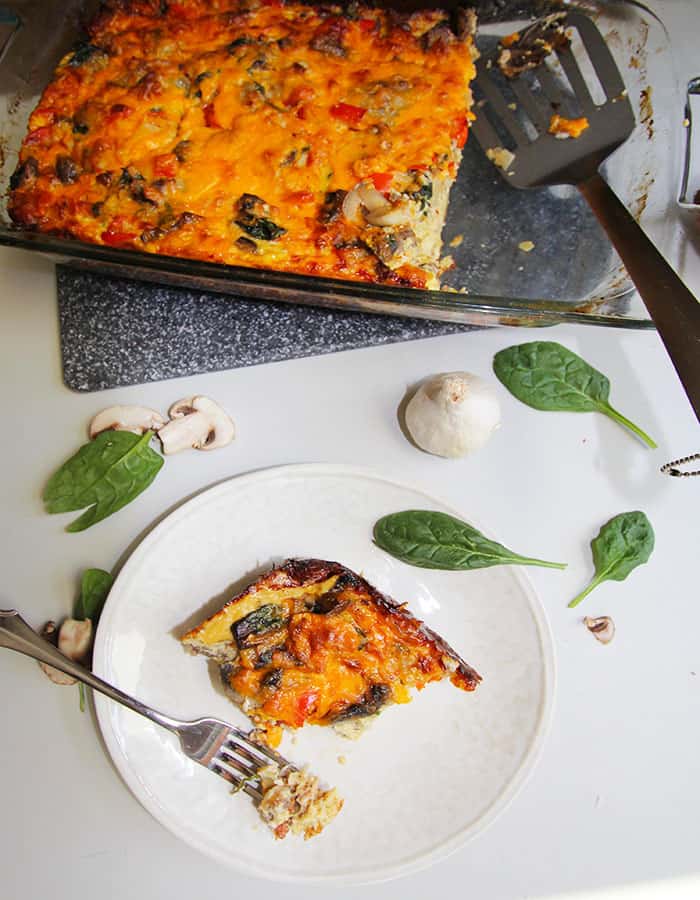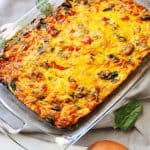 Overnight Omelette Breakfast Casserole
a hearty and satisfying breakfast casserole that resembles an omelette and saves time in the morning
Ingredients
8

slices

old bread

1

Tablespoons

butter

or enough to spread on bread

1

pound

sausage

cooked and crumbled

6

strips

bacon

cooked and crumbled

10

large

eggs

1

cup

2% milk

or use whatever milk you have

2

Tablespoons

olive oil

1 1/2

cups

spinach leaves

1

cup

sliced mushrooms

1/2

large

onion

diced

1

medium

red bell pepper

diced

2

cloves

garlic

minced

1

cup

shredded cheddar cheese

1

teaspoon

dry mustard

salt and pepper

to taste
Instructions
In skillet, cook sausage till done. Drain fat and set aside.

Cut bacon in small strips. Cook in skillet (you can use same one as sausage) till nicely browned. Set cooked bacon on paper towel to soak up some of the fat.

In 2 Tablespoons of olive oil, saute onion, garlic, red pepper, mushrooms, and spinach. Season with salt and pepper and cook until soft.

In mixing bowl, whip eggs, milk, 1/2 the cheese, ground mustard, salt and pepper (to taste). Set aside.

Remove the crust from the slices of bread. Butter one side and put that side down in casserole dish.

Spoon sausage and bacon on bread layer. Then top with cooked veggies and then egg mixture. Top with the remaining cheese.

Cover tightly with saran wrap and refrigerate overnight.

In the morning, cook the casserole on 375, uncovered, for approximately 45 minutes to one hour, or until the eggs are cooked and the breakfast casserole is nice and golden brown on top.

Leftovers are great.