My mom made her bread fresh the morning of our gatherings. She would get up at the crack of dawn to get her dough started, and by the time we got out of bed, she was pulling bread out of the oven and probably putting more in. Waking up to the smell of fresh bread is a pretty amazing memory.
Mom's whole world was taking care of her family. She wanted to make sure we all had our favorite foods when we visited, after leaving home. And fresh bread and rolls were at the top of all of our lists. I can see her now…bustling around the kitchen, punching down bread, brushing butter on whatever she just took out of the oven, adding flour to her grocery list. The kitchen was our gathering place whenever we were home.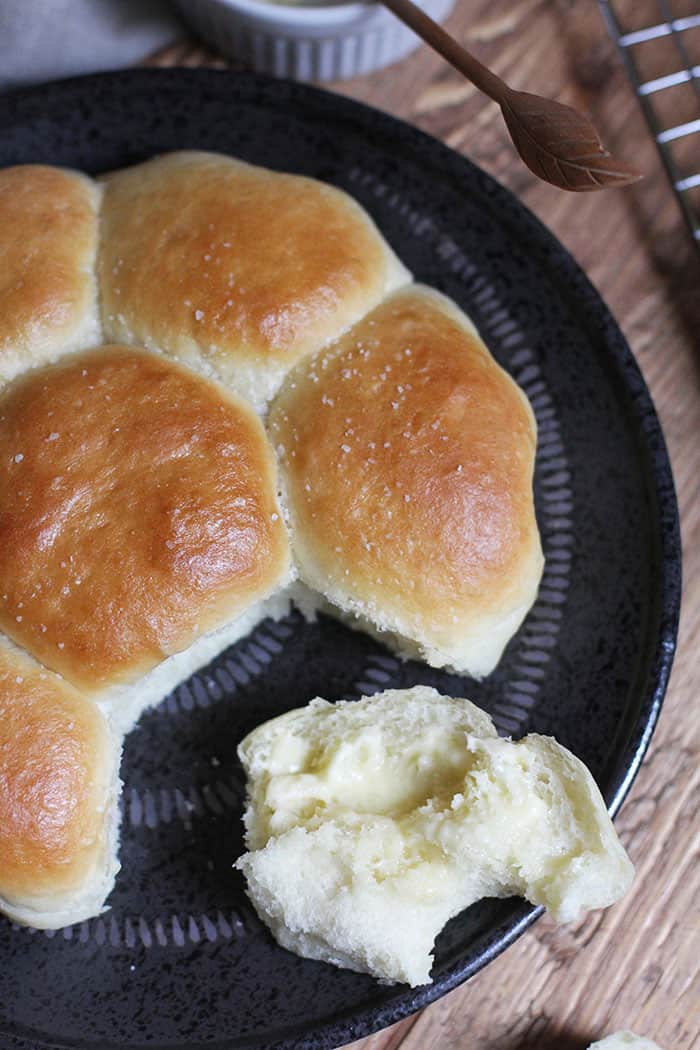 This dinner roll recipe is from Norma Jean's Kitchen. It is actually HALF of her recipe as I'm pretty sure most people don't make than many dinner rolls at once. Mom would often times make the entire recipe and make some cinnamon rolls, some dinner rolls, and maybe a loaf of sweet bread. This version makes approximately 20 rolls, give or take a few. You can put the rolls in any type of baking pans. If you get to the end and have just a little dough left, make a personalized bun (or two) in a ramekin.
The photos below show the 1) the yeast activating, and 2) the dough pulling away from the mixer (that's how you know it is ready). My bread maker
 is a Bosch and is what Mom used too. I love it.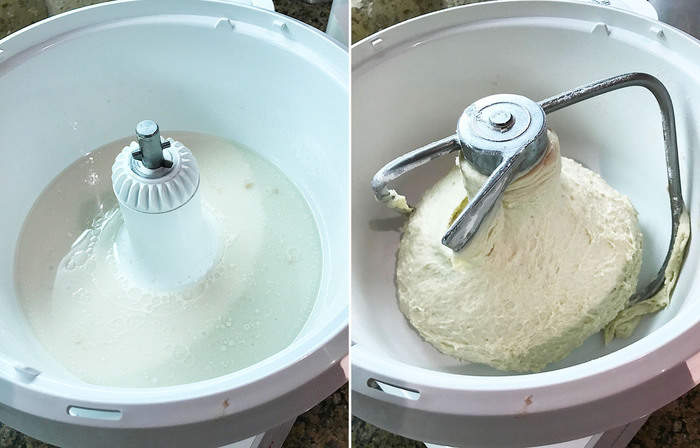 The first photo below shows what the bread dough looks like after rising, before forming into dinner rolls (second photo). Make sure you put the smooth side of the rolls up and cover with a clean towel to let them raise again.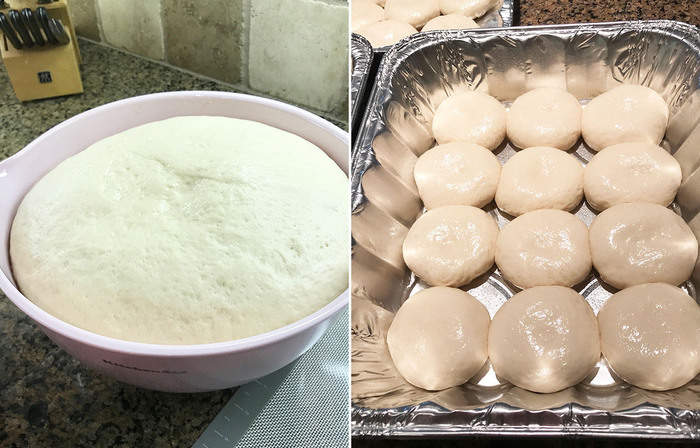 Zach has been begging me to make Mom's cinnamon rolls, so I actually made him a personal sized roll for him out of this batch. With frosting. I plan to do a separate blog post soon on Mom's cinnamon rolls and I'll show you the detailed steps in making them. Stay tuned, friends.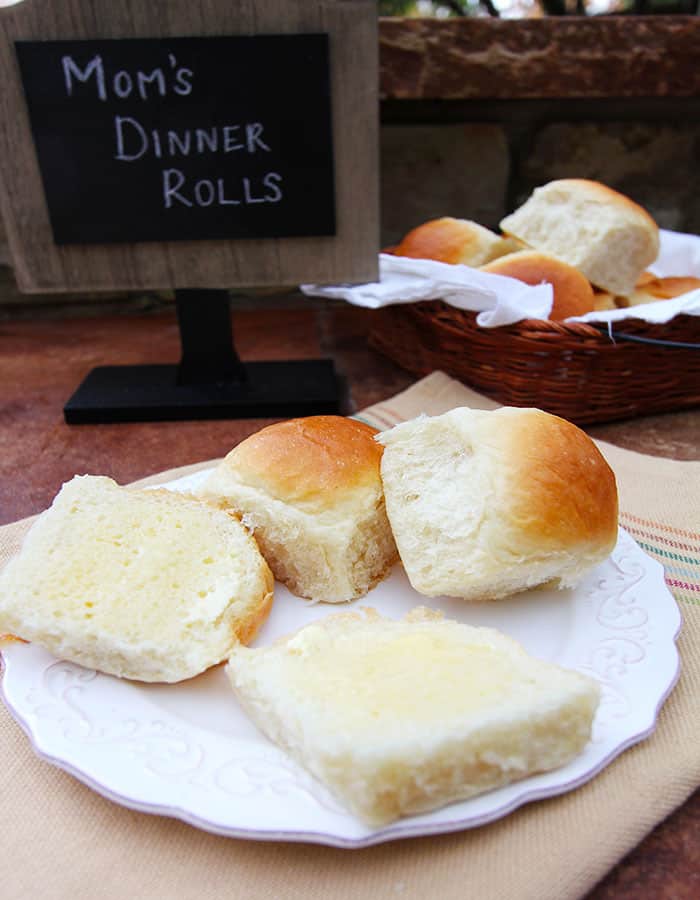 If you want to see more of Mom's recipes, you can find them under Norma Jean's Kitchen.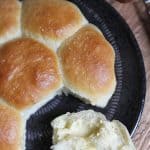 Mom's Dinner Rolls
soft and fluffy dinner rolls that make the perfect accompaniment to special meals
Ingredients
2

cups

1% milk

warmed (not hot)

2

Tablespoons

yeast

I use Red Star

1/3

cup

sugar

1/3

cup

canola oil

2

teaspoons

kosher salt

5-6

cups

all-purpose flour

1

Tablespoon

butter

for brushing on top after baking

sprinkle

kosher salt
Instructions
In large standing mixer, combine the yeast, sugar, and warm milk. Be careful to use warm milk, not hot.

Mix with a rubber scraper and let sit for about 15 minutes to get the yeast working. Add the salt and canola oil and mix again.

Gradually add 5-6 cups of flour until you get just the right consistency. The dough will pull away from the sides of the mixer when it is close to being ready. You want the dough to be soft but not too sticky.

Grease a large bowl with canola oil and add the dough. Punch the dough down into a nice smooth ball. Place smooth side up and cover with a clean kitchen towel. Place in a warm corner of your kitchen.

Let the dough rise until doubled in size. This could take anywhere from 30 minutes until more than an hour. Punch down and smooth it out, and let it rise again.

Take the dough and cut off small sections (about a third of a cup in size) and form into rolls (using a greased baking mat or cutting board). Place rolls into greased pans, making sure the rolls barely touch one another.

Cover rolls with clean town and let rise again, about 30 minutes. Be careful to not let the dough rise too much or air pockets will form on the top.

Bake on 350 degrees for approximately 20 - 23 minutes, depending on the size of rolls and the type of pan you use. You will know they are done when they are golden brown on top and are just starting to brown on the bottom.

Remove rolls from pan, brush tops with butter, and sprinkle with kosher salt. Let rolls cool on baking racks and store in airtight bags.

Before serving, warm the dinner rolls up slightly so they are nice and soft.
Recipe Notes
Mom's Dinner Rolls freeze well in freezer bags up to three months. Take them out of the freezer a couple of hours before your meal. Warm them slightly in microwave right before serving.