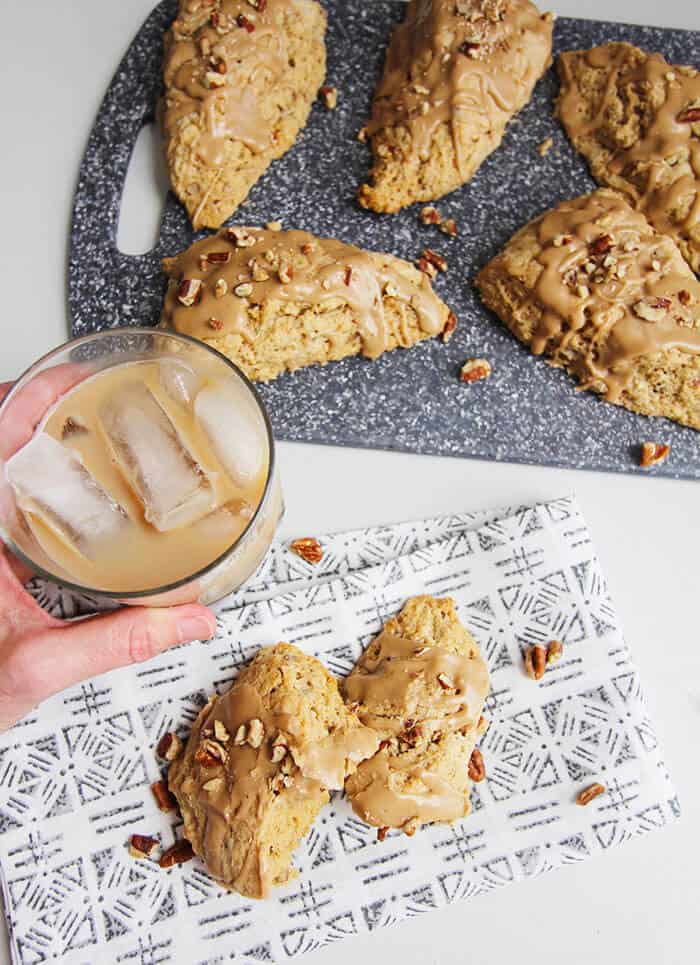 Let me tell you a story about a girl who never drank coffee. Ever. And then she moved to Texas and joined a play group with moms who loved tea. So she started drinking SWEET tea (Thank you Amy M!) and then she tried coffee…with tons of cream and sugar. She kept drinking coffee and tea with her friends, and little by little, she lessened the sugar and cream scoops. Until one day, she realized she couldn't survive without her morning coffee – unless she wanted a headache. Yup, she became addicted to coffee. But she didn't care. She was in love with coffee.
OMG…that girl is ME!
Coffee and scones are a marriage made in heaven. They go together like milk and cookies or peanut butter and jelly. And so if you love coffee like I do, then you will love nibbling on these Maple Oat Pecan Scones while you sip your java. Or if you would rather have a tall glass of milk with them, that works too.
These are my favorite scones of all time. Even better than those Starbucks pumpkin scones!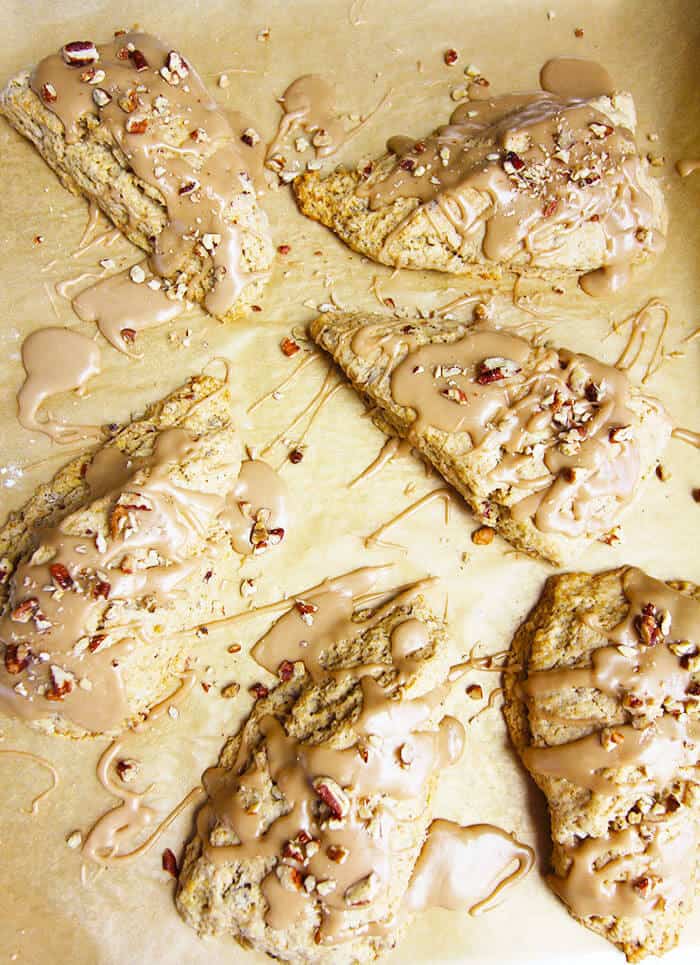 One of the important things to remember when making scones is to make sure you have everything out (except the butter) on your kitchen counter and ready to go, before the step where you add the butter. You want the butter to be COLD when you mix it in, and then the rest of the steps come together pretty quickly. I use this sturdy pastry cutter
to mix the butter in, and it works perfectly.
This is what your dough should look like before you cut into slices for baking. Do you see the small pieces of butter throughout? That's the key to making great scones. You aren't creaming the butter, you are simply cutting it in. The butter then forms pockets of buttery goodness in each bite.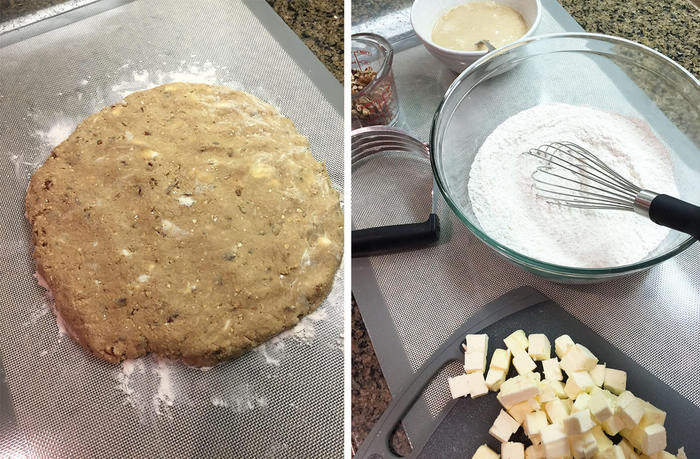 Maple extract is the ingredient that gives this this scone the yummy oh-my-goodness flavor. There are two teaspoons in the dough mixture and another teaspoon in the icing. That's a lot of maple goodness!
When I was growing up, I begged Mom to NOT put nuts in anything she baked. I didn't like them. Well, just like coffee, I slowly and surely began to like nuts. And now…I love them! Growing up has it perks.
The pecans in the scones are so delicious. If you don't like pecans, you could use another type of nut. Or omit them altogether. OR…learn to love them like me!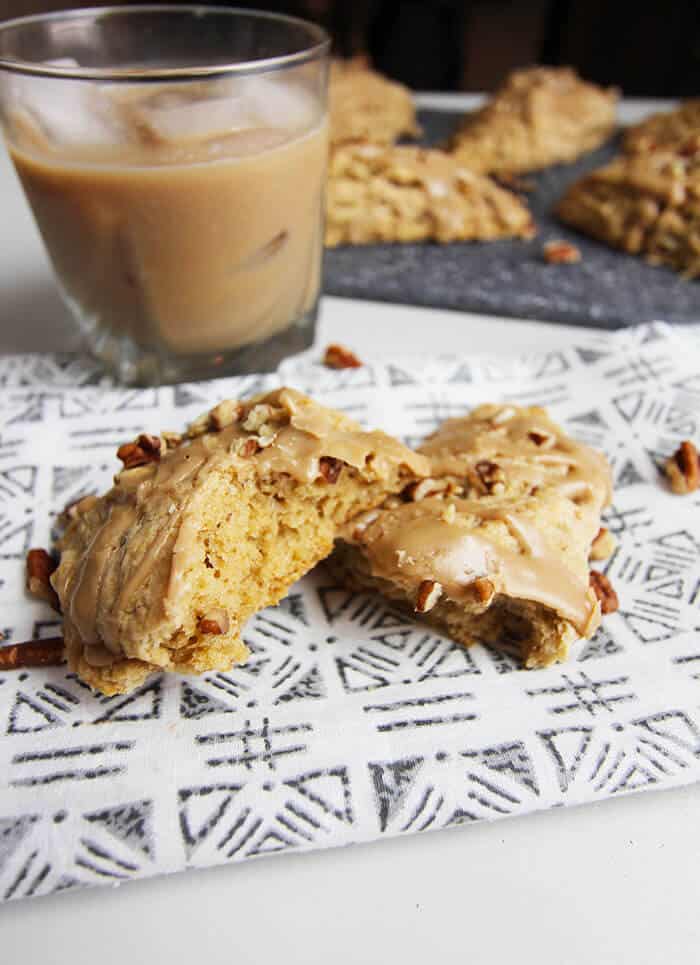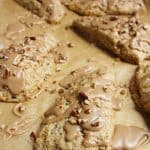 Maple Oat Pecan Scones
a soft, buttery, crumbly scone with a delicious maple nut flavor, perfect for any time of day
Ingredients
For the scones:
2.5

cups

all-purpose flour

2/3

cups

quick oats

ground in a food processor

1/3

cup

granulated sugar

2

Tablespoons

baking powder

1/2

teaspoons

salt

1

cup

cold unsalted butter

cut into cubes

2/3

cup

pecans

chopped

1

large

egg

3/4

cup

heavy cream

2

teaspoons

maple extract
For the icing:
2

Tablespoons

unsalted butter

melted

2

Tablespoons

milk

1

Tablespoon

brewed coffee

1

teaspoons

maple extract

3

cups

powdered sugar

more or less, depending on consistency
Instructions
For the scones:
Preheat oven to 350 degrees. Line two baking sheets with parchment paper.

In food processor, pulse oats to consistency of flour. Add flour, sugar, baking powder, and salt. Stir to combine.

Chop pecans finely. Add to dry ingredients and set aside.

In a small bowl, whip together egg, heavy cream, and maple extract. Set aside.

Take cold butter out of fridge and chop. Using pastry cutter, add the butter to the dry ingredients until it resembles course crumbs. Mix in the chopped pecans.

Add wet ingredients to dry ingredients and stir until just combined. Don't over-mix or the scones will be tough. You may need to add additional cream if the dough is too dry. But it should be on the dryer side verses too wet.

Turn dough onto a floured surface. Use hands to form into a large circle and press down to about 1/2 to 3/4 inch thickness. Cut into 12 equal wedges - or any other shape you like.

Transfer wedges to prepared baking sheets. Bake until just barely browned on top, about 18 to 20 minutes. Cool on baker's rack.
For the icing:
Melt the butter in medium sized bowl. Add milk, brewed coffee, and maple extract and stir. Add in powdered sugar until right consistency. You want it to be thick but spreadable.

Spread the icing on the scones. Be generous. You can also add some pecans on the top. Allow icing to set before storing.

These scones will stay fresh in airtight container for a few days. They also freeze well up to three months.