Hearty Lasagna is just like it sounds. Hearty. And packed full of meat, cheese, and pasta. A perfect meal for a hungry family.
My family loves Italian food almost as much as Mexican food. Maybe even more. We love pizza, pasta, chicken parmesan, etc – you name it, we love it.
I'm a little embarrassed that I still have a couple jars of store bought spaghetti sauce in my pantry. You know…the ones that start with P and rhyme with lego. You can do so much better using a few more ingredients. And it doesn't involve growing your own tomatoes.
What makes this lasagna so tasty involves using three different meats – ground beef, Italian sausage, and pepperoni. You could use ground turkey instead of the ground beef and sausage if you want to cut the fat and calories. But don't cut it too much because you still want that hearty taste. Sometimes I use a combination of turkey, beef, and sausage.
Whenever I make pasta, I saute some vegetables to go with it – like spaghetti squash, chopped zucchini, or sliced mushrooms.  Fill your plate with mostly vegetables and a small square of Hearty Lasagna is enough.
Unless you are one of my three men. And in that case, eat two large squares.
I actually made this lasagna in honor of Josh's 20th birthday. I doubled the recipe and made a large pan for him, a smaller square one for us three, and an even smaller one for the freezer. Lasagna is time consuming so I almost always double the recipe when making it, so I can keep another meal in the freezer for a rainy day.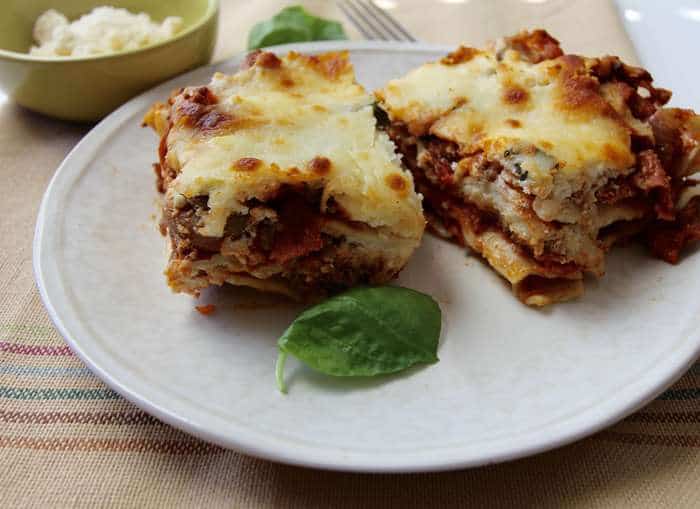 I packaged up Josh's Hearty Lasagna (that I stuck in the freezer for travel), some pumpkin cookies (one of his favorites!), some peanut butter cookies (coming soon to the blog!) and a loaf of Norma Jean's french bread, and took it to UPS earlier in the week. We have an insulated box we use when sending food to our college boy, and I'm hoping he'll love his birthday meal as much as I have loved making it for him.
Oh, and there might be an extra surprise for him in the box as well. Even though he picked out a business suit when we were with him last (and called it his birthday present), we still want him to have a box to open on his big day. (There is a story there….) We hope you love it, Josh!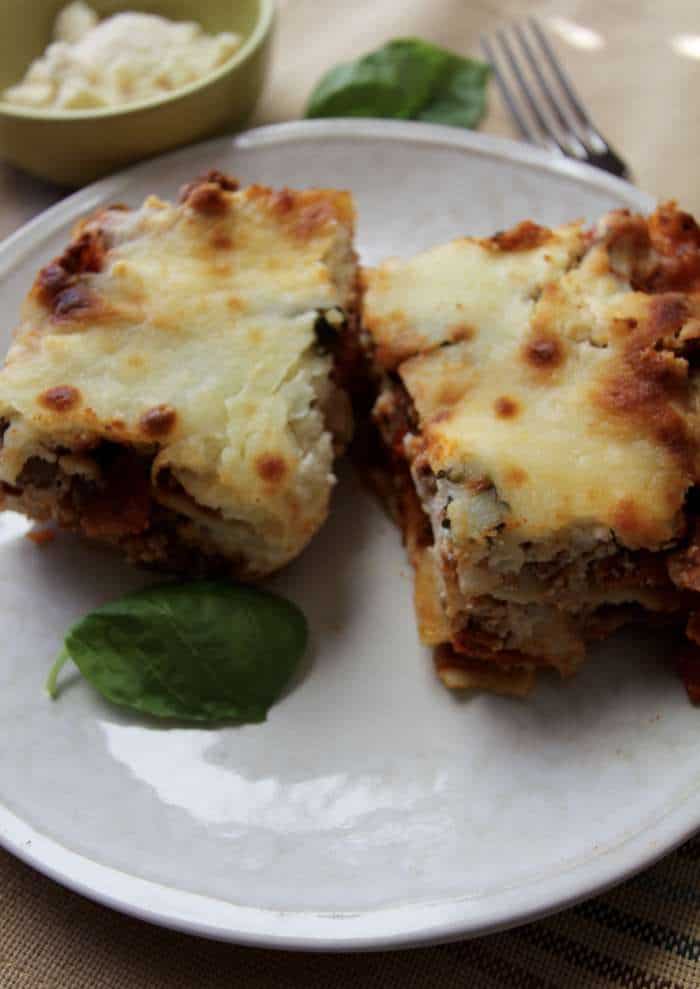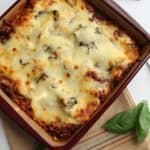 Hearty Lasagna
a meaty, cheesy lasagna perfect for big appetites
Ingredients
1

pound

ground beef

1

pound

Italian sausage

1

6 oz. package

pepperoni

1

16 ounce

diced fire-roasted tomatoes

1

12 ounce

tomato paste

1

medium

onion

3

cloves

garlic

1

jar

sliced mushrooms

drained

1.5

cups

water

16

ounces

ricotta cheese

16

ounces

mozzarella cheese

1 1/4

cup

grated parmesan cheese

1

egg

12

lasagna noodles

1

Tablespoon

olive oil

1

Tablespoon

Italian Seasoning

2

Tablespoons

fresh basil

1

teaspoon

crushed red pepper flakes

1

Tablespoon

sugar

salt and pepper

to taste
Instructions
Boil noodles until al dente. Drain and rinse. Lay flat on clean dish towel.

Mix together the ricotta, mozzarella, and parmesan cheeses. Add egg and combine. Keep in fridge till ready to assemble lasagna.

Heat olive oil in large saucepan over medium heat. Add chopped onion and cook until soft. Add garlic, ground beef, and sausage, and cook until browned. Drain excess fat and return to pan.

Add pepperoni, tomatoes, tomato paste, water, Italian seasoning, red pepper flakes, sugar, and salt & pepper. Simmer on medium low for 30 - 40 minutes. Remove and cool slightly.

To assemble lasagna, add a small amount of sauce to bottom of pan. Layer noodles, meat sauce, and cheese mixture. Repeat two to three times, depending on the size of your pan.

Top with shredded basil and final layer of mozzarella cheese.

Cook 45 minutes uncovered (or until slightly brown and bubbly) in 350 oven. Let stand 20 minutes before serving.