I am totally. In love. With Butternut Squash Soup.
This soup is my passion.
I think I've finally found the perfect balance for this recipe. It's smooth but not too smooth, spicy but not too spicy, and it tastes like home. The vegetables are ones I cook often, and instead of just roasting and eating them, I'm taking it one step further and turning them into a delicious blend of comfort. Butternut Squash Soup with Bacon.
The best part is that my boys loved it too. Drum roll….bacon. Not TOO much bacon. Just a few slices. Because everything is better with bacon.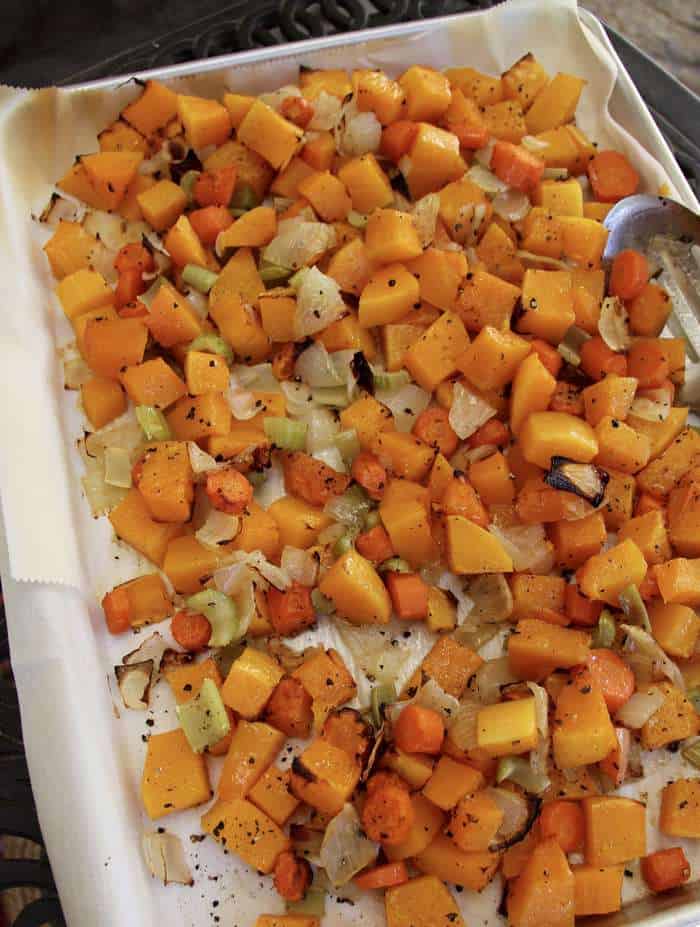 The key to great tasting Butternut Squash Soup is threefold. One, roasting the veggies with olive oil and salt & pepper – instead of boiling the veggies – is KEY. Two, using a bit of cream or half and half is another must. A little (just one half of a cup) goes a long way here. And three, yup…bacon. I cooked six slices for this recipe and saved a bit for the garnish. And I might have nibbled on a few pieces.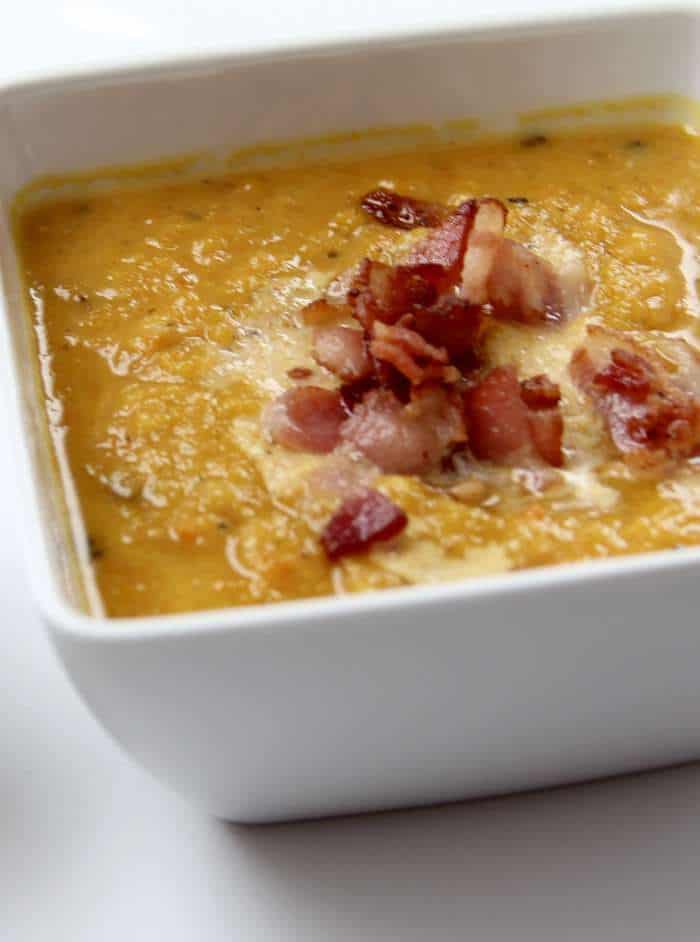 If you don't want to hassle with pouring hot soup (dangerous!) into a blender, check out this immersion blender. It's great because you can puree any soup right in the pan. It saves on dishes and on patience. Oh, and it works great for blending other things besides soup…like milkshakes. Yum.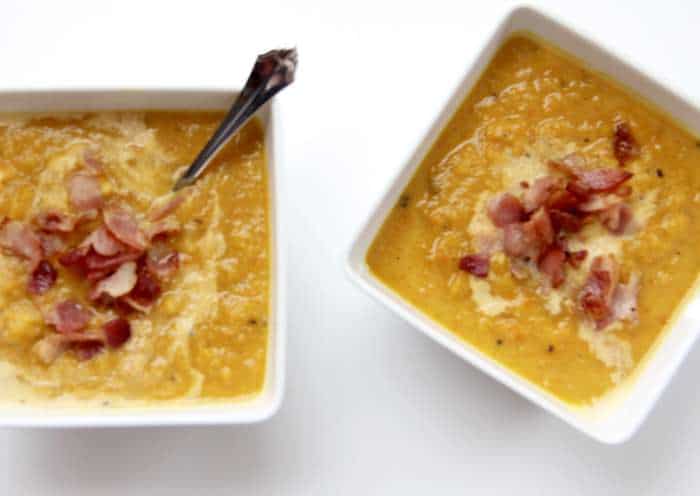 Try to imagine a chilly, blustery fall day – leaves falling, a fireplace, hot apple cider, and being with the ones you love. And a big bowl of this Butternut Squash Soup. These are what dreams are made of…
We Texans dream big (on 80 degree fall days)!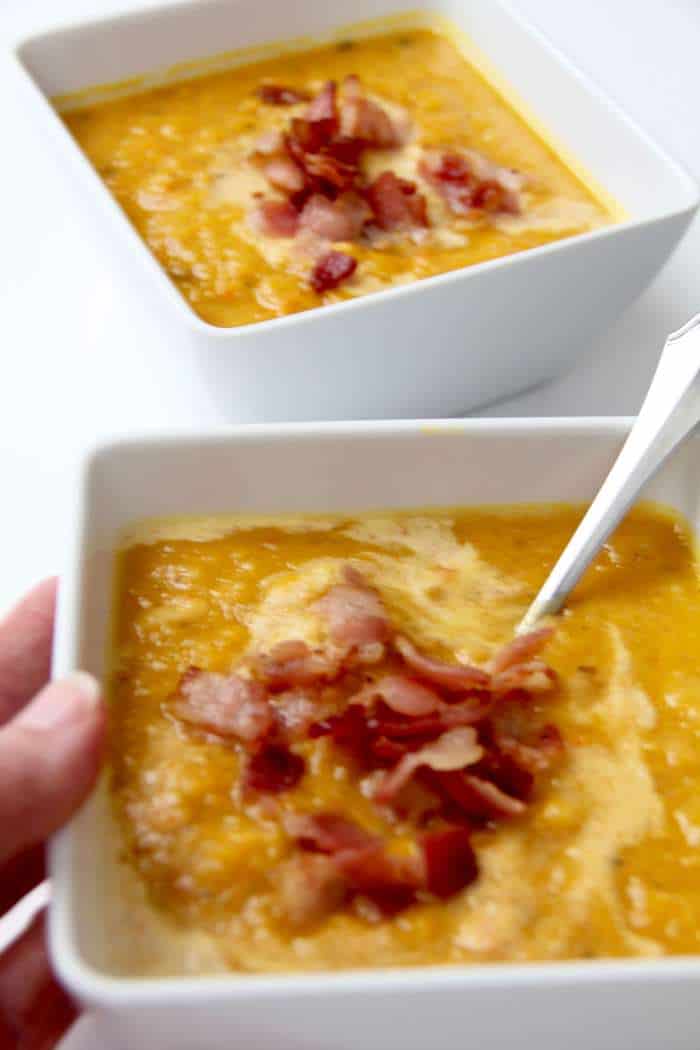 A bowl of Butternut Squash Soup could definitely be a main course. Just serve it with a salad or sandwich and your family will love you for it. I promise.
Don't forget the bacon.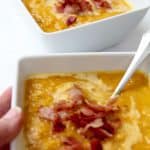 Butternut Squash Soup with Bacon
a smooth and comforting autumn soup with a spicy bacon kick
Ingredients
1

large

butternut squash

peeled, cubed, & seeds removed

4

large

carrots

peeled and cubed

3

stalks

celery

chopped

1

medium

onion

chopped

3

cloves

garlic

diced

3

Tablespoons

olive oil

1/2

cup

half and half

6

slices

bacon

diced

3

cups

chicken broth

2

teaspoons

kosher salt

2

teaspoons

freshly ground black pepper

1/2

teaspoon

cayenne pepper

use less if you want less spicy

1

teaspoon

ground cinnamon
Instructions
Peel and dice the butternut squash, removing the seeds. Peel carrots and chop them along with the celery and onion. Add all veggies to two roasting pans and top with olive oil, salt and pepper. Coat to combine.

Roast vegetables in 375 degree convection oven (or 400 degree regular oven) until soft. Remove from oven and set aside.

Dice bacon and fry in large saucepan, until crisp. Remove bacon, drain most of the fat, and set aside.

Add chopped garlic to pan and stir for 30 seconds. Add the roasted vegetables, half of the bacon, the chicken broth and the cayenne pepper and cinnamon.

Use an immersion blender (or pour into a blender) to cream the vegetables and bacon until mostly smooth. It's ok to have a few small chunks remaining.

Simmer for 10 to 15 minutes until heated through and then add the half and half. Stir and remove from heat.

To serve, add another swirl of half and half and some of the reserved chopped bacon.